10 Best Ceramic Dog Bowls in 2023 — Reviews & Top Picks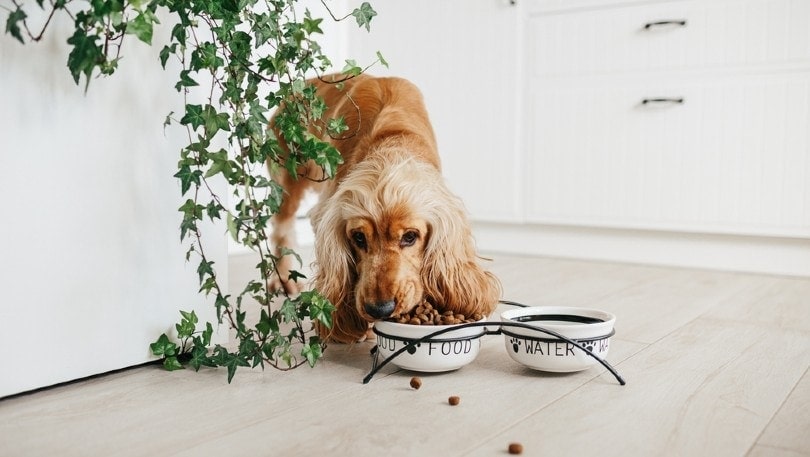 There are thousands of products for pets available on the market today. No two dog bowls are the same, differing slightly in small material changes or functioning in completely different ways. These differences can make or break our experiences with them.
For example, if you have a puppy that gets highly excited to get their food during mealtime and consistently skids into the bowl, you might need one with a rubber base. If you have a pup that likes to dig out their food and makes a mess each time they are served, then you might want to consider a slow-feeding bowl with ridges on the interior.
Whatever your pup needs, we have reviews for the products that suit those requirements. Ceramic dog bowls are fantastic options for those who want something other than metal or plastic. We cover all kinds of designs and makes so you can find the ceramic dog food bowl that does what you need it to do.

A Quick Comparison of Our Favorites in 2023
Rating
Image
Product
Details

Best Overall

Ethical Pet Stoneware Crock Dog Dish

Range of sizes
Aesthetically pleasing
Made from ethical stoneware material
Check Price

Best Value

Signature Housewares Ceramic Dog Bowl

Multiple sizes
Budget-friendly option
Aesthetically pleasing
Check Price

Premium Choice

Bone Dry Paw Ceramic Dog Bowl

Dishwasher-safe
Multiple colors and sizes
Silicone ring stops it from sliding
Check Price

Necoichi Elevated Ceramic Bowl

Microwavable
Elevated design
Subtle lip prevents spillage
Check Price

PetRageous Oval Ceramic Dog Bowl

Durable
Attractive
retro design
Shallow to avoid whisker fatigue
Check Price
The 10 Best Ceramic Dog Bowls
1.

Ethical Pet Stoneware Crock Pet Dish — Best Overall
The Ethical Pet Stoneware Crock Pet Dish is our number-one choice because of its durable yet simple build that makes it easy for your pup to use without it slipping all over the place. It is primarily made with your pet's safety in mind. It is stoneware that is BPA-free and lead-free.
The bowl comes in at an average price for a high-end bowl. The company produces four sizes or capacities, making it easy for you to pick a product based on your pup's dietary needs at each meal. These sizes range from 1-cup to 9-cup capacity. The 6-cup capacity is 7.5 inches in diameter and 2.75 inches tall. This is a heavyweight, stoneware bowl, making it challenging to move around when your dog is eating. The 6-cup bowl weighs 2.95 pounds.
Not only does the company make various sizes out of an ethical material that your dog can safely eat from, but it also prioritizes your convenience as an owner. The bowl is dishwasher-safe, meaning you can easily wash it by hand or stick it in the dishwasher. It also has quite an attractive color combination, as a creamy exterior color with a blue interior.
Made from ethical stoneware material
Aesthetically pleasing
Range of sizes
Somewhat shallow capacity
---
2.

Signature Housewares Ceramic Dog Bowl — Best Value
The Signature Housewares Black Arrow Ceramic Dog Bowl is an aesthetically pleasing dog bowl that ticks almost all the boxes for a dog owner. It comes in two sizes: 1 cup and 3 cups. Since these sizes are small, these bowls are not the best fit for larger dogs but are well-suited to small and medium-sized dogs.
The stoneware bowl is glazed, which makes it more durable and chip-resistant. This treatment and stoneware material makes it usable for constant use. The company ensures that it is lead-free and can easily be cleaned by hand or in a dishwasher. Interestingly, the bowl is also microwave-safe, which is somewhat controversial but makes it easy to warm up your pup's food if you give them cooked meals.
This bowl is non-skid and tip-resistant because it is at least 1 pound, depending on the size of the bowl that you choose. What's best is that this is the best ceramic dog bowl for the money, making it an excellent option for budget buyers.
Budget-friendly option
Multiple sizes
Aesthetically pleasing
Best suited for small dogs
---
3.

Bone Dry Paw Ceramic Dog Bowl — Premium Choice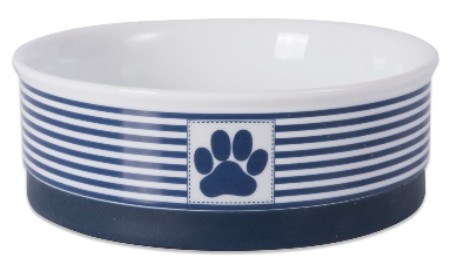 Are you looking for the best of the best? This premium choice might be a bit more expensive than some other options, but it makes a great addition to a dog's feeding time. There are three sizes of this bowl, from 0.75 cup to 3 cups. Since it has a relatively low capacity, it is best for small to medium-sized dogs because it won't fit the amount that large dog breed needs.
This bowl comes in a couple of different colors as well, with a cute little paw on the front. It can easily fit into the aesthetic of the rest of your home.
The bottom of this bowl has a silicone ring to ensure its non-skid property beyond relying on its weight. It is also dishwasher-safe and microwavable. This ceramic bowl has been glazed to give it a good finish. The company guarantees it to be BPA-free and lead-free.
Silicone ring stops it from sliding
Multiple colors and sizes
Microwavable and dishwasher-safe
Not well-suited for large dog breeds
---
4.

Necoichi Ceramic Elevated Dog Food Bowl
This ceramic dog bowl has an elevated design to make it easier for your dog to access the food without having to reach so far down. This is especially useful for older animals. It also reduces the risk of backflow, valuable for certain dogs with feeding issues.
The Necoichi Ceramic Elevated Dog Bowl has a single design, primarily white coloring and black paw prints "walking" up the top of the bowl. The coloring is quite stylish and can be easily added to a home as an accent piece. The company sells the bowl in three sizes, ranging in capacity from 0.5 to 1.5 cups.
Beyond the elevation of the design, the bowl has a curvature that helps the food stay inside even for a messy eater. There is a subtle inner lip at the top that also helps prevent spillage. The porcelain material is non-absorbent, dishwasher-safe, BPA-free, microwavable, and guaranteed lead-free.
Elevated design
Subtle lip prevents spillage
Microwavable and dishwasher-safe
---
5.

PetRageous Designs Metro Oval Ceramic Dog Bowl
The PetRageous bowl has a fun retro design with an oval shape that makes it stand out among the typical circular bowls. Although it is a cute addition to your pup's feeding setup, the overall design of the bowl can increase the potential for spillage. It only comes in one size, a shallow 1-cup capacity.
This bowl has a total diameter of 6.25 inches across and is 1.5 inches tall. It is meant to be functional because it is microwave and dishwasher safe. The shallow design might not hold that much food, but it is excellent for small dogs that don't want to get whisker fatigue from reaching so far into a larger bowl.
The PetRageous design is not only functional but also quite durable. It is made with a tough ceramic that was oven-fired and glazed to avoid fading and chipping. It isn't non-skid but can withstand moving around or banging into the wall without maintaining so much as a chip. What's more, it is fully compliant with FDA regulations for human consumption, so you can be assured that your pet is safe when they eat from it.
Attractive, retro design
Shallow to avoid whisker fatigue
Durable
---
6.

QFULL Ceramic Round Dog Bowl
Scandinavian design influences have become incredibly popular in modern architecture and interior design. This bowl from QFULL exhibits this trend stylishly and functionally. This bowl is made with ceramic and porcelain material, and it sits on a pronged wooden stand, with the wooden columns holding the bowl in place.
This bowl is a bit more expensive because of the company's high-quality materials, but if you are looking for a more stylish addition to your kitchen, customers say that it is worth it. The bowl only comes in one size, measuring 6 inches in diameter and a 2.75-inch height. The capacity is 3.5 cups, which is a good average size for small to medium-large dogs.
This bowl is safe for both food and water. Since the bowl sits on a wooden stand, it is non-slip. The wooden stand will help keep it in place instead of being moved across the floor. It is guaranteed to be free from lead and cadmium. Not only is it attractive and a good size, but it is also quite durable as a glazed piece of stoneware.
Durable stoneware
Reduces neck burden
Well-sized capacity
---
7.

FOREYY Raised Food and Water Ceramic Bowl
The FOREVY Raised Cat and Dog Food Ceramic Bowls are not only cute and easily integrated into the design of your home, but they are also highly functional. They are elevated on stands that allow your pet easier access to their food and water, reducing their neck burden.
The aesthetic of the bowls is quite cute, although geared more toward cats than dogs and quite simplistic. They come in a set of two, one of which has a small black cat on the underside and the other with a fish skeleton on it. The glazed ceramic material of the bowls is both microwave and dishwasher-safe.
These bowls come in three colors but only one sizing option. The bowls are slightly different sizes; while both are 4 inches tall, one is 5.4 inches wide and the other is 5 inches wide. They have non-skid silicone bases that make them difficult to move around on the floor, although they can tip over easier.
Elevated height decreases neck burden
Non-skid silicone ring
Varied size for varied use
Geared more toward cats in a design
---
8.

Y YHY Raised Ceramic Food Bowl
The Y YHY Raised Ceramic Food Bowl is similar to the idea of a typically elevated food bowl, with an interesting twist. The bottom half of the bowl's design sits firmly on the ground and is just as wide as the top, meaning it won't easily skid or slide around. The top of the bowl is tilted to make eating even more accessible for your pet, negating neck burden and even reducing vomiting in sensitive dogs. However, some have found that if they have a messy eater, the food more easily spills out of the bowl.
It is made with a ceramic material that stays free from bacteria, is easy to wash by hand or in a dishwasher, and is quite durable. The bowl comes in two sizes. The smaller bowl has its tallest part sit 3.6 inches above the ground, and the shortest part is 2.0 inches high. The diameter is the same all the way around, at 5 inches wide. The next size is about a third taller and is 7.2 inches all the way around.
Two sizes
Reduces neck burden
Non-tip
Somewhat easy to spill food
---
9.

Bone Dry Lattice Collection Pet Bowl
The Bone Dry Lattice Collection Pet Bowl is an attractive combination of design and functionality. There are three sizes for these bowls, ranging from ¾ cup to 3 cups, depending on how large your dog is. There are also four colors for the bowls, including gray, blue, pink, and aqua, so you can match it to your home's aesthetic.
The bowl is non-skid, with a silicone ring around the bottom to keep it in place and stable. It is ensured to be safe for your pet because the company has made a point to be California Prop 65 compliant and FDA food safe.
This bowl is dishwasher-safe for an easy clean. It doesn't hold onto bacteria due to its glazed ceramic finish and is easy to clean. It is not verified to be microwave-safe, however, particularly with the silicone ring attached to the bottom.
FDA food-safe
Range of colors and sizes
---
10.

Jemirry Ceramic Dog Bowls
The Jemirry Ceramic Dog Bowls are well-suited to contain both food and water. It comes in one size of 6.1 inches in diameter and a 2.4-inch height. It does come in six different color combinations, so you can either pick your favorite or match it to your home's aesthetic. The exterior has a textured pattern of bones and paw prints to make it more visually textured and attractive.
The bowl is a glazed ceramic material and is quite durable. It is dishwasher-safe, but the smooth, glazed surface also makes it easy to clean by hand. The non-porous material means that it won't gather or provide a space for bacteria to grow.
Variety of colors
Durable and dishwasher-safe material
Single, smallish size
No non-skid silicone

Buyer's Guide: Selecting Dog Food Bowls
Choosing one out of the thousands of dog food bowls can be overwhelming. Sometimes it is best to figure out your priorities by first determining how your dog eats, where you want this bowl to fit, and how big you need it to be.
If you are struggling to purchase your dog a new bowl, read through this buyer's guide to get an idea of the best things to look for.
Why Ceramic Dog Food Bowls Are Better Than Other Materials
As we want to supplement the aesthetic of our home or give our dog something cute to enjoy, our dogs often have other ideas. They don't have as much consideration for nice things, especially things like their bowls.
Often, dogs push their bowls around with their heads and noses as they eat, trying to get every last piece of flavor. The most common bowls made for pets are plastic or metal. They have to be safe, but it still doesn't mean they are as safe as they could.
Ceramic is among the healthiest material options that a food or water bowl could be made from because it is a non-porous material. It won't contain harmful chemicals that could leak and is free of lead and BPA. Ceramic bowls are also ideal for those who make their own dog food, since they are microwave-safe.
A ceramic bowl is an excellent option for puppies that are going through a chewing phase. They will not be able to get much purchase or bend to a ceramic dish, and it won't be housing any unsanitary bacterial colonies.
Benefits of Ceramic Dog Food Bowls
There are clear-cut benefits of using a ceramic bowl over any other kind of material.
These include:
Heavyweight, no-skid design
Non-porous
Microwavable
Dishwasher-safe
Safe material choice
Factors of Choosing a Ceramic Dog Food Bowl
Size
Consider how large your dog is and how much they eat during each mealtime before you purchase a bowl. Size is one of the most important facets because a bowl that is too big and too deep will cause unnecessary disruption along your dog's back and neck, and a bowl that is too small will require multiple feedings.
Durability
Ceramic is naturally quite durable, but it is still a characteristic to keep in mind. Figure out how durable your ideal bowl is by looking up other customers' reviews. Look for someone who seems to have a similar dog as you to find out if the bowl can take the abuse that your own dog will put it through.
Capacity
Capacity can differ from size depending on how deep your dog's bowl is. A bowl should be broader and more shallow because that will reduce whisker fatigue and neck stress.
Slippage
If you are tired of your dog moving the bowl around until it bangs into a wall or surrounding furniture, then having a non-slip base is valuable. Some ceramic bowls rely on their heavy weight to stop them from moving, but a silicone base works even better.

Conclusion
If you want the best bowl that the market has to offer, you should figure out your priorities considering the characteristics of your dog's bowl. Do you need an elevated bowl to reduce neck stress? Does your dog make a mess, so they need a lip on the edge of the bowl?
Whatever you need, our reviews hopefully covered all the bases. If you want the best possible option, the Ethical Pet Stoneware Crock Pet Dish is a great choice. It has everything that a typical ceramic bowl does but with slightly upgraded versions of almost all characteristics.
Perhaps you are on a budget or are tired of your dog breaking or banging their bowl around, so the best value option is what you need. The Signature Housewares Black Arrow Ceramic Dog Bowl is likely the best option for you.
Hopefully, you have seen what you need in our list of dog food bowl reviews. Instead of picking out of a sea of options, you now have 10 great solutions to feeding and watering your dog every day, without worrying about harsh chemicals.
---
Featured Image Credit: Switlana Sonyashna, Shutterstock