8 Best Dental Chews for Dogs – 2023 Reviews & Top Picks

Keeping your dog's teeth clean is one of the most important jobs that you have as a pet owner. Unfortunately, it can also be one of the most frustrating, as many mutts absolutely despise having their teeth brushed.
If that sounds like your dog, then using a dental chew may be a hassle-free way to keep their teeth clean. These are delicious treats that scrub plaque, tartar, and other gunk away from your dog's teeth and gums while they gnaw on them, leaving their mouths fresh and clean.
Of course, not all dental chews are created equal, so in our reviews list, we walk you through our favorite options on the market today.
---
A Quick Comparison of Our Favorites – 2023 Reviews
Rating
Image
Product
Details

Best Overall

Virbac C.E.T. Enzymatic Oral Hygiene

Made primarily of beef rawhide
Takes a while to chew
Dogs enjoy chicken flavor
Check Price

Best Value

Pedigree Dentastix Large

Delicious bacon flavor
Generous number in box
Great value for the price
Check Price

Best for Puppies

WHIMZEES Puppy Dog Chew

Soft enough for puppy teeth
Two different shapes in bag
No strange chemicals inside
Check Price

ALPO Dental Dog Chew

Very inexpensive
Uses recognizable ingredients
Good for dogs with dental issues
Check Price

Purina Pro Plan Veterinary Diets

Uses mostly high-quality ingredients
Loaded with protein
Long lasting
Check Price
The 8 Best Dog Dental Chews
1.

Virbac C.E.T. Enzymatic Oral Hygiene Dental Dog Chews — Best Overall
Made primarily of beef rawhide, the Virbac C.E.T. Enzymatic is a chew that should keep your dog busy for quite some time. That gives you a little peace and quiet in addition to cleaning your pup's chompers.
The chews are made with a dual-enzyme system that helps loosen tartar and control plaque. It's a nice backup in addition to all the work that the rawhide itself is doing.
The rawhide has been given a poultry flavor that most dogs seem to love, so you shouldn't have any issue getting your pup to gnaw on it.
You do need to monitor your dog while they eat these, as rawhide can form a choking hazard if it's not chewed up sufficiently. Don't just hand one to your pooch and walk away.
As long as you keep a close eye on your dog while they're nibbling, the Virbac C.E.T. Enzymatic is a fantastic chew for keeping your pup's mouth clean as a whistle.
Made primarily of beef rawhide
Dual-enzyme formula loosens tartar and fights plaque
Takes a while to chew
Dogs enjoy chicken flavor
May pose a choking hazard
---
2.

Pedigree Dentastix Large Dental Dog Chew — Best Value
Pedigree Dentastix have a special X-shape that allows them to really dig into the crevices between your dog's teeth, clearing out accumulated gunk, plaque, and tartar.
This is especially good for dogs who already get their teeth brushed regularly, as the chews can get into places that toothbrushes can't.
Not only that, but they have an appetizing bacon flavor that dogs love, so you won't have to worry about convincing your pup to devote time to their dental hygiene.
There are quite a few in each box, and the price is reasonable. It all adds up to making them the best dog dental chews for the money.
The biggest downside is that other than keeping your dog's teeth clean, they're not that healthy. They're full of ingredients like rice flour, wheat starch, and salt, none of which you want your dog eating in large quantities.
Also, they're quite smelly. That probably helps convince dogs to scarf them down, but you might want to avoid any puppy kisses after handing out one of these treats.
All in all, the Pedigree Dentastix are one of the best values that you'll find among dental chews, and they're impressively effective too. That's why they earned the second spot on this list.
Special X-shape digs into hard-to-reach places
Delicious bacon flavor
Generous number in box
Great value for the price
Not especially healthy
Smelly
---
3.

WHIMZEES Puppy Dental Dog Chew — Best for Puppies
You should get your dog's dental hygiene routine started early, and the WHIMZEES Puppy will help you do just that.
Designed especially for young dogs, these chews aren't as hard as many others on the market. That's good because puppy teeth aren't as strong as grown-dog teeth, and you wouldn't want one to break.
These chews are made without grains or gluten, so they should be as gentle on your puppy's stomach as they are on their teeth. There are no strange chemicals inside either, but that doesn't mean they're particularly good for your dog. They're mostly potato starch.
The chews come in two different shapes, each of which should be able to scrape the gunk off your dog's gums and enamel. The variety should keep your pup interested as well.
They kept the natural flavor, which isn't necessarily a good thing. Many dogs lose interest after a bite or two. If they do eat them, though, don't expect them to last long — they'll keep your dog occupied for a minute or two at most.
WHIMZEES Puppy chews are a great choice for young dogs, but they're not perfect. Still, they'll do until your pup gets old enough to transition to one of the two options ranked above.
Soft enough for puppy teeth
Gluten- and grain-free formula
Two different shapes in bag
No strange chemicals inside
Flavor doesn't excite dogs
Mostly made of potato starch
Don't last long
---
4.

ALPO Dental Dog Chew
These ALPO Dental Chews are inexpensive, so you can feed them to your dog regularly without going broke in the process.
Despite their low cost, you'll find recognizable foods on the ingredients list. Things like rice, chicken by-product meal, and vegetable oil are all inside, each of which can add important nutrients to your dog's diet. However, none of those ingredients are exactly top of the line.
These chews are excellent for resolving bad cases of doggy breath, so if you can't stand to let your dog within 3 feet of you, these chews might be able to help. They're also quite soft, making them excellent for older dogs or those with dental problems.
Of course, those benefits only work if your dog actually chews them. These things are so soft that they may not last longer than a bite or two. There is a way to make them harder to chew, though — and that's leaving the bag open, as they go stale quickly if left out in the open.
That last point is somewhat surprising, as these treats are full of preservatives. Also, many owners may balk at feeding their dogs ingredients of that sort.
All in all, the ALPO Dental Chews make a great, inexpensive treat for dogs with bad breath, but we have a hard time believing that they clean teeth as well as some of the other treats on this list.
Very inexpensive
Uses recognizable ingredients
Good for dogs with dental issues
Don't last long
Will go stale quickly if left out
Full of preservatives
---
5.

Purina Pro Plan Veterinary Diets Dental Chewz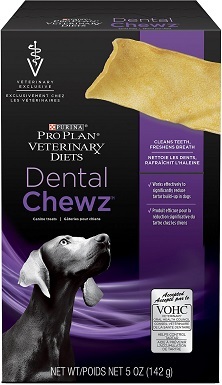 Purina Pro Plan Dental Chewz are different from other dental treats. They don't have any sort of special shape, as they just look like regular strips of rawhide.
As a result, they may not get into as many crevices as some of the other options on this list.
The upshot of that is they use higher-quality ingredients, like beef hide and animal digest. There's one big exception to that, though, and that's the inclusion of artificial colors. There seems to be little need for that other than to dress them up for human eyes.
They're loaded with protein, though, at 70%. Your dog will get some nutritional value out of them, even if they're not as effective at providing deep cleaning as some other options.
They're also huge, which is both a blessing and a curse. The good news is that they'll last longer, but you may need to cut them up if you're feeding them to a smaller dog.
You won't find many in the box either, which is disappointing because of how expensive they are. You'd expect to find a little more value than they offer.
Still, if your dog needs something relatively healthy to keep them occupied for a little while, the Purina Pro Plan Dental Chewz are a good choice. We just wouldn't use them as the first line of defense against plaque and tartar.
Uses mostly high-quality ingredients
Loaded with protein
Long lasting
Shape won't get into crevices well
Uses artificial colors
Too large for smaller pups
Expensive for what you get
---
6.

Blue Buffalo Dental Bones Dog Chew
You may be tempted to buy Blue Buffalo Dental Bones because of their bone-like shape, and while they have their charms, we feel that there are better alternatives out there.
The main ingredient is potatoes, which don't offer much in the way of nutrition and can cause gas in some dogs. It's also loaded with pea protein, which is hard for many dogs to process.
On the other hand, they have flaxseed, carrots, and blueberries, so they're not entirely without merit. Also, since most dogs are used to chomping on bones, they should accept these readily.
They're crumbly, though, so don't expect them to last long. As a result, they may have limited value for actually cleaning teeth. They're small as well, so larger breed dogs may need something more substantial.
While Blue Buffalo Dental Bones have some things going for them, they need to be changed a bit to climb up these rankings.
Have ingredients like blueberries and flaxseed
Most dogs will accept them readily
First ingredient is potatoes, which can cause gas
Loaded with hard-to-process pea protein
Won't last long
May be too small for larger dogs
---
7.

Milk-Bone Original Brushing Chews
Milk-Bone Brushing Chews are hard little bones that are covered in nubs and ridges. They take a decent amount of time to finish, but their rubbery texture may be hard for some dogs to handle.
These chews get sticky as they're gnawed upon, so you'll want to watch your dog closely to make sure they don't choke. Make sure there's plenty of water nearby as well.
They're made to twist as your dog chomps on them, which is intended to help them get into all sorts of nooks and crannies. However, that just makes them more likely to get lodged in your pup's mouth, so you may have to fish pieces out periodically.
The ingredients list is a mixed bag. You'll find things like chicken by-product meal, which uses chicken — but parts of the chicken that are better left in the trash can. The same goes for the unfortunately-named "animal digest."
You'll also see ingredients like modified food starch and artificial colors, which have no place in a dog's diet.
Milk-Bone Brushing Chews are likely effective as cleaning devices, but they may be dangerous for some dogs, so monitor yours closely.
Nubs, ridges, and flexibility make them great for cleaning teeth
May pose choking hazard
Flexibility can cause them to get stuck in dog's mouth
Uses substandard ingredients
Rubbery texture may be off-putting to some dogs
You may also like: How Much Does Dog Teeth Cleaning Cost? (2021 Update)
---
8.

Dr. Lyon's Grain-Free Dental Dog Treats
The biggest selling point for Dr. Lyon's Grain-Free Dental Treats is right there in the name: They're grain-free. This makes them less likely to irritate dogs with sensitive stomachs; however, the ingredients they use in place of the grains may not be as friendly to your pup's stomach.
The bags are huge but expensive, so you'll need to make a fairly substantial upfront investment before you find out if they work or if your dog will eat them.
That latter point is especially important because while they lack grains, they also lack much in the way of ingredients that would make them attractive to your pup.
Instead of any sort of meat, what they have is potato flour, pea protein, and pea starch. That means they may be difficult for some dogs to tolerate, so your pooch may have digestive issues after gnawing on these.
They have a strong odor to them, one that may be off-putting to both you and your dog. It's almost a disinfectant smell, so it's understandable if your pooch might not be too enthusiastic about them.
We admire Dr. Lyon's Grain-Free Dental Treats for trying to cut out harmful ingredients, but the recipe needs to replace those grains with something appetizing for these treats to rank any higher.
Many dogs don't care for taste
On the pricey side
Potatoes can cause upset stomach
Dogs don't process pea proteins well
Strong odor

Buyer's Guide: Selecting The Best Dog Dental Chew
If you've struggled to brush your dog's teeth in the past, then getting similar results from a dental chew may sound too good to be true. In the guide below, we'll show you what to expect from these treats and whether they're actually all that they're cracked up to be.
How Do Dental Chews Work?
The basic idea is that the chew itself has a rough texture or special shape that causes it to scrape against your dog's teeth and gums while they chew on it. This dislodges food particles, plaque, tartar, and anything else that might be hanging around the gumline, helping reduce inflammation and keep their mouth clean.
Many are also made with special ingredients designed to fight bacteria, loosen buildup, and freshen breath.
The longer your dog munches on them, the more opportunity the chew has to do its work, so a longer-lasting option is usually better. This has the added benefit of keeping your dog occupied so you can watch TV or get work done.
Are Dental Chews Effective?
That depends on your expectations. They're not nearly as effective as proper brushing, so don't think that you can buy a box of chews and throw your dog's toothbrush away.
However, chews that have been properly designed can help keep plaque and tartar buildup to a minimum. As a result, they're well worth the investment, even if you do need to keep brushing their teeth regularly.
They're kind of like toothpicks for dogs. If a toothpick can dislodge food that would otherwise stick between your teeth for hours, then they're worth every penny and will improve your overall dental health. However, you wouldn't use a toothpick in place of a toothbrush.
Can Dental Chews Harm My Dog?
If you get a bad one, yes. There are several ways that they could potentially hurt your pup:
If they're too hard, your dog could break a tooth while chomping on them.
If they break off into large chunks, those chunks could get lodged in your pup's throat and they could choke.
Many chews are high in calories, so if you give your dog too many, they could wind up becoming overweight (with all the health issues that that entails).
Some use low-quality ingredients that could cause an upset stomach or other digestive issues.
Are Dental Chews Better Than Chew Toys or Bones?
Not necessarily. The important thing to consider is how long the item will keep your dog occupied; you ideally want them to gnaw on something for at least 30 minutes a day to clear away as much plaque as possible.
So, the best option for your dog will likely be whichever one that they'll gnaw on the longest. This may mean switching it up from day to day as well.
Beyond that, each option has its own pros and cons. For example, chew toys can be dangerous if ingested, and bones are more likely to crack teeth than chews. However, chews are higher in calories and may contain unsavory ingredients.
What Should I Look for in a Dental Chew?
The most important thing is the Veterinary Oral Health Council's seal of approval. That seal means the chew has been proven to have at least some dental benefit for your dog.
Past that, check the ingredients list. Some chews have nutritional value as well, while others are full of questionable ingredients and empty calories. It's okay if you don't mind your dog eating junk if it keeps their teeth clean, but there are plenty of chews that are capable of doing their job without making your pup fat.
Make sure the chews are appropriate for your dog's size as well. If you give them a chew that's too small, they could choke on it, whereas one that's too big could hurt their jaws.
What Else Can I Do to Keep My Dog's Teeth Clean?
The most important thing is to brush their teeth every day and schedule regular dental checkups. This will do more for your dog's dental hygiene than anything else that you can possibly do
Feeding them dry kibble is also important. Kibble acts in much the same way that dental chews do, as it rubs against your dog's teeth and gums, dislodging plaque, tartar, and foreign objects. You can still feed your dog wet food if you like, but having dry kibble in the bowl is essential.
Keeping chew toys around the house is good too. If your dog has something to chew on, it will allow them to practice destructive behavior on a suitable target. Chew toys are also great stress relievers, and they'll keep other objects (like your furniture and shoes) safe from your mutt's mouth.

Conclusion: Dog Dental Chews
The Virbac C.E.T. Enzymatic uses a dual-action cleaning formula to scrub your dog's teeth, and its rawhide construction will keep your pooch entertained (and quiet) for quite a while.
For a less-expensive way to freshen up your dog's mouth, try Pedigree Dentastix. Their shape is specially designed to dig into nooks and crannies, and dogs really seem to love how they taste.
We can't stress enough how important it is to take your dog's dental health seriously, and giving your pup a dental chew to munch on is a great way to keep their chompers in tip-top shape. We hope that our reviews have made it easier for you to find a chew that your dog will love, so you can both enjoy a hassle-free way to practice proper oral hygiene.
---
Featured Image Credit: guvo59, Pixabay