Oravet Dental Chews Review 2023: Recalls, Pros & Cons
Our Final Verdict
We give Oravet Dental Chews a rating of 4.5 out of 5 stars.
Oravet is a unique dental treat for your dog, and it is the only one that contains the ingredient delmopinol HCI. This formula coats your pet's teeth, gums, and mouth with a protective layer that keeps bacteria at bay.
This oral hygiene chew comes individually wrapped, and it is available in five different sizes. As this is a medicated treat, the size of the chew is determined by the weight of your pet. Oravet has been clinically proven to reduce tartar and plaque build-up, and prevent it from recurring. Though it is very effective, there are always a few downsides which we will discuss further on in the article.

Oravet Dental Chews Reviewed
Oravet is a medium-sized, bar-like snack that does not have any ridges to help scrape tartar and plaque build-up. Instead, the formula consists of the active ingredient delmopinol HCI that breaks down existing bacterial build-up in your pet's month.
The chew also adds a protective coating over your dog's teeth, gums, tongue, and mouth to prevent future build-up from food and other organic material your pup might consume. The naturally mint-like flavor is attractive to canines, plus it helps freshen their breath.
Who Makes Oravet and Where Is It Produced?
Oravet is trademarked by the Merial company, which is the animal health portion of the Sanofi Company based out of Australia. They launched Oravet in the United States in 2015; however, at the time the chews were only available through your vet.
In the last few years, Oravet has hit the mainstream. You can now purchase it through sites such as Amazon and Chewy. The treats themselves are manufactured in the USA, yet where the inactive ingredients are sourced is not readily available.
Which Types of Dogs is Oravet Best Suited For?
Oravet is a medicated chew that comes in a variety of sizes from extra-small to extra-large. The size of the treat is based on your dog's weight, and the dosage recommendations should be followed carefully.
This is a great option for any dog especially those with tartar build-up or plaque. Also, if your pup suffers from bad breath, it will help elevate this symptom. Additionally, the treats can be consumed by all dogs from six months old to seniors.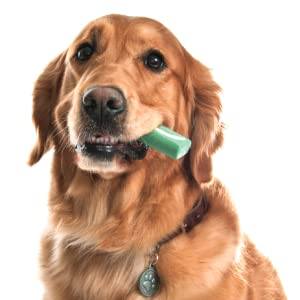 Which Types of Dogs Might Do Better with a Different Brand?
There are a few instances where the Oravet chew would not be appropriate for your dog. First, any puppies under six months of age are not recommended, plus any female dogs that are pregnant or feeding.
Secondly, pups with gluten allergies are also not recommended. Oravet contains wheat and corn, so it can upset your pet's stomach. What's more, if your pet has any digestive issues, general stomach sensitivities, or restrictive diets, caution is advised. The label states that these snacks can cause stomach sensitivities, however, most dogs become accustomed to the treats after a few doses.
If your pet suffers from gluten allergies or digestive issues, we recommend trying the Virbac C.E.T. Enzymatic Dental Chews. This is a formula that will not only support your dog's oral health, but it is also formulated with natural enzymes to promote digestion. It is easy on the stomach and won't cause gas or other unfortunate side effects.
Finally, you should always check with your vet before starting your pet on any daily supplement. This is especially true in the case of a medicated treat such as the Oravet.

Discussion of the Primary Ingredients (Good and Bad)
Oravet Dental Treats is a trademarked company of Merial. They hold the patent for the ingredient delmopinol HCL. This is the active ingredient in the formula that will protect your pet's teeth and mouth while also breaking down bacteria.
The rest of the ingredients and nutritional value are more difficult to discern, which we will discuss below.
Delmopinol HCI
Delmopinol is a fairly new synthetic, surface active, anti-plaque ingredient. As Oravet owns the rights to the patent, it is the only dental treat that contains this tartar fighting agent. It is also the only pet dental treat that can claim clinically tested results.
The ingredient was tested in-vitro, and it demonstrated a low microbial effect. The research also showed that Oravet was effective at breaking down existing bacteria that causes tartar and plaque. It also showed good results in preventing future build-ups by coating the teeth, gums, tongue, and mouth.
Inactive Ingredients
One issue with this formula is the ingredients are proprietary, so the information is scarce and varying. However, with some research, we were able to discern some of the ingredients in the chart below.
Known Ingredients
Delmopinol
Parsley flakes
Chlorophyll
Alfalfa
Sucralose
Pork protein
Wheat
Corn
Vanilla (possible for scent)
Potassium sorbate
Soy
Ingredients it does not contain
Chicken and poultry
Salt
Sugar
---
Ingredients and Their Nutritional Value
As mentioned, the formula of Oravet Dental Chews is proprietary, so the only things listed on their label are pork protein, wheat, soy, and the active ingredient delmopinol. The other ingredients listed above do not constitute a complete guide, but only what we were able to uncover.
That being said, there are some concerning ingredients.
Potassium sorbate: This is an ingredient typically used as an artificial preservative. It has been known to cause eye, throat, and stomach irritation.
Soy: Soy has long been an ingredient that we know to avoid in dog food. It holds no nutritional value for your pet and can be hard to digest.
Wheat: Wheat, or gluten, can cause a lot of digestive issues especially if your pet has an allergy. In low doses, it is not harmful, but caution is recommended.
Sucralose: This is an artificial sweetener that is used in place of sugar. Though it can be harmful to your pet in large quantities, this treat has less than one percent.
The nutritional value for the chews is not great, but also not terrible. For example, the calorie content is 55 kcal per treat, which is slightly on the high side. The crude fiber is 46.41 which is better.

Other Important Facts
There are a few other aspects of this product that are important to mention. While some are positive benefits and some are drawbacks, they are essential information if you are considering this treat.
Weight Limits: As we have mentioned, the size of the treat is determined by the weight of your dog. Unfortunately, there has been some concern that the weight limit may be off. If you find the chews are not working as they should, we recommend you contact Oravet customer support for clarification before switching to a larger size.
Effective Chewing: One important aspect of this treat is it has to be chewed. Although they have a slightly bendable formula, the treats were specifically designed to be harder to chew. If your pet swallows them in two bites, the delmopinol will not be effective.
Packaging: Each chew is individually wrapped. This is handy for grabbing a treat on the go, but it also has a more practical purpose. Oravet has a short lifespan once the package is open. Once it is open, you have to give it to your pup right away.
Cost: Finally, it is important to note that Oravet is a more expensive option for dental hygiene treats. Although they are effective, the cost can be a turn off to some buyers.
A Quick Look at Oravet Dental Chews
Effective at removing tartar and plaque
Provides a protective coating
Clinically tested
VOHC approved
It can cause stomach upsets
Expensive
Limited ingredient knowledge
---
Recall History
At the time this article was written, neither Oravet nor their parent company Merial, have had any recalls on their dental chews.

Our Favorite Recipe: Oravet Plaque Prevention Gel
This prevention gel is a great option for dogs who have sensitive stomachs and are not a fan of brushing. It comes in an eight-week supply, plus it's odorless and tasteless. You simply swipe the gel over your dog's teeth and gums, and it will add a protective layer of film that keeps tartar and plaque at bay.
A couple of things to keep in mind, however, is the gel is not always easy to apply. What's more, though it doesn't have a taste, it can still cause your pet to have gas.
Preventive oral hygiene
Tasteless and odorless
Good for dogs with stomach issues
Can be hard to apply
Can cause gas
---
What Other Users Are Saying
Many dog lovers are not only interested in articles that review products, but also other customer's feedback, as well. What better way to get a good grasp on the brand but by taking into account the opinions of others who have already used the product. Below, we have listed some of our favorite reviews.
"Most dental treats he eats way too fast for them to work. But when we gave him these he loved them and took his time with them. They are pricey but when you have [a] sister as a vet you know how pricey dental work on a dog is. So we take every precaution to make sure his teeth are healthy. The treats also made his teeth whiter and breathe well."
"We have a Wheaten, 11 years of age, never had his teeth cleaned, high anxiety and on grain[-] free diet by [a] veterinarian. We were concerned this has wheat as an ingredient, he would start having problems, but so far so good! We started him on OraVet 3 weeks ago and we can already see a difference in his teeth. We can barely see any plaque. Plus, he loves the "green bones," and can hardly wait after his morning walk to get home for the "green" OraVet. Happy to pay a dollar a day for these excellent results."
"Works very well keeping my 10-year-old pit's teeth and mouth fresh smelling and clean. She loves them, too."
No review would be complete without some Amazon opinions. Take a look at these reviews to get a better idea of the product here.

Conclusion
We hope you have enjoyed the review of Oravet Dental Chews. We know how important your furry friend is to you, and keeping their teeth and gums clean will ensure a long and happy life. In our opinion, this product is an effective way of not only removing tartar and plaque but also preventing future bacteria. Plus, it will freshen their breath!
---
Featured Image Credit: Oravet, Amazon