5 Best Dog Doors for Sliding Glass Doors in 2023 – Reviews & Guide
We want our dogs to be able to get into our homes just as easily they do our hearts. With these reviews, we'll show you just how simple that can be, as we go over our picks for dog doors that can be fitted to sliding glass doors. We know the market for pet products is big, and sometimes it is hard to know where to start, so we went ahead and did the research for you!
---
A Quick Comparison of Our Favorites in 2023:
Rating
Image
Product
Details

Best Overall

PetSafe Mini Mover

Great for renters
Adjustable
Comes in three different colors
Check Price

Best Value

Ideal Pet Interactive

Sliding insert
No tools needed
Adjustable
Check Price

Premium Choice

High Tech Pet Products Automatic Sliding Glass Door

Sensor operated
Weatherproofed
Easy installation
Check Price

Endura Flap Vinyl

Multiple sizes
Able to withstand brutal weather
Keeps utility bills low
Check Price

Whiskers & Windows

Weather-proofed
Easy installation
Check Price
The 5 Best Dog Doors for Sliding Glass Doors:
1.

PetSafe Freedom Aluminum Pet Door – Best Overall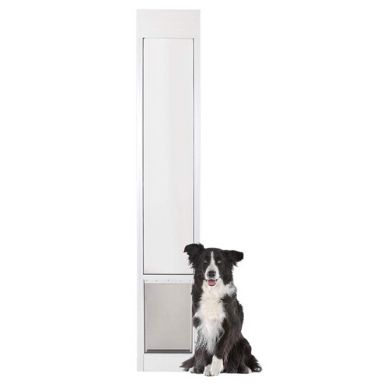 The idea of a dog door in a sliding glass door might give you a headache when you think of the installation, but with the PetSafe dog door, the process is simple. Instead of actually changing your sliding door, this is an insert that will go between the wall and the sliding door, allowing your dog easy access to your shared home. Because installation involves simply sliding this into place, this product is adjustable when it comes to sizing.
It may seem like this wouldn't be efficient for your monthly bills, but PetSafe has made a product that seals up and still allows for your pet to come and go as they please! Even during the hottest days of summer or the coldest days of winter, this door will keep the elements exactly where you want them: outside!
You can get this door in a variety of sizes and colors to match the size of your door and the décor of your home. You will, of course, want to measure your door before placing an order for this product.
This is a wonderful product for homeowners, as well as for renters, because it leaves no trace, doesn't involve any drilling, and is easily detachable so you can simply pick it up and move it when you pack up and move!
However, this door is not necessarily the best if you live in an area that gets extreme winters. While it can handle cold weather, it doesn't hold up well to extremely cold weather. Also, adding this to your sliding door can make some locks on certain doors inoperable, which will mean you will have to either get creative in order to make them work or trust that no one will try to break into your home. Overall we think this is the best dog door for sliding glass available on the market.
Great for renters
Adjustable
Comes in three different colors
Not good for extreme cold
Will render certain locks inoperable
---
2.

Ideal Pet Products Pet Patio Door – Best Value
Ideal Pet Products has products that are ideal for pet owners as well! This is the case with its aluminum pet patio door.
This door is simple to install and take down, which makes it a wonderful product for people who rent instead of own. There are no tools required, which certainly increases your chances of getting your security deposit back. This product is also adjustable, so it can suit different-sized doorways.
The aluminum gives it a classic look, though it does mean that it can only be used with aluminum sliding glass doors. This product also comes with a sliding insert for you to place during the night to make sure that nocturnal animals, such as raccoons and possums, don't get into your house.
This door is not without its issues. Certain doors will not be able to lock once this is installed. Also, this product is only good for people who live in areas with moderate weather. If used in extreme cold or heat, you could see a significant raise to your bills. Sometimes the door flap gets a bit stuck, but that is easy to fix. Even with these issues, this is the best dog door for sliding glass door for the money.
Adjustable
Sliding insert keeps out unwanted animals
No tools needed
Not good in areas with extreme weather
Some door locks will be rendered inoperable
Can only be used with aluminum doors
---
3.

High Tech Pet Products Automatic Sliding Glass Door – Premium Choice
The High Tech Pet Products Automatic Sliding Glass Door is operated via a pet collar sensor. As your dog approaches, the door slides open and into the door housing. Once your dog has passed through, the door firmly and securely closes again, until it recognizes that your dog is approaching to come back in. Perfect for dogs with incontinence problems and that can't make it through the night, this automatic sliding pet door is also a good choice for owners that will be away from the house for long periods.
The door fits into the track of a sliding patio door. It has a spring-loaded top section for ease of installation, although it will take two people to install properly and safely.
The whole unit is a dual-panel, which is designed for energy efficiency, so it will not allow heat to pass out. It has a draft excluder to prevent cold air from getting through the door panel, and weather stripping prevents rain and water from getting in.
This door is suitable for dogs up to a medium size, which means that it should be suitable for Labradors and Retrievers, although it may not be suitable for larger breeds. Although it is quite expensive, the weatherproofing; sensor operation; and high-quality components make this a beneficial choice for your dog and also for your home.
Sensor operated
Weatherproofed
Easy installation
Got a large dog? Take a look a these dog doors
---
4.

Endura Flap Vinyl Sliding Glass Dog Door
The manufacturer of this product should look quite similar to you! We were so impressed by Endura's patio effort, we wanted to highlight another one of their offerings: the vinyl sliding glass door. The price might make you do a double take, but the people who have these in their homes swear by them and do so for years.
You will need to measure your door frame before you purchase. The installation is similar to the one for patios in that it is simple, but there is still a bit of work that requires elbow grease. The main difference is that this product was made for vinyl sliding doors and can withstand brutal weather. This product will fit perfectly in with your vinyl siding, as well as be able to withstand winds of up to 50 MPH and temperatures as low as -40 degrees. That's pretty heavy duty if you ask us!
This product comes with a 15-year warranty.
Able to withstand brutal weather
Fits right in aesthetically
Multiple sizes
Keeps utility bills low
Not the easiest to install (but not too hard)
---
5.

Whiskers & Windows Dog Door
This door is good, but when it comes to keeping out the elements, it is closer to our first two picks than the selections from Endura. Price is what lands it at number five on our list.
Don't get us wrong, this is a fine dog door! Installation is easy, as it is spring loaded and fits right into the doorway. The dog door itself is insulated with foam to keep the weather out and your bills low. While this isn't as heavy duty as the Endura doors, it still does a good job.
However, you will need to purchase weather stripping separate from this item. While it is not strictly necessary, it certainly helps, especially if you live in an area that really sees the elements. That's one gripe we have about this door. Another is that this only fits specific sizes. There are some doors where this just won't fit.
This is a high-quality door, but it isn't quite revered as Endura doors.
Only fits certain sized doors
Need to buy additional product to get the most out of it
Be sure to check out: The top electronic dog doors
Buyer's Guide – Choosing the Best Dog Doors for Sliding Glass
When buying a sliding glass door doggy door, you'll need to be mindful of more than just if your dog can freely roam. You also need to worry about insulation, installation, and whether pesky night critters can get into your home. Let's take a look at a few things to consider when buying a dog door for your sliding glass door.
Will your dog fit?
It's one thing to know that your dog will fit through the dog door, but it is a different thing to make sure that the sizing is proper so your best friend doesn't wind up with any odd injuries. How do you do this? First, when measuring, you want to measure the width of the opening for your pet, not your pet directly.
Then, you will want to make sure that your dog can easily step over the threshold and that the it does not scrape their belly.
Lastly, you want to make sure that there is at least a 1-inch clearance between your dog's back and the top of the opening, though we recommend 1.5 inches just to be safe.
Will the door fit?
Some doors are adjustable to the point where you can get them to fit in anywhere. Others come with specific measurements. Our research indicates that the more adjustable a door is, the less effective it is for harsh weather and keeping your bills to a minimum.
Security
If you decide to use one of these doors, you are not guaranteed that they will be compatible with the locks on your sliding glass door. If this is important to you, either do your research first or check the return policy of the door you are buying.
Warranty
We recommend looking into warranties with any purchase you make, especially if it is an item you expect to have for a long time. Different companies do warranties differently, and it is worth it to make sure you know how to have them honored, how long you have them for, and if they even exist!

Conclusion
Getting a doggie door is an exciting addition to any home, as it gives freedom to both you and your pet (you won't have to be constantly on call for when your fuzzy pal wants to go outside). Training them to go in and out can be a little difficult, but in the end, it is all worth it.
We hope that these reviews offer insight and expertise that you otherwise would not have in your doggy door shopping journey. Did you find your favorite in these reviews? Were you blown away by our top pick from PetSafe or our value pick from Ideal Pet Products? Or was the majesty of the High Tech Pet Products product too good to pass up? Whatever you choose, we are glad to be a resource for you and your pet!