6 Best Dog Foods for Dogs With Seizures 2022 – Reviews & Top Picks
A starting point for good health is a good diet. This is especially true if you have a pet with neuro issues such as seizures. Dog food manufacturers have attempted to zero in on things that cause seizures. While a diet alone can't stop seizures, it can go a long way in preventing them in the future. In these reviews, we'll look into the best foods for dogs with seizures. It should be noted that while we stand behind our research, we are not veterinarians, and you should consult yours before making any changes to your pup's diet.
---
Our Favorite Picks of 2022 Compared:
Rating
Image
Product
Details

Best Overall

Purina Pro Plan

Noticeable changes in dogs
Omega 3 fatty acids for cognitive health
Antioxidant vitamins E and C for immune system

Best Value

Blue Buffalo Basics

Omega 3 fatty acids
Loaded with potatoes
Shows signs of good health

Premium Choice

Ketona Chicken

Keto diet food
85% less carbs
46% more protein

Best for Puppies

Grandma Lucy's

No fillers
Simple recipe
Dogs can grow old with it

NUTRO

No fillers
Clean food
10 ingredients or fewer
The 6 Best Dog Foods for Dogs With Seizures
1.

Purina Veterinary Diets Dog Food – Best Overall
Purina is arguably the most reputable name in pet food, so it is no shock that they top our list. With so many resources, they can put a ton of research into every product they make. When it comes to neuro issues, that is especially important.
The recipe for this food is packed with vitamins that are all geared toward cognitive health. While antioxidant vitamins E and C are used to help boost your pet's immune system, the recipe is also full of omega 3 fatty acids that help support good cognitive health. Doses of this food should be determined between you and your vet for best results.
Buyers who have switched to this food upon advice from their vet swear by it. Dogs and owners fearing future seizures found great results when switching to this food from Purina.
As for the cons, we weren't able to find any based on buyer reports. It seems that this is a wonderful option if you have a little loved one who struggles with seizures.
Antioxidant vitamins E and C for immune system
Noticeable changes in dogs who suffer seizures
Omega 3 fatty acids for cognitive health
---
2.

Blue Buffalo Wet Dog Food – Best Value
This recipe from Blue Buffalo is unique because it uses a protein hardly seen in dog food: turkey. It is also loaded with potatoes, which is an easily digestible source of carbohydrates.
While this food isn't specifically formulated for dogs with seizures, it has loads of omega 3 fatty acids that can help with or improve neuro health. This will also boost your dog's immune system, lead to healthier skin, and in turn, promote a fuller, shinier coat of fur. This recipe also does not rely on fillers, meaning that it contains no corn, wheat, dairy, or eggs.
Buyers report that their dogs love it and show signs of good health. The only negative review of this product is somewhat interesting: If you receive a can of this and it is bulging, don't open it. It's basically a dog food bomb, and you'll wind up with dog food all over your kitchen and even worse, you! Even with the potential of this being a messy ordeal, we definitely consider this to be the best dog food for dogs with seizures for the money.
Omega 3 fatty acids
Potatoes make for a digestible source of carbohydrates.
Bulging can means trouble; don't open it!
---
3.

Ketona Chicken Dry Dog Food – Premium Choice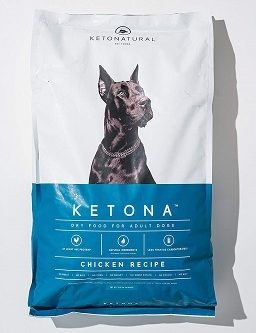 This is definitely a premium buy, and so far, there isn't too much known about it. Ketona was created by Daniel Schulof, who wrote the book, "Dogs, Dog Food, and Dogma." The goal of this food is to effectively place your dog on a keto diet, as this is raw food meant to help your canine in all aspects of health, not just one specific area.
We most commonly hear about this food from people who have pets dealing with life-altering illnesses, and for the most part, the owners seem pleased. From cancer to chronic stomach issues, this food seems to at least improve the quality of life for the pets who eat it.
How does it work? It is a high-protein, low-carb food, with 46% more protein than leading brands and 85% less carbohydrates. This is a grain-free food with no fillers and made with all-natural ingredients and added vitamins and minerals.
What does this do for dogs with seizures? That's a bit harder to tell. Many buyers who have switched their dogs over to this food have pets who are diabetic, and it seemingly works wonders for them. Diabetes can lead to seizures in some cases.
There is not a veterinarian consensus on this food. We have heard opinions that are all for this food and others that strongly advise against it. If you are thinking of switching your dog to this dog food, schedule a vet appointment to consult them first.
Keto diet food
46% more protein, 85% less carbs
---
4.

Grandma Lucy's Artisan Dog Food – Best for Puppies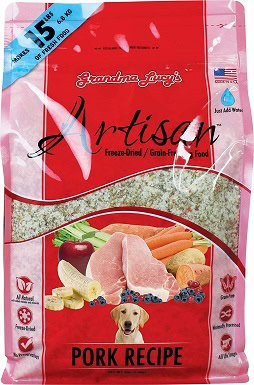 This is the rare dry food that gets mixed with water and turned into wet food. Grandma Lucy's believes the best recipes are the simplest ones, so this product has no fillers such as wheat, corn, or soy.
You can feed this to your pup at any stage of their life. Grandma Lucy's has made a product that your dog can grow with over time.
There are several flavors for this food: chicken, lamb, venison, pork-bison, or elk. Besides the protein, this is made with several fruits and veggies that are all very good for your very good dog.
This food has mostly received glowing reviews from those who have switched to it, though there are a few complaints. Some say that it doesn't have enough "oomph" or that it leaves their dogs hungry. Worse, some people have received bags of this food that still have bones in it. Yes, dogs love bones, but eaten without supervision, it could be dangerous and even deadly.
Simple recipe
Dogs can grow old with it
---
5.

NUTRO Diet Adult Dry Dog Food
Nutro is a clean feed food that is packed with meats for your pup to enjoy. There are many different options for recipes — between lamb, salmon, and duck, you are bound to find something that your wagging woofer is going to love. Each recipe has 10 ingredients or fewer.
There are no fillers in this food, hence the term "clean feed." This is good for dogs with seizures because there aren't any unnatural preservatives or artificial flavors that could trigger a dog with sensitivities.
People who have dogs with such sensitivities mostly love this stuff. They've claimed better health for their pups with a sensitive stomach or different allergies. However, it doesn't exactly smell the best.
There is also the debate about grain-free food as it relates to heart disease and failure. As we are not vets, we strongly advise that any change in your pet's diet go through your vet first.
Clean food
10 ingredients or fewer
---
6.

Wellness Natural Wet Canned Dog Food
This is another simple food, though it doesn't claim to be a clean one. The main ingredients here are the meat and potatoes, quite literally. This food is filled with vitamins and minerals and has no fillers like corn, wheat, or soy. This product is backed by the Wellness Guarantee.
Vets seem to think that this is a good food for pets, and pets seem to love it too! You might find it kind of pricey for canned food, however. There is also an issue with cans being delivered severely dented.
---
Buyers Guide – Finding the Best Dog Food for Dogs With Seizures
There isn't much that is known about food as it relates to brain health with our dogs. This is why diet changes should be left to experts, such as vets.
Omegas
One of the things we do know is that omega acids seem to be good for dogs with seizures. They are also wonderful for skin and fur health. This seems to be more of an overall neuro booster, however, as opposed to pinpointing and eliminating seizures.
Other Takeaways
There are two other things we can gather from this:
Healthy food is good food. The cleaner your dog eats, the better chance they have of living a healthy, happy life. As such, you will want to check for added preservatives, colorings, and fillers like wheat, corn, or soy.
Generally, food that is meant for dogs with diabetes seems to be good for dogs with seizures. This is likely because some seizures can be directly caused by diabetes.
Differing Opinions
While we have done our research, we are no replacement for a good vet. Please consult your vet when or if you are thinking about switching to any of these foods. There are certain pet foods and diets that are more controversial than others.
Conclusion
We hope that this guide for the best dog foods for dogs with seizures was helpful if you need to change your dog's diet. While this is a good list overall, our top pick by Purina specifically addresses the issue of neuro health. It seems that a larger company with more money to pour into specific projects might be the way to go in this department.
---
Featured Image Credit: Pixabay