8 Best Dog Foods for Yorkie Puppies — 2023 Reviews & Top Picks
If you have a Yorkshire Terrier, you're in good company. This adorable pooch is the 12th most popular breed, according to the American Kennel Club (AKC).1 You may wonder what you should feed your pup that will provide everything he'll need for a healthy life.
We love our pets and want to treat them to the best foods. After all, dry dog food sales alone topped nearly $13.4 billion in 2017.2 Estimates forecast another 20% increase by 2022. Choosing the best food for your Yorkie puppy means understanding the particular needs of this breed.
Our guide is here to help!
We'll decipher the ingredients and nutritional value in our reviews of our top seven dog foods for Yorkie puppies. We'll also provide some tips about the recommended feeding schedule to ensure that your pooch gets the best start in his young life.
Comparison of our Winners (updated in 2023)
Rating
Image
Product
Details

Best Overall

The Farmer's Dog Fresh Dog Food Subscription

Extremely high in protein
Turkey as the first ingredient
Fresh dog food with no fillers
Click to Save 50%

+ Get Free Shipping!

Best Value

Nutro Wholesome Essentials

Manufactured in the USA
Excellent fiber sources
High protein content
Check Price

Royal Canin Yorkshire Terrier

Formulated to prevent hypoglycemia
Smaller size kibble
Uses third-party testing for quality control
Check Price

Diamond Naturals

Excellent protein content
Produced by a family-owned company
Processed meat by-products are the top ingredients
Check Price

Hill's Science Diet

Good fat content
Made in the USA
Affordably priced
Check Price
The 8 Best Dog Foods for Yorkie Puppies
1.

The Farmer's Dog Fresh Dog Food Turkey Recipe – Best Overall
For most Yorkie puppies, we recommend The Farmer's Dog Turkey dog food. This recipe includes USDA turkey, chickpeas, and carrot. Turkey provides the protein and amino acids that your puppy needs to thrive and grow, plus several veggies are also included, such as chickpeas and parsnips. Some of these veggies are decently high in protein, which is likely why they are included.
Keep the added protein content these veggies bring in mind when looking at the complete protein content, though.
Compared to other dog foods, this one is extremely high in protein at 38%. Much of this protein comes from the whole turkey that is included. This turkey is lean and very high in protein, which also explains why this food is not very high in fat.
This food does not include grains. Some dogs do better with a grain-inclusive recipe, so you'll need to keep this in mind when deciding if this food is best for your dog.
Extremely high in protein
Turkey as the first ingredient
Fresh dog food with no fillers
Veggies added
---
2.

Nutro Wholesome Puppy Dry Dog Food – Best Value
Growing puppies have a ravenous appetite. That's part of what makes finding the best dog food for Yorkie puppies for the money a must-have. Nutro Wholesome Essentials Puppy Dry Dog Food fits the bill in a tasty way. Fiber sources feature prominently in this product to help pups avoid water loss with plenty of bulk. It has an excellent lineup of nutrient additives, too.
The nutritional profile is adequate for growing puppies. We would like to see the food geared more toward smaller and larger breeds because of their different dietary needs. It has decent amounts of fats and omega-3 fatty acids to keep your Yorkie's coat supple. We also liked the fact that it is a USA-made product, although the portion size seems large for a small pup.
Manufactured in the USA
Excellent fiber sources
High protein content
Contains no wheat, corn, or soy
Larger size bag not available
Not formulated specifically for small breeds
---
3.

Royal Canin Yorkshire Terrier Dog Food
Blue Buffalo Life Protection Formula Puppy Dry Dog Food scores high marks as a food formulated especially for Yorkies and presumably other small breeds. The manufacturer produces several unique formulations for different dietary needs, making this offering an excellent fit with its product line. The fat and protein are more than adequate, considering the special requirements for this breed.
The ingredient list seems sparse compared to other products. We're also not sure about by-products as the top one. The nutritional profile seems adequate, although we wondered about the salt content, considering its place in relation to the others. The manufacturer takes the extra steps to ensure a quality product, which we liked. We can't help but wonder if it is bland considering the few ingredients.
Formulated to prevent hypoglycemia
Smaller size kibble for little pups
A by-product is the top ingredient
The manufacturer uses third-party testing for quality control
Very expensive compared to other brands
Lack of fruits and vegetables in the formulation
---
4.

Diamond Naturals Puppy Formula Dry Dog Food
The Diamond Naturals Puppy Formula Dry Dog Food stands out for its high protein content to give your puppy an excellent start with a solid nutrient base. It has one of the highest percentages in the market. The bulk is from by-products instead of higher-quality sources. The ingredient list isn't as cut-and-dried as we'd like with lots of unknown additives that aren't understandable from the get-go.
The protein content is high at 31%. However, the fat percentage is also up there, making us wonder about digestive issues for sensitive tummies. Added flavor is a red flag for us because we'd prefer to see unprocessed ingredients. The food does contain probiotics, which may counter some of these negative effects.
Excellent protein content
Produced by a family-owned company
Processed meat by-products are the top ingredients
No small bag available
No special formulation for small breeds
High fat content
---
5.

Hill's Science Diet Small Paws Dry Dog Food
The team at Hill's Science Diet formulated its Small Paws Dry Dog food specifically for smaller breeds and their dietary needs. The result is a product with decent protein and fat content suitable for growing puppies. Amino acids are the building blocks of proteins. Of the 20 found in nature, 10 are essential because dogs can make them in their bodies.
Hill's Science Diet contains all of these nutrients. However, many are derived from grain and plant sources. That fact makes the product more affordable. On the other hand, dogs with sensitive digestive systems may have trouble metabolizing some of the ingredients. The debate continues about whether dogs are true carnivores. This food doesn't have as much variety in it as comparable products.
Formulated for small breeds
Good fat content for a soft coat
Made in the USA
Affordably priced
Lack of size choices
High grain content
Lack of fruits and proteins
---
6.

Blue Buffalo Life Puppy Dry Dog Food
Blue Buffalo Life Protection Formula Puppy Dry Dog Food is a nutritional powerhouse. We appreciated the list of wholesome ingredients like chicken, blueberries, and carrots. The protein content exceeds the industry requirements for puppies. We also liked seeing brown rice and barley high on the list to provide adequate fiber for growing pups. It is nutrient-dense at 398 calories per cup.
Part of the caloric content comes from several fat sources. At 16%, it is double what the industry guidelines require. Pets with a sensitive digestive system might find it too rich. The package provides helpful information on transitioning your puppy to make it easier for him. We recommend reading the extensive list carefully to avoid issues with ingredients that may not agree with your pet.
Contains no wheat, corn, or soy
High protein content
Exceed many of the minimum requirements for vitamins and minerals
Has flaxseed and omega 3 fatty acids for a soft coat
Too rich for some pups
Expensive
---
7.

Eukanuba Puppy Lamb & Rice Dry Dog Food
Eukanuba Puppy Lamb & Rice Formula Dry Dog Food is an excellent alternative for puppies who cannot eat beef. The product contains lamb and chicken as its primary protein sources. The protein and fat content well exceed the minimum recommendations. We also liked how prominent rice is in the content to help young puppies digest this nutrient-dense food.
On the downside, it's expensive, especially given the large serving size. Except for beet pulp, there is a noticeable lack of fruits and vegetables as sources of fiber and other nutrients. The food does contain a full slate of vitamins and minerals as additives to ensure a well-rounded diet. We'd prefer a product formulated for small breeds instead of one for any dog.
Lamb-based food for pups allergic to beef
Excellent protein content
Nutrient-rich for growing puppies
Expensive
Large recommend serving size
Lack of fruits and vegetables in the ingredients
---
8.

American Journey Puppy Dry Dog Food
American Journey Puppy Food offers a chicken-based product in a varied formulation meant for puppies of any breed. We always like to see products that begin with a list of recognizable ingredients like chicken, brown rice, and peas. It contains healthy sources of fiber, too. The caloric count is the lowest of the products we reviewed at 365 calories per cup.
The food doesn't contain wheat, corn, or soy, which makes it an excellent choice for pups with allergies. It also doesn't contain by-products, which isn't necessarily a good or bad thing. It's simply a matter of the type of protein source. The product is affordable, but the size is huge for a Yorkie puppy with the recommended serving size. Dogs either seem to love it or not want it.
Doesn't contain wheat, corn, or soy
Affordably priced
Well-rounded ingredient list of proteins, fruits, and vegetables
Not formulated for small breeds
Picky dogs might not like it
Large bag size for a small dog
---
Buyer's Guide: Choosing the Best Yorkie Puppy Food
The most important thing to understand about puppy foods, in general, is that they are not the same as adult products. The calorie counts and nutritional values vary.
The Association of American Feed Control Officials (AAFCO) sets the bar for the nutritional value of pet foods. For example, their standards call for 18% protein and 5% fat by volume for adult dogs. For puppies, it is 22% and 8%, respectively.  Also, only give dog food to your puppy instead of those for cats. Nutritional needs are different between the two animals.
Ingredients in Puppy Foods
Choosing a food formulated specifically for smaller breeds is an excellent start to a healthy diet. The reason lies with their different biology and metabolism. Your Yorkie puppy will mature quicker than a Saint Bernard. Thus, your pup needs energy-dense foods to match his different growth patterns.
Reading Pet Food Labels
Because of the oversight of the AAFCO, you can get a lot of information to help you select the right food for your Yorkie. The wording of the product tells you what percentage of the named ingredient that the product contains. If it says "All Chicken," it means 100% poultry. On the other hand, a name such as "Puppy's Beef Food" has 95% beef by weight.
You'll also see a lot of pet foods with labels like "Chicken Platter" or "Beef Entree." These products must have 25% of the named ingredient by weight. The terms are important, especially if your puppy has food allergies or intolerances. The AAFCO also requires a guaranteed analysis and nutritional adequacy statement.
That's where you'll see foods identified for the growth stage. A food marked for puppies, therefore, provides adequate nutrition for a dog of this age. Other things you'll find on the label include:
Any additives
Feeding directions
Calories per serving
Name and address of the guarantor, i.e., who is responsible for what's in the bag
Types of Ingredients
This part of the labels tells you how much protein, fat, fiber, and water are in the puppy food. You'll also see ingredients from the greatest to smallest portion by weight. What you see is what you get. Premium products or the so-called pet store brands often have the highest quality ingredients—for a price. The advantage of these items is that they also contain fewer filler ingredients.
You'll often find other things on the label, such as by-products, different types of meals, and added nutrients. While it is true that by-products typically include organ meats, it's not a bad thing for your puppy. Many are nutrient-dense and make these foods a healthier choice for your Yorkie. Rest assured that the AAFCO and FDA have the safety of your pet in mind with their regulations.
Health Issues in Yorkshire Terriers
Likewise, Yorkies need a diet that matches their health needs. This breed is prone to some serious medical issues that make choosing the right food essential.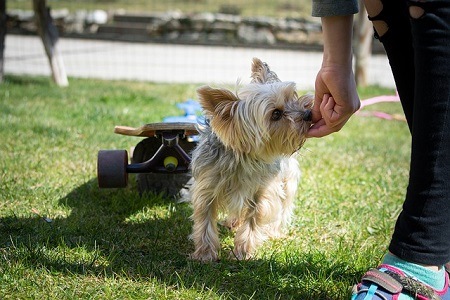 Hypoglycemia
Hypoglycemia or low blood sugar is a common issue in puppies, especially toy breeds like Yorkies. This condition occurs when their bodies use more energy than they're replacing with food. The symptoms are similar to what happens in people. Your pup may be lethargic and sleep more than usual. He may appear weak and not himself. It can become life-threatening if left untreated.
Luckily, you can prevent it with small, frequent meals. The Yorkshire Terrier Club of America recommends that you give them three to four portions daily. Makes sure that there is plenty of fresh water available, too. That will help him metabolize it quicker to keep his energy levels stable.
Gum Disease
Another concern with Yorkies and other toy breeds is dental health. The best way to prevent gum disease is by brushing your pet's teeth. While not a replacement for this task, feeding your puppy dental foods and treats with the Seal of Acceptance from the Veterinary Oral Health Council is another thing you can do to keep their teeth clean.
Weight Management
Obesity, of course, is always a concern with any pet. Those extra pounds can increase your Yorkie's risk of diabetes and other chronic health conditions. It can aggravate other problems, too, such as luxating patellas. Following a proper feeding schedule is imperative even as a puppy to establish good habits for a better quality of life.
However, the concern goes both ways. An underweight pet is also vulnerable, especially if they aren't meeting all of their nutritional needs. It can also increase your puppy's risk of hypoglycemia. We suggest monitoring your pup's weight in these formative weeks. Metabolism may vary between animals, depending on their activity level. Use the recommended serving size as a guide.

Conclusion
Choosing the right food for your Yorkie puppy is a vital consideration. It's the best way to ensure that he gets a complete diet to support healthy development. As we've learned, there is a lot of variation in these products. The key takeaway is to give your pup something meant for his life stage as a smaller breed. That way, you can rest assured that he's getting adequate nutrition for his particular needs.
The Farmer's Dog ticked off all the boxes for a food that will give a Yorkie puppy an excellent start in life. It offers a wealth of nutrients in the amounts recommended by the AAFCO with high-quality ingredients.
We hope that our guide provided you with the information you need to make an informed choice.