15 Best Dog-Loss Sympathy Gift Ideas

When you adopt a pet into your family, the excitement is intense. With each passing year, the animal brings more and more unexplainable happiness to your household. It's hard to think that one day, you will be without them. If you know someone who is currently struggling with the death of a pet, certainly you can imagine what that feels like.
Mourning the loss of a pet can be comparable to losing a family member— which is precisely what it is. In that time of grief, consolation may be sparse but is still worth a try. While picking out the appropriate gift for the loss, you may want to know your options.
The 15 Best Dog-Loss Sympathy Gifts
1.

Urn
If you know your loved one is having their pet cremated, you can always personalize an urn to give to them. This will be a touching, special gift they probably won't be expecting. There are many different options to choose from when shopping around.
Some boxes can have personalized engravings, portraits, figurines, or a photo frame in them. You can add a prewritten poem or even one you wrote yourself, to add to the outside.
You can also choose virtually any material you want the urn to be. There is a vast selection, and companies keep getting more creative with ideas all the more. There are urns made from bronze cube resin, velvet urn bags, stone, photo frame boxes, metal, glass, and even stuffed animals.
You can find many lovely urns on the web on sites like Mainely Urns and Memorials.
---
2.

Paw Print Keepsake
If you act quickly enough, you can make the mold of a paw print before the dog is buried or cremated. Some veterinarians even offer this service at the clinic if the pet needed to be put down. If you have the option, it would be a comforting gif to make your loved one feel like their pet is still with them somehow.
You can customize a paw print in many ways. Much as the urn, you can add inscriptions, poems, dates, or other means of specification for their lost pet. Even if you can't get their paw print, you can use a stock image and add personalization to it. You can find molds on sites like Petco.
---
3.

Framed Collar
Memories last forever, and sometimes having a physical reminder is comforting. You could have the actual dog's collar framed for hanging. Creatively, you could double the mounted collar with a photo or quote to give it an extra special feeling.
When they pass it by daily, it will be a gentle reminder or a happy nudge saying hello beyond the rainbow bridge. You can find ideas like this on Chewy or another reputable site of your choosing.
---
4.

Memorial Stone
If they buried their dog, you could customize a very special memorial stone for them. Even if they had them cremated, this could be an amazing idea to put out as strictly a monument piece and not a grave marker. You can show birth and death dates with the pet's name and any additional inscriptions you would like to add.
You can use photos on these as well, creating a happier memory of the dog whenever they see it. You can find selections on Chewy and many others.
---
5.

Locket of Ashes
What better way to cherish a lifetime than to have a locket with the dog's ashes inside? This is a very traditional way people across the centuries have kept memories of their passed loved ones. So, the same could work for a lost dog.
You could even have an image of them within the locket to accompany the vile of ashes with any other details you could think to add—making it even more individualized. You can find this option on many sites, such as Etsy or Ashes Necklace.
---
6.

Pet Portrait
Many artists specialize in pet portraits. There is something very intimate and heartfelt about a handmade piece of art. Giving them a painting, sketch, or digital drawing from a local artist is a wonderful way to support a good cause and give a gift that will be forever meaningful.
You can find artists locally, through social media sites, and by browsing the web. Rates will vary depending on the quality of the portrait and the experience of the artist. It may run you a higher cost, but it is something very special, bringing an element of the pet back to life on paper.
---
7.

Photo Collage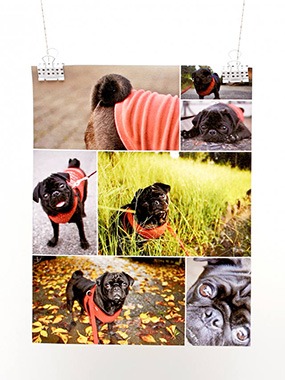 Another wall hanging idea, creating a photo collage of the best images of the dog while it was alive, is a lovely way to honor their memory. You can print the photos yourself and arrange them in a frame of your choice as you wish.
Or alternatively, you can go on sites such as collage.com to make your own collage design and have it shipped directly to you or the recipient.
---
8.

Wind Chimes
The idea that every time a wind chime blows, that is their lost pet saying hello may be a comforting idea for some. Getting wind chimes with an inscription or the pet's name can provide solace for those dealing with loss.
You can purchase and personalize a wind chime to your liking, specially tailored for the circumstances. You can find this type of item on many sites, such as Etsy.
---
9.

Garden Stone
If your loved one gardens or has a flower bed, you could get them a stone to add to the aesthetic to serve as a reminder. You can get them in many designs like circles, hearts, or a raw piece of stone as-is. You can add photos of the pet or quote of your choosing.
You can find garden stones on sites like Shutterfly.
---
10.

Plaque
You can find plaques for just about any occasion. There are plenty of places that special-make plaques centered around your wishes. You can find them in virtually any material. You can even get creative and make your own.
You can have customized plaques for pet loss made on sites like Personalization Mall.
---
11.

Blanket
After such a devastating loss, covering up with a blanket that has a giant picture of their dog's face may be just what your friend needs. It is a symbol of comfort and will serve as a sweet reminder as the pain lessens, seeming as though a part of them never left.
You can customize plush blankets with photos on sites like Fur Baby Prints.
---
12.

Pillow
You can add matching pillows to the blanket idea or even get throw pillows for a couch or loveseat. Having an image of their dog's face on their furniture can give peace and solace. You could even suggest they put it in their pet's favorite spot.
You can create custom-made pillows on The Pet Pillow.
---
13.

Memory Journal
You can give them something to deal with grief like a memory journal. They can record wonderful times spent with their pet and write about their sadness to cope.
You can find pet loss journals on places like Amazon.
---
14.

Bracelet
Giving them another option that they can wear daily, you can buy them a lovely bracelet in memory of their pet. There are several types you can choose from of all different metals, crystals, and synthetics.
Sites like I Heart Dogs have options to buy a bracelet. This particular one sells a bracelet in remembrance of a lost pet while feeding 22 shelter dogs.
---
15.

Plush Dog
If your friend is in need of a little comforting, Cuddle Clone's custom plush dogs can be great healing tools. These handmade dogs are designed to look exactly like the original pup — including unique markings and details like floppy ears. Help keep the spirit of a beloved furry friend alive!
---
Conclusion
You may not even know just how grateful they will feel when they receive a heartfelt gift. Many times, people tend to overlook the debilitating hurt the loss of a pet brings. Showing that you not only care— but empathize with their loss—will help them find relief in an emotionally traumatic situation.
You might also be interested in: 50 Pet Loss Quotes – An Inspirational Guide Through Grief 
---