Everyone has one friend who is simply obsessed with their dogs. You may even be one of them yourself. In the crafty world of today, there are tons of personalized gifts that you can custom make for just about any occasion. Now that everyone can get creative with present possibilities, you may be wondering what some options are.
You won't have to worry about getting them something they may use once or never at all. We have gathered up over 30 insanely cute ideas that you can gift your friend. Whether it be a birthday, holiday, or just because, they will love nothing more than a sentimental item pertaining to their dog.

The 30 Custom Dog Gifts for the Dog Lover in Your Life
1.

Keychain
Anytime your friend leaves their house, the one thing they will always need is their keys. They may not be able to take their four-legged friend everywhere. With a personalized pet keychain, you can design an engraved image, paw print, or even their name. There are a lot of different design choices out there as well, so you can shop around to see which one fits best.
---
2.

Framed Photo
Getting a gift that you can hang on your wall or put on a desk at work is always a fantastic idea. Many people have photos of their family or children, but how about beloved dogs? They are just as much a part of someone's daily life as any person. When it comes to the frame, you can even present a quote or the pets name right on the metal or wood for an extra-special touch.
---
3.

Pet Portrait
Supporting art is always a fantastic idea. If you personally know of an artist or would like to scout around for one, many can do pet portraits. This is a way to give something that you put a lot of thought into. It may be much more meaningful for the receiver to know this was hand-drawn than having a printed photo. You can fund a local artist to help reward them for their talent while providing a gift that can be cherished for a lifetime. It's a win-win.
---
4.

Digital Picture
Digital artists can also make a fascinating pet portrait for you, but with an abstract twist. When it comes to a digital portrait, you can have the picture as a .jpeg file as well. This way, not only can the receiver have a printed version, but they can also use it as a screensaver or wallpaper for their phone or computer. Additionally, they can keep it stored in any electronic device that supports picture files.
---
5.

Personalized ID Tag
Every dog needs a high-quality ID tag, and this one from Animal-ID isn't just adorable. Along with the engraved pet name and phone number, you can choose from 23 designs and even upload a favorite picture. And that QR code on the back means that your friend's beloved dog will never go missing for long! If the furrball wanders off, a quick scan of the QR code will bring up detailed contact information and send the GPS location back to the owner. A fun and functional custom dog gift!
---
6.

Blanket
Cuddling up with a dog is awesome enough in itself. But what if you got them a customized fleece blanket with a photo of their dog? It may even be a photo of the two of them enjoying a moment together. Just think of your loved one unwrapping this custom dog gift to find a giant image of their best friend.
See also: our top 10 favorite dog blankets.
---
7.

Digital Slideshow Frame
If art isn't really your thing, you can always create a digital slideshow of your friend and their pet. Most work by inserting a memory card that has picture files on it, which then translates to the image screen, rotating as many or as few photos as you wish. This can double nicely to also provide them with memories of their friends and family as well.
---
8.

Beach Towel
If your friend frequently swims or makes beach visits, personalizing a beach towel may be an ideal custom dog gift for them. This may be a cheaper idea than some others on the list— but it is just as personal. They could even end up using the towel to designate as their dog's special towel for when they tagalong on beach, lake, or pool visits.
---
9.

Pillow
If you're looking for a decorative idea, a pillow is a safe bet. You can get a throw pillow design so they can add it to their couch or bed suit. You can also customize a pillowcase they can use as their nightly sleeper. No matter what style you opt for, they will be able to put it to good use.
---
10.

Stuffed Animal
On a similar note, why not give your dog lover a personalized stuffed animal? Buy a handmade plush dog — that looks exactly like your friend's favorite furrball! Guaranteed to please any animal enthusiast.
---
11.

Shirts
There are a lot of different options when it comes to shirts. You can get virtually any style of shirt from hoodies to tank tops. What more would your friend want to wear than a giant photo of their dog? Probably not much.
---
12.

Wind Chime
You could get them a personalized wind chime. There are many designs to choose from when it comes to the centerpiece. You can get a paw print with a quote or even provide a photo of the dog to view.  It's a lovely addition to a porch or patio space.
---
13.

Book
What could be more personal and adorable than a small booklet made about the dog? Sites like iSeeMe.com will make a book about your loved ones pooch called "If My Dog Could Talk", which is unique and affordable. This is a keepsake someone will cherish for a lifetime.
---
14.

Tote Bag
Many sites have items like tote bags among other merchandise that you can buy. You can upload the photo of your choice so that the bag can have a vinyl printed photo of the dog. Your friend can carry this around to any event.
---
15.

Pet Paw Mold
If you can sneak a mold of their dog's foot when they aren't looking, you can surprise them with a special mold. They can keep this as a reminder of their dog even after they depart from this world. You can turn this into a Christmas ornament or something they can hang from their rear-view mirror.
---
16.

Plaque
What would they want to put on their office desk or hang on their mantle? You guessed it. A plaque personalized and dedicated to their dog. It can have a photo and inscription to remind the person in your life about the love their dog also feels for them.
---
17.

Dog Face Socks
Want to get a few laughs? You can get a pair of socks or underwear complete with their dog's face. Some companies will take a photo and transfer it to the socks with no problem. Who needs polka dots when you have a pooch face?
---
18.

Bracelet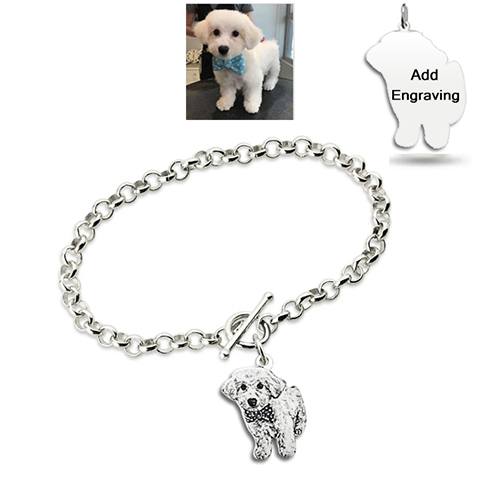 You have the option to get a customized charm on a bracelet that's a tiny replica of the dog. It's unique and even more special because they can wear it every day. It's something they can use to spruce up an outfit or keep tucked in a jewelry box for safekeeping.
---
19.

Notepad
Everyone needs to write a grocery list or a quick reminder from time to time. Opting for a notepad decorated with your dog lovers favorite breed is an easy, practical custom dog gift they can put to use.
---
20.

Hat
Have a friend who can't leave the house without a cap on? You can get them a hat that tells the world how much they love dogs with a design of your choosing. You could even get the dog and your friend matching hat. Yes— it's a thing!
---
21.

Wine tumbler
Who doesn't need to unwind after a long day? If you have a friend who loves a good bottle of wine, getting a wine tumbler relating to dogs will make their beverage experience all the more fulfilling. You could even go the extra mile and buy them a bottle to pair with it.
---
22.

Pet Backpack
Is the dog small even to tote around? Get them a pet backpack. Forget walking their dog on leashes. They can wear their pet with style. It will make the pet feel nice and pampered, especially if they don't care much for walking.
---
23.

Wall Art
You can get them a decorative piece to hang on the wall. Whether it be a wooden board with a quote or even a tapestry, they can show off their love for dogs for all their company to see.
---
24.

Treat Jar
What dog doesn't love treats? Get a decor friendly cookie jar that matches your friends style choice. Now the treat can be out of the cabinet and into an aesthetically pleasing jar.
---
25.

Accessories Wall Rack
Get the dog their very own accessory wall rack to hang their belongings. They can secure the rack right to the wall and store leashes, supply bags, and even their dog's sweaters or coats. It's perfect for organizing and it looks nice, too!
---
26.

Shadow Box
Your friend probably has a ton of dog pictures of current and past pets. Gather up a few meaningful pictures or memorabilia and make a shadow box for them. It's both sentimental and delightful looking as a decoration.
---
27.

Dog Bed
Sure, the dog bed is for the dog. But have you seen dog beds these days? Some of them are downright adorable and perfectly tailorable to any decor style. Get a bed that is comfy for the pooch and matches the room theme.
---
28.

Welcome Mat
Nothing says, "Welcome to my home!" like a funny welcome mat. You can look through several different mat quotes. Many are humorous so you can pick the one that sounds fitting of your friend.
---
29.

Locket
Get something that can be a keepsake forever. A locket with their dog's photo and possible inscription inside is a sweet way to honor their friendship. Plus, it will still be there even when their dog no longer is, making it even more sentimental.
---
30.

Mousepad
Chances are—your friend has a computer at home. They may even work an office job. Get them a customized mousepad with their dog's face. They may not be able to pet them all day while they're working, but at least they can look at their face.
---
Where to Buy
Personalization is all the rave these days, and companies know it. There are so many hand-made markets and customization sites that let you practically make the product yourself. So, if you've never taken advantage of this, you may wonder where some reputable sites are to buy your gift.
Amazon
Amazon has many vendors who offer items that can be tailored to your special needs. You have the opportunity to read reviews and view customer submitted photos to gauge how yours will turn out.
Etsy
Etsy is full of sellers making handmade crafts and goodies. You can find just about anything you can think of by typing in what you want in the search. Etsy has a lot of small-time sellers from all over the world, so most gifts have that truly personal touch.
Zazzle
Zazzle is a site where you upload your own images or use stock photos to customize a wide inventory of pieces. You can choose anything from office supplies to clothing to toys to home décor.
Shutterfly
Much like Zazzle, Shutterfly is a stock photograph website where you can use their images or upload your own. You can create your own product or gift and use their production and printing services.
Collage
Collage is a site where you can take your own photos, create collages or single photo designs, and print them onto merchandise or canvas.
Personalization Mall
Personalization Mall is a site with many different types of products that you can buy. Each item is created as a one of a kind piece for the buyer, having whatever personal touches you added.

Conclusion
If none of these ideas really worked for you or you want to shop around, at least you know where to look. With as many options that exist today, you can surely find something for the dog lover in your life. There is nothing like giving a gift that really shows that you value a person like giving them something they feel truly sentimental about. Adding your personal touches will make them admire the gift even more.
So, throw some ideas around in your head—pick something—and watch the joy spread across their face when they see what you came up with.
---
Featured Image Credit: Pezibear, Pixabay