11 Best Gifts for Dog Lovers – 2023 Reviews & Top Picks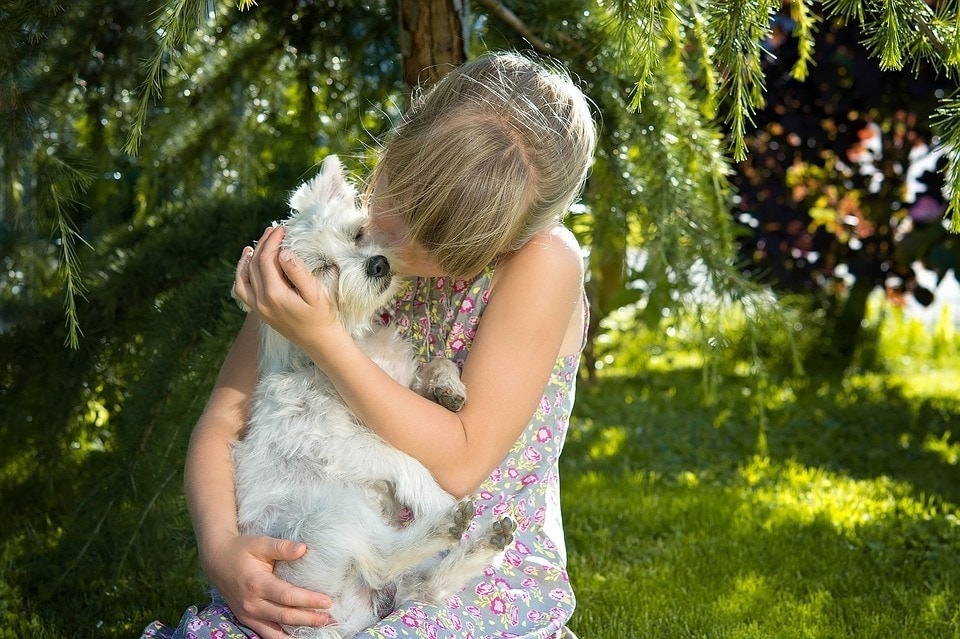 You may think that buying the best gifts for a dog lover in your life is the easiest thing in the world. After all, there are so many options, right?
However, even the most dedicated puppy lover gets tired of receiving coffee mugs and T-shirts every birthday and Christmas. To truly stand out to the animal lover in your life, you'll need to put a little more thought into it.
Fortunately, we're here to help. The gifts for dog lovers below are sure to get an inspired reaction, as they're wonderful for both your best friend and theirs.


A Quick Comparison of our Favorites (2023)
Rating
Image
Product
Details

Treats from Nativo Pet Company

Made by a professional trainer
Uses single-source proteins
Dogs love the taste
Check Price

Paint Your Life Custom Dog Portrait

Hand-painted dog portraits
Variety of styles and mediums 
Can be created from any photo
Check Price

Apparel from Aurora Pets

Extremely stylish gifts
Assortment of items available
Everything is well-made and durable
Check Price

Curbicus

Offers touch-free waste disposal
Fits on any leash
Uses eco-friendly compostable bags
Check Price

Love4Pet Grooming Gloves

Easily removes loose dog hair
Knocks dirt and debris loose
Comfortable and reassuring to dogs
Check Price
The 11 Best Gifts for Dog Lovers
1.

An Assortment of Treats from Nativo Pet Company
The treats from Nativo Pet Company have all been made under the watchful eye of a professional trainer, and they're designed with single-source proteins and organic greens.
Their offerings come in two varieties: Chillin' Chews and Num Nums. The Chews are freeze-dried chunks of meat like beef or even salmon skin. They're longer lasting than a regular treat, and they're chock full of important nutrients like omega fatty acids and collagen.
The Num Nums are much smaller and make fantastic training rewards. They're made with ingredients like freeze-dried meat (either beef, salmon, or duck) and superfoods like kale and blueberries. Dogs love them — so much so that you'll have a hard time believing that they're healthy.
Now, these treats are extremely expensive, but that's what you'd expect when they use such high-quality ingredients. You may not be able to afford to give away treats from Nativo Pet Company on a daily basis, but for a once-a-year gift, we think this is one of the best gifts for dog lovers.
Made by a professional trainer
Uses single-source proteins and organic fruits and veggies
Two varieties available
Dogs love the taste
Perfect for use as training rewards
---
2.

Paint Your Life Dog Portrait
A Paint Your Life custom dog portrait is guaranteed to delight just about any dog lover! All you have to do is send in a photo and one of their talented artists will take it from there. You can choose between mediums like oil, acrylic, and watercolor, and there are also a variety of styles available. These portraits are truly works of art, perfect for honoring your favorite dog lover's favorite dog!
This is a pricier gift option, and it does take about 20 days. If you're short on time, you can also opt for a gift card that will allow your recipient to commission their own portrait.
Hand-painted custom dog portraits
Variety of styles and mediums
Can be created from any photo
Gift cards available
Not for procrastinators (takes 20 days)
Fairly pricey
---
3.

Apparel from Aurora Pets
You can get a leash, collar, or even an ugly sweater for a dog at your local pet store, but if you really want a pet to look stylish, you'll have to work a little harder.
Aurora Pets offers an assortment of high-end clothing for dogs. They have premium leather collars, fuzzy sweaters, and designer food bowls, all perfect for the discriminating dog lover in your life.
Every single one of their pieces has been made to last, which makes their high prices seem much more reasonable. They're also designed to be conversation starters, which is something that you can't get from a mass-produced piece of equipment.
Their pieces aren't just made to be looked at either. They're all quite functional, and many are made for people who spend more time outdoors with their dogs than watching Netflix with them.
They only make them in small batches, though, so their collections sell out quickly.
While you could certainly argue that no one needs anything from Aurora Pets, that's not the point of a gift, is it? The important thing is that their stuff will definitely let your loved one know that you care.
Extremely stylish gifts
Assortment of items available
Everything is well-made and durable
Perfect for outdoorsy types
Great conversation starters
Collections sell out quickly
Expensive versions of basic items
---
4.

A Curbicus
What is a Curbicus, you ask? It's hard to explain. It's a mix of a Pooper Scooper and vacuum cleaner that attaches to a leash, making for a mess-free way to pick up after a dog on walks.
Even better, the device uses compostable bags, so it's an environmentally-friendly way to dispose of waste. There are no plastic bags to deal with, and the dog owner will never have to actually touch the poop.
The device is small, just 9 inches long and 4 inches wide. It won't get in the way on walks, but it has plenty of room to handle the largest waste deposits. Dog owners will even be able to pick up after their Great Dane.
All they have to do is set it on the ground and turn it on, and it'll suck the poop right into the container. It's quiet, so it shouldn't spook a dog, but it will likely draw stares from passersby.
The machine is battery-operated, so dog owners will need to change out the Duracells periodically if they want it to work. Also, it struggles with loose stools, so they may need to carry spare bags just in case.
The Curbicus represents the future of waste disposal, and it's the perfect gift for someone who never would've thought to buy something like this for themselves.
Offers touch-free waste disposal
Fits on any leash
Uses eco-friendly compostable bags
Small and unobtrusive
Quiet while in operation
Requires batteries
Struggles to work on loose stools
---
5.

Love4Pet Grooming Gloves
Combing a pooch is a thankless job, but it's one that has to be done — unless a dog owner wants to live in a home covered in dog hair. If you have a friend who's always showing up to events carrying little bits of their dog with them, these Love4Pet Grooming Gloves can help them look fresh and clean again.
All they have to do is slip the gloves on and pet their dog as they normally would. The surface of the gloves is covered with nubs, each of which removes loose hair as they stroke your pup. These also knock dirt and debris loose while redistributing oils across the dog's skin.
They can be used wet or dry, making them fantastic tools at bath time. They're also extremely affordable, so you won't have to break the bank in order to give a friend a gift that they'll love.
They're not that flexible, though, so it may be troublesome getting into tight spaces. Still, using the Love4Pet Grooming Gloves is more convenient than chasing after a dog with a slicker brush.
Easily removes loose dog hair
Knocks dirt and debris loose
Comfortable and reassuring to dogs
Perfect for bath time
Great value for the price
---
6.

SmartBuckle Pet Recovery Collars
Collars serve two purposes: to keep a dog attached to their leash and to keep their identification close at hand. Unfortunately, long, jangling dog tags can easily get lost, rendering the collar useless.
The SmartBuckle Pet Recovery Collar aims to solve this problem by embedding an ID tag into the collar itself. The tag has the address of a website that will have all of the dog's information and the dog owner's contact details.
SmartBuckle also sells more advanced collars with tracking devices and even Bluetooth. These allow the dog owner to find their dog if they get lost, and they can even get notified if your dog leaves an established perimeter.
While these collars are certainly high-tech, they're also lightweight and stylish, so your pup shouldn't mind wearing them. They're not that expensive, either, although the recipient of your gift doesn't need to know that.
The only issue we see with the SmartBuckle Pet Recovery Collar is the fact that they may be too complex for the technologically-challenged. As long as you feel comfortable with using a simple app, though, they're a fantastic way to keep your dog safe and secure.
Contains dog's ID in a way that won't fall off
Collars with tracking devices available
Some models notify you if your dog escapes
Lightweight and stylish
Not that expensive
May be too complex for the technologically challenged
---
7.

Jinx Dog Food
There are plenty of highly-nutritious dog foods on the market, but all that nutrition does a dog no good if they don't absorb it. Jinx is designed to be the easiest dog food for a dog to process, ensuring that they get all the vitamins and minerals that they need from their kibble.
The food is loaded with probiotics as well, so a dog's digestive system will be improved while they absorb all those nutrients. This also has the effect of creating well-formed stools, so a dog owner will have less of a mess to clean up in the backyard.
Most of the ingredients are organic, including the proteins, and the food is loaded with omega fatty acids. Best of all, though, most dogs love the taste, so dog owners won't have to struggle to get their dogs to eat their supper.
If the dog doesn't like the food, however, there aren't many backup options, as it's a limited selection. Fortunately, though, that's not often an issue, and Jinx is likely to be a dog's new favorite food — one that they'll be more than happy to share with friends and family.
Highly digestible
Uses largely organic ingredients
Loaded with omega fatty acids
Most dogs love the taste
Filled with probiotics
---
8.

Diamond CBD
CBD oil is all the rage these days, as it's fantastic for everything from pain relief to controlling seizures. It's even good for dogs, and Diamond CBD offers a variety of products perfect for pooches.
You'll find everything from treats and biscuits to sprays and straight oil. The treats are an excellent way to convince a dog to take the treatment, while the oil offers a more potent dosing option.
The products rarely create side effects, so they should be completely safe for most dogs if used appropriately. While they're not approved to treat any diseases or conditions, many owners report positive results from their use.
All of the company's CBD is organically-grown and hemp-derived, so dog owners don't have to worry about getting their dog stoned. It's also completely legal to travel with.
Many dogs refuse to consume it, though, so a dog owner may struggle to convince their pup to take their meds. If they can, though, Diamond CBD's products may just help their dog feel like themselves again.
Has treats, oils, and sprays
No side effects
Won't create psychedelic effects
Legal to travel with
Organically grown
Many dogs refuse to take it
---
9.

Isabelle Grace Jewelry Dog Lovers Necklace
This one isn't for your friend's pet — it's for your friend themselves.
The Dog Lovers Necklace is beautiful and restrained, and it's sure to draw appreciative stares everywhere they go. You can put their dog's name on it, so they can carry their pet everywhere they go.
Hand-crafted and made of fine silver, these necklaces are a gorgeous way to celebrate your best friend. Just below the name, you'll find a bone accented in 22-kt. gold, ensuring that the whole thing pops.
This isn't a flashy necklace, but that doesn't mean it isn't gorgeous. It's perfect for down-to-earth dog lovers or those who work with the animals professionally.
Just be sure to order it well ahead of time, because it takes time for the artisans at Isabelle Grace to craft each one.
Hand-crafted
Beautiful and restrained
Made of fine silver
Bone can be accented in 22-kt gold
Perfect for dog trainers
Takes some time to get your order
---
10.

Splendid Beast
With Splendid Beast, you can immortalize your friend's dog in one of history's greatest paintings, or you can commission a brand-new work that really captures their spirit. It's up to you, but each of the paintings is custom-made and completely unique.
About two months after you put in your order, you'll receive an oil painting on the canvas size of your choice. Their standard sizes are 16" x 12" or 24" x 18," but they also have gigantic options available if you'd rather have a work that takes up an entire wall.
They'll even frame it for you (for a price, of course). All in all, it's one of the easiest ways to create a truly spectacular gift for the dog lover in your life — and they even offer gift cards if the pressure's too much for you.
You'll need to give Splendid Beast plenty of heads-up before ordering, as these take a long time to make, but that's about the worst thing that we can say about these beautiful works of art.
Can put dogs in famous historical paintings
Completely unique works of art also available
Available in multiple sizes
Can be shipped in a frame
Gift cards available
Takes about two months to make
---
11.

Stellar Villa
If the artworks from Splendid Beast don't tickle your fancy, the pieces from Stellar Villa just might.
These are much more budget-friendly pieces because they're not unique, but they're still gorgeous. You can find everything from dog high-five prints to creative slogans.
Each print is ideal for hanging in an office or even a dorm room, and they should be well within most people's budgets.
You can also get custom pieces made for an additional fee, but there are enough options that you're likely to find something perfect among their existing inventory.
Stellar Villa makes more than just dog art, so you don't have to limit yourself if your friend has more varied tastes than just pets. We'll stick with the dog pieces, though — they're truly fantastic.
Pieces are budget friendly
Multiple options available
Perfect for offices and dorm rooms
Custom pieces available
Offers both slogans and portraits

Conclusion
If you're struggling to find a gift for the dog lover in your life, the options above may just be the perfect surprise. Each one is a creative way to celebrate your friend and their pet, and they're all sure to be received with joy and appreciation.
Of course, don't be surprised if your gift upstages anything they got for you — especially if it's another mug.
---
Featured Image: Pixabay