7 Best Door Scratch Protector for Dogs in 2023 – Reviews & Top Picks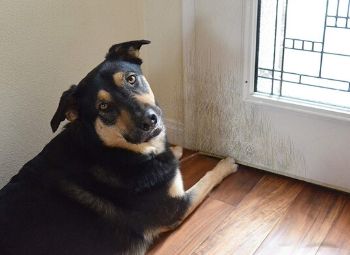 Our dogs harbor a great love for us, but unfortunately, that love can cause them to become anxious when separated for a period of time. We don't want to worry about our doors, trim, and other items getting ruined every time we leave the house.
That's where door protectors come in. Perhaps you have tried something in the past and it didn't work well, or you want to discourage your dog from developing the bad habit of scratching. There are many types available, all with their own advantages and disadvantages.
This review list of the seven best door protectors for dog scratches can help you find the one that will fit your budget and preferences. The buyer's guide will go over considerations when shopping for a protector, as well as useful tips.
---
A Quick Look at Our Favorites of 2023
Rating
Image
Product
Details

Best Overall

CLAWGUARD Door Shield

Ridged plastic
Trimmable
Easily apply and remove
Check Price

Best Value

Claw Shield Scratch Protector

Durable
Easy to install
High adhesive
Check Price

Premium Choice

PETFECT Door Scratch Protector

Transparent
Easy to install and remove
Flexible
Check Price

KEBE Door Scratch Protector

Cut to fit
Durable
Versatile
Check Price

LAMINET Pet Scratch Shields

Thick and durable
Fits a variety of doors
Easy to install
Check Price
The 7 Best Door Scratch Protectors for Dogs
1.

CLAWGUARD Door Scratch Protector – Best Overall
The Clawguard is made from recycled, ridged plastic that covers your door to protect the wall, frame, and the door itself.
We like that you can adjust the size by trimming it with a pair of scissors and pick from two finishes—either smooth or textured—depending on how much noise you want to hear when the dog does scratch the plastic. The noise is supposed to be irritating and discourage them from continuing this bad habit.
Installation is a breeze—just hang it around a doorknob, and it will fit all standard doors. The guard itself is 44×20 inches in size and fits right over the handle, staying in place. On the downside, the Velcro pad that comes with the product is not durable with active dogs who tend to jump on the door. It also works better on the flush side of the door, compared to the recessed side. We think this is the best door protector for dog scratches on the market. If you're looking for the best door scratch protector for dogs, we think this is it.
Ridged plastic
Fits standard doors
Large size
Trimmable
Good fit over the handle
Easily apply and remove
Velcro not durable
Doesn't fit as well on recessed side
---
2.

Claw Shield Scratch Protector for Dogs – Best Value
This protector is a clear 12mm PVC vinyl that will protect your doors and furniture from dog scratches. It comes in an 8×60-inch sheet that can be cut to fit any surface, such as furniture, moldings, and screen doors. It is designed and made in the U.S.A. and comes in a roll with an applicator card.
It is easy to install: Just cut it to size, peel the backing off, and use the applicator to smooth it into place. On the downside, it does not come with instructions and has the potential to remove paint or stain on certain surfaces, since it is quite tacky.
It does provide a nice barrier of protection since it's durable and nearly invisible once in place. This product is affordable, and we like how flexible and versatile it is. It does not make the number-one spot because it isn't as easy to use and is more permanent, but it is the best value scratch protector from dog scratches. This is the best door protector for dogs for the money on the market.
Durable
Large flexible sheet
Cut to size
Can be used on a variety of surfaces
Easy to install
High adhesive
Affordable
No instructions
Potential to damage paint
---
3.

PETFECT Door Dog Scratch-Protector – Premium Choice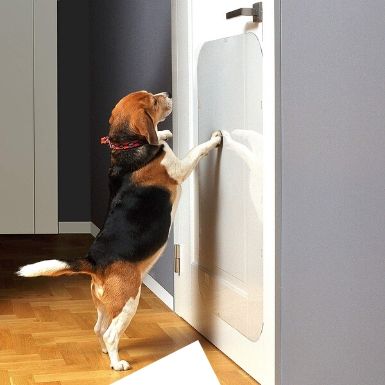 The PETFECT will fit standard doors within your household, and you can pick from three different sizes. The largest is a 35.5×24-inch transparent sheet made out of 0.75mm polycarbonate. It is installed by using hook-and-loop Velcro fasteners, and it is easy to install and take off as needed.
We like that it is flexible enough to cover the door and trim at once. The instructions state that there is no need to cut since it is pre-sized, but we found that it can be cut if adjustments are needed, though it does require the use of a sharp utility knife to get through the rigid plastic. Also, there may not be enough Velcro if you do cut it in half to use as two pieces.
This is on the more expensive end but it is our premium choice.
Fits standard doors
Durable
Transparent
Easy to install and remove
Flexible
---
4.

KEBE Door Scratch Guard for Dogs
This protector is an adhesive that you cut to fit the area you want to protect. It is transparent and made of industrial thick vinyl that can hold up to the most aggressive scratching. It adheres to most surfaces, including wood, glass, and certain fabrics.
We like that it is easy to cut and is non-toxic. On the downside, it can be somewhat difficult to produce a smooth finish without bubbles or creases. It's nice that it is tacky, but it has the potential to remove paint from certain surfaces.
The KEBE is durable to scratching, though others have reported it is not resistant to chewing. It does help train your dog to stop scratching if they are doing it for the sensation of sharpening their claws.
Cut to fit
Transparent
Durable
Versatile
Easy to cut
Strong adhesive
Affordable
Difficult to apply
Potential to remove paint
Need a dog door for a large dog? Click here!
---
5.

LAMINET Deluxe Dog Scratch Shields
This shield is manufactured in the U.S.A. and made of a thick, durable 0.030-gauge vinyl. The deluxe size, 36×16 inches, fits nicely on standard doors, sliding patio doors, and storm doors. It comes with Velcro attachments and can be used with right- or left-sided doorknobs.
We like that there are plenty of Velcro stickers to secure it in place, making it easy to install and remove as needed. However, we would prefer if the shield covered more of the side trim, to also protect that area from scratching.
You can cut this in half to use in two different areas, but it is rigid so it doesn't flex as well as the others on this list. The Velcro stickers are strong and adhere well to the surface, which may cause paint damage when removed at a later time.
Thick and durable
Fits a variety of doors
Easy to install
High Velcro adhesion
Potential for paint damage
Does not cover door trim
Need more dog-proof products? Check these out:
---
6.

Bandwagon ikmn Door Dog Scratch Protector
The Bandwagon is a vinyl shield made to protect your door, though we would prefer to have an option to protect the trim as well. It will fit standard doors and measures 16×36 inches. Installation should be easy since it comes with 10 hook and loop anchors, but the product arrives rolled and is thus difficult to make it lay flat.
We noticed that the adhesive is not as strong, so it may not hold up to more aggressive scratching. The shield is smooth on both sides and can work on right- or left-side door handles. It can also be cut to fit different areas.
Durable
Fits standard doors
Large size
Can cut to fit
Affordable
Difficult to remove memory
Poor adhesion
---
7.

IN HAND Clear Door Scratch Protector
This door cover is large in size at 43×17 inches and made from industrial-grade vinyl that will fit any standard door. It comes with 3M adhesives that are strong and adhere well to the door, holding up to aggressive scratchers.
The product arrives coiled and will require time to remove the memory before it can be installed. It is thick and durable, but unfortunately, it is only for the door and offers no protection to the surrounding trim. It will fit on right or left handles and is also easy to cut to adjust the size.
On the downside, the adhesive is not friendly on painted surfaces.
Large size
Durable
Fits standard doors
Can cut to fit
Affordable
Strong adhesive
Arrives rolled up
Potential to damage paint
Also see: The top dog doors of the year
---
Buyer's Guide – Choosing the Best Door Scratch Protector for Dogs
This section will give you helpful information to keep in mind when buying a door protector, as well as useful tips that may be beneficial in the future so you can protect your doors!
Size of Dog
Larger dogs will require a more durable and thicker protector since they often have thick, sharp nails that will damage a thin protector. It will need to cover a large portion of the door if your dog likes to jump against the door and trim. Smaller dogs can still cause damage, but it will be more toward the bottom of the door, possibly including the weather strip.
Materials
This includes the material of the door, as well as what the protector is made of. Some protectors do better on wood doors, while others may stay better for glass. Don't forget about screens too, since these can be damaged in a short amount of time by an aggressive dog. The standard scratch protector is for a wood door.
Noise
Certain protectors are made to work as a training tool, causing a loud noise when the dog scratches the surface, irritating them. A reversible protector is nice, where one side is smooth and the other is textured, so you can switch it over once your dog is better behaved.
Mounting Surface
Installation is usually straightforward and easy to accomplish, but some shields will be a full sheet that is mounted to the door by an adhesive, and others will have full adhesive backing that allows you to cut and mold it. Keep in mind that the full adhesive protector will not offer any noise control.
Cost
Most are within an affordable price range, but some are pricier than others. Find one that can fit your needs and budget.
Tips
Think about how easy the protector will be to clean and maintain.
Will the adhesive that is used to secure the protector damage paint or other surfaces?
Some securement devices are black, while others may be white, clear, or gray.
Certain protectors will work well with cats too.
Figure out why your dog is scratching. Is it for attention or because of anxiety? Or is it time for a potty break?

Final Thoughts
Our reviews list offers seven of the best door guards with a variety of features to consider. You should find a product that is easy to use, durable, and keeps your doors protected.
Our top pick is the Clawguard which offers reversible sides, easy installation, and maximum protection for your door and trim. The Claw Shield is our best value choice since it is a flexible shield that offers protection and versatility at an affordable price. If the price isn't a deterrent, however, then the PETFECT is a quality product that is durable and covers a large portion of your door.
We hope our review list helps ease some of the frustration of finding a door protector, and we hope you find one that is easy to use and effective in preventing damage to your door and/or the surrounding area.