10 Best Dog Bones For German Shepherds – 2023 Reviews & Top Picks

As any owner will attest, German Shepherds love to chew, and when they don't have a suitable toy or bone to chew on, this can be to the detriment of furniture and household items. The strength of the breed's bite, measured at up to 238PSI, and the sharpness of their teeth means that finding a suitable bone isn't always easy. Thankfully, there are a lot of options for owners.
Below, we have included reviews of some of the best bones for your dog. As well as raw meat bones, we have included rubber bones, which tend to last longer but cost a little more; rawhide, which is better suited to less intense chewers: and antlers, which while not strictly bones, do serve the same purpose and have proven popular. Hopefully, using the list, you can save your furniture legs while giving your dog a treat they'll love.
Disclaimer: Please be careful whichever chew you choose to give your dog and always supervise them during chewing, as none are considered 100% safe. Some dogs like to swallow their food too quickly, without chewing it through properly or at all, and in case of hard chews, this may lead to several issues, such as teeth and mouth damage, pieces of the chew getting stuck at the back of the throat causing choking, large pieces may cause a blockage of the stomach and intestines, or constipation, and with any new chew vomiting and diarrhea are possible. All of these conditions require veterinary attention.

A Quick Comparison of Our Favorites – 2023 Update
Rating
Image
Product
Details

Best Overall

Bones & Chews Beef

Real meat bone
Approximately 12" long
Good price
Check Price

Best Value

Pure & Simple Rawhide Treat

Cheap
Less chance of staining than meat bones
Promote good dental hygiene
Check Price

Premium Choice

Bones & Chews Elk

Natural elk antlers
Contain calcium that strengthens teeth and bones
No marrow so less staining than with meat bones
Check Price

Best for Puppies

Nylabone Edibles Bacon

Designed for puppies
Made with natural ingredients
Cheap
Check Price

KONG Goodie Bone

Hardwearing rubber bone
Can be filled with palatable treats
Keeps your dog busy finding the treats inside
Check Price
The 10 Best Dog Bones For German Shepherds
1.

Bones & Chews Beef Foreshank Bone – Best Overall
| | |
| --- | --- |
| Bone Type: | Meat Bone |
| Dog Age: | Adult |
| Dog Size: | Large |
The Bones & Chews Beef Foreshank Bone is a natural beef bone that has been slow-roasted. It has meat and fat left on, which will make it even more appealing to your German Shepherd. The natural bone has not been chemically treated and does not have any artificial additives or ingredients. Because it is a natural bone, the size and shape can vary, but it will measure between 10 and 14 inches, making it suitable for your large breed.
As with any natural bone, there is a risk of staining to furniture and carpets so you should supervise chewing time in an area that is easy to clean, typically outside.
The bone is very reasonably priced, the meat and fat make it appealing to most dogs, and its lack of artificial and unnecessary additives help make it out choice as the best overall dog bone for German Shepherds.
Real meat bone
Approximately 12" long
Good price
Can stain carpets
Your dog needs supervision with real bones
---
2.

Pure & Simple Rawhide Roll Dog Treat – Best Value
| | |
| --- | --- |
| Bone Type: | Rawhide |
| Dog Age: | Adult |
| Dog Size: | Large |
Rawhide chews help promote good dental hygiene by encouraging a natural chewing action. They are also tasty and smell appealing to dogs of all sizes and ages, including German Shepherds. While they don't last as long as a natural bone, they are much cheaper than meat bones. The Pure & Simple Pet 8" Rawhide Retriever Roll Dog Treat is a roll-shaped chew, similar to a bone, and it contains natural oils which, again, can stain the carpet. As with any natural bone or chew you should supervise your dog while they gnaw on the roll and take it away if any sharp splinters or sharp edges emerge.
Some owners do not like rawhide chews because they can become a soggy mess, but your dog will enjoy it and this multipack of three bones will last days while costing very little. This combination makes the Pure & Simple bones our choice of the best dog bones for German Shepherds for the money.
Cheap
Less chance of staining than meat bones
Promote good dental hygiene
May still stain carpets
Can be left with a mushy mess
---
3.

Bones & Chews Elk Antler Chew – Premium Choice
| | |
| --- | --- |
| Bone Type: | Elk Antler |
| Dog Age: | Adult |
| Dog Size: | Large |
Strictly speaking, it isn't a bone, but the Bones & Chews Made in USA Elk Antler Dog Chew is a natural antler chew that comes in a good variety of sizes including 8-inch large chews up to 10 inches extra large. It is a completely natural chew that is appealing to your dog but that doesn't have the same meat or rawhide smell as other chews. It does still contain oil that can run out of the chew and may stain your carpets, but close supervision and feeding in a suitable location should reduce any potential problems. Elk antlers are a good source of calcium and other nutrients, which help strengthen bones and ensure strong teeth, while the chewing action will also combat plaque.
There are some complaints of the antlers not being a consistent size, but this is to be expected with natural treats. Antlers aren't uniform and you can't guarantee the length or thickness you will receive. Also, these are more expensive than meat bones and roughly the same price as some of the more expensive rubber bones that will last longer.
Natural elk antlers
Contain calcium that strengthens teeth and bones
No marrow so less staining than with meat bones
Expensive
Can stain
Inconsistent size
---
4.

Nylabone Healthy Edibles Bacon – Best for Puppies
| | |
| --- | --- |
| Bone Type: | Rubber Bone |
| Dog Age: | Puppy |
| Dog Size: | Large |
Buying a bone for a German Shepherd puppy can be challenging. They will struggle with most natural bones and antlers, but their size and the power of their chewing mean that a lot of rubber bones designed for puppies aren't strong enough.
As such, we've opted for the Nylabone Healthy Edibles pack that contains three natural bone-shaped dog treats. They are made using natural ingredients and are designed to last, although your Shepherd puppy might have something to say about that. They are suitable for puppies weighing up to 15 pounds so are good for the first few months of your pup's life.
Despite being made to last, the three-pack will probably survive about a week in the jaws of your puppy, but they are very reasonably priced and do not contain any harmful ingredients, making them a very good choice for young dogs and until they can manage a raw bone or a rawhide alternative.
Designed for puppies
Made with natural ingredients
Cheap
Not bone
Don't last long
May still stain carpets
---
5.

KONG Extreme Goodie Bone Dog Toy
| | |
| --- | --- |
| Bone Type: | Rubber |
| Dog Age: | Adult |
| Dog Size: | Large |
Meat bones and rawhide taste and smell great to dogs, but less so to humans. They also tend to stain and you need to supervise your dog while they gnaw away. Rubber bones, on the other hand, last longer, shouldn't stain and don't require supervision. The KONG Extreme Goodie Bone Dog Toy is not only made from durable rubber but is one of KONG's most durable bones, making it a good choice for the German Shepherd breed. It is bone-shaped, which will appeal to dogs that are used to meat bones and also makes it a convenient shape for holding firmly in the mouth and between the paws.
It is the most expensive option on our list but if your dog takes to the rubber bone alternative, it should last much longer than a meat bone and without the downsides. You do need to ensure that you remove any bits that break off, to prevent choking, but as with most KONG toys, you can also stuff it with treats to add even more appeal to the toy. Not only does this make it smell and taste better, but it also encourages your dog to use its brain to get at the treats inside.
Hardwearing rubber bone
Can be filled with palatable treats
Keeps your dog busy finding the treats inside
Expensive
Although tough, bits can still break off
---
6.

Nylabone DuraChew Bone Chicken Dog Chew Toy
| | |
| --- | --- |
| Bone Type: | Nylon |
| Dog Age: | Adult |
| Dog Size: | Large |
The Nylabone DuraChew Textured Bone is a chicken-flavored dog chew toy that is bone-shaped and comes in a variety of sizes, including extra-large. Its nylon material is extra durable, making it suitable for power chewers like German Shepherds while its textured surface helps remove plaque and makes it easier to grip when worrying or shaking the toy. The large variants are expensive but they will last for weeks before you need to consider replacing them. It uses a natural flavor to give it a more appealing scent and flavor, and because it is nylon it will not stain carpets or furniture.
Nylon bone lasts longer
Good for power chewers
Natural flavor
Expensive
Your GSD may still bite bits off
---
7.

Nylabone Healthy Edibles Bacon Dog Bone Treat
| | |
| --- | --- |
| Bone Type: | Natural Treat |
| Dog Age: | Adult |
| Dog Size: | Large and Giant |
The Nylabone Healthy Edibles Longer Lasting Bacon Flavor Dog Bone is built to last, made from natural ingredients that make it appealing to dogs while preventing splinters and negating the need to supervise your dog at all times. The natural ingredients are safe for canine consumption and include added vitamins and minerals so not only is it appealing and fun for your dog, but it will help encourage a healthier pet.
Designed for adult dogs, these chews are suitable for your GSD once it has developed its permanent adult teeth, which usually occurs at between 6 and 8 months. The natural treat is well priced, is shaped like a natural bone, and lasts longer than most other chew-style treats. However, your GSD is a power chewer and may make short work of the Nylabone, with some dogs getting through one in less than 20 minutes.
Completely edible
A natural treat that is safe for dogs
Added vitamins and minerals
Doesn't last long with a GSD
Not a real bone
---
8.

Top Dog Chews Knotted Rawhide Dog Bones
| | |
| --- | --- |
| Bone Type: | Rawhide Bone |
| Dog Age: | Adult |
| Dog Size: | All |
Top Dog Chews Knotted Rawhide Dog Bones are another rawhide alternative to meat bones. This particular chew is knotted at the ends to give it the appearance of a dog bone, and when combined with the natural aroma and taste of the rawhide, it should prove very appealing to your dog. It is a natural treat, so prepare for the possibility of staining by giving the chew to your dog while outside.
Although rawhide can bridge the gap between meat bone and rubber toy, they can still shatter, and once they've been chewed they become a soggy mess that you may want to remove. As such, they don't last as long as other alternatives. They are modestly priced and come in a pack of three, conveniently ensuring that you have extras to hand.
Your GSD will likely make short work of these chews and come back asking for more.
Not as aromatic as a meat bone
Modest price
Won't last long
It will become a soggy mess
Can still stain carpets
---
9.

Pet Qwerks BarkBone BBQ Tough Dog Chew Toy
| | |
| --- | --- |
| Bone Type: | Nylon Bone |
| Dog Age: | Adult |
| Dog Size: | Large |
The Pet Qwerks BarkBone BBQ Flavor Tough Dog Chew Toy is a nylon bone measuring 8 inches long. It has a barbecue flavor designed to attract your dog and make it more appealing, and its bone shape means that it is easy for your GSD to pick up and carry around or hold while gnawing. It is a hard chew, which should prevent your dog from getting through it too quickly but will also put some dogs off even trying. If you can persuade them to give it a go, though, it will last and when it does break up, it breaks in flakes rather than large chunks so doesn't pose a choking hazard and helps ensure that it lasts even longer.
Very hard
Non-toxic and no allergens
Very plain
Won't appeal to all dogs
---
10.

Icelandic+ Lamb Horn Dog Chew
| | |
| --- | --- |
| Bone Type: | Lamb Horn |
| Dog Age: | Adult |
| Dog Size: | Large |
Although definitely not a bone, the Icelandic+ Lamb Horn Dog Chew is a natural treat that will appeal to some dogs. It comes in a choice of sizes, with the large being suitable for GSDs. Free from additives, this natural treat is fully digestible so that your dog can enjoy every bit of the horn. It is natural, so it will give off some oil that can cause staining on fabric and carpets. It can also splinter so you will need to supervise your dog's chewing time, and although it might have an appealing smell for dogs, it has a strong aroma that not all humans will enjoy.
If you're looking for something a little different and you don't mind supervising chew time outdoors, it may make an appealing change for your pup.
Natural bone alternative
No artificial ingredients
Strong smell
Stains
May splinter so requires supervision

Buyer's Guide: Selecting The Best Dog Bone For a German Shepherd
The German Shepherd is a large dog breed that has a strong mouth and teeth that can chew through most items. They are known for being heavy chewers, and if you don't provide them with a toy or bone to chew on, they may find their own chewable items. Furniture and household items, plants, fences, and even trees, have been known to befall the fate of being chewed to pieces. Below we look at the pros and cons of giving your GSD a bone to chew on, and we look at the features you should look for when buying one for your dog.
Pros And Cons of Bones For Dogs
Depending on the type of bone you feed, and your dog's chewing habits, certain types of bone may not be suitable for your dog. On the other hand, they do offer a list of potential benefits:
Dental Hygiene – Dogs can't manage their own dental hygiene without your assistance, and even if you do regularly brush, it can be difficult to get to those tricky back molars. Chewing bones stimulates saliva while the gnawing of the bone can also help remove plaque and tartar buildup. If you use a rubber or nylon alternative, those with textured surfaces tend to offer better dental benefits.
Nutritional Benefits – Bones can be rich in vitamins and minerals and are especially beneficial for delivering calcium to your dog. Not only are bones rich in calcium, but it has high bioavailability, which means that the calcium is more efficiently digested and used by your dog.
Prevent Unwanted Chewing – GSDs are prolific chewers and if they aren't given something to chew on, they may look for their own chew toys. This can mean gnawed furniture, chewed children's toys, and even walls and floors can take a battering from those powerful teeth.
Keeps Them Busy – If you have a dog that wants constant attention, no matter how much you enjoy the affection, there may be times when you want a little peace. Giving your dog a bone will keep it busy and provide you with a little peace.
They Usually Love Them – Let's face it, there's nothing wrong with giving your dog a little of something it loves, as long as it's considered safe and healthy. Choose the right bone and not only might it benefit your home furniture and your sanity, but your dog will love the bone and will love you for it.
Drawbacks
Aggression – Some dogs can be very protective of toys and especially of bones. This might cause a problem if you have multiple dogs, or it could even lead to snarling and unwanted aggression with you when it is time to remove the bone. Watch for signs of aggression and immediately remove the bone if it shows any.
Constipation – This can be a problem if bits of the bone get into your dog's bowel. They gather and can cause painful and potentially dangerous constipation. If you do feed bones, ensure that you remove any pieces or splinters that come off and provide plenty of drinking water to accompany the natural treat.
Splinters – Splinters are not only a concern for causing constipation. Sharp splinters can cause mouth injuries and they can even pierce the throat. This is why experts say that you must supervise any time that your dog spends chewing on bones so that you can splinters and shards before they cause mischief.
Stains and Smells – Natural bones contain natural oils, marrow, and some meat. These are appealing to your dog and contain vitamins and minerals. They can also cause staining on fabric, furniture, and clothing. Some bones are worse for this than others and if it is a problem, you can always feed the bone outdoors to prevent it from making a mess of the house.
Precautions to Take
When choosing a meat bone, ensure it is raw and not cooked, because cooked bones splinter more easily, putting your dog at greater risk. Supervise any time with the bone, and if you see splinters breaking off, remove them and throw them away.
When the bone gets too small, which is generally considered to be when it is smaller than the size of your dog's mouth, you should remove it and throw it away to ensure that your dog doesn't try swallowing it whole and choking on it. Any signs of aggression mean that you need to remove the bone straight away and do not give it back without consulting with an animal behaviorist.
You may also want to give the bone when your dog is outside to prevent any damage and staining.
Choosing the Best Bones for GSDs
The German Shepherd is one breed that can benefit from being given an occasional bone. They enjoy the taste, benefit from the chewing, and they also need the calcium and other vitamins and minerals. When choosing the best bone for your Shep, there are several factors to first consider.
Bone Type
Meat Bones – These are natural bones that come from the carcass of a dead animal. Typically, you will find beef bones but also lamb bones. Most owners and experts agree that dogs should not be given pork bones because they splinter easily. Raw bones tend to hold the greatest appeal to dogs because of their natural smell and great taste, as well as the juicy marrow inside. Unfortunately, they are the ones that also tend to stain and that smell bad.
Rubber Bones – Rubber bones are obviously not really bones, but rather shaped to look like a bone and often include ingredients to make them smell and taste like them. They can be smooth or textured and vary in size. Hard rubber can last, but a power chewer like a German Shepherd will usually find a way to bite chunks off. These are more expensive than raw bones but should last a lot longer without the staining or the smell.
Nylon Bones – Nylon is harder than rubber and not as pliable. If your dog throws its bones around, you might want to avoid a nylon bone because it can easily smash crockery and vases. Look for those that are textured for improved dental hygiene.
Antlers – Antlers have become increasingly popular. They smell good to dogs but do not usually smell as strong to humans. There have been some instances of dental injuries to dogs from this type of bone, but this is not usually a problem for German Shepherds because of their large mouth and vicelike grip.
Raw or Cooked Bone
It can be very tempting when you've enjoyed a roast dinner or a grilled piece of meat to give the leftover bones to your dog. They almost certainly suggest you should. However, the cooking process makes bones more brittle and this, in turn, means that they are more likely to snap or shatter when chewed and the remnants will be sharp and dangerous for your dog.
No Pork Bones
Similarly, pork bones are known to be brittle and can become sharp when broken or snapped so you should not give these either. Stick to beef or lamb bones.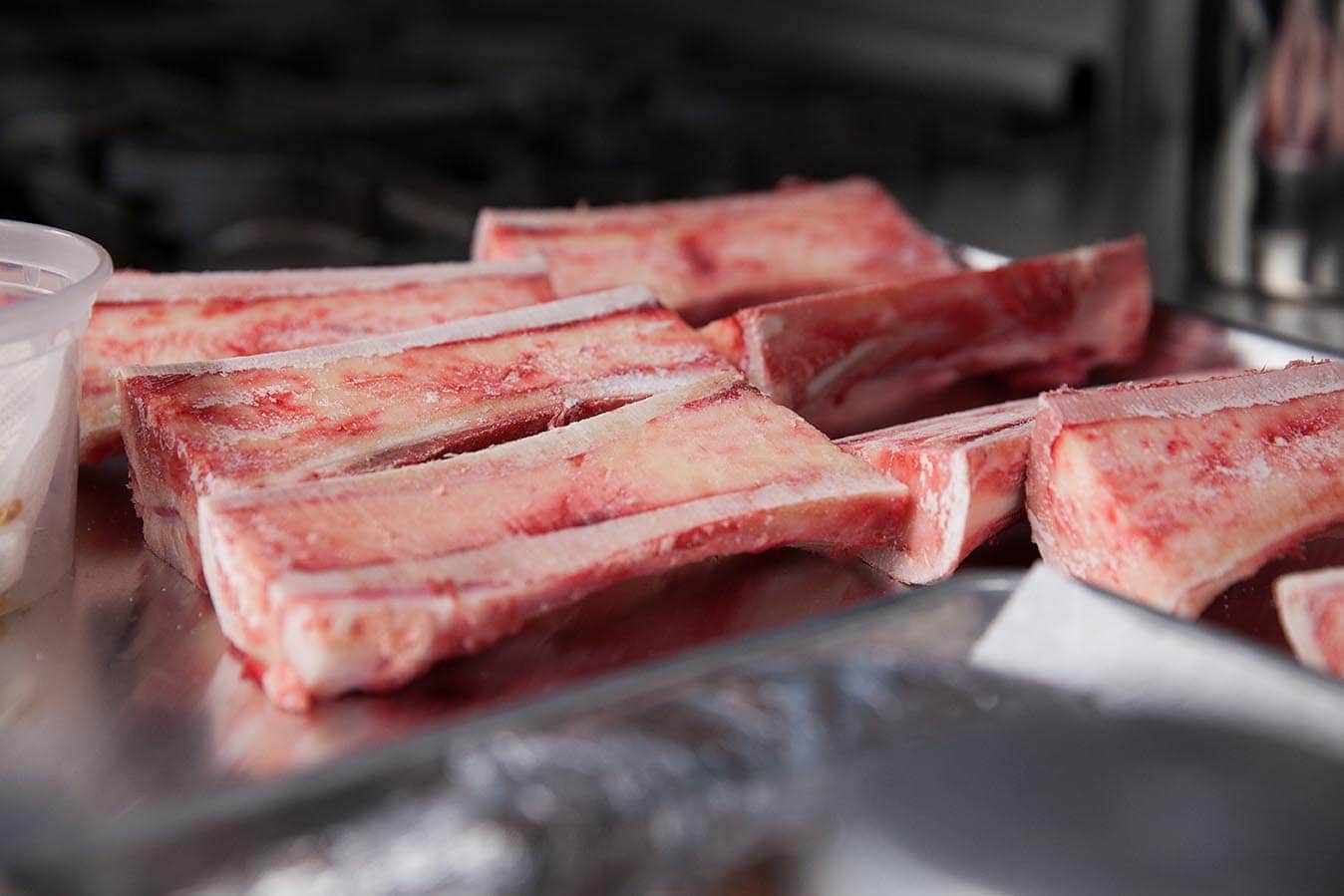 What Size Bone Is Suitable?
As long as your dog can lift the bone comfortably and safely and it won't cause damage to their teeth, you can get bones that are larger than your dog's head. However, there is such a thing as too small. If your dog would be able to swallow the bone whole, you should not give it, and you should remove larger bones when they get down to this size. A bone that is this small poses a serious choking hazard.
What Should I Give My German Shepherd to Chew On?
German Shepherds do love to chew, and bones are one possible outlet for this gnawing passion. Rubber toys and rope toys are also good alternatives that can sate the desire to chew while proving safe and long-lasting.
How Often Should I Give My German Shepherd A Bone?
Dogs love bones and it can be tempting to feed them all the time, especially if they thank you for it and savor every mouthful. However, you should avoid feeding more than two or three bones a week, and always take bone consumption into account when calculating their daily diet and calorific intake.

Conclusion
GSDs are big dogs that love to chew, and they have the teeth and jaw strength to do so. Feed yours a bone once or twice a week, remove it when it gets too small, and always supervise time with a natural bone to ensure your dog's safety. Hopefully, our guide and reviews have helped you settle on the best option for both of you.
We found the Bones & Chews Made In USA Beef Foreshank Bone Dog Treat to be the best overall option with its natural smell and flavor combined with its value. The Pure & Simple Pet 8" Rawhide Retriever Roll Dog Treat is a less expensive alternative that is made from rawhide and will last.
---