10 Best Interactive and Electronic Cat Toys – 2023 Reviews & Top Picks
Cats, much like humans or dogs, require ample mental stimulation to alleviate boredom. They need physical activity as well, and it's always a great idea to exercise their natural hunting abilities, though you may not wish to find dead rodents all around the house. Luckily, electronic and interactive cat toys can do all of these things and more.
Many toys require a lot of human input, but plenty of interactive cat toys can entertain your feline for hours with little to no help from you. On this list, we've gathered 10 of our favorites. You can read about how they compare in the following reviews, which should give you a good idea of how each toy functions, ultimately, preparing you to pick the best cat interactive toys for your cat to play with.
A Quick Comparison of Our Favorites of 2023
Rating
Image
Product
Details

Best Overall

Frisco Cat Tracks Butterfly Cat Toy

Keeps cats engaged
Non-skid bottom
Provides multiple ways to plays
Check Price

Best Value

SmartyKat Chickadee Sound Cat Toy

Touch activated
Comes stuffed with catnip
Mimics the sound of real birds
Check Price

Premium Choice

Petstages Buggin' Out Puzzle Cat Toy

Engaging puzzle provides mental stimulation
Made entirely from food-safe materials
Helps to alleviate boredom
Check Price

SmartyKat Loco Laser Cat Toy

Comfortably designed for holding
Large size is harder to lose
Cats go crazy for the laser pointer
Check Price

PetFusion Ambush Interactive Cat Toy

Anti-slip feet help keep it in place
Replacement feather included
Offers several speeds for different cats
Check Price
The 10 Best Electronic & Interactive Cat Toys
1.

Frisco Cat Tracks Butterfly Cat Toy – Best Overall
Material: Plastic
Batteries: No
Offering the best mix of engagement, durability, and price, we think the Frisco Cat Tracks Butterfly Cat Toy is one of the overall best interactive cat toys on the market. It keeps cats engaged for extended periods without the need for you to do anything. This one doesn't even require batteries, so you don't have to worry about turning it on for your cat to play with or batteries dying at inconvenient times.
On top of this toy is a small butterfly attached to a wire that will fly around in a realistic manner, enticing your cat to pounce. If it happens to catch and destroy the butterfly, there's an extra one included for replacement. When your cat pounces, the non-skid bottom on the toy will prevent it from sliding around. And if your cat gets tired of the butterfly, it can play with the multiple tiers of the toy that have rolling balls. But some crafty cats are able to get the balls out, and they can be lost or even potentially choked on.
Provides multiple ways to plays
Keeps cats engaged
Non-skid bottom prevents sliding
The toy's movement attracts cats
Replacement butterfly included
Balls may get lost if cats remove them
---
2.

SmartyKat Chickadee Sound Cat Toy – Best Value
Material: Polyester
Batteries: Non-replaceable
A toy doesn't have to be expensive or complicated to entertain your cat, and the SmartyKat Chickadee Chirp is proof of that. Even though it's dirt-cheap compared to other similar toys, we think it's one of the best interactive and electronic cat toys for the money, as it will keep your cat engaged and offer many hours of fun without any input from you.
This is a very simple toy. It's a small, soft bird with an electronic sound-maker inside that chirps and sings like a little bird, provoking your cat into hunting and pouncing. Furthermore, it's stuffed with catnip, which ensures that any cat will be attracted to it, offering a safe way to satisfy your cat's natural hunting instincts.
It's touch-activated, so whenever your cat touches it, the toy turns on. When it's not played with for a short time, it will shut off, saving the batteries. Unfortunately, the batteries aren't replaceable, so when they die, the toy does as well. Still, it's so cheap that replacing it is no big deal, and the batteries seem to last quite a long time anyway.
Touch activated
Comes stuffed with catnip
Mimics the sound of real birds
Safely satisfies your cat's hunting needs
Priced cheaper than many alternatives
The toy dies when the batteries do
---
3.

Petstages Buggin' Out Puzzle & Play Cat Toy – Premium Choice
Material: Wood
Batteries: No
The Petstages Buggin' Out Puzzle and Play cat toy is an engaging puzzle toy that provides mental stimulation for felines as they work to solve puzzles that reward them for success with small treats. Everything used to create this toy is entirely food-safe, and there are a total of 14 hidden compartments in which you can stash treats. Granted, for continued play, you'll have to restock the treats, so it can only provide entertainment until your cat retrieves all the treats.
This is the ideal toy for cats that get bored easily. Smart cats need a lot of mental engagement, and puzzle toys like this one are a great way to provide it. You'll be able to alleviate boredom while helping to exercise your cat's mental faculties as it solves each puzzle to reach the treat inside. Thankfully, cats don't seem to tire of this toy; likely, due to the recurrence of tasty treats!
Engaging puzzle provides mental stimulation
Treats can be stashed in 14 hidden compartments
Made entirely from food-safe materials
Helps to alleviate boredom
You'll have to restock the treats for continued play
---
4.

SmartyKat Loco Laser Interactive Cat Toy
Material: Plastic
Batteries: 3X LR44
We love the SmartyKat Loco Laser cat toy, and cats do as well. In fact, you'd be hard-pressed to find any cat that doesn't love this laser. But it loses points for requiring your input, as this laser must be handheld. You'll have to hold it and press the button, creating a small red laser on the floor or wall for your cat to chase and pounce on.
Luckily, this is a rather large laser pointer. Most are tiny, making them very easy to lose. The larger size also makes this one more comfortable to hold than most. And truthfully, cats never seem to tire of chasing the laser. For the few bucks this toy costs, you can't go wrong. If only it could entertain your cat without your input, it would probably be a top-three candidate.
Comfortably designed for holding
Large size is harder to lose
Cats go crazy for the laser pointer
Felines don't seem to get bored of the laser
Requires your interaction for cats to play
---
5.

PetFusion Ambush Interactive Electronic Cat Toy
Material: Plastic and feathers
Batteries: 4X AA
There's a lot to like about the PetFusion Ambush Interactive Electronic cat toy, but it also has enough flaws to hold it back. Some of the features are even flaws, such as the auto-shutoff. It turns off after 8 minutes to preserve the batteries, but then you have to turn it back on for your cat to play with! It's also a lot noisier than most cat toys, even of the interactive sort. Plus, you're going to pay more for this toy than most alternatives.
Still, for the 8 minutes it runs, this toy is a real hit. It's got colorful feathers that pop out a hole at random, and there are six such holes around the circumference of the device. Colorful LEDs are also used to stimulate your cat's attention. In case your cat manages to destroy the feather, there's even a replacement included. You can choose between two speeds of play, making this toy a great fit for almost all cats. All in all, making this a great interactive cat toy.
8-minute auto-shutoff for extended battery life
Anti-slip feet help keep it in place
Replacement feather included
Uses lights, feathers, and motion for max stimulation
Offers several speeds for different cats
It's noisier than other cat toys
More expensive than alternatives
The auto-shutoff can become quite annoying
---
6.

Cat Amazing Interactive Treat Maze & Puzzle Cat Toy
Material: Cardboard
Batteries: No
This awesome toy from Cat Amazing is a treat maze and puzzle, meaning you hide treats inside of the various compartments, and your cat has to figure out how to get into each of the hidden areas to access the treats. Each compartment is a different difficulty, making it possible to increase the amount of work your cat must go through to receive a reward.
Compared to many other cat toys, this one is a bit pricey, so it's rather surprising that it's made out of basic cardboard. On the other hand, this means that it's safe for claws and the whole toy can be recycled when it's past its usable lifespan. But extra steps are required to make it truly usable, such as gluing parts of it in place so they stick. Otherwise, it tends to fall apart during use.
We love how well this toy keeps cats engaged as they try to work their way into each compartment. You need to be careful not to leave unfound treats inside it though, as it can attract ants to the leftover food, creating quite a mess.
Stimulating puzzles keep your cat engaged
Multiple levels of difficulty
Keeps cats occupied for hours
The entire toy is recyclable
Extra steps required to make the toy usable
Expensive pricing for a cardboard box
Any treats not removed can attract ants
---
7.

SmartyKat Hot Pursuit Electronic Interactive Cat Toy
Material: Plastic
Batteries: 3X AA
Here's another offering from, but we don't think the Hot Pursuit Electronic Concealed Motion cat toy is one of their best cat interactive toys available. That said, it does have some great features, such as an interchangeable wand attachment that lets you replace the wand and fur toy without replacing the motor. However, the wand just screws on, and it's constantly falling off during play.
The wand is attached to a motor that spins it. On the end of the wand is a small furry toy resembling a mouse. If your cat catches the mouse, you'll hear the motor start to make a terrible noise that sounds like it's dying. Many cats will be scared off by this noise and cease to play with this toy!
Most of the wand is hidden by a mat that covers the motor as well, making it look like the mouse toy isn't attached to anything. But the mat is too big, causing it to interfere with the mouse's motion. On the plus side, the auto-shutoff feature ensures that battery life is long and two play speeds accommodate cats of different ages and abilities.
2 play speeds
The wand attachment is interchangeable
Auto-shutoff conserves battery life
The moving part gets stuck under the mat
Screw-on wand constantly falls off during play
When cats catch the toy, it makes an awful noise
---
8.

PetSafe Bolt Interactive Laser Cat Toy
Material: Plastic
Batteries: 4X AA
We absolutely love the concept of the PetSafe Bolt Interactive Laser cat toy. Everyone knows that cats love to chase laser pointers, but the problem is that you have to man the laser! With this device, you no longer have to. Just push a button, and your cat has endless hours of fun. Well, that's the idea at least. Disappointingly, it doesn't work out quite as we'd like.
On this device, you'll find both automatic and manual modes. Manual allows you to control the laser, automatic will entertain your cat without your help. But the laser has a max range of about 5 feet, so neither mode is much use. If you try to perch the laser on a desk or chair, the mirror is in the wrong place for it to reach the ground. Even if the device is on the ground, the laser is usually on the wall, which leads to scratched and gouged furniture and walls.
After 15 minutes, this device shuts off to conserve battery life. Lasers are one toy that cats will play with nearly indefinitely, but 15 minutes is an acceptable time frame. This laser just needs to reach farther to be truly useful.
Offers both automatic and manual modes
Provides hours of mental and physical stimulation
Automatic shutoff after 15 mins to conserve battery
Cats are wildly attracted to the laser beam
Has a max range of just 5 feet
The laser mostly shines on the wall
Can't be used from a perch
Results in walls and furniture being scratched up
---
9.

Hexbug Mouse Robotic Interactive Cat Toy
Material: Plastic, rubber
Batteries: 2X LR44
Many of these interactive cat toys are great ideas that seem to fail in execution, including the Hexbug Mouse Robotic Cat Toy. This inexpensive little mouse is battery-powered, allowing it to move around the house without your help. It has two modes: chase and paw. In paw mode, it turns on when your cat touches it. Chase mode causes it to run, then stop, then run again, provoking your cat to chase it, and exercising your cat's natural hunting instinct. Granted, you'll start to notice the damage rather quickly, particularly on the rubber ears and tail.
There's no denying that cats love this toy. But it uses rather pricey LR44 batteries and they need replacing constantly. Batteries tend to last a few hours or less in this little toy, making it a rather expensive toy in the long run. Worse, it's rather cheaply built, which results in a very short lifespan. Most of these mice work for only a short time. Be aware, they only work on hard surfaces, so if you have carpeted floors, it would be a poor fit.
Paw mode turns the toy on when played with
Keeps cats engaged
Dismal battery life
Ears and tail are easily damaged
Only works on hard surfaces
Poor quality toy with a short lifespan
---
10.

Pet Zone Fly By Spinner Interactive Cat Toy
Material: Plastic
Batteries: 1X AAA
The Pet Zone Fly By Spinner interactive cat toy isn't too different from other spinning cat toys on the market. It's got a butterfly on a long wire attached to a base with a motor. The motor spins the butterfly, which gets a lifelike semi-erratic motion from the flexing of the thin wire. This motion invites your cat to pounce and attempt to catch the butterfly. Luckily, the butterfly is plastic, so it won't get stuck to claws like many softer ones, but it can be easily chewed up by your cat.
Not only does this device move the butterfly, it also creates enticing vibrations, though this makes the toy pretty noisy. It's also easy for cats to knock over, and when they do, you'll hear the motor running and the sound of the toy slapping the ground. Unfortunately, with regular play and a few tip-overs, the toy will likely break before too long.
On the bright side, it takes just a single AAA battery to run this toy for quite some time. Cats definitely enjoy playing with it, but you might not enjoy constantly reattaching the butterfly when they repeatedly pull it off.
Plastic butterfly doesn't get stuck to claws
Uses motion and sound to attract felines
Single AAA battery provides decent battery life
Cats might chew up the plastic butterfly
The butterfly doesn't stay attached to the base
Not durable enough to withstand regular rough play
Too easy for cats to knock over during play
It's a pretty noisy toy
You might also be interested in: 10 Best Cat Toys – Reviews & Top Picks
Buyer's Guide: Choosing the Best Interactive & Electronic Cat Toys
Looking at all of these great interactive cat toys, it's hard to imagine that your cat won't enjoy any of them. But we all know that felines are incredibly picky creatures, which can make it stressful to pick out anything for them, knowing they might be disinterested. So, how are you supposed to compare these cat toys and make sure you're choosing the right one?
If you're still unsure, then this buyer's guide is meant to help. In it, we'll take a look at the most important factors to compare on each of these toys, from your perspective and your cat's. By the end, you'll be armed with the knowledge you need to make a decision, confident that your cat will be satisfied.
Comparing Interactive and Electronic Cat Toys
There are too many ways to compare different electronic cat toys, which is why you need to simplify things a bit. Rather than looking at all the finest details of each toy, we think it's best to identify a few key areas that make the most difference. Then, you just have to find the toys that suit you and your cat's needs the best in those areas, and you're sure to be happy with your purchase.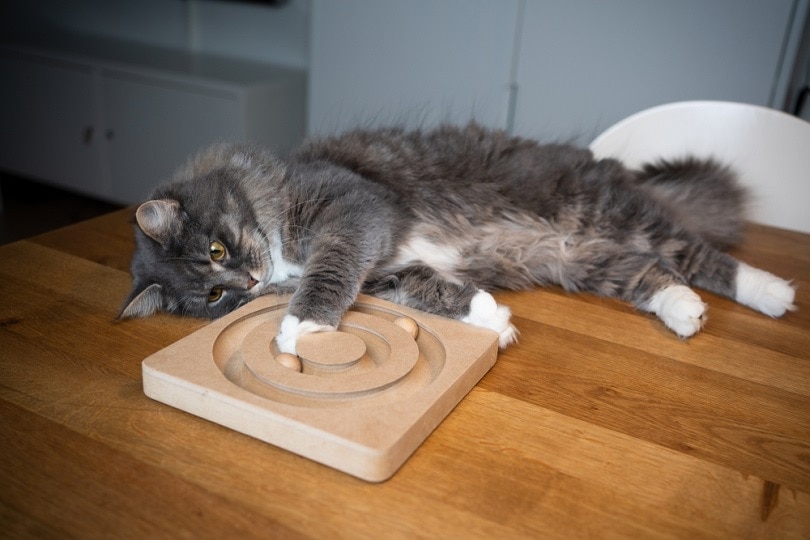 Does It Need Your Input?
Often, people are searching for interactive and electronic cat toys so their cats can be entertained without their input. If that's your goal, then not every toy will be equally viable. Some toys will require constant input from you, even though they're electronic. For example, most laser pointers will require you to point the laser. Other toys can entertain your cat with minimal input from you, such as turning the device on or hiding treats in puzzle compartments. There are even some toys that require no input from you whatsoever. When your cat plays with it, it will turn on, providing entertainment any time your cat desires.
If you're looking for a device to entertain your cat without you doing anything, then a laser pointer would be a poor choice. For those gone at work all day, a toy that requires no input from a person is ideal. But if you just want to keep your cat entertained while you get stuff done around the house, then it might be alright to choose a toy that requires a bit of input from you to get started but will then occupy your cat for a while without any of your attention.
How Long Will It Entertain Your Cat?
It can be frustrating to set up a puzzle toy for your cat, just to watch it empty all the treats in 3 minutes. You'll be even more frustrated if you really need that time to focus on something important. So, we prioritize toys that can entertain for substantial periods of time, rather than just a few minutes.
The best toys will give your cat hours and hours of exercise and entertainment. Our Hepper Catnip Stick Toys are packed with 100% organic catnip and shaped like prey to give your cat both mental and physical stimulation. Plus, they're as nice to look at as they are sturdy and fun!
Can it Withstand Vigorous Feline Playtime?
Cats are not easy on their toys. They have sharp claws and teeth that can easily destroy toys, given the chance. That's why it's important to seek out durable toys that can withstand a bit of rough feline play. Granted, many cat toys are priced quite cheaply, making them easily replaceable if need be. Still, you don't want to replace your cat toys each week, so durability is worth looking for.
Mental and Physical Stimulation
The right toy can provide multiple benefits for your cat. Not only is playing with toys fun, but it can also provide necessary mental and physical stimulation. Every toy won't do this equally though, and not every cat requires equal amounts of mental and physical stimulation. Only you know your cat, so make sure that you pick toys that will meet its needs. Our favorite toys usually provide a good mix of mental engagement and physical activity, but it's alright to have separate toys to meet different needs as well.
Batteries
Not all interactive toys are electronic, but electronic toys will require batteries. Many will include batteries with your purchase, but make sure you double-check because it can be very disappointing to get a toy and have no batteries for it. Also, be aware that the batteries in some toys are not replaceable, which means that the toy dies when the batteries do. Battery life is also worth considering. Some small toys use a deceptive amount of juice, meaning they'll go through batteries very quickly, adding up to a considerable cost in the long term.
Noise
Many of these electronic cat toys make noise. Sometimes, the noise is meant to attract your cat, such as bird calls or vibrations. Other times, the noise is from a running motor, it might be caused when something goes wrong. If your cat will be playing in your quiet office while you work, such toys might become a nuisance, so make sure you consider where the toy will be used and how much noise you're willing to deal with.
Conclusion
If you read our reviews, then you realize that picking from a field of so many great cat toys can be difficult, but we do have our favorites. Overall, we think the best cat interactive toy is the Frisco Cat Tracks Butterfly cat toy. Since it uses no batteries, it can endlessly entertain your cat with multiple ways to play, and it even comes with a replacement butterfly in case your cat kills the first one. For a budget recommendation, we suggest the SmartyKat Chickadee Chirp Electronic Bird-Sound cat toy that entices your cat to hunt, chase, and pounce with realistic bird sounds.