10 Best Modern Cat Carriers That Look Great in 2023 – Reviews & Top Picks

If you're in the market for a cat carrier but want to find one that has a more modern design and looks great carrying around, look no further. While cat carriers may not be as glamorous as a handbag, there are some versatile and good-looking carriers on the market today.
We've looked at the reviews from other cat owners and come up with a list of the top 10 best modern cat carriers that will look great either slung over your shoulder, attached to your back, or rolling behind you.
A Quick Comparison of Our Favorites
Rating
Image
Product
Details

Best Overall

Sherpa Deluxe Cat Carrier Bag

Airline approved
Top and sideload options
Storage pocket
Check Price

Best Value

Jespet Sport Cat Carrier Bag

Inexpensive
Various color choices
Plenty of storage
Check Price

Premium Choice

Sleepypod Mobile Pet Bed

Great for road trips
Many color options
Very stylish design
Check Price

Best for Kittens

Mr. Peanut's Cat Carrier

Non-toxic
Stainless formula
Airline approved
Check Price

Doc & Phoebe's Sleep & GO 3-in-1 Pet Carrier

Turns from bed to a carrier for security
Dome shape for privacy
Easy to clean
Check Price
The 10 Best Modern Cat Carriers That Look Great – Reviews & Top Picks 2023
1.

Sherpa Original Deluxe Airline-Approved Dog & Cat Carrier Bag – Best Overall
| | |
| --- | --- |
| Dimensions | 19 x 11.75 x 11.5 inches |
| Maximum Weight | 22 pounds |
| Color | Black |
The modern cat carrier that takes the cake for best overall is the Sherpa Original Deluxe Airline -Approved Dog and Cat Carrier Bag. With a simple, sleek black design this carrier can be used in just about any situation that involves bringing your cat along.
The secure, breathable mesh panels can hold even the smallest of pets and will hold up to 22 pounds, so you should not have a problem fitting any size cat in here either. Since this carrier is approved by most major airlines, you won't have a problem traveling the skies with your cat either.
You can even load your cat from the top of this carrier. There is a non-slip shoulder strap, locking zippers, and a rear storage pocket for treats or any other necessities. The liner is made of machine-washable faux lambskin liner, making it comfortable and easy to clean. Overall, this top-rated carrier is the jack of all trades. The biggest complaint was that the material can be scratched up on the inside by pets attempting to escape.
Airline approved
Top and sideload options
Storage pocket
Simple, stylish design
---
2.

Jespet Soft-Sided Sport Dog & Cat Carrier Bag – Best Value
| | |
| --- | --- |
| Dimensions | 16 x 11 x 10 inches |
| Maximum Weight | 15 pounds |
| Color | Gray/red, dark blue, pink |
You will find the best value for your money in the Jespet Soft-Sided Sport Dog & Cat Carrier Bag. This carrier has a nylon exterior, a sturdy design and comes in three color options, including gray and red, dark blue, or pink. The top and sides are made of hard, EVA material with mesh openings for proper ventilation
There are three large pockets on the sides big enough for collars, harnesses, or gear for traveling. There is a fleece mat on the inside to offer comfort for your fellow traveler. This carrier is waterproof, lightweight, and super easy to clean. It also includes three big pockets on the side and folds down for storage.
There are versatile entry points, making loading super- easy. Overall, it's hard to beat the Jespet Soft-Sided Sport, especially for the price. Though stating it can carry up to 15 pounds, the only downside mentioned was that it was a bit smaller than expected.
Inexpensive
Various color choices
Easy to clean
Plenty of storage
Smaller than expected for some users
---
3.

Sleepypod Mobile Pet Bed – Premium Choice
| | |
| --- | --- |
| Dimensions | 17 x 17 x 13 inches |
| Maximum Weight | 15 pounds |
| Color | Black, arctic white, sky blue, blossom pink, dark chocolate, jet black, strawberry red |
Our premium choice for a modern cat carrier is undoubtedly the Sleepypod Mobile Pet Bed. This carrier is where looks meet versatility, it starts as a regular pet bed that conveniently transforms into a carrier. This is great for cats, being that it provides them the comfort of home on the road.
Recommended for cats 15 pounds or smaller, some users did complain this carrier is much smaller than they had expected so it may not be ideal for very large cats. The inside is composed of foam and plush for comfort and the round design contours the body. The dome provides privacy for your cat, which is a huge plus for felines.
The seat belt can be wrapped around the base of the Sleepypod and pull the shoulder belt through the top handle for car safety. The Sleepypod is ideal for road trips but does not meet airline requirements so it's best to check with your airline before committing to air travel with this carrier. This carrier is very easy to clean, some parts can be machine washed while others can simply be wiped clean with ease.
Other than being on the expensive side, some users have reported issues with broken zippers when transforming from bed to carrier. Overall, this very stylish carrier is very well-reviewed by cat lovers.
Great for road trips
Many color options
Very stylish design
The comfort of going from bed to carrier
Expensive
Smaller than expected
Broken zipper issues
---
4.

Mr. Peanut's Gold Series Airline-Approved Dog & Cat Carrier Bag – Best for Kittens
| | |
| --- | --- |
| Dimensions | 18 x 10.5 x 11 inches |
| Maximum Weight | 15 pounds |
| Color | Platinum gray, deja blue, purple |
The Gold Series Airline-Approved Soft-Sided Carrier by Mr. Peanuts is a very stylish and convenient carrier that comes in three different colors so you can match your taste.  This carrier is recommended for pets up to 15 pounds and makes a great choice for kittens.  With a plywood base equipped with fleece bedding, this carrier is both supportive and comfortable for your car.
Constructed of claw-resistant material to prevent damage, this carrier is durable. There is a roll-away cover that provides the privacy that most cats crave when they are forced to travel. Since it is airline-approved, you don't have to worry about whether you can fly with your cat.  There are large mesh windows on the top and all sides, a mesh pocket for storage that zips up, and it even contains an ID tag holder, a luggage strap, safety seat belt attachments for the car, and an interior leash attachment to keep them in place if needed.
Reviewers rave about how long-lasting this carrier is. There are not many negative reviews, but a user does advise that the pad is not machine washable. Due to the limited size capacity, it may not work well for larger cats.
Non-toxic
Stainless formula
Pad is not machine washable
Not ideal for larger cats
---
5.

Doc & Phoebe's Sleep & GO 3-in-1 Pet Carrier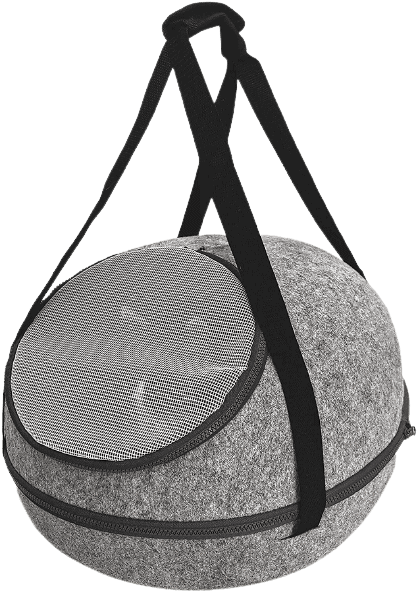 | | |
| --- | --- |
| Dimensions | 4.23 x 7.48 x 7.48 inches |
| Maximum Weight | 22 pounds |
| Color | Gray |
The Doc & Phoebes Sleep & Go 3-in-1 Pet Carrier is another bed to carrier option that has a stylish dome design that not only looks good but provides a safe place for your cat when out and about. Since your cat's bed from home can be quickly transformed into a carrier, it can provide relief for their anxiety.
There is a washable cushion inside and a vinyl liner that makes cleaning this carrier quick and easy. There is a mesh window for ventilation and sturdy carrying straps. A lot of reviewers rave about how much their cats love this carrier. The only downside was that some weren't too keen on the price in comparison to quality. However, you are getting the convenience of bed to a carrier at a much lower cost than the Sleepypod.
Turns from bed to a carrier for security
Dome shape for privacy
 Easy to clean
Higher priced than some others
---
6.

LOLLIMEOW Pet Rolling Carrier
| | |
| --- | --- |
| Dimensions | 21 x 14 x 5.5 inches |
| Maximum Weight | 16 pounds |
| Color | Gray, Black |
The Lollimeow Pet Rolling Carrier easily converts into a backpack, wheeled carrier, car seat, and pet bed. You're getting an all-around convenience with this carrier. Featuring three-sided mesh, your cat will get plenty of ventilation without reducing privacy for your kitty.
There are rollable window shades on the front for as-needed use to keep the wind to the minimum or to provide privacy. There is also a very convenient strap storage layer to keep straps from becoming stuck in the wheel when it is being used as a rolling carrier.
This carrier will hold felines up to 15 pounds so you can even tote around small dogs or other small pets as well. It is made to be durable and long-lasting with scratch-resistant material. Another perk is that it is waterproof, easy to clean, and has side pockets for treats or other goodies to bring along.
Reviewers did state that the assembly was difficult when the carrier first arrived. Another user warned that just because it fits airline approval, does not mean it will fit under the seats. There was an issue where the carrier would not fit under the seat, causing some inconvenience for air travel.
Converts from backpack to roller
Open window and great ventilation
Lightweight
Easy to carry, even for heavy cats
Difficult to assemble
Does not fit under all plane seats
---
7.

SportPet Cat Carrier
| | |
| --- | --- |
| Dimensions | 18.75 x 23.13 x 17.25 inches |
| Maximum Weight | 35 pounds |
| Color | Gray/Aqua |
The SportPet Cat Carrier is not surprisingly meant to offer a sportier design. It comes equipped with an extra-large side opening and a removable door for easy access. It is well-ventilated, sturdy, safe, and provides great visibility.
You can purchase a high-density foam cushion for this carrier, but it is sold separately. The carrier folds and unfolds with ease for convenience with storage and travel and wipes clean with a breeze. It is large capacity and fits up to 35 pounds so you can even fit two cats if need be. The large size was uncomfortable for some reviewers that would have preferred a smaller carrier. Though large, there is only one entry point to this carrier.
Larger carrying capacity, multiple cat use
Easy to store
Removable door
Lack of versatile entry points
Too large for some cats
Cushion sold separately
---
8.

PETKIT Pet Backpack Carrier for Cats
| | |
| --- | --- |
| Dimensions | 12.2×11.4×16.5 inches |
| Maximum Weight | 17 pounds |
| Color | White, Green |
The Petkit Pet Backpack Carrier has a retro but modern design that can't be beaten. It comes with a decent-sized window so that your cat can have a great view of what's going on around them. The window is tinted and will keep out bright lights and provide comfort for your traveler. There are mesh panels and a built-in fan.
This backpack is made to be durable and long-lasting with a side pocket to sneak some treats. It is generally approved for most airlines but it's best to check before travel. The downside to this choice is that there are users that complained their cat became overheated, while others ran into issues with the fan being defective. The large window is reported to scratch easily, so if your cat is easily stressed in travel situations and tries to escape carriers, this may not be the best choice for you.
Unique design
Large window
Lightweight
Issues with built-in fan
Window scratches easily
Some cats get too hot
---
9.

PetLuv Happy Cat Premium Cat Carrier
| | |
| --- | --- |
| Dimensions | 23.62 x 15.98 x 15.98 inches |
| Maximum Weight | 45 pounds |
| Color | Blue/White |
The PetLuv Happy Cat Premium Cat Carrier maximizes scenic views with all-around windows. The heavy-duty mesh is tear-resistant to keep the carrier lasting longer. This is a great option for road trips since the carrier comes with seat belt loops and locking zippers.
There are four access panels and a top opening for ease with loading and unloading. The adjustable shoulder straps are super convenient for carrying around. There is a comfortable, washable plush bed included as well.
Some owners complained that their cats were able to outsmart the locking zippers and escape, while others feel the carrier is too uncomfortably large. It does have a maximum weight of 45 pounds to make it easy to carry multiple cats, but will undoubtedly take up more room than competitors.
Large carrying capacity
Seat belt straps
Locking zippers
Folds flat
Large
Some cats have learned how to escape
---
10.

Jespet Dog & Cat Carrier Backpack
| | |
| --- | --- |
| Dimensions | 17 x 13 x 12 inches |
| Maximum Weight | 216 pounds |
| Color | Smoke Gray, Dark Blue |
The JesPet Soft Backpack Pet Carrier makes the list due to its great reviews. The backpack design with a mesh door and panels allows your cat to have a look-see to the world around them. A padded handle and shoulder strap are in place for your comfort while the side pockets are available for treats, collars, leashes, or other travel gear.
This carrier is made from durable polyester and users rave about the convenience when hiking, camping, and traveling via airplane with their cats. There is a removable pad for easy cleaning. Some users did complain that the backpack carrier is a bit bulky and uncomfortable to carry, while others thoroughly enjoyed it.
Well ventilated
Padded straps
Pockets for storage
Durable
Buyer's Guide
Cat carriers are not a one-size-fits-all purchase. You have many factors to consider before finalizing your decision on which to purchase. Let's look at the considerations you need to mill over:
 Size
The size of the carrier is a very important aspect to note before you make your purchase. Cats come in all different sizes and so do carriers. You need to look at the dimensions provided to ensure the individual carrier would be a comfortable fit for your cat. Also, what fits your kitten, may not fit them as a grown cat.
You can even measure your cat if need be and knowing their approximate full-grown size if they are still young is something to consider. Comfort is very important for traveling cats, as they do not typically enjoy leaving their home and can quickly become stressed.
Cost
Cat carriers come in all different shapes, sizes, designs, and costs. You need to have an idea of how much you are willing to spend on your carrier and ensure you get a well-rounded carrier that works for the use you're needing it for and provides you value for your money.
Safety and Security Features
We buckle up for safety in the car, why shouldn't your cat? Some of these carriers offer seat belt compatibility so that you can safely secure the carrier with your car's seat belts. You will also want to ensure that the entry points can lock securely to prevent your cat from escaping. Some will come with zipper locks and other security features that prevent claws from reaching through and opening their doors.
Ventilation
You need to ensure your carrier offers proper ventilation. Traveling is stressful for cats and they can overheat easily. If it's summertime or you're in a very warm, humid climate your cat is at even more of a risk of heat stress. You need to ensure your cat can breathe with ease in a properly ventilated carrier.
Points of Entry
Some carriers offer multiple entry points and others only offer one. It can be hard loading a cat into a carrier, and you may need to purchase one with a top entry option, which is generally a soft-sided carrier. Hard carriers more frequently have one door. This will ultimately come down to personal choice and which would be most convenient for you and your cat.
Airline Approval
If you are needing a cat carrier so that you can bring your feline friend along for air travel, finding an airline-approved carrier is an absolute must. Airlines can be finicky with their specifications, rightfully so. It's best to check with the manufacturer of the product and the airlines you travel with to ensure you are getting a compatible carrier.
Straps
As you can see, there are many kinds of carriers. You have backpack options, some with shoulder straps, and hard carriers with handles. You will be the one carrying around your cat so you will want to pick the most comfortable option for what you're doing.
Style
If you are traveling frequently with your cat, there's nothing wrong with ensuring you have a carrier that looks good toting around. There are many different designs, colors, and shapes of cat carriers on the market today. You are bound to find one that fits your overall style.
Conclusion
The best overall choice for cat carriers was the Sherpa Original Deluxe Airline-Approved Cat Carrier. It has a sleek and simple black design, comes at a fair price, gets raving reviews, and is great for all-around use whether it be trips to the vet, airline travel, or road trips.
You'll get the best value for your money in the Jespet Soft-Sided Sport Dog & Cat Carrier Bag. Not only will you be paying a reasonable price, but have the security of knowing other cat owners have loved the look and convenience of this particular carrier.
You can always opt for the premium, Sleepypod Mobile Pet Bed that converts easily from bed to carrier and offers a very modern, dome-like design that comes in many colors that not only looks great but is well-loved by cat owners.
Of course, there are many other top-quality, great-looking carriers on the list as well. Considering your taste and style, you should have no problem finding a more modern carrier to suit your and your cat's needs.
---
Featured Image Credit: Sherpa, Amazon