6 Best Modern Cat Scratcher Posts in 2023: Reviews & Top Picks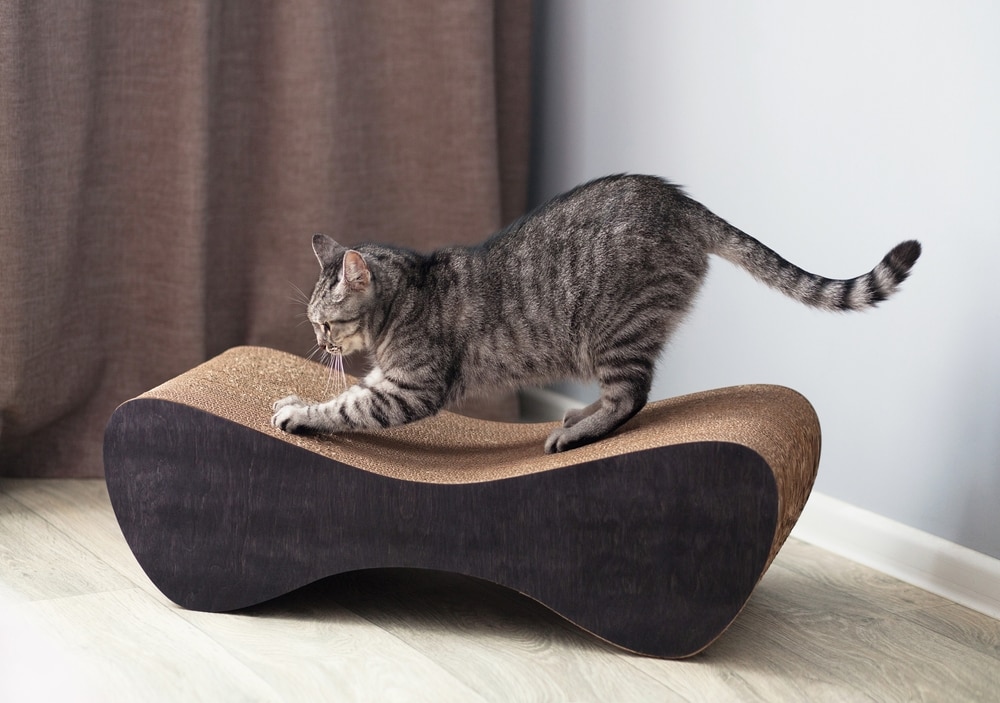 Typically simpler than the multi-level scratchers and climbers that incorporate hanging toys, hammocks, and multiple levels to sit and lay on, the modern cat scratcher post can still take many forms. It is also an important item for your cat. A scratcher lets them vent frustration, mark territory, and maintain their claws. It even affords some strength and conditioning training.
The best models are tall enough that your cat can stretch out while scratching against a long-lasting scratching material. The post should be sturdy and strong, built to last, and because it is likely to sit in the main living room or another main room of the house, it will also need to look attractive.
There are a lot of choices of cat scratcher posts. Getting the right one can be the difference between a post that will last for years of regular scratching, and one that breaks after a few vigorous uses or that sits unused because it is unappealing to your cats. Below, you will find reviews of 6 of the best modern cat scratcher posts that are relatively simple in their form, but highly effective in their execution.

A Quick Look at Our Favorites in 2023
Rating
Image
Product
Details

Best Overall

Hepper Hi-lo Modern Cat Scratcher

Looks modern
Anti-slip feet
5 adjustable positions
Check Price

Best Value

Frisco Cactus Cat Scratching Post

Fun cactus design
Sisal scratching surface
Tough engineered wood base
Check Price

Premium Choice

PetFusion Modern Cat Scratching Post

High-quality construction
Great for perching and climbing
Can affix to walls for stability
Check Price

PETMAKER Modern Cat Scratcher Post

Modest price
3 scratch posts
Small footprint
Check Price

PetFusion 3-Sided Vertical Modern Cat Scratcher Post

Multiple scratching surfaces
Central cubby offers an additional play area
Includes natural catnip
Check Price
The 6 Best Modern Cat Scratcher Posts
1.

Hepper Hi-lo Modern Cat Scratcher – Best Overall
The Hepper Hi-lo Modern Cat Scratcher is made with metal legs that have rubber feet to stop the scratcher from straying across the floor.
The scratcher is made from cardboard, which Hepper claims is ultra-thick and extra-durable cardboard. The corrugated cardboard stands up reasonably well to scratching, but it can start to shed after a few weeks, especially if you have vigorous cats that really take out their frustration on a scratching post. Sisal fabric and sisal rope tend to last longer and when they do become damaged they fray but remain in place. Cardboard sheds, so you will need to have the hoover out ready to clear up.
Where the Hi-Lo Modern Cat Scratcher really shines is in its adjustability. It has five angles that you can adjust through. Not only does this give your cat greater range and a greater challenge, but it enables you to rotate the scratcher to prolong the life of the cardboard.
With its white sides, cardboard scratcher, and metal legs, it also looks sleek and modern. This scratcher is best for those cats that are not too physical with their scratching but that do enjoy a good stretch.
Overall, we think is the best modern cat scratcher out there.
Looks modern
5 adjustable positions
Anti-slip feet
Easy to assemble
Includes catnip to get your cat's attention
Pricey
Cardboard not as durable as other materials
---
2.

Frisco Cactus Modern Cat Scratching Post – Best Value
The Frisco Cactus Modern Cat Scratching Post is fun-looking and effective. It has an engineered wood base, which means that it is strong,      robust, and      unlikely to fall over or topple over even with the heftier cats. The wood is covered in a plush fabric, which also adorns the top cactus sections of the post. In the middle is a colored sisal rope that is meant as the scratching section of the piece.
It looks fun and cats do enjoy it. It is also well-constructed and this, combined with the low price, makes it one of the best modern cat scratcher posts for the money. However, the design isn't perfect. There's no convincing a cat that they should only scratch the bottom half of the post, and the top plush fabric and bottom sisal rope section can come apart after use by a violent scratcher, leaving the cardboard post exposed.
The Frisco Cactus Modern Cat Scratching Post comes in two sizes: determine whether your cat prefers to stretch up or stretch out while scratching, and try to measure how high up a post they reach while scratching, to choose the right model for your feline friend.
Fun cactus design
Sisal scratching surface
Cheap
Tough engineered wood base
Plush fabric is easily torn
Cardboard column can become exposed
---
3.

PetFusion Modern Cat Scratching Post – Premium Choice
The PetFusion Modern Cat Scratching Post is a tall climbing tower and activity tree. In total, the post is more than 6 feet high, with a perch on top of the post and a perch in the middle. The vertical design is clutter-free and truly encourages climbing from your cat as they dig into the sisal-covered climbing sections.
The base and two perches are made from a premium medium-density fibreboard (MDF) and each perch has a Velcro pad, on which a cushion attaches to give your cats somewhere to lay and survey the area before climbing through the cat-sized hole in the perch. The size and design of the scratching post encourage scratching, climbing, surveying, and stretching.
It is suitable for use by one or more cats and it also includes everything to firmly secure the scratcher to a wall and prevent falls or other accidents. The post is suitable for kittens and cats of all ages, the espresso MDF looks good, but it is expensive because of the premium design and materials used.
When it comes to premium options, we think this is the best modern cat scratcher post of the year.
High-quality construction
Very tall 6 ft climber
Great for perching and climbing
Can affix to walls for stability
Expensive
Perches are a little slippery
Tricky to assemble
---
4.

PETMAKER Modern Cat Scratcher Post
The Petmaker Modern Cat Scratcher Post is a three-columned post that stands a foot and a half tall.
The three columns are covered in a sisal fabric that is designed for robust and regular scratching. It also has a perch on top of the posts, which is carpeted for extra comfort, and three toys are hanging from the perch.
This activity tree has an MDF base and the three-column design ensures that it won't easily topple over while in use. The design also means that it offers a lot of scratching, batting, perching, and playing opportunities, but will fit in a relatively small space in one of your rooms. The Petmaker is designed for use by kittens and adult cats and will provide lots of opportunities for your furry feline friend to frolic and play.
It is a modestly priced toy, but aggressive players may pull the hanging toys down while the jute rope is quite thin and can get damaged and torn. Best for kittens and households with two kittens especially, the Modern Cat Scratcher Post does offer variety but lacks in strength.
Modest price
3 scratch posts
Small footprint
Hanging toys break off easily
Jute rope is thin and fragile
---
5.

PetFusion 3-Sided Vertical Modern Cat Scratcher Post
The PetFusion 3-Sided Vertical Modern Cat Scratcher Post has a unique triangular design and offers scratching opportunities on every surface. It is made from recycled cardboard and corn glue so it is environmentally friendly while also having a unique modern-looking design. It also includes natural catnip, which will help attract your cat to the post, even if it is a naturally apprehensive feline.
The design is best for cats that like to stretch outward when scratching because it isn't as tall as other products. But it does have a central hole, which is surrounded by scratching surfaces and gives your cat room in which to play, lay, and roll around.
Although PetFusion states that the cardboard will last for a year without becoming badly damaged, recycled cardboard is not as strong or as durable as sisal or jute rope and, when it does start to get damaged, it will shed all over the floor rather than remain on the post and fray. It is a decent price, looks good, and will be popular with cats that like to scratch while sitting down or rolling around, though.
Multiple scratching surfaces
Central cubby offers an additional play area
Includes natural catnip
Not very tall
Recycled cardboard not as durable as sisal
---
6.

Octagon Modern Cat Scratcher Post
The Octagon Modern Cat Scratcher Post is designed to look like a patch of grass with two small mushrooms on top. The mushrooms are different heights, which gives your cat a couple of perches and some elevated entertainment.
Both mushrooms are covered in hand-twined sisal and the different shape of the mushroom caps and the stalks gives greater enjoyment and flexibility from the scratcher post. It is a decent price and a sturdy design that should withstand very physical scratching, but it does have a somewhat chemical smell that you may want to mask with the addition of some catnip. Catnip will also help encourage your cat to the new scratch post.
It is suitable for kittens and older cats, but the lightweight and smooth base means that it will slide around an uncarpeted or friction-free floor. It is also quite a small design and if your cat enjoys stretching up to scratch, as most cats do, this design isn't big enough for them. Best for kittens, the Octagon Modern Cat Scratcher Post is cute and uses sisal twine, but it hasn't proven too popular with cats and is only really a suitable size for kittens.
Looks good
Reasonable price
Sisal twine scratching surface
Small
Slides on smooth floors
Will take encouragement
---
Buyer's Guide: How to Choose the Best Modern Cat Scratcher Post
Many owners own or have considered buying a cat scratching post. They can help protect your furniture because they provide somewhere legitimate for your cat to scratch. They also provide somewhere to play, can be used as a means of reducing anxiety, and scratching is a natural feline activity. To help ensure that you get the best scratcher for your cat, we have compiled the following buyer's guide.
Why Do Cats Scratch?
To ensure we get our cat the best available scratching post, it helps to understand why they scratch. In the wild, they would scratch trees, rocks, and other materials. Left to their own devices in your home, they would scratch furniture, carpet, and doors. Some may even scratch the walls.
The most common reasons and explanations for cat scratching activity are:
Nail Maintenance— Cats have long, sharp nails, and they need to be kept in good condition. You can trim them, but this can be a challenge, and it is better if your cat's nails are kept trim naturally. Scratching posts, especially those with a rough and textured surface, enable your cat to keep their nails trim. Trim, in this context, is not the same as dull. A cat scratching post will not dull a cat's claws, but it will enable your feline friend to get rid of damaged and shed claws and to keep them in good condition. Considering they use their claws for balance, defense, hunting, and more, it makes sense that cats naturally want to keep them well maintained.
Stretching— A cat can stretch their legs out and dig in with claws while performing stretches of its legs, neck, back, and other areas. A good stretch on a scratching post is like feline yoga and it will keep your cat in good physical shape, encourage healthy posture, and stave off some degenerative conditions.
Scent a n Area—     Cats have scent glands in many parts of their body, including in their paws. When they scratch, they naturally rub their scent onto the surface that they scratch. This means that they are effectively owning that spot. When they use the scratching post, they are warning other cats off using it, although they will usually be willing to share with another family feline.
Cats a re Cats—     It is an instinct for cats to scratch in this way. Their wild ancestors do it, their domesticated peers do it, and they want to do it, too.  Providing a scratching post lets your cats scratch an evolutionary itch, as well as the sisal rope.
Base Material
The base material refers to the material that is under the sisal or the carpeted section. It is the base that sits on the floor and the column that is the actual post.
Most commonly, these are made from either:
Wood— Wood tends to be long-lasting, durable, and sturdy. If the floor base is made from decent wood, it should be sturdy enough to take the scratching without toppling over. If the column is made from wood, it gives a stronger supporting layer to the scratching surface and ensures that the whole thing will last longer.
Cardboard— Cardboard is generally considered a cheaper alternative to wood, and it is normally found in the less expensive models. It can be flimsy, rarely lasts longer than a few months, and it can bend if your cat gets particularly vigorous. However, recently, recycled cardboard has become more popular. This tends to be corrugated so it has some structural rigidity. It is also considered good for the environment because it uses old cardboard that would otherwise be taken to landfill, and with enough layers and enough corrugation, it can last for months.
Scratcher Material
As well as the material of the base, you also need to consider the scratching surface material. This needs to be rough and textured to appeal to the cat, but you should also choose a material that is less likely to shred and shed.
Your choices are:
Carpet— Carpet is cheap, comfortable, and easy to come by. It is a good addition to the floor and the perch section of the post, but it will quickly fray and be torn apart if it is used as the scratching surface.
Sisal— Sisal is a type of plant that is native to Mexico but now grown all over the world. It gives a stiff and tough fiber that is still flexible enough to enjoy a host of uses, including high-quality scratching post material. It is rough and textured, so it is appealing to your cat as a scratching surface. While it can become damaged over time, it will not usually shed when it is broken and will stay in place. It can come as a sheet of sisal or as a rope that is twined around the column.
Cardboard— Cardboard is not only used in the construction of the post base but on the scratching surface, too. It is cheap, and it tends to be comfortable for your cat, but it won't      last, and you will be left with small bits of torn cardboard that need picking up off the floor.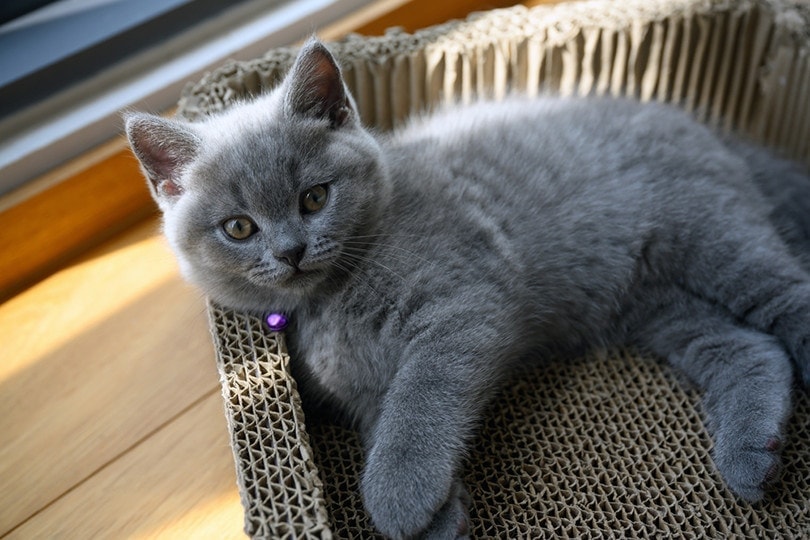 Post Shape
The traditional scratching post is upright, and while this is still the most commonly found shape today, your main options are a little more varied.
Horizontal— The horizontal post is ideal for those cats that prefer to stretch out while they scratch, rather than those that like to reach up. These types of posts can also be placed under items like furniture or outside doors in a bid to try and stop unwanted scratching behavior.
Vertical— The traditional scratch post is a vertical, upright post. This allows your cat to naturally stretch upwards while scratching, which is good for their physical health as well as their scratching action. The height of the post varies, but you should consider the length of your cat, including their legs to ensure they have enough room.
Multi-Surface— More and more scratch posts are multi-surface. They can be triangular or rectangular with a hollow mid-section, and all the inside and outside edges covered in a scratching surface. These designs allow for more play and a greater range of games than a standard post but they usually take up more space.
How Often Should You Replace A Scratch Post?
Many factors will determine the longevity of a scratch post. How vigorous your cat scratches, whether the post is used by one or more cats, and, of course, the materials and quality of the post itself, all play an important factor. However, with one or two cats using a high-quality post, you should expect to have to replace the post after about 2 years.
Can You Repair A Scratch Post?
Some scratch posts can be repaired fairly easily. Sisal rope can be rewoven, and wood can be sanded down and treated. Some posts even have replacement cardboard or sisal sections. However, if you do repair the post, you must ensure that it is safe for your cat to use. Avoid using adhesives that could be toxic and don't use screws or nails that could cause injury.
What If Your Cat Won't Use A New Post?
Cats are a law unto themselves, and even if you read reviews stating that 100 out of 100 cats enjoyed using a particular scratch post, there is always the very real possibility that your cat will break with that tradition and not go anywhere near the post. Place a blanket or other item with your cat's smell, on the post. Sprinkle catnip on it until your cat gets the idea that they are supposed to use it. Place it near the furniture that you want them to stop scratching. If all else fails, you could always try discouraging them from using it.
You might also be interested in: 6 Best Modern Cat Trees – Reviews & Top Picks
Conclusion
We all want the best for our cats, and ensuring that they have a decent scratching post on which they can exercise their evolutionary instincts while sharpening their claws and taking out their anger, is one way that we can provide for our feline friends. Hopefully, the guide and reviews of the best cat scratching posts above have helped you find the one that best matches your home and your cat.
The Hepper Hi-lo Modern Cat Scratcher may be a basic design, but it is good quality, well-priced, and typically well-liked by cats. The Frisco Cactus Modern Cat Scratching Post not only looks unique, but it is decent quality and more affordable than most, making it the best value modern scratcher we found.
---
Featured Image Credit: Amelia Fox, Shutterstock