10 Best Pet Insurance Plans in Kansas (2023 Top Picks)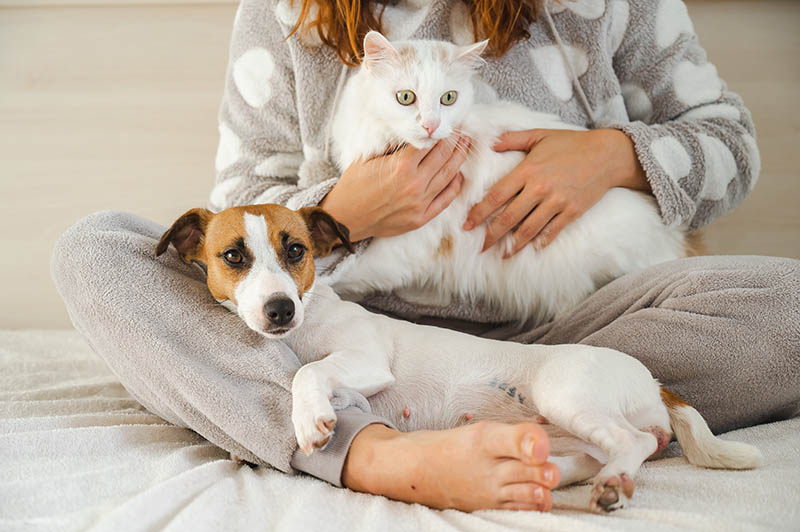 You want the best care for your pet, but quality care comes with a heavy price tag that wreaks havoc on the wallet. Pet insurance can offer relief by reimbursing you a percentage of the vet bill. The challenging part is selecting the right pet insurance company. This is no easy feat, as there seems to be information that's off the record when shopping for pet insurance.
In this post, we're walking you through the details of our favorite pet insurance companies for Kansas so you can make the best decision for your furry friend—and your wallet.  Let's get started!

A Quick Look at Our Top Picks in 2023
Rating
Image
Product
Details

Best Overall

Pumpkin

Covers sick visit exam fees
90% reimbursements for all claims
Great dental and behavioral coverage
Click to Get Quote

Best Value

Wagmo

Highly affordable
No waiting periods
Great for owners seeking wellness coverage only
Click to Get Quote

Trupanion

No annual limits
Great customer service
$0 deductible option
Click to Get Quote

Pets Best

No annual limits
Great for senior dogs
Accident-only option
Click to Get Quote

Spot

Accident-only plan
Fast claims processing
14-day orthopedic waiting period
Click to Get Quote
The 10 Best Pet Insurance Plans in Kansas
1.

Pumpkin – Best Overall

Our best overall option for Kansas residents is Pumpkin. Pumpkin covers everything you need in a pet insurance policy, plus a little extra. Dental and gum disease, sick visit exam fees, behavioral issues, and prescription food are covered. You won't have to worry about breed-specific restrictions, either.
Limiting annual coverage is best if you want to save money with Pumpkin. But they make up for it by offering 90% reimbursements on all claims. Pumpkin isn't a good option if you're hunting for wellness coverage or 7-day-per-week customer service. But if this doesn't bother you, we recommend checking out Pumpkin.
90% reimbursements for all claims
Covers sick visit exam fees
Great dental and behavioral coverage
No limits on breed-specific conditions
No weekend customer service
No wellness coverage
Expensive with unlimited annual coverage
---
2.

Wagmo – Best Value
What stands out the most with this company is Wagmo's wellness coverage, specifically its Wellness Value Plan. Wagmo offers three wellness plans, each differing in cost and coverage. Their Wellness Value Plan is the cheapest and covers one routine exam, two vaccines, one blood test, and one fecal test. The best part? No waiting periods!
You can pay more if you want more coverage, but you might be better off paying for a comprehensive accident and illness policy at that point.
Overall, this is an excellent option for pet owners seeking wellness coverage but don't necessarily want to go through franchises like Banfield.
Highly affordable
Great for owners seeking wellness coverage only
No waiting periods
Pricey comprehensive coverage
Perks are limited to Classic and Deluxe Plan
---
3.

Trupanion
Compared to other pet insurance companies, Trupanion has expensive monthly policies. However, you can tweak their premiums slightly to be more affordable.
With Trupanion, you receive 90% reimbursement on each claim. You only have to submit a deductible once per ailment, or you can select the $0 deductible option (although this is expensive).
Trupanion offers superior coverage in all areas, including dental and breed-specific conditions. A few downsides include an upper age limit of 14 years old, limited perks, and no wellness coverage. But ultimately, their coverage and customer service are excellent.
No annual limits
Great customer service
No limits on breed-specific conditions
90% reimbursements for all claims
$0 deductible option
One-time deductibles per condition
Expensive monthly premiums
No wellness coverage
Upper age limit at 14 years old
Limited perks
---
4.

Pets Best

Pets Best has comprehensive coverage with affordable rates you can cater to your budget and needs. They also offer an accident-only option for better savings. You can choose from several deductible and reimbursement options, including 90% reimbursement. Best of all, they offer unlimited annual payouts.
With Pets Best, there are no upper age limits, and they offer end-of-life services for older pets. You also get behavioral and breed-specific conditions covered when you purchase a policy.
You'll have to wait a while to receive your reimbursement, but we think Pets Best is worth the wait.
Great for senior dogs
No limits on breed-specific conditions
No annual limits
Accident-only option
Long claims processing times
---
5.

Spot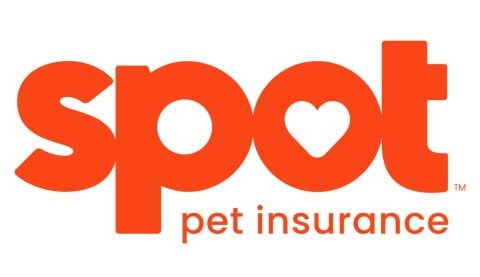 Spot offers comprehensive coverage with quick claims processing and waiting periods, including a 14-day orthopedic waiting period. This also means their accident waiting period is 14 days.
We like that Spot offers unlimited annual coverage, but it's pricey. It's best to choose a policy with annual limits to save money.
If you want to save a little more cash, Spot offers an accident-only plan that covers everything you need should your pet get into an accident. Remember that you can't reach anyone on the weekends, so you'll have to wait until the following business day to contact customer service.
Accident-only plan
14-day orthopedic waiting period
Fast claims processing
No limits on breed-specific conditions
No weekend customer service
Expensive with unlimited annual coverage
---
6.

Embrace

Embrace is expensive with their wellness rider, and they don't offer unlimited annual payouts. However, they avoid option overwhelm with one customizable plan that includes comprehensive accident and illness coverage. It also includes behavioral, orthopedic, and dental coverage.
The best part is that claims submissions are a cinch. Just upload the claim through their mobile app and play the waiting game.
Embrace may even cover curable pre-existing conditions, depending on the case, but we don't recommend relying on this.
May cover curable pre-existing conditions
No limits on breed-specific conditions
Online mobile claim submissions
Pricey overall
Annual payout limits
Expensive with wellness coverage
---
7.

Bivvy
Bivvy isn't as well-known, but we want to spread the word. Bivvy offers some of the lowest prices in the pet insurance market. For only $14 a month, your pet can have accident and illness coverage, including dental care. Even with wellness riders, their prices are unmatched.
So, what's the catch? Their highly affordable plans have equally low annual coverage and reimbursement rates. Even so, your pet can receive the care it needs without veterinary care becoming a money-draining endeavor.
Affordable overall
Great for senior pets
Great dental coverage
Affordable wellness rider
Low annual limits
Low reimbursement rate
30-day waiting period for illnesses
---
8.

Fetch

Fetch keeps it simple by offering one fully customizable plan. With this plan, you get a comprehensive accident and illness policy, including coverage for behavior, physical therapy, and exam fees. They'll also cover boarding and lost pet fees in emergencies.
Fetch has annual payout limits and limited dental coverage with no wellness rider. But overall, they have great accident and illness coverage worth looking into.
Affordable
Includes exam fees
Covers boarding and lost pet fees
Includes behavioral and physical therapy
Not good for pets prone to dental issues
No wellness coverage
Limited dental coverage
Annual payout limits
---
9.

ASPCA

ASPCA has great comprehensive coverage that includes dental, behavioral, and holistic coverage. If you have a nosy pet, they have a poison hotline to help you.
ASPCA doesn't offer as many perks or unlimited annual coverage but offers several annual coverage options. They even have a handsome accident-only plan to mark down the price.
The con to ASPCA is that they have 30-day claims processing times, but if you're willing to wait, this can be a no biggie.
Accident-only coverage
Great dental and behavioral coverage
Customizable annual limits
14-day orthopedic waiting period
Long claims processing
Annual payout limits
Expensive
---
10.

MetLife

Last on our list is MetLife. MetLife offers three customizable plans with standard comprehensive coverage that covers exam fees. They offer a 100% reimbursement option, swift claims processing times, and relatively short waiting periods.
The one waiting period that isn't quick is their orthopedic waiting period. You have to wait the standard 6 months for coverage to kick in. Still, their orthopedic coverage is some of the best we've seen.
Unfortunately, MetLife doesn't offer an accident-only plan, and their prices are high. But you can receive an attractive discount if you're a veterinary professional.
Fast claim processing
24-hour accident waiting period
Covers exam fees
Good orthopedic coverage
100% reimbursement option
Discounts for veterinary professionals
Pricey
Annual payout limits
No accident-only plan

Buyer's Guide: How to Choose the Best Pet Insurance Plan in Kansas
What to Look for in Pet Insurance (for Cats, Older Dogs, Etc.)
Pet insurance companies all promise a reimbursement for when your pet is sick or injured. How a company chooses to structure that coverage is what makes them different. Let's look at the framework of a pet insurance policy.
Policy Coverage
Policy coverage is what your pet insurance company will cover should your pet become ill or get into an accident. This includes any treatment relevant to the illness or accident, such as hospitalization, diagnostics, surgery, prescriptions, and more.
In a nutshell, all pet insurance companies structure their coverage around accidents and illnesses. The agitation is when pet insurance companies choose what ailments are covered and which aren't.
For instance, two companies may offer coverage for tooth extractions. However, Company A only covers tooth extractions if caused by accident, and Company B only covers tooth extractions if caused by tooth decay.
When you shop for pet insurance, pay attention to the details. Research your pet's breed and find out what your pet may need coverage for later in life. This will help you sift through the nitty-gritty details.
Customer Service & Reputation
At the heart of every business is great customer service. Customer service is about excellent communication. It's about how a company walks you from point A to point B. In this case, it's claim submissions.
You can't receive the reimbursement without filing a claim, and every company does theirs a little differently. Some companies only allow claim submissions via email. Others offer claim submissions through mobile apps. Each company is different, so you'll have to decide what's important.
Also, consider how to reach customer service. Check the company customer service times and ensure you're okay with their business hours. Do you want 24/7 support? How about weekends?
Claim Repayment
Claims processing includes three steps: claim submission, review, and reimbursement. Claim submission is entirely up to you. Once you submit your claim, the ball is in the other court. How long repayment takes depends on the company. Some companies take a couple of days, and some need an entire month.
Generally, you should receive a reimbursement around two weeks after submitting your claim. Again, every company is different, so be sure you're fine with waiting up to 30 days to receive your cash deposit.
Price Of Policy
The price of pet insurance is wildly diverse. Each company looks at different factors, like location, your pet's age, breed, and species. They also factor in deductibles, reimbursements, and riders.
Pet insurance companies usually offer several prices, each with varying coverage. You'll often choose between more coverage and higher prices or less coverage and lower prices.
Dog owners will always pay high monthly premiums because dogs are more likely to become sick and injured than cats. Purebreds and senior pets will also enhance the monthly bill because they're a higher risk.
Plan Customization
Plan customization is a policy's flexibility to suit your pet's needs and budget. Customizable plans allow you to pick and choose what you want for your pet and say no to other riders. A customizable plan typically has a few riders, adding extra coverage to your basic plan.
Customizable plans can be great, but they can also become expensive if you're not careful. Sometimes it's better to go with a traditional plan instead of jumping into the pet insurance coverage buffet.

FAQ
How Does Pet Insurance Work?
With pet insurance, you must pay the total veterinary bill in full. Once you submit a claim, the company reviews the claim and reimburses you based on the reimbursement percentage you chose for your policy.
What's Considered an Accident for Pet Insurance?
Accidents are anything you can't predict, like fractured limbs, lacerations from dog attacks, and being hit by a car. Accidents aren't related to genetics or illness. They're just unpredictable circumstances.
If I Move, Can I Still Receive Coverage?
Coverage varies from state to state with pet insurance companies. Some companies only offer coverage in certain states, so check with your pet insurance provider if you are considering moving.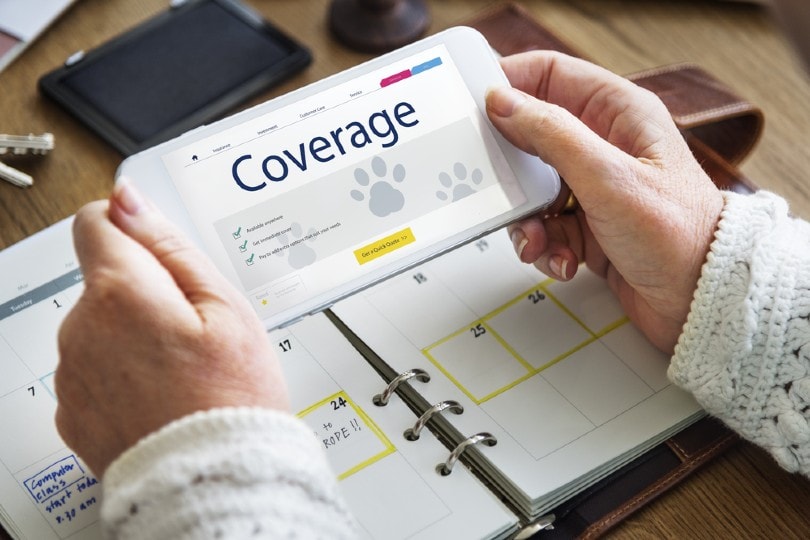 Are Pre-Existing Conditions Covered by Pet Insurance?
Pre-existing conditions are medical conditions that have already been treated or examined before starting a policy. Unfortunately, pet insurance companies don't cover pre-existing conditions.
Can I Choose My Vet When I Purchase a Policy?
Most of the time, yes! You can select whichever general practice veterinarian you want to examine your pet. There are some exceptions, like employer-based pet insurance coverage and specialty veterinarians. But generally speaking, you can choose whichever vet you like and trust.

What the Users Say
In Kansas, people may be more hesitant to purchase pet insurance compared to other states. Kansas residents are in the old-fashioned mindset of "leave it be." And there's certainly nothing wrong with this.
It's up to you to decide what is necessary for your pet. Not every animal needs comprehensive accident and illness coverage. You may spend more than you would like to pay for a policy that your pet never needed.
Even so, it helps to expect the unexpected. If you're skeptical about buying pet insurance, we recommend starting with an accident-only plan. An accident-only plan is much more affordable and covers the least expected, minus illnesses.
Which Pet Insurance Provider Is Best for You?
Every pet insurance company and every pet's medical needs are different. Only you can determine which pet insurance provider is best for you and your pet.
That said, there are some elements to watch out for that have the upper hand. We're big fans of pet insurance companies that offer an accident-only plan, unlimited annual payouts, and cover hereditary and congenital conditions in their basic plans.
Great dental coverage is also a plus since dental work is expensive. From there, you can factor in your pet's needs and what you can afford.
However, if you only want wellness coverage, we recommend going with Wagmo. You'll have to pay for a comprehensive policy to receive wellness coverage with other companies.

Conclusion
Time for a quick recap! Our best overall pet insurance option is Pumpkin because of its comprehensive coverage, affordable rates, and 90% reimbursement option. Wagmo is our favorite value option because you can pay for wellness coverage without buying a comprehensive policy. Trupanion is our favorite option if you're willing to spend a little more for excellent comprehensive coverage.
---
Featured Image Credit: Reshetnikov_art, Shutterstock