10 Best Pet Sitting Apps & Websites in 2023 (Reviews & Comparison)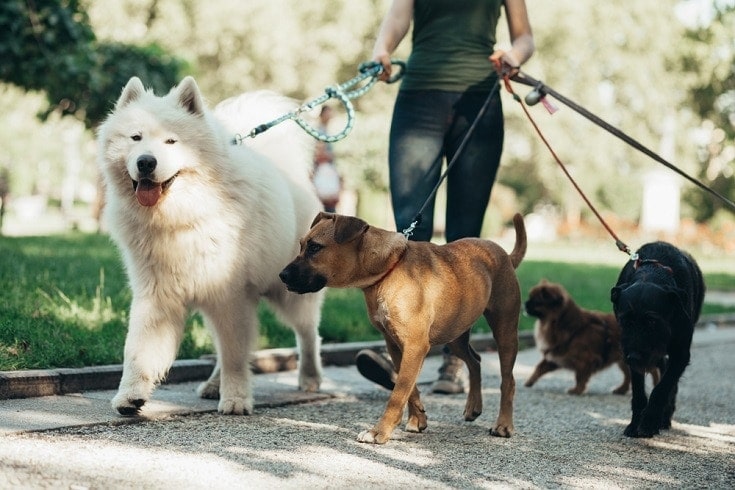 For dog owners, one of the great things about the internet age is the rise of on-demand services. It's easier than ever to find a dog walker or pet sitter, even on short notice, and you don't have to hassle friends or family along the way.
Today, vacationing dog lovers have a variety of websites and apps for pet sitters to choose from when they need to find someone to look after their best friend for a few days. They're not all created equal, though, which is why we've taken the liberty of ranking 10 of our favorites.
The services on this list are all convenient and trustworthy, and your pooch should be in good hands while you're gone.

A Quick Comparison of Our Favorites in 2023
Rating
Image
Product
Details

Rover

Huge database
Easy to use
Sitters have badges for skills
Find a pet sitter

Wag!

Real time GPS tracking
Great communication
Best for cities
Find a pet sitter

Care.com

Criminal background checks
More than just pet sitting
Decent sized database
Find a pet sitter

Fetch!

Good for people who struggle with decisions
Able to meet applicant ahead of time
Find a pet sitter

Petsitter.com

Can negotiate your own terms
Find a pet sitter
The Top 10 Pet Sitter Apps & Websites
1.

Rover Dog Boarding and Pet Sitting

One of the biggest names in the pet sitting business, Rover is also one of the best. It has a huge database of both users and pet sitters, and it's easy to find the perfect one for your pup. In fact, each pet sitter can earn badges that show their special skills, like obedience training or medical certifications.
That doesn't mean that every sitter is a gem, though. Given the massive database on this pet sitting app, it only makes sense that there'd be a few bad apples in the bunch, so you had better do as much research as you can before making a decision.
---
2.

Wag! Dog Walking and Pet Sitting App

Although better known for their dog walking services, Wag! also offers pet sitting as well. Your dog sitter will still take your pup for a stroll, of course, and you can even monitor them in real time via their GPS tracking. This allows you to see where your dog is, and you can communicate with the dog sitter along the way.
The company is not quite as big as Rover, and as a result, you may not be able to find a dog or pet sitter if you live in a smaller town. You may also have difficulties securing the sitter of your choice, especially if you have a last-minute booking.
---
3.

Care App

Care isn't a pets-only service, as it can also hook you up with childcare, housekeepers, and more. It does have a fair number of pet sitters on the site, though, and it gives you the option of requesting criminal background checks on anyone you're considering.
You'll need to plan ahead if you're going with Care, though, as it allows service providers to take as long as 72 hours to respond to your booking. That's not going to help you in a pinch, but if you give yourself plenty of lead time, you're likely to be able to find a winner on there.
---
4.

Fetch! Pet Sitting and Dog Walking
Fetch! is different from most of the other services on this list in that they don't allow you to pick your own pet sitter. Instead, you list the job and its requirements, and then they review your application and match you with the sitter whom they feel is best qualified to handle your personal situation.
That's good for people who don't like making decisions or interviewing prospective service providers, but it limits your ability to properly vet the applicants. You do get to meet them ahead of time, though, so you can still bail if you get a bad vibe.
---
5.

Petsitter.com

Petsitter.com requires more legwork than some of the other services shown here, in that you have to wade through all the profiles on their site yourself. This allows you to pick the exact pet sitter you prefer, though, and from there, it's simply a matter of negotiating the terms yourself.
You'll need to have a good feel for a trustworthy sitter, though, because the site does little in terms of screening. However, if you're unhappy with all the barriers that other services put up and feel that you could do a better job of handling the hiring process yourself, Petsitter.com allows you to do just that.
---
6.

PetBacker Pet Sitting App

This site is a hybrid of a few of the others shown here. You'll fill out a survey detailing your needs, then PetBacker will send you the links to five profiles. You can pick your preferred provider from that list or request new applicants to be sent over.
The rates will vary depending on the provider you use, but since the company prides itself on only hiring 30% of applicants, you're more likely to be in good hands with them than some other services.
---
7.

SitterCity Pet Sitter
SitterCity is primarily used to find babysitters and nannies, but it has a section for pet sitters as well. Since it's mainly focused on caring for children, you'll find a limited number of service providers available, but you can vet them more thoroughly than on other sites.
It will send you a list of applicants that match your criteria, and you can choose to pay $15 for a basic background check or $60 for an enhanced one. It's a good choice for anyone who's nervous about leaving their best friend alone with a stranger for a few days.
---
8.

HouseCarers Home and Pet Sitter
This is another site that's primarily geared toward non-pet-related services, but it does have pet sitters available as well. It has a limited database of pet sitters, and sifting through their search results is a pain, but you may be able to find a good option on there.
Most of the providers tend to be either students or retirees, so that may influence your decision one way or another. However, they don't provide criminal background checks, so you'll need to be a little bit trusting.
---
9.

Thumbtack Pet Sitters
Thumbtack is for finding all sorts of independent contractors, from pet sitters to handymen. Many of the applicants that you'll find on here are professional businesses, so you won't get the personal touch that some other sites provide — and you may pay more too.
You'll also have to do most of the legwork yourself. The good news is that you can negotiate your own terms and rates, so you can find a provider that's custom-fit for the job you need done, whether that's dog sitting, dog walking, cat sitting, or anything else you're looking for.
---
10.

TrustedHousesitters Pet Sitter
TrustedHousesitters puts a fresh new spin on the dog and cat sitting model. You pay an annual fee to list your home and pets on the site, and you state what dates you need covered. Sitters will then reach out to you to apply.
You don't pay the sitters for their service; instead, they get the benefit of a free place to stay in exchange for watching your pets. This is great for people who travel quite a bit, as you can have as many sitters as you need for one price. There aren't many users on it, though, so you may struggle to fill the dates you need to be covered.

Which Pet Sitter App Is Right for You?
All the businesses on this list have their pros and cons, and the perfect pet sitting service hasn't been invented yet. At the end of the day, the most important thing is your ability to evaluate a pet sitter and determine whether they're worthy of being trusted with your pet.
These services certainly make it easy to find applicants — but the hard part is still up to you.
---
Featured Image Credit: hedgehog94, Shutterstock