7 Best Dog Walking Apps & Websites in 2023: Reviews & Comparisons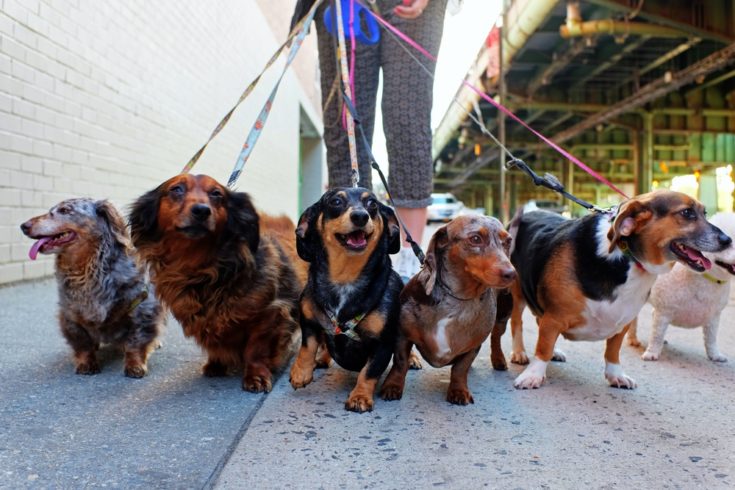 One of the biggest changes that we've seen to the job market in recent years involves the rise of the gig economy. It's easier than ever for people to find ways to make a quick buck or for other people to find someone to do a task or run an errand for them.
For pet owners, that means it's easier than ever to find a dog walker to take their pup for a quick constitutional. There have been several apps that have popped up in recent years, but not all of them are equally good.
So, what are you supposed to do when your dog needs a walk and you're not available? Which app should you use? We took the top options for a spin to see which ones are worth your dog's time and your money.

The 7 Best Dog Walking Apps & Websites
1.

Rover: The Dog Walking App
Rover is probably the most well-known of all the dog walking apps, and it has a large base of dedicated dog walkers. If you live in any kind of decently-sized town, you can likely find a Rover-affiliated walker in your area.
The app is easy to download and use. It's extremely user-friendly, making it a cinch to locate and compare all the potential walkers to choose from. All the reviews are verified, so you can trust that whomever you choose isn't trying to game the system.
Everything from booking the walker to paying them for their time can be handled right on your phone. The app is available for both iOS and Android, and it works equally well on either platform.
Many walkers like Rover because it lets them choose their own hours and set their own prices, giving them the opportunity to make more money than with other apps. However, the competition is fierce, which can drive down wages across the board, and the app will take 15% of their revenue right off the top.
All in all, Rover is the 800-pound gorilla of dog walking apps — with all the pros and cons that usually accompany a gorilla of that size.
Large base of walkers and pet owners
App is easy to use
Available on both iOS and Android
Payment and booking can be handled on the app
Walkers can set own hours and prices
Competition for customers is fierce
App takes 15% of revenue
---
2.

Wag!-  Instant Dog Walkers
Wag! is Rover's primary competition in this space. It lets you choose between 20-, 30-, and 60-minute walks, each of which can be scheduled in advance or booked on demand.
They screen every one of their walkers before allowing them to work for the site, but we're not sure how thorough the screening is. Their services are also backed by a million-dollar insurance policy, which should be at least some consolation for worried owners.
Many owners enjoy the fact that walkers are expected to fill out a "Pup Report," which gives all sorts of important information about the walks that your dog goes on. Training services are also available if you want your dog to learn manners while they explore the neighborhood.
Walkers likely won't be able to make as much on the high end with Wag!, but they may find it easier to get clients. You can make more if you have more skills to offer or if your reputation on the app grows. Still, you'll likely need to do more work with Wag! than you will with Rover.
Wag! is extremely convenient for both walkers and pet owners alike. However, walkers may be tempted to try their luck with one of the other services if they're in search of a big payday.
Walks can be scheduled or on-demand
Services backed by million-dollar insurance policy
Owners receive detailed info about walks
More consistent work than other apps
Training services available
Less money to be made than with other services
More work is required than with other apps
---
3.

PetSitter.com Dog Walking Website
PetSitter is one of the older pet care apps on the market, which means it's trustworthy, as it has years of reliable service to back up its record. Some walkers have been with the service for years, which is reassuring; anyone who's able to stick around that long is likely competent with dogs, to say the least.
However, PetSitter hasn't exactly been keeping up with the times. They don't offer an app at all, so you have to do everything through their website. That's not a huge deal, but it is a minor hassle that seems like it could be easily avoided. At least their website is user-friendly.
Also, they don't screen as thoroughly as some of the other apps. That can be good for walkers who have made mistakes and are looking for a second chance, but then again, owners may not feel comfortable trusting their dogs to those walkers.
PetSitter is one of the founding members of the online dog-walking market, and as such, it's certainly worth investigating. However, we suspect that many people will ultimately feel more at ease going with one of the newer apps that have since supplanted it.
Been around for a long time
Many walkers have put in years for the service
Website is user-friendly
Good for walkers who may be screened by other apps
No app available
Lax screening process
Using the service is a bit of a hassle
---
4.

Care App
Care is another service that allows you to either schedule a walk or order one on demand. It's available in multiple countries, making it one of the easiest ways to find a walker while traveling.
You'll find a mixture of independent walkers and dog-walking companies on the service. You can contact them directly or post a job and pick from the available respondents.
You're allowed to set your rates for the jobs you post, which also dictates how much walkers can make working for them. The service places a premium on prompt responses, so walkers who can't respond within 24 hours will eventually find themselves penalized.
All the walkers are subject to background checks; these screens look at criminal histories, driving histories, and civil records. Potential clients can request these records directly if they spring for the premium membership.
If you're a prospective walker, Care is one of the easiest services to get started on. However, the pay is low, as it averages about $11 an hour. As such, it's best for people looking to get their feet wet before moving on to one of the higher-paying services.
Can set own pay rates
Offers both on-demand and scheduled walks
Walkers who respond promptly get more work
Available in multiple countries
Good for new walkers
Pay is low
Not ideal for experienced walkers
---
5.

PetBacker Dog Walking App
PetBacker is a relatively new entrant into this market, and it attempts to fill in a few of the service gaps left by larger competitors.
You simply post your job on the app, and within a few hours, you'll get estimates from five different providers. If you want to interview one, you have to put a deposit down before scheduling the meeting. You can then select that person or interview one of the other applicants.
PetBacker has one of the most comprehensive review systems of any walking service. Walkers will be judged on more things than they would on other apps, which is a double-edged sword. As a walker, you'll need to dot more I's and cross more T's than you would otherwise, but you can raise your rates accordingly as your reviews improve.
Their walkers will also provide updates with photos and charts. It's a great way to have peace of mind that your dog will be well taken care of.
PetBacker asks a great deal of its walkers, yet they only average about $20 an hour. However, exemplary walkers can set themselves apart and charge higher rates, so it may be worth a shot if you're confident in your skills.
Easy to compare and select walkers
Thorough ratings system
Allows outstanding walkers to set themselves apart
Daily updates provided
Ideal for the best walkers
Requires a great deal from their walkers
Average rate isn't the best
---
6.

DogWalker Dog Walking Website
DogWalker isn't like the rest of the services on this list, as it makes no promises about the walkers on its site. It's simply an advertising service that's limited to dog walkers.
As a result, you'll have to trust your own abilities to select and screen a walker. However, you won't  be restrained by a website's price or service restrictions.
For walkers, it allows quite a bit of freedom for a low cost. You'll have much more ability to earn a worthwhile wage — provided that you're a competent marketer and service provider, of course.
It's a bit more of a hassle than some other services, but DogWalker provides the most freedom of any platform. Your experience will be directly correlated to your own abilities.
Allows for quite a bit of freedom
Gives walkers ability to set own rates
No service or price restrictions
Only an advertising service for dog walkers
No screening provided
More of a hassle than other services
---
7.

Barkly Pets App For Pets
Barkly started in just four cities, but it's quickly expanded to locations in all 50 states. That's a testament to how easy it is to use, but it doesn't quite have the same user base that some of the other services can boast.
The biggest advantage for pet owners is the ability to create a checklist that walkers have to follow. So, if you want your dog to practice their sit-stays, take their meds, or poop on that annoying neighbor's lawn, you can tell your walker to make sure it happens.
Walkers have to provide a detailed report after each outing, so you can keep up to date on what your pup is up to. It also allows you to be certain that everything is taken care of. You can even tip your walker if they've done an outstanding job.
For walkers, the primary allure of Barkly is the fact that it's commission-free, so you can keep every dollar that you earn. However, that means that owners must be willing to pay a bit more.
Barkly is definitely one of the more intriguing options on this list, and in a few years, it may be on par with the heavy hitters above.
Offers ability to create checklists that must be followed
Walkers have to provide detailed reports
Lets you tip your walker
Walkers keep 100% of their earnings
Limited customer and provider base
Pricier than other options

What Should I Look For in a Dog Walking App?
Many people choose their dog walker based on price alone. This is perfectly fine — as long as it works. If you get a substandard provider, though, your dog could end up neglected, injured, or worse.
Trustworthy reviews are likely your best bet for finding a reputable walker. They're not foolproof, of course, but if many other people will vouch for a walker, they're probably on the up-and-up.
Many sites screen their walkers by offering criminal background checks. That's a nice touch, but a lack of criminal record is no guarantee that someone will take care of your dog properly (and it should be noted that some of the most dedicated caregivers are people with mistakes in their past).
Ideally, you should interview the walker in person before hiring them, preferably with your dogs around. This allows you to judge them yourself and to see how they interact with animals.
None of this is any guarantee that the walker you choose will be a good one; there will always be a certain element of luck involved. However, you can at least reduce the risk that you'll hire a bad apple.

So, Which Is The Best App For Walkers?
Ultimately, your experience will depend more on the walker you end up hiring than the service you use to hire them. However, we feel that your chances of finding a quality walker are best on one of the well-known apps, like Rover or Wag!.
These services make it easy for owners to screen walkers, schedule walks, and pay for services rendered. There are also plenty of walkers to choose from on those apps, so you have options.
That's not to say that the lesser-known apps are bad; you can almost certainly find a fantastic walker on them. However, it will take more work on your part, and the smaller apps are less likely to protect you in case something goes wrong.
We think Barkly Pets is a service worth watching, and it may soon be the cream of the crop. For now, though, we'd stick to one of the big dogs when it's time to find someone to walk your big dogs.
---
Featured image credit: a katz, Shutterstock