12 Best Dog Foods for Seniors – 2023 Reviews & Top Picks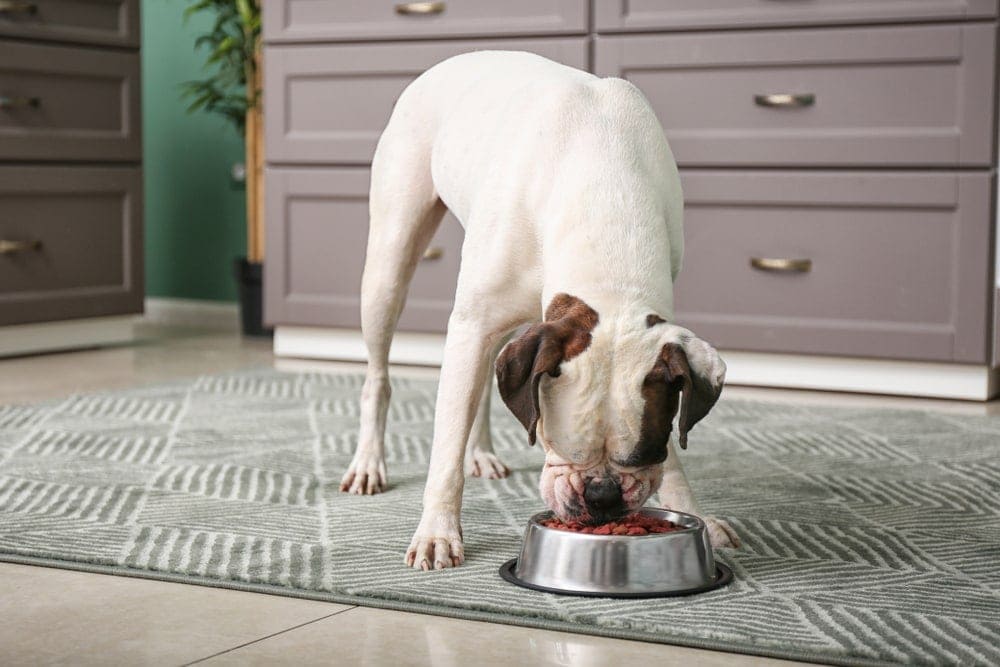 As dogs begin to age, just like humans, their bodily functions start to slow down or wear out. Slowly but surely, they become less excited to get up and go for walks, and they might need some extra attention to keep them healthy. One of the best things that you can do to prolong the life of your senior pup is to adjust their food needs according to their age.
Puppies need different food to support the rapid growth they experience in young months. In the same way, senior dogs need a change in diet to aid in digestion and usability of the vitamins and nutrients contained in the food.
This time of your dog's life may seem a little overwhelming, and you may not want to accept that they need this change. However, since it is the best thing for them and keeps them here longer, we have compiled a list to make the transition a little easier. Below are our reviews of the top dog foods for senior dogs.
A Quick Comparison of Our Favorites in 2023:
Rating
Image
Product
Details

Best Overall

Ollie Fresh Dog Food

Human-grade food
High-quality ingredients
Convenient delivery system
Click Here to Save 50%!

Budget Buy

VICTOR Senior Healthy Weight

Decrease fat weight
78% meat protein
Joint health
Check Price

The Farmer's Dog Fresh Dog Food

Pre-portioned food
Grain-free
Chicken and egg-free
Click to Save 50%

+ Get Free Shipping

Blue Buffalo Life Protection

High-quality protein
Supports joint health
No corn or wheat
Check Price

Blue Buffalo Wilderness Senior

Grain-free
Antioxidant enriching
Healthy complex carbs
Check Price
The 12 Best Senior Dog Foods
1.

Ollie Fresh Dog Food Subscription – Best Overall
As dogs get older, they acquire additional care to maintain excellent health. This can mean more regularly scheduled vet visits, less strenuous physical activity, and a more balanced nutritional intake. Owners of aging dogs can sometimes struggle with finding the best meal replacements and care routines for their dogs. And issues such as incontinence, food sensitivities, and even dementia can be quite difficult to navigate.
However, proper nutrition can help mature dogs get the daily vitamins and minerals they need to age gracefully and maintain their energy levels. This is where Ollie Dog Food can help.
Ollie uses has high-quality ingredients and advanced cooking techniques to provide human-grade dog food that abides by AAFCO (The Association of American Feed Control) standards. Their ingredients are carefully sourced, cooked at low temperatures, and then hand-packed to maximize their nutritional value.
They also offer a convenient delivery program, which means that you can keep your dog healthy without having to take a trip to the pet store every week. They also make it easy to cancel or switch up meals to see which ones your dog prefers. And if your dog suffers from digestive issues or requires a restricted diet, Ollie can customize a specialty meal plan for it specifically. The only downside to this food is that meal plans can be expensive if you are on a tight budget.
Human-grade food
Convenient delivery system
Customized diet recommendations
High-quality ingredients
Simple recipe customization
Easy cancellation
Meal plans are more expensive than store bought kibble
---
2.

VICTOR Senior Weight Dry Dog Food – Budget Buy
VICTOR Purpose Senior Healthy Dog Food is specifically made to support your dog as he moves into his twilight years. It is the best senior dog food for the money since it offers high nutritional value without breaking the bank.
As older dogs begin to be less active, eating the same kind of food can cause them to gain weight faster in some breeds than others. This company recognizes that and formulated dog food meant to aid in the conversion of fat to energy. The process helps senior dogs continue the development of lean muscle instead of adding fat weight. It is also an admirable choice for dogs that already need to lose weight.
The formula is nutrient-dense to support long-term joint health, helpful in dog breeds that struggle with joint dysplasia. The recipe starts with 78% meat protein, followed up by tasty nutrients from vegetables and fruits to promote a hardier human system and aid digestion. All in all, we think this is the best dog food for older dogs for the money
Decrease fat weight
Joint health
78% meat protein
Budget-friendly
Contains grains with too many carbs
---
3.

The Farmer's Dog Fresh Dog Food Subscription Service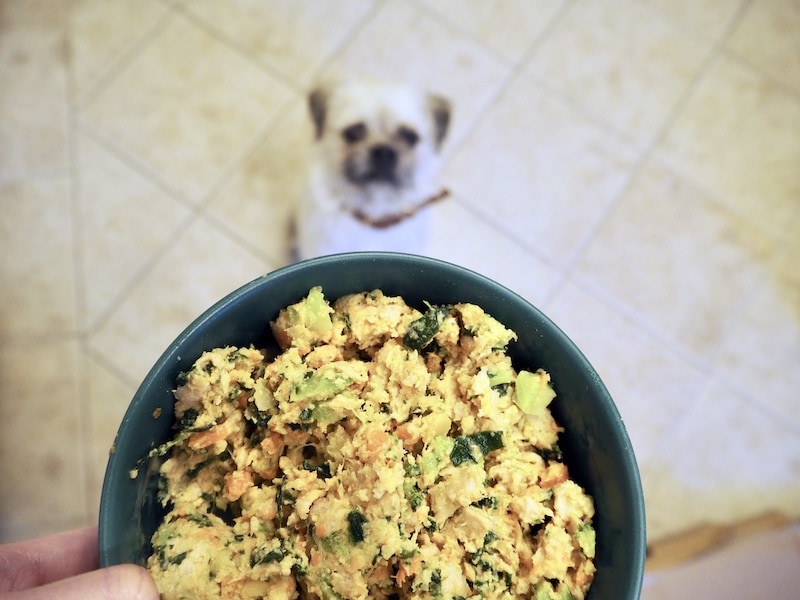 Meeting your aging dog's nutrition needs can be challenging, but our best overall senior dog food pick can make it a bit easier. The Farmer's Dog is a fresh dog food subscription that provides your aging pup with a high-quality and balanced diet.
Obesity is a problem for many senior dogs, so you'll need to provide the right amount of nutrients in proper ratios to ensure you're not depriving your pup of essential nutrients or promoting obesity. The more you can provide these nutrients in their natural form, the better.
The Farmer's Dog utilizes fresh and whole foods sourced from reputable food supplies and local farms in their recipes. Their meals are soft and full of moisture, making them easy for your dog to eat and digest. There are currently three recipes in their line-up: Beef, Turkey, and Pork. Each recipe features USDA-certified meat and whole veggies like chickpeas for protein and fiber, broccoli for a hefty dose of vitamins A, C, and K, and sweet potatoes for dietary fiber and antioxidants.
Your dog's food will arrive at your door in perfectly timed intervals in pre-portioned packaging to suit your dog's unique caloric needs. Before activating your subscription, you'll fill out a short questionnaire about your dog's age, breed, activity level, and health concerns. This allows their algorithm to find the perfect diet customized to your dog's needs.
Though their shipping is free, The Farmer's Dog only ships to the 48 contiguous states.
Pre-portioned food
Easy to serve
USDA-certified protein
Customized to your dog's needs
Only ships to the 48 contiguous states
---
4.

Blue Buffalo Senior Dry Dog Food
Blue Buffalo is not just a company that makes food for senior dogs. They are committed to making healthy food, protecting a dog from harmful grain products, and filling them up with the right number of vitamins and nutrients to balance their weight and keep them healthy. This commitment and reputation are good indicators of the quality your senior dog needs from their food.
Blue Buffalo calls this line of kibble "Life Protection Formula" made for the overall well-being of a dog. They start their formula with real meat, check as chicken. They supplement this with beneficial whole grains, healthy vegetables and fruits and add what they named LifeSource Bits. These bits pack the needed punch in terms of nutrients. It is easier to digest with high-quality protein, add L-Carnitine to maintain a healthy muscle mass and carbs to give your elderly pup the energy to stay active. Supplements also promote healthier skin and joint health, a significant concern for many dog breeds.
Real meat as the first ingredient
High-quality protein
Supports joint health
No corn or wheat
High nutrient content difficult for sensitive stomachs
More expensive product
---
5.

Blue Buffalo Senior Grain-Free Dry Dog Food
Another great offering from the creators at Blue Buffalo, this dry dog food is said to be part of "nature's evolutionary diet". The meaning behind this quote is that the diet of wolves inspired the formula. These creatures are true omnivores with long-lasting life endurance even into their old years. This naturally-inspired formula is grain-free and protein-rich. The needs of your dog become more specific as it gets older. Blue Buffalo aims to meet all these needs with this food.
Just as before, the food contains Lifesource Bits that blend a harmonious mixture of antioxidants, minerals, and essential vitamins. They didn't only guess at the appropriate combination, either. Instead, they called in holistic veterinarians and animal nutritionists to figure out how to best support the health of the immune system for senior dogs.
The food contains not only deboned chicken and turkey meal, but also blueberries, carrots, cranberries, and sweet potatoes.
Vet and nutritionist recommended
Grain-free
Antioxidant enriching
Healthy complex carbs
---
6.

Nulo Freestyle Senior Dry Dog Food
Nulo believes in its product so much that they claim they can help your dog "get better with age." They do this by creating an exceptional nutrition plan, not just another bag of dog food. This plan contains the benefits of animal meat, such as trout, to supply the protein needed for continuous muscle development and maintenance important for an old dog's mobility.
Their formula is not only chock full of meat, but it is also grain-free. The absence of these grains and the addition of probiotic strains make the food easier for senior dogs to digest. It also includes compounds that support the health of the hip and other joints, such as Glucosamine and Chondroitin. They add in L-Carnitine to keep up the metabolism of the fats found in any food to make up for the fact that older dogs are not as active. They even say that their formula is free from controversial chicken and egg proteins.
Probiotics to aid digestion
Calcium and phosphorus for strong bones
Helps support joints
Grain-free
Chicken and egg-free
---
7.

Nutro Wholesome Essentials Senior Dry Dog Food
The Nutro Wholesome beneficial dog food starts with the essential basic proteins needed by every dog. Chicken is at the top of this list, followed by chicken meal, barley, whole brown rice, sweet potato, and other ingredients all tailored together in this one food fit for a senior dog. This dry food contains omega-3 as well as omega-6 fatty acids. These help to promote healthy skin and keep your dog's coat looking and feeling silky soft.
The health of your pup's immune system is also key in the making of this dish, with vitamin E and other antioxidants added in for support. The recipe is cooked up with entirely non-GMO ingredients and zero chicken by-product meal. The producers make this food in the USA.
Non-GMO ingredients
Healthy omega fatty acids
Made in the USA
No components to aid digestion
---
8.

Wellness Complete Health Senior Dry Dog Food
A food made from fresh ingredients is best when eaten just as fresh. This idea is one that makes Wellness Complete Health Senior dog food unique. They may cook large batches of their product, but they do it on demand with the freshest ingredients they can find. These ingredients include deboned chicken and barley, both of which provide stellar amounts of protein. They have added glucosamine and chondroitin to keep the hips and other joints of the old pup as mobile as possible for as long as possible.
The recipe that they have put together also has some reasonably unique ingredients compared to its competitors. They include taurine, meant to support a healthy heart in aging dogs. Another example is an extract from the plant Yucca schidigera, which aids in reducing the foul odor in your aging dog's feces. Green tea extracts have found themselves a place in this recipe as well. They perform an essential job of fighting against free radicals in your dog's system and preventing cell breakdown.
Lessens feces odor
Fresh formula
Green tea extracts
Taurine to help hearts
---
9.

CANIDAE Grain-Free PURE Senior Dry Dog Food
We have all heard the guideline for making life easier, keep it simple. The creators of this dog food kept this in mind. The needs of a senior dog are not entirely complex. With a little bit of TLC and some of Canidae's Grain-Free dog food, a senior dog can expect to live longer and with greater health than before. Canidae has formulated their dog food with just nine wholesome ingredients. These don't include corn, soy, grain, wheat, or anything artificial and thus harmful for a dog's system.
Check is the first ingredient in this mix, followed closely by vegetables to give him the nutrients and energy he needs for each day. Probiotics are a part of this mix to help the aged do digest the food more efficiently and absorb everything he needs from it. The additional antioxidants aid immunity and other vitamins keep him feeling young at heart.
Contains probiotics
Simple 9-ingredient recipe
Contains omega fatty acids
More expensive
No disclosure on who makes the food
---
10.

Merrick Grain-Free Senior Dry Dog Food
Merrick is another producer that makes their dog food with deboned chicken as the first ingredient and the primary source of protein. One of the next ingredients in this recipe is sweet potatoes. Sweet potatoes are a healthy source of carbohydrates, along with providing other essential vitamins and nutrients. Every bowl of this dry dog food is full of glucosamine and chondroitin, which, as we know, helps maintain healthy hips and joints, along with L-carnitine for a high-functioning metabolism. Merrick's real selling point with this food is that it comes in small batches right from their kitchen. This connotates freshness and a particular focus on each bag of dog food that comes out of their facilities. The food contains only all-natural grain and is gluten-free. There are no artificial flavors, colors, or preservatives.
Contains glucosamine and chondroitin
Sweet potatoes for carbs
Gluten-free
No artificial flavors or preservatives
Not a recipe meant to maintain weight
Made in the USA but not from American ingredients
Some dogs don't tolerate well
---
11.

American Journey Grain-Free Senior Dry Dog Food
American Journey is well-known among dog owners who look for the healthiest foods to provide their prized pups. When it comes to their recipe for senior dogs, they don't disappoint. A lot more adventures are awaiting your pup, whether he has years of them behind him already or not. This formula is meant to support their activity levels and provide them with enough energy to take on each day.
Included in the formula are medium-chain triglycerides that come from coconut oil. These triglycerides function to support brain health for dogs that are aging. They also include the more typical omega fatty acids for healthy skin and fur that make them look like they are still in the prime of their life. Supporting those next adventures are the joint health compounds, glucosamine, and chondroitin. Chicken is once again the first ingredient, and vitamins are provided by fresh fruits and vegetables like sweet potatoes, blueberries, and even marine algae. For all the great things it does include, the recipe leaves out just as many harmful ingredients, such as grains, wheat, soy, and corn, and any poultry by-product meals.
Medium-chain triglycerides for brain health
Omega fatty acids
Contains glucosamine and chondroitin
No grains or poultry by-product meals
Some difficult-to-digest ingredients
Contains some phytic acid and anti-nutrients
---
12.

Eukanuba Large Breed Senior Dry Dog Food
This food is exclusively meant for large breed seniors, making it a bit more of a selective field but also providing the needed nutrients specific to large breed, aged dogs. This dry dog food is made with most of the same ingredients shared among many of the other recipes talked about above. It contains lots of high-quality protein, glucosamine, chondroitin, DHA, antioxidants, and carbohydrates, all of which combine to protect many different parts of your pup's body.
One of the unique aspects of this dog food is it also contains Eukanuba 3D DentaDefense. This compound works to reduce tartar buildup on the teeth and gums of old dogs, protecting them and keeping them healthy for as long as possible.
This balanced food is for dogs that are over seven years in age and that weight in over 55 pounds.
Contains Eukanuba 3D DentaDefense
DHA for healthy brain function
Only for large breed seniors
Contains chicken by-product meal (3rd ingredient)
Contains corn (4th ingredient)
Buyer's Guide: Selecting the Best Senior Dog Food
You have enjoyed your dog's company for years, and now, heading into his golden age, it is time to give him back some of the mounds of love and loyalty he has always shown you. The problem is, what goes into choosing the best dog food for seniors? Before this, it might have been so much easier to pick a well-reputed dog food and maintain it for years. It's time to switch, and below we have listed things you should look out for when choosing a senior dog food.
How to Choose Quality Foods for Senior Dogs
Vet Recommendation
This advice can apply to just about any food or product that you buy for your dog. However, it is especially true when it comes to those pups that are finding themselves in a more vulnerable position. Look for foods that have been vet recommended, or even better, ask you vet and see what they have to say.
High Protein, Low Fat
As a dog continues to age, it starts to lose some of its natural vim and vigor. With the reduction in its activity comes the decreases in metabolism. It is important to find recipes that have a high ratio of protein to fat to maintain a healthy weight.
Balance of Canned and Dry
Some dogs struggle with the opposite problem as they age, losing lean muscle mass without gaining any fat stores. If this is the case for your doggo, don't just rely on dry food to help keep his weight up. Supplement the daily food schedule with higher calorie canned food. It is best to get a vet recommendation on the appropriate ratio of these foods to keep your dog as healthy as possible.
Stay Away from Artificial
Whether human or animal, ingesting artificial substances is not great for the health and proper functioning of internal systems. This becomes especially true in old age. Help a dog's system work as efficiently as possible by providing them high-quality food free from artificial substances.
Individual Dog's Health
Lastly, consider the specific needs of your dog. If your dog suffers from joint pain, skin problems, or other health issues as they age, it may help to find a food that focuses more on these.

Conclusion
As your dog moves into his golden years, he may feel more relaxed than ever before. However, these can be turbulent times for owners that want to do the best they can for their beloved Fidos. That's where the best dog food for senior dogs comes in. With companies that pride themselves on distinct and extremely healthy dog food formulas, like Ollie Dog Food, you should have no problem finding something that supports your pup in just the right ways.
We hope that with our quick list of buying considerations as well as the breakdown reviews of each one of the best senior dog foods, help you find a little peace in each bowl of nutritious, supportive dog food.
See also:
---