10 Best Undercoat Rakes for Huskies in 2023 – Reviews & Top Picks
The closest thing to wolves we have living among us (other than wolves) are Huskies. These majestic animals would scare the daylights out of you if they weren't so adorable and friendly. While Huskies do have size and grace, one of the main reasons for their majesty is their full, beautiful coat of fur.
You'll want to tend to their coat with the utmost care, which means you will need the right tools for the job. That's where we come in! In these reviews, we'll go over the best undercoat rakes for Huskies. In the process, you'll also learn tips and tricks for grooming your dog.
---
A Quick Look at Our Winners in 2023
Rating
Image
Product
Details

Best Overall

Oster

Removes dead undercoat but does not cut
Rust free
Easy to clean
Check Price

Best Value

Pet Republique

Ergonomic design
Rubber grip
Prevents matting
Check Price

Premium Choice

JW Pet Gripsoft Double Row Undercoat Rake

Comfortable rubber grip
Angled pins prevent skin raking
Anti-slip grip
Check Price

Pat Your Pet

Great for routing grooming
Get rid of excess couch hair
Ergonomic design
Check Price

FURminator 104012

Rounded tips equals comfort for pets
Non-slip grip
Sturdy construction
Check Price
The 10 Best Undercoat Rakes for Huskies
1.

Oster Dog Rake – Best Overall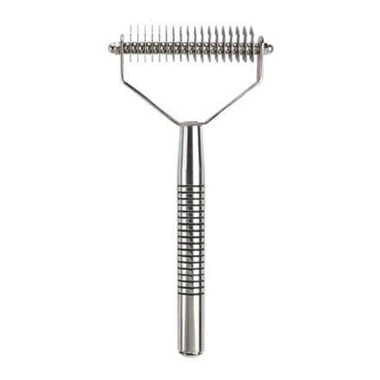 Sometimes the best brush products are the simplest, and we certainly think that's the case with this product from Oster. A well-established brand, Oster has made an instrument that will allow you to maintain your Husky to the highest degree.
This undercoat rake has a sturdy handle and is made of quality metal. The rakes themselves are stainless steel, allowing the teeth to move more freely through the coat of your dog. The head is extra wide, with plenty of clearance between it and the handle. The 18 teeth will allow you to do a thorough job. You will be able to get at undergrowth and loose hair without removing too much fur from your pup. This will give your dog the appearance that they have been to a fancy groomer.
You should have this instrument for a while, as it is designed to be rust free and easy to clean. Those who have used this tool from Oster all seem to agree that it is the main cog in their grooming wheel. The only real complaints we've heard about this item is that the head comes loose at times, and you'll have to tighten it with an Allen wrench.
Removes dead undercoat but does not cut
Rust free
Easy to clean
---
2.

Pet Republique Undercoat Rake – Best Value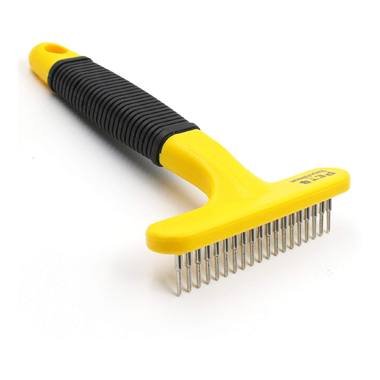 This is an instrument that looks less substantial than our top pick but still works well for your undercoat needs. The plastic handle has a rubber grip that will allow you to get all the way through your Husky's big coat of fur without slipping. The rake was designed ergonomically, so you won't have to get yourself into any bizarre positions while raking.
The actual rakes are made with curved or blunt tips, so that there's no way you can scratch your pet while brushing them out. We know that sometimes, you really have to get in there, but with this rake, you won't have to worry about finding the balance between pushing too hard and doing a thorough job.
Considering the price, it is amazing how well this tool works. Those who have used it to tame the wild hair of their pets are simply stunned by how much loose hair this thing can pull out of an undercoat. There is a distinction, though. Many pet groomers have pointed out that this is a wonderful tool for making sure that your Husky doesn't get mats in their hair, but it isn't necessarily so great if your pet already has matted hair, in which case you might better paired with a slicker brush.  While some rakes have actual blades, this rake has dull teeth. It certainly serves its purpose, but this isn't a complete tool to get mats out of your pup's fur. Even with that being the case, it's easy for us to say that this is the best brush for undercoats that target dead hair for the money.
---
3.

JW Pet Gripsoft Double Row Undercoat Rake – Premium Choice
The JW Pet Gripsoft Double Row Undercoat Rake costs a little more than other undercoat rakes, but the manufacturers appreciate the amount of time and effort it takes to keep a Husky looking and feeling good.
It has a rubber handle that increases comfort and texture when you're raking your dog's fur. It also has a non-slip grip which means that you can comb straight after bathing or after you've applied lotions and shampoo. The rake itself includes two lengths of teeth that are shaped in such a way to avoid raking the skin while keeping the undercoat in top condition. While the JW Pet Gripsoft may cost a few dollars more, it provides a better experience for you and your dog.
With that said, this raking tool does work better for long hair, and it should be effective for Huskies, but if you're shopping for a rake that will work on other breeds as well, you should consider one of our other reviewed items.
Comfortable rubber grip
Angled pins prevent skin raking
Anti-slip grip
Expensive
Not as effective on short hair
---
4.

Pat Your Pet 2 Sided Undercoat Rake
This item is a great hodgepodge of previous products: The plastic handle with the rubber grip might remind you of our value pick, while the head itself may remind you of our top pick. This rake is designed so you can have a professional-level rake at a reduced cost.
Pay Your Pet has made an undercoat rake that is two sided for two different aspects of grooming. During the first step of the process, you will hold this rake (seemingly) upside down to de-mat and detangle, and then flip it over on its end to rake out all the leftover and dead hair. The teeth on the inside are sharp enough to cut through the toughest of mats without harming your dog, while the teeth on the outside will finish the job. With this undercoat rake, you'll still have to clean up a bit after your pet sheds, but not as much!
This instrument is ergonomically designed to make sure you won't get carpal tunnel after all that grooming. The rubber pads will also make sure that you won't slip in the process.
Those who have used this to get rid of maximum dog hair on the couch have reported good things. Those who have used undercoat rakes in the past, however, think that this product is just okay. Folks with dogs with severely matted hair said that their pet absolutely hated it – save your pet the pain with a slicker brush. 
Two-sided rake
Great for routing grooming
Get rid of excess couch hair
Ergonomic design
Pulls on pets with heavily matted fur
Not professional grade
---
5.

FURminator Grooming Rake
This is a one-trick tool meant to get all the loose stuff lying underneath. As the tool is not meant to de-mat, you might have issues using it if you don't do regular grooming of your pet.
On the other hand, this is a comfortable experience for your pet, as the tips of this brush are rounded, so there is no chance of it digging in and scratching your pup's skin. The handle is made completely of rubber so your hand won't slip while using it, and the head is tilted in a way that makes the process easier. While not as sturdy as some of the metal and wood undercoat rakes on our list, this model has a thick layer of plastic that shouldn't break during the process.
Many of those who use this to eliminate undercoat fur are pleased with the results. Some report that if the undercoat of your dog is extra rough, the handle slips right off. This seems to only happen in severe cases, however. Again, a slicker brush may beneficial in this situation.
Rounded tips equals comfort for pets
Non-slip grip
Sturdy construction
Grip slips off
Not for heavily matted pets
---
6.

PawsPamper Undercoat Rake
This product looks similar to our premium choice, but of course, there is a reason it's at number six. Let's start with the good news.
This product has a sturdy wood handle that is firmly attached to a metal head. Between the head and the rake itself, there is plenty of room to work on even the thickest of coats. This tool has 20 blades, all of which are rounded to make sure your pet has a nice and comfortable experience. Furthermore, you won't have to worry about this product irritating your pet's skin.
The handle is made of fully biodegradable wood, while the blades are made of stainless steel, which should mitigate rusting in the future. PawsPamper also claims that the rounded blades act as a massaging tool!
When it works, this is a wonderful tool. Many of those who have used this swear by it. Others have had the experience where this works a few times … and then simply stops working.
Professional-looking design
20 rounded blades for your pet's comfort
Won't rust
Sometimes just doesn't work
---
7.

Safari Undercoat Dog Rake
Here is another tool with rounded teeth that may be more suited for your dog's comfort than the well-being of their luscious coat of fur. This is another plastic undercoat rake, and while it isn't a bad tool, it isn't quite as good as those listed above.
The plastic handle is fine but doesn't have as much coverage on the grip to make sure that your hand doesn't slip while grooming. While it feels substantial enough, it's a little flimsy. This is another product that works best if you regularly groom your animal, but otherwise, we recommend something with a bit more oomph.
This is actually a great tool for dogs with medium-length coats, but you might find it disappointing for your Husky. The make-up of this device basically promises that you'll have to take twice as long to rake that undercoat out.
People with dogs of less fur loved it, while those with Huskies just think it's okay. One big bummer is that there is no return policy with this company, so if you buy it and hate it, you are stuck with it.
Decent tool if you regularly groom
Good for medium-length-haired dogs
Kind of flimsy
Grooming may take a while
---
8.

Poodle Pet Dog Grooming Rake
Another rounded tip tool, this instrument is different in that it has two rows of teeth and is made of plastic. You still get a rubber grip, though.
The metal pins are designed for the comfort of your pet, but having two rows will aid in the process of removing their undercoat. This product has been made so you can groom your pet whether they are wet or dry.
The name of the brand, Poodle Pet, may lead you to believe that this is only good for Poodles, and while it is best brush for that breed, those with Huskies will also find it useful. This tool can remove up to 90% of the dead hair that accumulates in the undercoat.
Those who have purchased this for their Poodles love it, but there is a big difference in the coat of a Poodle and the coat of a Husky. A Poodle's hair is curly, and the Husky has a straight, thick fur. You may have issues getting all the way through their coat with this rake.
Two rows of pins
Non-slip grip
Meant for Poodles
Not thick enough for Huskies
---
9.

ConairPRO Dog Grooming Rake
This is a fine product, but compared to the rest of our list, it doesn't offer anything special. Compared to the rest of Conair's catalog, it is certainly forgettable.
This instrument is made of plastic and has one row of blunt tipped pins. The pins themselves aren't that long, and the design of the rake is less than ergonomic. This tool might make it nearly impossible to get all the way down to your Husky's skin for the process of detangling and de-matting. As for getting rid of dead and loose hair? This tool can do it, but it will take you a long time. You might ever consider getting a slicker brush for that.
Conair is a reputable name
Not ergonomic
Short pins
Not great for Huskies
---
10.

ShedMonster 078279-108 Undercoat Rake
Though meant for dogs of medium to long coat lengths, this product and its design certainly don't back that up. The pins on this instrument are so short that it simply isn't suitable for dogs with that type of hair, the way a slicker brush is.
The handle is also quite short! This means you'll have no leverage in tangled situations, making it harder to effectively groom your Husky.
Can this product remove dead and loose hair in a pinch? Absolutely. But there is a reason that we have it at number 10 on our list. This isn't a bad product, but it isn't that good either.
Short pins
Short handle
Makes grooming tough
---
Conclusion – the Best Undercoat Rakes for Huskies
Grooming huskies is such an important part of keeping them healthy and happy, so we are happy to offer this guide as a resource. We hope that these reviews have not only prepared you for shopping, but for the grooming process as well!
Were there any products that you fell in love with? It's hard not to be smitten with our pick for best undercoat rake for Huskies from Oster, though we wouldn't be shocked if you were more into our value pick from Pet Republique. Whatever you choose, your dog is going to love it!