8 Best Vacuums for German Shepherd Hair in 2023 – Reviews & Top Picks

Any German Shepherd owner can agree that shedding might be one of the most challenging aspects of having one of these delightful dogs. With their double coats, they shed thick patches of dense fur, and it gets on everything in your home.
If you're looking for a vacuum to combat the problem, we took the liberty of testing a few great products for you. Here are the reviews of our findings. Hopefully, one of these eight vacuums works for your home to combat the copious amount of hair your pup leaves behind.

A Quick Comparison of Our Favorites (2023 Update)
Rating
Image
Product
Details

Best Overall

Eureka Bagless Vacuum

5-height adjustments
Extra tools for deep cleaning
Easy
straightforward functions
Check Price

Best Value

Bissell Zing Canister

Multiple buying options
Easy emptying
Lightweight
Check Price

Premium Choice

BISSELL All-in-One

Wet and dry technology
Multi-surface brush roll
Perfect for hair and debris
Check Price

Best Handheld Vacuum

Bissell Pet Hair Eraser

Rubber nose to grip hair
Useful on upholstery
Powerful suction
Check Price

Whall Cordless Vacuum

4-in-1 design
Gets in hard-to-reach places
Telescopic tube
Check Price
The 8 Best Vacuums for German Shepherd Hair
1.

Eureka PowerSpeed Bagless Vacuum – Best Overall
Our favorite vacuum overall was the Eureka PowerSpeed Bagless Upright Vacuum Cleaner. It is affordable, easy to use, and effective. We love the ease of design with accessible components for optimal cleaning.
This sweeper varies in price depending on the color you chose, so be sure to check out the costs beforehand. This is a powerful multi-surface vacuum with a whole bunch of extra additives. It has a five-height adjustment setting and sweeps up everything from hardwood floors to thick carpet.
It comes with a crevice tool, dusting brush, and upholstery tool—all of which are stored on the vacuum so you can keep track of them when you need them. You can wash the filters thoroughly and reuse them. It is a bagless design, so you never have to worry about buying replacements.
5-height adjustments
Extra tools for deep cleaning
Easy, straightforward functions
---
2.

Bissell Zing Canister – Best Value
If you're looking to get the biggest bang for your buck, you might want to check out the Bissell Zing Canister vacuum. This bag list vacuum cleaner is straightforward to move around. In addition to the bagless canister, two other vacuum options require replaceable bags if you prefer.
It all depends on your needs. We enjoyed the canister since it's so easy to empty. This sweeper works very well on hardwood floors and carpets so that you can use it in virtually any room in the home.
The dirt cup capacity is 2 liters, which is perfect for quick hair cleanups. This vacuum offers a cyclonic action suction providing extremely intense cleaning, picking up even the smallest amount of hair. The cord extends 15-feet and has internal storage that you can wind up with a touch of a button.
The vacuum is incredibly lightweight and easy to maneuver, weighing only 8 pounds total. There's also a carrying handle on the top so you can pick it up as you move along. Overall, we think it is the best vacuum cleaner for German Shepherd hair for the money. We'll let you be the ultimate judge.
Multiple buying options
Easy emptying
Lightweight
Affordable
Design might not work for all
---
3.

BISSELL Crosswave All-in-One – Premium Choice
If you're looking for a vacuum that's going to take care of every problem in your hard floor household, including pet hair, the Bissell Crosswave All-in-One vacuum cleaner is absolutely worth every penny. This magical creation might be expensive, but it will quickly pay for itself.
This vacuum has the capability of washing and suctioning the bare floor at the same time. Not only does it remove pet hair, it also removes any dirt, debris, or dander that might be flowing around undetected.
This design offers a two-tank system separating the clean and dirty water as you move along. Inside there is a dual-action multi-surface brush roll with microfiber and nylon mop that picks up anything in its path. It is effortless to use.
There is a smart touch control on the handle to maneuver back-and-forth between the functions. Even though this is an incredible product, this is not ideal for carpets. However, if you have all hardwood and linoleum floors, you can keep your house tidy and hair-free.
Wet and dry technology
Multi-surface brush roll
Perfect for hair and debris
---
4.

Bissell Pet Hair Eraser – Best Handheld Vacuum
If you're looking for a durable handheld vacuum, the Bissell Pet Hair Eraser Handheld Vacuum is a wonderful design. You can easily take this handy gadget to your living room furniture, stair steps, and even your car.
Internally, it has a multi filtration system with cyclonic cleaning for ultimate suction power. This design has a 16-foot cord that you can easily fold and store with a Velcro strap. The nozzle of the vacuum has a specialized rubber nozzle that attaches directly to the hair, pulling it up out of any surface.
You can also alternate this with a standard nozzle without a grip if it works better for you. Even though this design is ingenious and efficient, it is wholly corded. So, if you were looking for something that wasn't attached to electricity, this might not be the best choice for you.
Rubber nose to grip hair
Useful on upholstery
Powerful suction
---
5.

Whall Cordless Vacuum Cleaner
The Whall Cordless Vacuum Cleaner is a 4-in-1 design that comes with a 12-month guarantee. We loved that the company was standing by their product in such a way.
This sweeper contains 250 white brushless motor vacuum that has a powerful suction. There are three different suction modes just depending on the area you want to clean. The attachments allow you to get into all sorts of cracks and crevices—and other hard-to-reach places.
This vacuum is totally cordless with a multi-functional two-in-one brush and handheld vacuum. Another thing we really loved about it is that it has an adjustable telescopic tube that you can use to get to other high-up areas of your home.
4-in-1 design
Gets in hard-to-reach places
Telescopic tube
Not as powerful as some
A bit flimsy
---
6.

Lefant M210 Robot Vacuum Cleaner
If you want a hands-free vacuum that works so you don't have to, the Lefant M210 Robot Vacuum Cleaner can do all of the hard work for you. It has an app you can use on your smartphone to navigate and control the cleaner.
It has a rotating system that goes 360° to get any debris in the house, despite the direction. It also has sensors to let it know when it's close to edges, so it doesn't bump into surfaces or fall down the stairs. It has an 11-inch diameter—large enough to pick up dust and debris without being in the way constantly.
Not only can you get a smartphone app for the device, it is also compatible with Alexa and Google assistant. You can manually make commands or even speak, and it will detect your voice and listen to directions.
This is a super convenient way to keep up with light-to-moderate hair lingering around the home. However, it is not intended for large tufts of hair or big messes. It's simply a great way to keep up without the added hassle.
Hands-free
Voice-controlled
Modern design
---
7.

BISSELL MultiClean Pet Upright Vacuum
The Bissell Multi-Clean Pet Upright Vacuum is a handy little design. We really loved this purchase because a portion of the proceeds goes to helping homeless pets. If you were into supporting charities, you should take a second look at this vacuum.
This is a bag list vacuum with a HEPA sealed system trapping all of the hair and filtering it accordingly. We found this to be a super-efficient way to clean up household pet hair with 99.97% efficiency. The hair spools nicely around the tank, so it doesn't get trapped inside of the filter.
This vacuum is super lightweight and easy to maneuver; it is just small enough to be able to store away without issue.
HEPA filter
A portion of proceeds go to charity
Lightweight
May be too small for some
---
8.

Hoover Pet Max Complete
The Hoover Pet Max Complete is an ideal design for all of your pet hair problems along with other messes. It is a full-sized vacuum, so it works for virtually any debris in your household. What is unique about this vacuum is that it has an allergen block technology that traps 97% of any particles floating around your home.
You can use this vacuum on any floor surface, including carpets, linoleum, or hardwood. It touts an extra-large dirt cup, so you can use it for quite a while before having to clean it out. The filters also last longer than traditional vacuum filters.
You get a bunch of extra goodies in here as well—it comes with a pet turbo tool, crevice tool, pivoting dusting brush, and flexible brush.
You can use each attachment for the area in need. Even though we really loved this vacuum, you might be looking for something that's a little bit smaller and lighter. If so, you're going to have to keep shopping.
XL dirt cup
Many attachments
Picks up 97% of allergens

Buyer's Guide: Selecting The Best Vacuum for German Shepherd Hair
German Shepherds have ridiculous amounts of hair, especially in high shed seasons. When you're buying a vacuum for the issue, take a look at some things you should consider before purchase.
Corded vs Cordless Vacuum
Cordless Hair Vacuum
Cordless vacuums are beneficial because you aren't restricted with distance or movement. They can move along with you anywhere you wish—from the bedroom to the kitchen to your vehicle. They are typically lightweight machines that are incredibly straightforward to use.
The only downfall of a cordless vacuum is you have to recharge them regularly. If you don't recharge the device, It might not be operable when using it.
Corded Hair Vacuum
Corded vacuums are all-electric and constantly attached to an outlet. They have chords varying and links depending on the maximum rate you're looking for. They have specific products that have retractable cords to keep them nice and tidy.
Others, you wrap up like a traditional vacuum. And then, others have Velcro straps to hold the cord in place once you gather it up lately.
Types of Vacuums
Handheld Vacuums
Handheld vacuums are perfect for quick hair cleanups. They are handy for upholstery. They come in both corded and cordless varieties with different nozzle attachments to change the effectiveness.
Canister Vacuums
Canister vacuums have a base with a long hose attachment. They are generally easy to pull around, touting wind-up cords and long-handled hoses.
Multipurpose Vacuums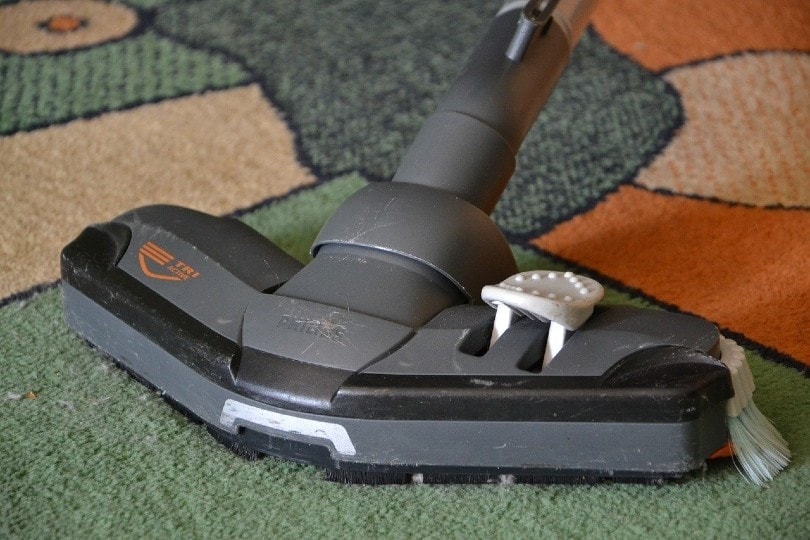 Multipurpose vacuums are generally full-size with multiple attachments and hoses. They take care of numerous floor types and other materials since these vacuums are larger and heavier in size, which might be an upside if you need full power.
However, they are sometimes harder to maneuver or store than more lightweight models.
Hardwood Vacuums
Some vacuums are only meant for hardwood surfaces. Rather than penetrating the carpet layers, they are designed to pick up debris and dirt from bare surfaces like linoleum, tile, and wood.
All-in-One Vacuums
Certain vacuums are built to serve a variety of purposes. You can switch between the functions to reach different places and sweep different surfaces. Many times, all-in-one vacuums can transform into handhelds or different nozzles.
Vacuum Attachments
There are multiple attachment types you can add for when you buy a vacuum. Some come with minimal, while others come with multiple. You'll need to read the product descriptions to see what they offer and how beneficial it could reduce pet hair.

Conclusion
We stand by our number one choice—the Eureka PowerSpeed Bagless Upright Vacuum Cleaner to wrap all of that up. We think it is the most versatile, meeting a wider variety of buyers' needs. It is affordable, easy to use, and it comes in bag and bagless styles.
If you're looking for function plus value, check out the Bissell Zing Canister. It is definitely the best vacuum we could find for pet hair for the money. It's easy to maneuver and lightweight enough to carry around with you without issue.
We hope you found the vacuum that will keep you loving your German Shepherd and forgetting about all the hair he creates.
---
Featured Image Credit: New Africa, Shutterstock