4 Best Budget Vacuums for Pet Hair in 2023 – Reviews & Top Picks

No matter how much we love our furry pets, we've often found ourselves envious of friends who own low-shedding or even hairless breeds. Without the right type of vacuum, the process of constantly cleaning up pet hair can drive anyone straight towards a Groundhog Day-style breakdown.
Even a casual glance at the price of fancy vacuums, however, can be enough to deter most pet owners from even thinking about a better solution to their pet hair problem. Further complicating things, there are a huge variety of vacuum styles and features to choose from. What's a fur-covered pet parent to do?
Never fear – we've gone to the trouble of testing and comparing dozens of budget-friendly vacuums that are tough on pet hair, and compiled our results in this comprehensive list of reviews. Follow along as we introduce you to our top six choices for value-conscious vacuum cleaners – and if you're curious as to how we decided on these products, check out our full buyer's guide at the end.
---
A Quick Comparison of Our Favorites in 2023
Rating
Image
Product
Details

Best Overall

Coredy Robot Vacuum Cleaner

Exceptionally affordable
Low-profile design
Long battery life
Check Price

Best Value

BISSELL Pet Hair Eraser Lithium

Up to 17 minutes of run time
Triple filtration system
Large dustbin
Check Price

Premium Choice

BISSELL Cleanview Swivel Pet

Triple brush roller
Swivel steering
Long collapsible hose
Check Price

Eureka PowerSpeed Bagless

Super lightweight
5 height adjustments
Extra-large dust cup
Check Price

Dirt Devil Endura Max XL

3-stage filtration system
Quick-release wand
Pet-specific attachments
Check Price
The 4 Best Budget Vacuum for Pet Hair
1.

Coredy Robot Vacuum Cleaner – Best Overall
After extensive testing and comparison, we're of the strong opinion that a robot vacuum cleaner is the greatest invention for taking care of pet hair since the comb. The problem, of course, is finding a robot vacuum that's both available at a reasonable price and made well enough to live up to its hype. Thankfully, the Coredy Robot Vacuum Cleaner is exactly that.
While it doesn't sport a bottom-dollar price tag in comparison to more modest styles of vacuums, the Coredy offers amazing utility in its robotic category at an unbeatable price. Standing just 2.7 inches tall and equipped with powerful suction and multiple cleaning modes, this robot vacuum can handle everything from hardwood floors to medium pile carpets.
Lithium-ion batteries give the Coredy a generous 2-hour operation time on a full charge, and a dustbin that holds just over half a liter gives it plenty of room to hold pet hair even during shedding season. Overall, there's no other vacuum that we'd rather have to help manage pet hair and dander in our homes – and we think that if you try the Coredy, you'll certainly agree.
Exceptionally affordable for a robot vacuum cleaner
Low-profile design easily slips under furniture for whole-room cleaning
Long battery life gives it plenty of cleaning capacity
Strong suction and multiple cleaning modes make it suitable for carpets and hardwood floors
A washable HEPA filter cuts down on allergens in the home
Smart navigation prevents bumping into furniture or falling down the stairs
Somewhat pricey for a budget vacuum pick
---
2.

BISSELL Pet Hair Eraser Cordless Hand Vacuum – Best Value
Finding an appropriate vacuum for cleaning pet hair off of both floors and carpets is a particularly difficult task, but Bissell's Pet Hair Eraser might just be capable of doing so for smaller apartments. Combining a powerful 14-volt lithium-ion battery with an outstanding 0.7-liter dust cup, it's a remarkably powerful handheld vacuum whose utility far exceeds its cost.
What might truly make the Pet Hair Eraser the best budget vacuum for pet hair for the money, however, is its impressive filtration system. Featuring a pre-filter, coarse pad, and HEPA core, this Bissell vacuum does a fantastic job of keeping dust and allergens to a minimum during operation.
Equipped with a motorized brush for embedded dirt and hair, a gentle upholstery tool for furniture, and a crevice tool for hard-to-reach areas, the Pet Hair Eraser is well-outfitted to handle any home cleaning job. While we can't recommend it for use with plush carpeting, everything else about this vacuum puts it firmly in our good graces. All in all this is the best cheap vacuum for the money this year.
Up to 17 minutes of run time on a single charge
Triple filtration system cuts down on dust and dander extremely effectively
Large dustbin is easy to remove and empty, and completely avoids clogging
Specialized pet tools make it easy to handle any mess that you might find
Quite powerful for how affordable it is
Does not work well on denser carpeting
---
3.

BISSELL Cleanview Swivel Pet Vacuum Cleaner
The larger, more powerful cousin to our best value pick, Bissell's Cleanview Swivel Pet Vacuum Cleaner makes for an excellent whole-home vacuum that's easier than expected to use. Where many upright vacuum cleaners fail to offer easy maneuvering options, the Cleanview Swivel's proprietary steering system cuts down on the effort needed to effectively clean any portion of your home.
A triple-action brush roll with a scatter-preventing guard makes the Cleanview a powerfully effective option for everything from hardwoods to densely piled carpets. And with a 13.5-inch wide cleaning path and 1-liter dust cup capacity, it's well-suited to making quick work of cleaning large rooms. Even better, the dustbin snaps out quickly and easily for hassle-free emptying and replacement.
Featuring specialty tools for working out tough pet grime and trapping hairs even in the corners of your room, the Cleanview is a wonderful alternative to our top two picks for anyone who doesn't mind putting in a little bit of extra effort pushing it around.
Triple brush roller is incredibly effective at trapping pet hair across the entire 13.5-inch wide cleaning path
Swivel steering makes it easier to maneuver than many other upright vacuums
Specialized pet care tools and long collapsible hose give it excellent versatility in the home
Large, easy-empty dustbin allows for quick and simple cleaning
Washable dust filter saves plenty of money over time
Fairly heavy at nearly 18 pounds, making it tiring to use over longer periods
Corded design is not always convenient to use
---
4.

Eureka PowerSpeed Vacuum Cleaner
A significantly lighter alternative to the other upright vacuums in our review, what Eureka's PowerSpeed Vacuum Cleaner lacks in maximum suction power it more than makes up for in its ease of use. Better yet, it's the most affordable upright vacuum on our entire list – making it an especially attractive option for someone on a tight budget who's looking for a whole-home vacuum cleaner.
With 5 height adjustments, the Eureka PowerSpeed is well-equipped to handle everything from hardwood floors to deep carpeting. An impressively large 2.6-liter dust cup requires less frequent emptying than any other vacuum we tested and combines wonderfully with washable filters and a bagless design that cost nothing to maintain.
Add all of that to a wide selection of pet-specific brush attachments, and the PowerSpeed is a strong contender for your choice of a pet hair vacuum. If it featured a little bit more powerful motor, it would have easily become our top pick.
Super lightweight 10-pound design makes it easy to use and exceptionally maneuverable
5 height adjustments allow for work on everything from hardwoods to deep carpeting
Extra-large dust cup lets it operate longer without needing to be emptied
Multiple pet-centric cleaning attachments for added versatility
Washable filters mean you won't need to spend money on maintenance
Suction power could be better
Stretch hose is short, and may not reach your ceilings
---
5.

Dirt Devil Endura Max Vacuum Cleaner
The only budget-friendly vacuum in our testing to feature an odor-absorbing activated carbon filter, Dirt Devil's Endura Max Vacuum Cleaner has the most impressive filtration system and suction of any vacuum in our reviews. Their patented 3-stage filtration system promises to provide deep, effective cleaning with no loss of suction over time – and in our experience, the Endura Max definitely lives up to its claims.
A generously oversized quick-release wand provides up to 12 feet of extra cleaning reach and can easily be outfitted with 2 pet-specific cleaning attachments. The easy-empty dirt cup is a bit smaller than we'd like but that's a minor flaw and not a dealbreaker.
In short, if you've struggled to keep your home smelling fresh and free of pet hair, consider the Dirt Devil as your next vacuum purchase.
Proprietary 3-stage filtration system is the most comprehensive of any vacuum in our testing
Extra-long hose and quick-release wand make it easy to cover large areas of your home as well as awkward spots and tight corners
Pet-specific attachments are easy to quickly apply and use
Dirt cup is smaller than we would like
On the expensive side
---
6.

BLACK+DECKER Handheld Vacuum
Lying somewhere between the functions of a handheld vacuum cleaner and a stick vacuum, the Black + Decker Dustbuster for Pets is a well-made vacuum that suffers only because of a somewhat inflated price. Available at nearly the same cost as more powerful upright models that we tested, it's a niche-specific vacuum that's best suited for people in smaller apartments who don't need the bulk of a full upright.
Rubber bristles at the end of an extendable neck give the Dustbuster an advantage in lifting trapped pet hairs from carpets and couches and combine nicely with an extra-long crevice tool that's easy to maneuver in tight spaces. Featuring a 0.75-liter dustbin, it falls nicely between the capacity of standard handheld and a more voluminous upright vacuum.
Powerful 20-volt lithium-ion battery gives it impressive suction for a handheld
Motorized rubber bristles aggressively comb and trap pet hairs
Generously sized dustbin for a handheld vacuum
Expensive for a handheld vacuum
Fairly heavy 4-pound design can be difficult to use for long periods
---
Buyer's Guide – Best Budget Vacuum for Pet Hair
The problem with most budget-friendly vacuum cleaners is that they're not nearly rugged enough to deal with the heavy loads of hair that many pets shed. Even the most well-meaning discount purchase can fall awry of clogging, overheating, or simply not having enough suction to deal effectively with pet hair.
To better understand what makes a great vacuum for pet hair, read on to learn about how we chose a vacuum for our own home as well as what sort of alternatives might work well for more specialized scenarios.
How to Choose a Vacuum Cleaner for Pet Hair
Once you've settled on a budget that you can work with, following these four steps will help narrow your field of options down to a manageable selection:
Decide on a vacuum style. Different styles of vacuums are designed to handle different sizes of living spaces, as well as your choice of flooring and furniture. If you don't have a type of vacuum in mind, reference our list in the next section for a detailed look at your options.
Check the power. Some vacuum cleaners are kind enough to list their maximum suction power; for others, you'll have to rely on the electrical power of their motors or batteries to make an informed decision. When it comes to pet hair, more vacuum power is always better.
Look for a large dust cup capacity. Even with daily vacuuming, pet hair can accumulate quickly enough to clog vacuums with small capacity dust cups. The larger the dust cup capacity, the less of a chance that you'll have to empty it multiple times to clean a single room.
Compare attachments. Once you get past the basic functions of a vacuum, the attachments will determine what's most useful for cleaning up pet hair. We love extensions, scrubbing brushes, and heads that can make quick work of getting ground-in pet hair out of carpets and couches.
Best Types of Vacuum Cleaners for Pet Hair
Narrowing down what type of vacuum cleaner is most appropriate for your living space is the first step towards choosing the best one for your specific needs. We've found the following five types to be useful in keeping our homes neat and clean:
Upright vacuums are the standard for most homes and can run the gamut from incredibly affordable to eye-wateringly expensive. Their often-sizable dust cups are a definite boon for cleaning up pet hair, and our favorite models come with enough attachments and hoses to make them a versatile all-rounder.
Canister vacuums are the most old-school of the bunch, and while they can sometimes be a pain to wheel around, they often offer the most powerful motors. For multi-pet homes, a canister vacuum might become your best friend in the war against fur and dander.
Robot vacuums, like the famous Roomba, can automate the process of cleaning your floors. They're often on the expensive side, but we think they're a worthwhile investment that can seriously cut down on your hours of cleaning.
Cordless Stick vacuums are sometimes combined with a mopping function that's great for hardwood floors. They're lightweight and easy to use, but often lack the dust cup capacity and power of corded upright models. Excellent for small apartments.
Handheld vacuums work wonderfully in scouring pet hair off of furniture, but you'll never want to use one for the bulk of your cleaning duties. If you have a large enough budget, they can be a useful addition to a large vacuum meant specifically for your floors.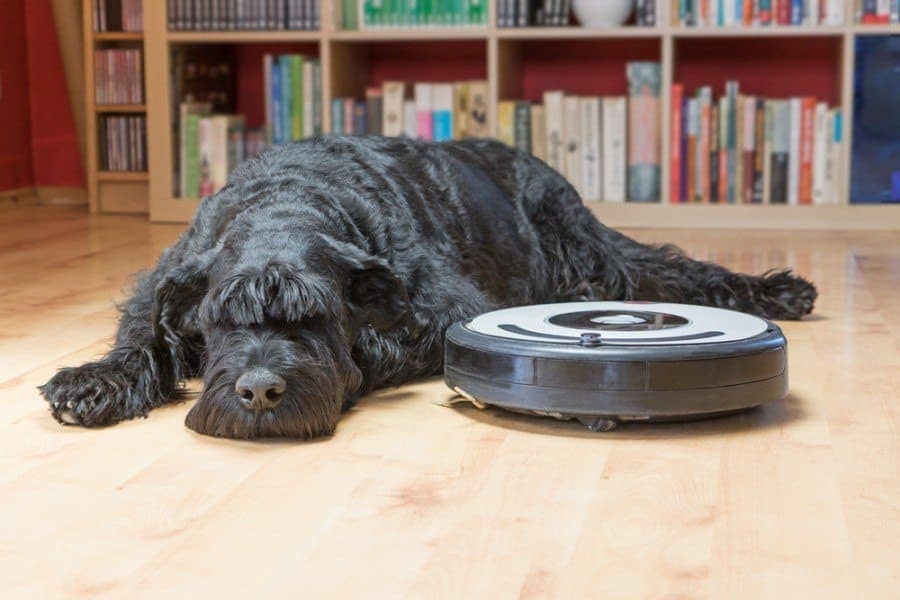 Best Vacuums for Allergy Sufferers
While it's true that any vacuum will help to moderate the effects of airborne allergens when used regularly, some styles perform better than others in this regard.
High-dollar options with true HEPA filters are out of the question for budget-conscious buyers, but robot vacuums offer a clever workaround to this. Set one to clean your floors while you're away for the day, and you'll never have to worry about stirring up dust and dander while you're at home. Combine this with regular handheld vacuuming of your furniture, and allergy sufferers are likely to experience significant relief from their symptoms.
Our Favorite Solution to Pet Hair
Given how quickly pet hair can pile up in the home, we're dedicated proponents of robot vacuums as a first line of defense against pet hair. While they can be a larger initial investment than a common upright or canister vacuum, robot vacuums will save you so many hours of hands-on cleaning that they're a clear winner in our book.
A word of warning for multi-pet homes: stay away from bagged vacuums. They'll often fill up so quickly with the fur from prodigiously-shedding breeds that the cost of replacing bags will quickly mount. Even if a bagless vacuum requires more frequent changes, it will be a more economical choice in the long run.
Conclusion
While it's certainly not the least expensive vacuum in our reviews, the Coredy Robot Vacuum Cleaner offers utility well outside of its total cost. By saving you hours of cleaning time and allowing for a consistent cleaning schedule that no sane human would want to keep up with, this reasonably-priced robot vacuum cleaner will significantly improve the cleanliness and air quality in your home. Think of the initial cost as an investment in all the hours that you won't have to put into vacuuming your floors.
For a more budget-friendly alternative to our top pick – or an excellent addition to a comprehensive cleaning routine for allergy sufferers – the BISSELL Pet Hair Eraser Lithium Ion Cordless Hand Vacuum offers considerable power in a portable and easy to use package. The large dustbin and triple-filtration system put it head and shoulders above other handheld vacuums and even give it the capability to replace an upright vacuum for use in apartments.
---
Featured Image Credit: Maximilian100, Shutterstock