170+ Amazing Names for Your New Bloodhound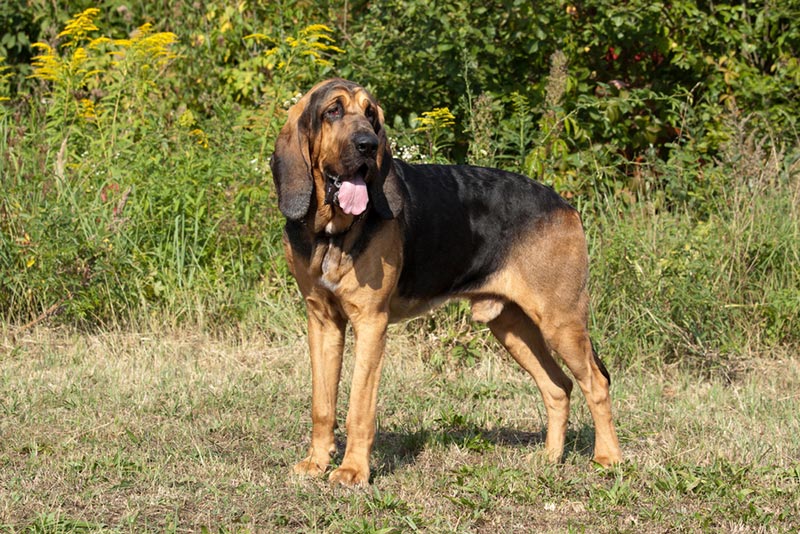 Every good dog needs a good name, and your new Bloodhound is no exception! If you're stuck for ideas on a cute name for your dog, we have good news for you! We have compiled a list of the 300 most amazing dog names we've ever heard to help you on your journey – famous names as well as classic ones, inspired by nature, hunting, and more – and each name is perfect for a bloodhound, too! Congratulations on your new best friend and happy naming!
Click to Jump Ahead:

Famous Bloodhound Names
The Bumpus Hounds from A Christmas Story
McGruff the Crime Dog
Hanna/Barbara's Huckleberry Hound
Duke from Beverly Hillbillies
Hubert from Best in Show
Ladybird from King of the Hill
Deputy Sniffer from Air Bud
Bayard Hamar is a character appearing in the 2010 version of Alice in Wonderland
Buddy from the animated movie Cats and Dogs
Lightning from Racing Stripes
Sniffer from Air Buddies
Disney's Bloodhounds
Pluto
Bruno from Cinderella
Trusty from Lady and the Tramp
Copper from Fox and the Hound
Napoleon and Lafayette from The Aristocats
Towser from 101 Dalmatians
Stella The Princess and the Frog
Toby from The Great Mouse Detective
Famous Dog Names that Aren't Bloodhounds
You can't go wrong naming your bloodhound after a famous dog from a movie, TV show, comic strip, or book.
Toto from The Wizard of Oz
Buck from Married with Children
Shaggy from The Shaggy Dog
Lassie from Lassie Come Home
Petey from The Little Rascals
Comet from Full House
Rin Tin Tin From Where the North Begins
Snoopy from Peanuts
Marley from Marley and Me
Spot from Watership Down
Odie from Garfield
Old Yeller
Hooch from Turner and Hooch
Eddie From Frasier
Benji from Benji
Buster from Arthur
Hercules a.k.a. the Beast from The Sandlot
Bruiser Woods from Legally Blonde
Beethoven from Beethoven
Gidget the 90s Taco Bell Mascot
Chase from Paw Patrol
Rubble from Paw Patrol
Classic Bloodhound Names
Masculine Names
Rufus
Spot
Max
Fido
Rover
Wags
Buddy
Duke
Lucky
---
Feminine Names
Lulu
Daisy
Belle
Maggie
Sassy
Hazel
Zoey
Brandy
Scarlett
Pixie
Puddles
Princess
Sweetie
Baby
Pretty Girl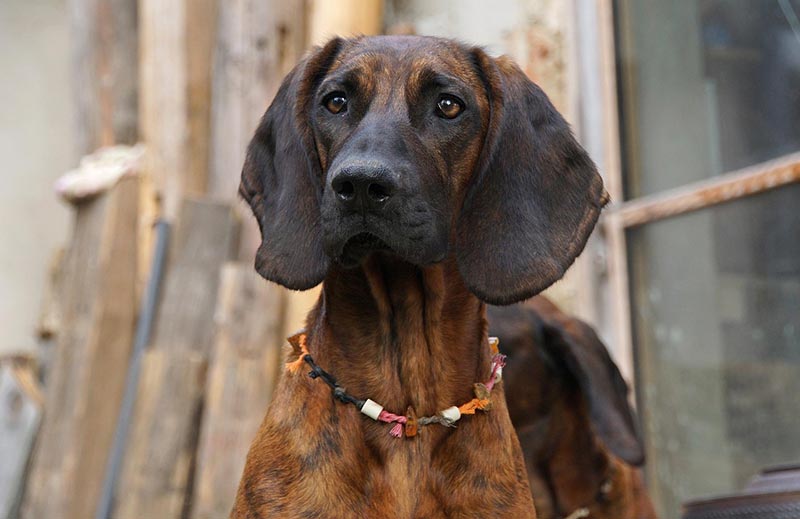 Nature-Inspired Bloodhound Names
Lily
Rose or Rosemary
Ginger
Nova
Midnight
Mars
Rocky
Sierra
Dakota
Bug
Breeze
River
Skye
Willow
Hunting Dog Names for Bloodhounds
Gopher
Hunter
Fetch
Wesson
Remington
Rifle
Gunner
Sarge
Sniffer
Beast
Chance
Bandit
Ruger
Blaze
Bullseye
Diver
Famous Detective, Hunter, and Explorer Names for Bloodhounds
Sherlock Holmes, Detective
Enola, Sherlock Holmes's Sister
Watson, Sherlock Holmes's Sidekick
Dog the Bounty Hunter
Josh Gates, Explorer, Archeologist
Indiana Jones from Indiana Jones
Olivia Benson, TV Detective on Law N' Order SVU
Elliott Stabler, TV Detective on Law N' Order SVU
Hardy, The Hardy Boys
Veronica Mars, TV Detective
Shaggy
Velma
Daphne
Fred
Scooby
Frodo from The Lord of the Rings
Bilbo from The Hobbit
Magnum from Magnum PI
Even More Bloodhound Names
Here are some more names that we think are perfect bloodhound names.
Baxter
Barnaby
Bates
Boo
Buttercup
Chilly
Cookie
Curly
Daffy
Delta
Deuce
Domino
Frodo
Fluff
Fuzzy
Gizmo
Ginger
Gumby
Hammy
Huckleberry
Humphrey
Indy
Jack
Jilly
Judy
Kipper
Lady
Leo
Louie
Lolly
Lola
Lou
Lucky
Maxine
Mickey
Minnie
Mitzi
Molly
Nala
Nemo
Nero
Nicky
Noelle
Paddy
Pearl
Pooh
Pug
Puddles
Rags
Rosie
Rusty
Sam / Sammy
Scooter
Shadow
Snickers
Snowball
Teddy
Tootsie
Topsy
Trixie
Tyrone
Vicky
Zippy
Zsa Zsa
Zorro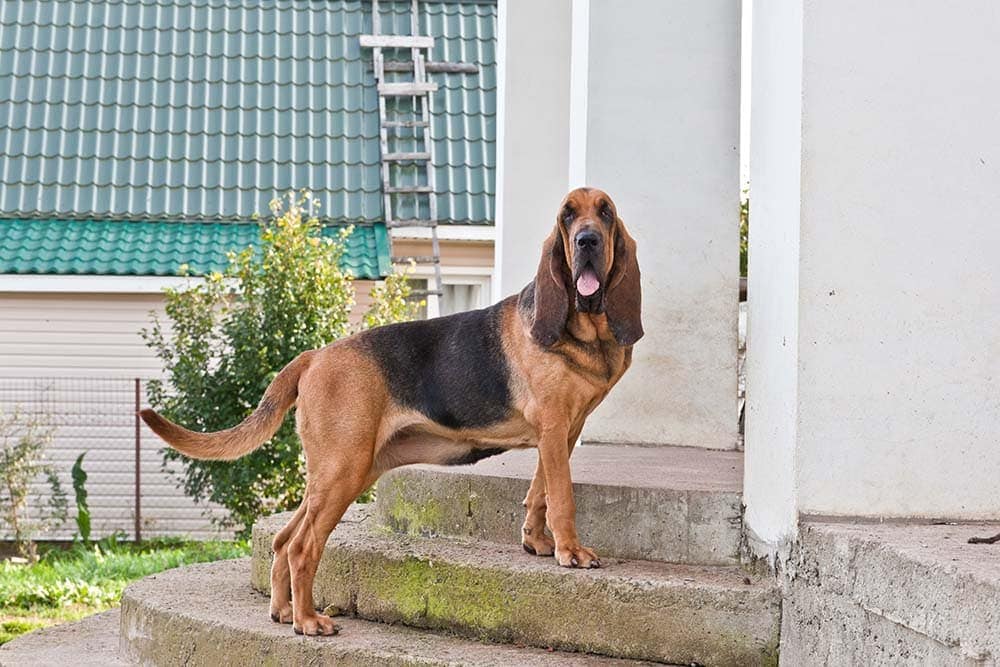 More Ideas for Naming Your Bloodhound
Consider names that you already know and love.
Think of the names of some of your favorite people, places, and things. From there, branch out to related words and phrases until you land on one that feels right. It could be your favorite teacher, your grandmother, or the name of a dog you loved as a child.
Consider looking to history for a name.
You can look to the Bible or Shakespeare. You can reference an important person in the past, such as a former president or famous astronaut. Start with historical events that are of personal significance to you.
Consider your dog's personality.
Does your dog always seem happy? Is she always wagging her tail? Is she loyal and protective? These are all qualities that can translate to names. For example, you could name a dog "Lucky" or "Happy."
Consider your hobbies and interests.
Your hobbies and interests are great inspiration for dog names. If you're a photographer, for example, you might name your dog "Cam" after the camera. A surgeon may opt to name her dog "Healer" or "Scar." You can look at names of famous musicians, athletes, authors, actors, and more.
Remember, there are no rules!
The sky really is the limit. There's no rule or law that says you can't name your dog anything you want, even if it's something seemingly odd like Table, Egg, or Weirdo. Anything goes when you're naming pets!

Conclusion
In conclusion, naming your dog doesn't have to be about being creative and unique. It can also be about being descriptive and relevant. A name should not only tell the world what the dog is, but also what it can do. The name should be short, easy to pronounce, and should make the world fall in love with the dog. It should also be memorable, but not too long. Finally, you want to make sure that the name is one you will be able to call the dog for years to come, without tiring of it.
---