100+ Scientist Inspired Dog Names: Smart & Sophisitcated Ideas
Science is quite an influential tool – shaping our world and transforming our minds. Our dogs happen to be just as innovative and curious as scientists across the globe. Discovering new and exciting things on the daily, our pooches are not that far from these brilliant minds. Why not pair your new addition with an inventive science-inspired name? 
You could go for one of your favorite scientists, perhaps a preferred branch of science, more specifically a sub-topic that interests you the most. You might even be inclined to choose a scientific dog name based on a general term or type of scientific study. Whichever name path you find yourself on – there are plenty of science names for dogs for you to consider. 

Female Scientist Dog Names
Lovelace –  Mathematician 

Goeppert – Chemical Physicist

Hopper or Grace – Mathematician / Programmer 

Marie Curie – Radioactivity 

Sau Lan Wu – Particle Physicist

Tierra Guinn – NASA Engineer 

Gertrude Elion – Biochemist / Pharmacologist

Anning – Fossil Collector 

Jane Goodall – Primate Scientist 

Mae Jemison – Astronaut 

Doudna – Genetic Engineering 

Freese – Study of Dark Matter

Rubin – Dark Matter Theory 

Rosalind Franklin – Biophysicist
Male Scientist Dog Names 
Darwin – Biologist 

Bohr – Theoretical Physicist

Gates – Business Man / Humanitarian / Philanthropist 

Watson 

Sigmond – Psychoanalyst

Galileo – Astronomist / Physicist 

Aristotle – Philosopher

Newton – Scientist 

Cerf – Father of the Internet 

Kepler – Mathematician / Astrologer

Pascal – Mathematician / Physicist 

Erwin – Biochemist 

Pelton – Inventor 

Hawking – Physicist 

Edison – Scientist 

Crick – Molecular Biologist

Da Vinci – Inventor 

Tycho – Planetary Observer 

Franklin – Chemist 

Rutherford – Physicist

Telsa – Engineer / Inventor 

Archimedes – Mathematician

Nye – The Science Guy 

Hubble – Astronomer 

Copernicus – Mathmetician / Astronomer

Pythagoras – Mathmetician 

Dalton – Chemist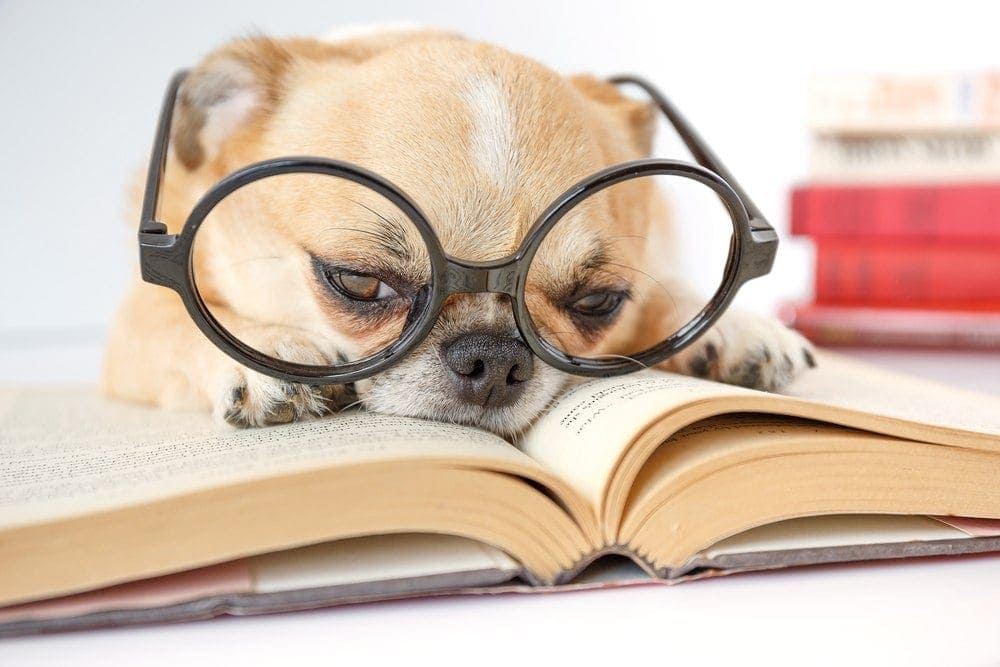 Astrology Inspired Dog Names
Are you and your pup stargazers? Indulge in your daily horoscopes and avoid certain signs while were in retrograde? Enjoy the rare and beautiful comet and shooting star sighting? If you are just as obsessed with the galaxy as you are with your new furball – an astronomical name would be out of this world!
Celestial

Apollo

Comet 

Virgo 

Sunny

Jupiter 

Mars 

Pandora 

Pluto 

Taurus 

Moon 

Aries 

Estella 

Neptune 

Orion 

Libra 

Mercury 

Leo 

Rocket 

Astra 

Roid 

Star 

Gemini 

Luna 

Capri 

Galaxy 

Nova 
Chemistry Inspired Dog Names
The periodic table is an interesting tidbit of information all on its own – so naturally, we would have a list of potential dog names to represent all things chemistry! Our dogs can be many things – airheads, gassy, and full of drool – all of which are conveniently represented by the elements!
Beaker 

Amino 

Krypton 

Agron 

Alchemy 

Neon 

Nickel 

Copper 

Iron 

Zinc 

Noble 

Bond 

Cobalt 

Poly 

Tin 

Nitro 

Bromine 
Physics Inspired Dog Names
Physics is a great fundamental idea to ponder when searching for a pet's name! As a matter of fact, each of these ideas is a force to be reckoned with. Don't waste too much energy looking elsewhere, as your ability to find the perfect physics-inspired name for your dog will be theoretically relative to how much you study our list below:
Magnet 

Baro 

Motion 

Gravity 

Ray

Watt

Diode

Gamma

Cyclotron

Neutron 

Vector 

Static 

Theory 

Quantum 

Fuse

Force 

Torque

Atom 

Decibel

Law

Pulse

Idiom 

Joule 

Solar 

Mass 
Biology Inspired Dog Names
As your pup will inevitably grow from a younging to a mature dog – you might be interested in going with an evolutionary name.
Corpus 

Algae 

Fossil 

Pollen

Dicot 

Embryo 

Neuro

Exon 

Mortis

Sessile

Monera

Zygote

Polar

Omni

Isomer 

Niche

Gonad 

Lesion 

Fungi

Brains 

Derma 
Other Scientist Inspired Dog Names
Not specific to one genre, these options are adorable and fun name considerations. 
Gizmo 

Apache 

Bones 

Fidget 

Apex 

Nebula 

Chi 

Pi 

Delta 

Alpha 

Kappa 

Sigma 
Scientist Type Dog Names
There are many fields in which one may be a scientist! So generally speaking, one of these areas or derivative of one, would make for an excellent sciencey name for the smartest of pooches. 
Bota (Botanist)

Astro (Astronomer)  

Geo (Geologist)

Gene (Geneticist)

Cyto (Cytologist)

Agro (Agronomist)

Hydro (Hydrologist)

Eco (Ecologist)

Finding the Right Scientific Name for Your Dog
We hope that you were able to find a cool and thought proking scientific dog name for your brand new addition from our list of Science and Scientist inspired names. All cute and fun in their own ways were certain pups of all backgrounds, breeds and genders can be paired with something suitable! if you are a major fan of the sciences, you might appreciate the famous names we've gathered and the ideas supporting their work. 
We know there are a ton of gooders among these, so choosing just one might be tough. Consider the following guidelines as you narrow down your search: 
Which one speaks to an area you love? For those with the periodic table taped to their wall, or a skylight carved into their bedroom – this would be an easy choice! For others, decide if you want to choose a name as vast as the sky, or as lit as the lab!
Person, place, or thing? Now that you've narrowed down your topic, what has drawn you here? The famous scientists, the area in which they study, or the subject of their work? For example, Einstein, who studied in physics, and was responsible for the theory of relativity. 
Finally, choose your favorites and recite them to your pup! He might surprise you with an approving tail wag or disapproving whimper!
If these weren't quite right, not to worry. Below we have linked a few other name posts: 
---
Feature Image Credit: Sarah Richter, Pixabay