Can Cats Drink Vegetable Oil? What You Need to Know!
Vegetable oil is a common ingredient in many home kitchens due to its varied uses for cooking and baking. On the surface, wondering if your cat can drink vegetable oil seems like an incredibly odd question. However, due to its availability in homes and your cat's potential for exposure, it becomes clear that it's likely your cat will find vegetable oil at some point. Vegetable oil is safe for cats to eat, as long as it's in small quantities.
Some people may want to know the answer to this question due to the benefits that some oils can have for cats. Many types of oils, like salmon oil and flaxseed oil, are fed to cats in small quantities to support skin and coat, eye, brain, or digestive health. For some people, vegetable oil may be the best oil option available, whether due to cost or availability. Here's what you need to know about giving vegetable oil to your cat.
Can Cats Have Vegetable Oil?
Vegetable oil is safe for cats in small quantities, although it may not be an ideal part of their regular diet. Ideally, cats should receive most of the fats they need through a healthy, balanced diet. The tricky part about giving oil to your cat is that it's easy to overdo it, leading to some unpleasant side effects.
Is Vegetable Oil Good for Cats?
Vegetable oil contains some components that are good for cats. Overall, though, it can quickly become unhealthy when not fed in proper quantities.
Omega-3 and omega-6 fatty acids are good for cats and can help support skin, coat, joints, heart, brain, and eye health, among other things. Vegetable oil is a good source of these fatty acids, which means it can be beneficial for your cat and can help support overall good health. Some fats can even help support your cat's immune system and vitamin absorption.
How Much Vegetable Oil Can My Cat Have?
Here's the trick with feeding oil of any kind to your cat; it's extremely easy to give too much! When it comes to vegetable oil, there is no "dose" proven to be safe and effective without causing negative effects. Every cats' body will respond differently to oil being added to their daily diet.
As with any oil, the best course of action is to feed very small quantities to your cat and slowly increase the dose over time to meet your cat's nutrition goals. Most oils have a recommended serving size of 1 teaspoon or less for an average cat, so you may only start with ¼ teaspoon or less.
What Happens if My Cat Gets Too Much Vegetable Oil?
Whether your cat got into vegetable oil in your kitchen or you accidentally gave too much to your cat, you're going to know relatively quickly if you gave too much. Overdosing vegetable oil in cats will lead to notable digestive symptoms. Diarrhea is the most likely symptom, but abdominal discomfort, gas, bloating, nausea, and vomiting are all possible.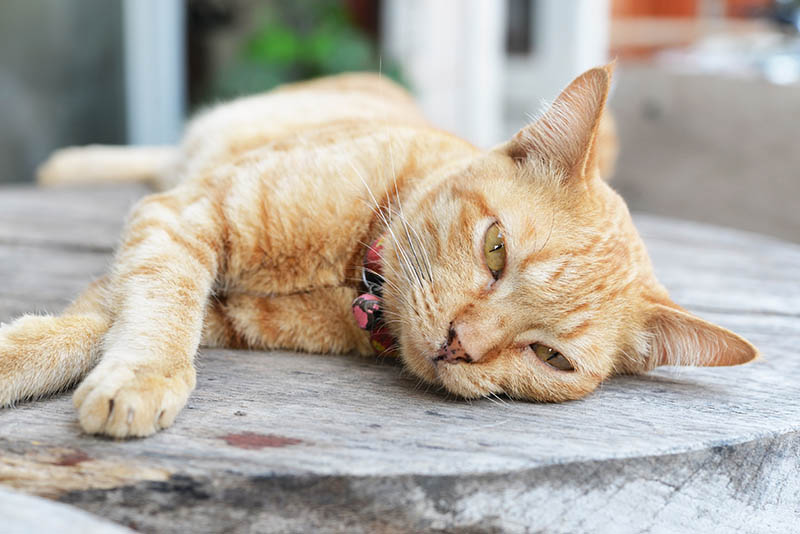 Some oils are given to cats as laxatives or digestive stimulants. The high-fat content can be difficult for the body to digest and utilize, leading to it rapidly passing through the digestive system.
Over time, too much oil can lead to weight gain due to the excess calories your cat consumes with the oil. Other concerns with overfeeding oils to cats include poor wound healing, decreased platelet production, and a decrease in the inflammatory response of the body. While decreased inflammation can be beneficial, too much of a decrease can wreak havoc by allowing the body to not respond to a serious issue that would typically constitute an inflammatory response, like certain cancers.
Related Reads:
Conclusion
Vegetable oil can have some benefits to your cat. It's rich in omega fatty acids that support multiple aspects of your cat's overall health. However, this food should only be given in very small quantities, especially if you are giving it to your cat every day as a dietary supplement.
Overfeeding vegetable oil can lead to weight gain, digestive upset, and other more serious problems for your cat. It's important always to measure any oils you feed your cat to ensure you are feeding a safe and appropriate amount. If you intend to feed vegetable oil to your cat on a regular basis, the best starting point is to discuss it with your veterinarian to ensure this course of action is right for your cat.
---
Featured Image Credit: Alexas_Fotos, Pixabay