Can Dogs Eat Cream Cheese? Is Cream Cheese Safe for Dogs?

If you are wondering if it is safe to give your dog cream cheese, the short answer is yes. It is safe to give your dog cream cheese, but there are many more things to consider, like how much, what brand, and what you fill feed to go along with it.
Join us while we take a closer look at this food product and see how much cream cheese, we can feed our pets, a swell as if there are any health benefits or ingredients we should avoid.

Is Cream Cheese Bad for My Dog?
We've said that you can give your pet cream cheese, but let's take a look at any problems you might experience when doing so.
Lactose Intolerance
The biggest problem with giving your dog cream cheese is that many dogs are lactose intolerant. Lactose is the leading cause of digestive issues for your pet. However, even lactose intolerant dogs that can't drink milk can handle other dairy products like cheese and yogurt.
We recommend starting very slowly with tiny amounts to make sure your dog can digest the lactose in the cream cheese. Discontinue use if you notice any diarrhea or signs of discomfort.
High-Fat Content
Another problem with giving your dog cream cheese is that it contains a lot of fat. Many brands can contain up to 6g of saturated fat per serving. Food with this much fat can certainly cause your pet to gain weight, and if your pet is already overweight, there are far better treats they can eat than cream cheese.
We recommend seeking out a low-fat brand to feed your pet when possible.
Other Ingredients
A final big concern when feeding your pet cream cheese is that it may contain extra ingredients. There are many brands of flavored crème cheeses available, and many of them can contain harmful ingredients. Garlic and herb is one such flavor that includes garlic and possibly onions that are both very dangerous to feed your pet. Some brands might also be high in salt, which can also be harmful to your dog's health.
We recommend only feeding your pet plain, low-fat cream cheese, so there is no need to worry about additional ingredients

Is Cream Cheese Good for My Dog?
Cream cheese contains plenty of important nutrients, including protein, which is good for strong muscles, and essential fatty acids help with brain and eye development as well as help promote a shiny coat. It contains calcium, which is necessary for strong bones and teeth, and it also has vitamin A as well as B-complex vitamins.
Many dogs find it hard to resist cream cheese, so it's a great food to hide pills that they need to take, and it makes a fantastic training tool.
How Do I Feed Cream Cheese to My Dog?
We recommend feeding cream cheese to your pet in extremely small amounts, and only on occasion. If you are adding cream cheese to one of your meals, it's fine if your dog wants to lick the spoon. Another great way to serve cream cheese is in a healthy treat your pet can enjoy.
We found this fantastic cream cheese dog treat over at WikiHow, and it provides your pet with a sweet and tasty treat that's perfect for training and for showing your appreciation. It makes a large amount, so if you don't need it, all now freeze some for when you run out.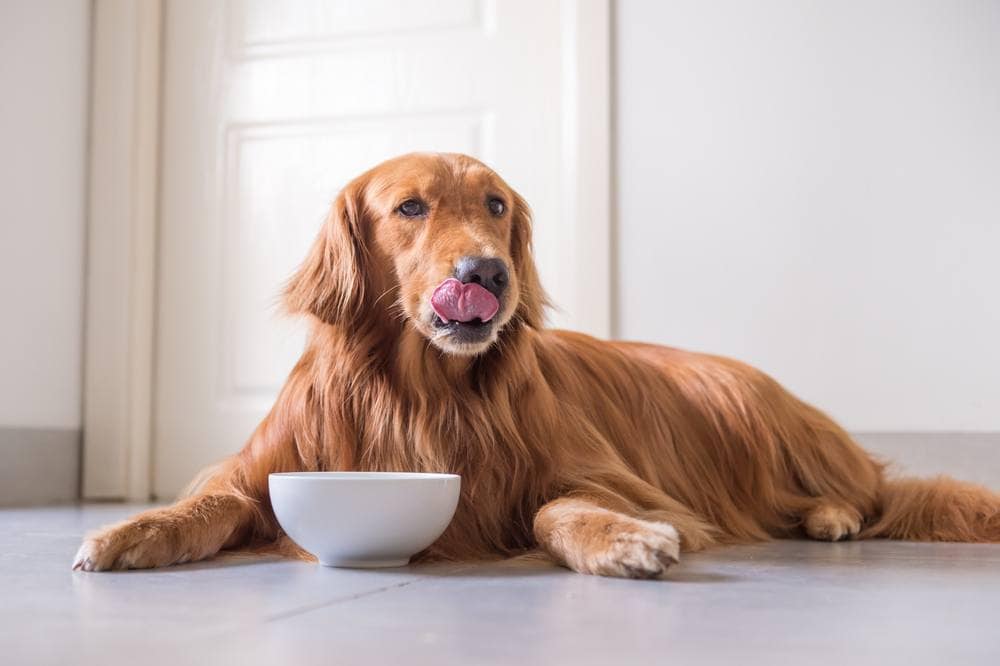 Cream Cheese and Honey Dog Treats
Ingredients
3⅓ cup whole wheat flour
7 oz cream cheese, softened
½ cup chicken stock or water
9 tbsp honey
One egg
3 tbsp vegetable oil
1 tsp pure vanilla extract (optional)
1 tbsp butter
Instructions
| | |
| --- | --- |
| Step 1: | Preheat the oven to 350 degrees |
| Step 2: | In a large bowl, combine the whole wheat flour, vegetable oil, cream cheese, egg honey, chicken stock or water, and pure vanilla extract |
| Step 3: | Mix well using your hand until ingredients blend and a dough forms that is firm enough to roll out |
| Step 4: | Roll out the dough using a rolling pin to a thickness of 1/8 to ¼ inch. Larger dogs will require a thicker treat. If the cookie is too thick, it can be difficult for your dog to chew |
| Step 5: | Cut out the treats with a cookie cutter or knife |
| Step 6: | Lightly grease the cookie sheet with butter |
| Step 7: | Place the cookies on the tray and bake for 10 – 15 minutes, or until they are golden brown |
| Step 8: | Allow the cookies to cool completely before |
| Step 9: | Feed one or two as a treat |

Summary
If you take the proper time to learn if your pet can digest lactose, then only give out the occasional treat, there is no reason why your pet can't enjoy this wonderful flavorful food. Most dogs enjoy cream cheese as well as many other types of cheese and will work hard to get a little taste. The doggy treat recipe we have provided you with is a safe and less messy way to dispense the food, and it allows you to be more accurate with portioning.
We hope you have enjoyed this look into whether or not cream cheese is safe for your dog. If you have learned something new and think you'll try out the honey-cream cheese cookies, please share this guide to feeding dogs cream cheese on Facebook and Twitter.
See also:
---
Featured Image:  MaraZe, Shutterstock