Chewy vs Amazon: Which Online Pet Store is Better in 2023?

Being able to have dog and cat food, toys, medicine, or anything else you need delivered directly to your door is something of a godsend, and today there are more online shops offering you that possibility than ever before.
Two of the largest are Amazon and Chewy. The former is an all-around Goliath, one of the biggest companies on the planet and a place where you can buy almost anything you can imagine. The latter is a relative newcomer, having been around only since 2011, and it specializes in pet food and accessories.
But which is better for pet owners, the do-everything store or the specialist? In the Chewy vs Amazon guide below, we examine that question in detail, so you can do business with the company that serves you best.

A Brief Overview of Amazon
As mentioned above, you can buy just about anything on Amazon, including every kind of device and contraption for dogs and cats on the planet.
That's certainly convenient, but it can also be overwhelming at times, especially because there are so many merchants on there — and they're not all equally reputable. Amazon does a good job of policing the merchants and kicking off the scammers, but you never really know who you're buying from.
The feedback from fellow customers isn't always trustworthy, either, as many sellers try to game the system by adding a ton of fake reviews. Amazon cracked down on that in recent years by adding the "Verified Purchase" setting, but determined scammers can still get around it.
However, it's rare that you won't be able to find what you're looking for, and that comes in handy if your cat or dog eats a specialty diet or if you're hoping to find a toy he's never tried (and destroyed) before.
Also, the company bends over backward to make sure that you're satisfied, and returns are easy and painless.
Incredible selection
Good for finding rare or niche items
Company tries to police scammers
Selection can be overwhelming
Not all merchants are reputable
Filled with fake customer reviews
---
A Brief Overview of Chewy
Since Chewy is solely devoted to servicing pet owners, their entire store is built with your convenience in mind. With Chewy online shopping, you can choose to shop by category, pet type, or even brand.
This is undoubtedly useful, but it's questionable how much effort it really saves you. After all, it doesn't take much time to type the brand you're looking for into Amazon's search box (but leafing through all their results can be a pain).
Still, Chewy's online shopping categories (such as "large breed dog food" and the like) are better-curated than Amazon's (who seems to rely on merchants to self-categorize). Chewy's reviews are about as reliable as Amazon's, although there are usually less of them.
Chewy also does what they can to make buying decisions easier, including keeping nutritional information front and center. Some items include feeding instructions and other tips, and there are instructional videos from experts on common topics like how to transition a pet to a new pet food.
One of the biggest advantages Chewy has is their pharmacy; you can simply mail in a prescription from your vet and get your pet's prescription medication delivered to your door, often at a substantial discount. Amazon doesn't yet offer this service, but it's not necessarily something that every pet owner will avail themselves of.
Categories are well-curated
Lots of information to assist your decision-making
Has a pharmacy
Not much easier to navigate than Amazon
Fewer reviews than Amazon

Pricing – Chewy vs Amazon
It's difficult to give a one-size-fits-all answer to a category like pricing because there are so many variables involved (especially since Amazon has many merchants offering the same product at different prices).
Generally speaking, their prices are roughly the same (and both can underbid your local brick-and-mortar pet store by a fair amount). Both also tend to offer discounts if you sign up for their subscription services.
To give you a better idea of how the two services stack up against each other, we compared a few products on both of the sites.
Taste of the Wild Canyon River Grain-Free Dry Cat Food (14 lb. bag)
As you can see, both bags of this dry cat food cost the exact same at each site — down to the penny. However, if you sign up for Chewy's subscription service, you can knock the price down by 5%, whereas Amazon's price stays the same even if you subscribe.
Of course, there's another price variable in play here: shipping. That deserves its own category, and we'll get to it later.
Let's look at the price of a toy now, shall we?
Outward Hound Interactive Hide-a-Squirrel Puzzle Toy (Ginormous)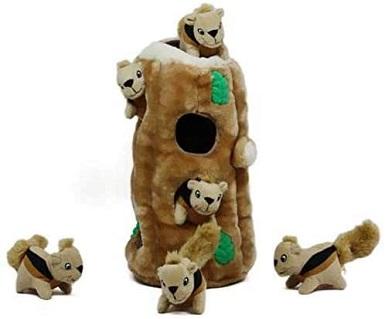 Again, both items are the same price (well, Chewy undercuts Amazon by a penny).
If you spend enough time looking, you'll find certain items that have larger price disparities. By and large, however, the sticker price will be roughly the same at both places.

Shipping
This is one of the key differences between the two sites, but there are enough variables that it's hard to give a blanket criticism of either site.
Chewy typically offers free shipping on any order over $49. That's very useful, but only if you're buying something like a high-end cat or dog food. Otherwise, you'll likely either find yourself paying for shipping or adding a bunch of extraneous items to your cart (thereby wasting money) to hit the $49 cap.
Amazon has many shipping options, on the other hand. You can pay as you go, or get free shipping once you reach $25. Another alternative is to sign up for Amazon Prime, which is $119 a year (or $59 a year for students).
If you have Amazon Prime, then all shipping costs are waived on two-day shipping. If you buy enough from the site, the service will eventually pay for itself.
As far as speed of shipping goes, both services are excellent, and you'll usually receive your order within two business days.

Returns
Returns are fairly easy with both customer services, although both have their own strengths and weaknesses.
Amazon generally has a 30-day return window. Customer service doesn't accept returns on pet foods, although they will usually give you store credit if you're not satisfied. Also, the return process is fairly painless, with them providing you a variety of shipping options (as well as the necessary labels).
Chewy's return policy and customer service is much more generous, although the actual act of returning items is more difficult. You have 365 days to return anything for any reason for a full refund (the only exception is prescription medication, unless there was an error with the order).
However, in order to send it back to the company, you'll have to go through FedEx. This may or may not be an issue for you, depending on where you live, but it does limit your options.
Overall, most pet owners will probably find Chewy's return policy and customer service to be superior to Amazon's, but that's less an indictment of Amazon than it is an endorsement of Chewy.
Customer Service
As you would probably expect from such huge websites, both have large customer support staff that works 24/7/365, and any questions or concerns you may have will likely be answered within 24 hours.
The employees at both places are friendly and easy to please, but both sites have a similar problem. If your issue requires you to ask multiple questions, you'll likely get a different support representative every time, and they may not be knowledgeable about your issue.
As a result, complicated problems can be even more complicated to solve. Basic issues should be resolved quickly and easily at both places, though.

Chewy vs Amazon – Which is Better for Pet Owners?
As you can probably tell from the information comparing Chewy vs Amazon above, the sites are very similar in terms of their capabilities. You're not likely to see a massive improvement by switching from one to the other.
Which one you should use depends largely on your buying habits. If you're shopping exclusively for pet products, we think Chewy is likely the better choice due to their generous return policy, pharmacy department, and helpfully-designed site.
If, however, cat or dog food is just one item on a long shopping list, you may find it easier just to do it all at Amazon. This is especially true if you've signed up for Prime and want to justify the expenditure.
Regardless, you should be able to find what you need at either place and get it within a day or two. And no matter which site you buy from, one thing is for certain: your pet will be more interested in playing with the box everything came in than he is the $20 toy you bought him.
See also: Chewy vs. Petco: Which Is Better for Me?