5 DIY Cat Carrier Plans You Can Make Today (With Pictures)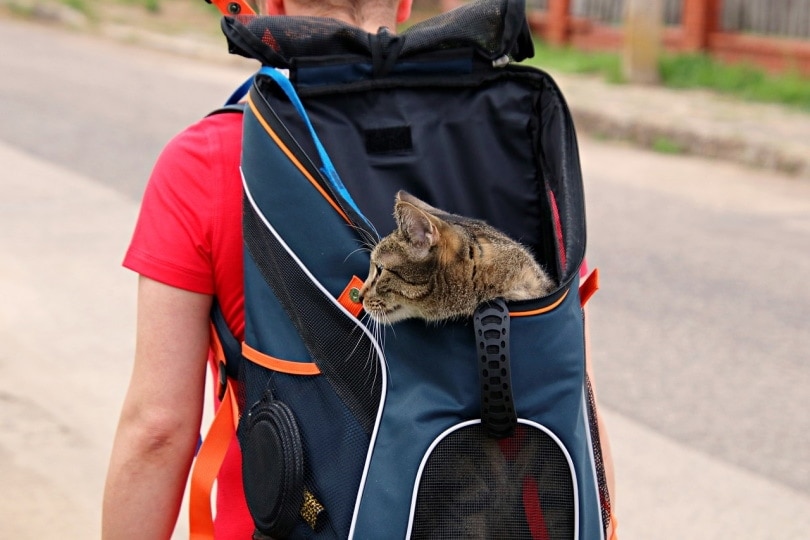 Even though it's a good idea to invest in a sturdy cat carrier, there are times when cat owners find themselves in positions where they need to make do with what they have. Whether you can't afford one or your trusty old cat carrier broke, there are a lot of simple DIY cat carrier plans that you can make in a short amount of time. Some of these projects will only require you to look around your house, but you may have to visit the store for others.
Either way, here are five simple cat carriers that you can make at home quickly and easily.
Top 5 DIY Cat Carriers to Make Today:
1.

Easy Comfortable DIY Cat Carrier- Katzen world
| | |
| --- | --- |
| Materials: | Large plastic tub with latching top, towel |
| Tools: | Electric drill with a 1-inch drill bit |
| Difficulty: | Easy |
If you've used a drill before, you can make this super simple DIY cat carrier. The best thing about this plan is that you likely already have everything you need at home. Find a large plastic bin with a latching top—preferably clear so that you can see your feline inside. Drill a fair number of air holes in the latching top, as well as in the sides of the tub. After that, lay a few old towels along the bottom so that your cat has a comfy place to lay. This keeps your cat secure inside while still allowing them plenty of oxygen to breathe and room to move around.
---
2.

Laundry Basket Cat Carrier- Pet DIYs
| | |
| --- | --- |
| Materials: | Two laundry baskets, bungee cables |
| Tools: | None |
| Difficulty: | Easy |
This simple laundry basket cat carrier requires absolutely no tools to create, and, you likely already have everything you need at home. Find two laundry baskets, preferably one small and one large, and set the smaller one upside down inside the larger basket so it creates a box your cat can comfortably fit inside. After that, secure the laundry baskets with half a dozen or so bungee cables so they can't escape. It doesn't get much easier than that!
---
3.

Plywood Pet Carrier- Instructables
| | |
| --- | --- |
| Materials: | Plywood, hinges, latch, rubber feed, screws, nails, furniture bolts, washers, nuts, lacquer, spray adhesive, wood putty, wood glue |
| Tools: | Table saw, scroll saw, disc sander, router, drill, clamps, hammer, screwdriver, scissors, tape measure |
| Difficulty: | Hard |
Those who are interested in actually making a real cat carrier from scratch need to look no further than this plywood cat carrier. This plan is a fair bit more challenging than the other DIY plans on this list, and you may spend some more money and time to make it. That said, it looks beautiful and is as solid as most of the other products sold on the market today.
---
4.

Litter Container Cat Carrier- Home stead and survival
| | |
| --- | --- |
| Materials: | Large, empty litter container |
| Tools: | Scissors |
| Difficulty: | Easy |
As long as you have a large litter container and scissors, this is probably one of the simplest plans for a homemade cat carrier. Simply cut a few holes in the container and lid and you have a cat carrier ready to go within minutes!
---
5.

DIY T-Shirt Pet Sling- Jean the pet writer. blogspot
| | |
| --- | --- |
| Materials: | Long sleeve shirt |
| Tools: | Scissors |
| Difficulty: | Easy |
A pet sling might not be the most secure option, but it is a cute and effective way to get your cat from point A to point B. This cat sling is something that anyone could make, although we recommend only using it for short trips and for cats that aren't too skittish. Follow the simple step-by-step instructions, and you'll have a perfect-sized pet sling for small cats and dogs in under five minutes.
Final Thoughts
Sometimes, life requires you to improvise and work with the materials around you. Not everyone has access to high-quality cat carriers, so they'll need to work with what they've got. Most of the DIY plans on this list are simple enough, but we threw in a more complex design for DIY-minded cat owners too!
---
Featured Image Credit: mkupiec, Pixabay