5 DIY Cat Collars You Can Make Today (with Pictures)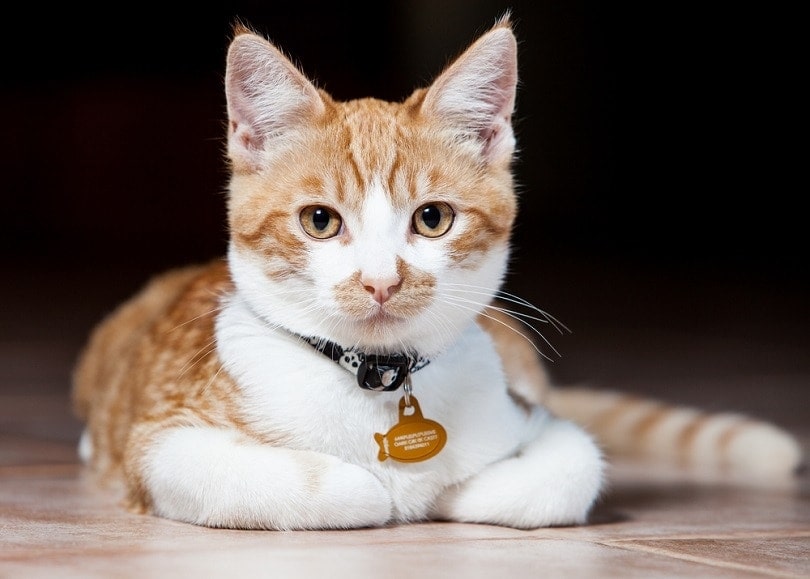 Even if your cat is strictly indoors, having a collar is a good idea for keeping it safe. You can attach a tag or a bell to its collar to make your cat easy to find if it escapes and gets lost. Collars are also a way to reflect you and your cat's personality.
Whether you can't find a collar on the market that you like, or you're looking for a fun project, DIY cat collars come in virtually every design you can imagine. Here are five DIY cat collar plans you can make today to give your cat an exciting gift and show off your crafting skills.
The 5 DIY Cat Collars
1.

DIY Cat Collar by Made on maid stone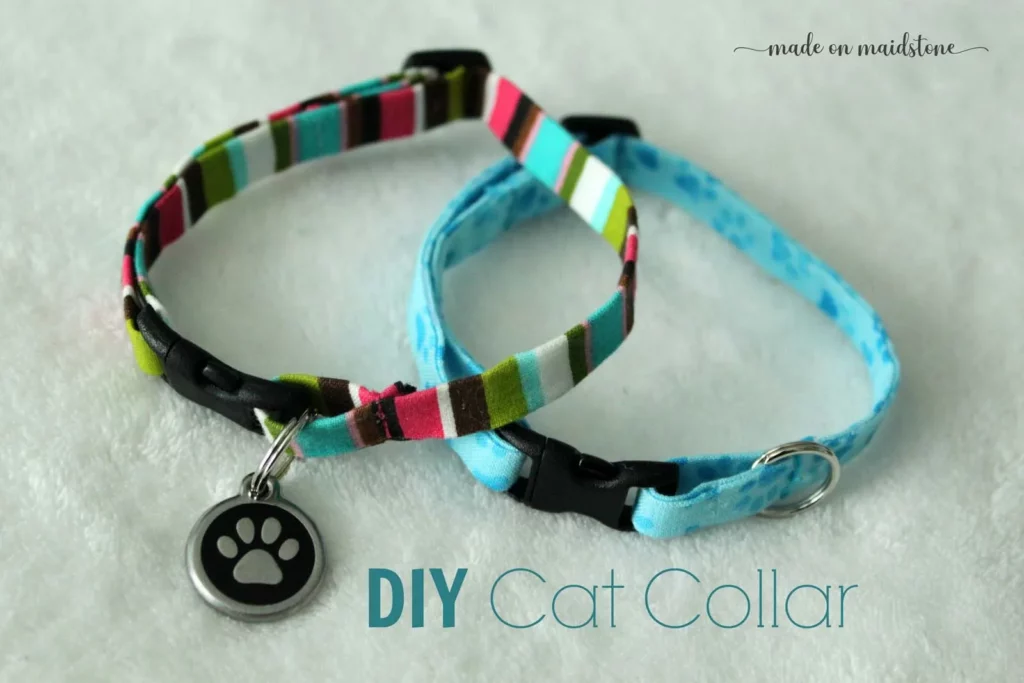 | | |
| --- | --- |
| Materials: | Fabric, buckles, rings |
| Skill level: | Beginner |
| Other tools needed: | Fusible bonding web, iron, needle nose pliers, sewing kit or machine |
This DIY Cat Collar costs just pennies to make and offers plenty of customization. Though it requires a little sewing, it's easy for beginners to take on. The collar is made of fabric, so you can choose just about any design you want.
For this collar, you'll need your fabric of choice, fusible bonding web, an iron, and hardware like buckles and rings, which you can find at any craft or sewing store. Only two spots need sewing, which can be done by hand or machine. The instructions are easy to follow and include detailed pictures.
---
2.

DIY Cat Collar with Bow by Chubby Meows
| | |
| --- | --- |
| Materials: | Fabric, buckles, rings |
| Skill level: | Beginner |
| Other tools needed: | Glue, scissors, sewing kit |
This DIY Cat Collar with Bow has a handy video and features a cute bow or bowtie design to elevate your cat's unique style. It's created using fabric, so you can choose whatever prints – or combination of prints – you like.
With a video tutorial, you'll be able to follow the instructions easily to create the perfect bowtie collar the first time. You'll need fabric, glue, scissors, a needle and thread, a piece of cardboard (for the bow), and collar hardware. This design is so cute that you may end up making one for any occasion!
---
3.

Crochet Pet Collar with Bowknot by Lingzhi Handmade
| | |
| --- | --- |
| Materials: | Acrylic yarn |
| Skill level: | Beginner to intermediate |
| Other tools needed: | 3mm hook |
This Crochet Pet Collar with Bowknot is useful for both cats and dogs. Even if you don't have crochet skills, the tutorial is beginner-friendly and shows each step with details. You have many personalization options with the color and type of yarn you use.
All you need for this tutorial is acrylic yarn and a 3mm hook. The entire tutorial is done on video, so you can rewind, skip forward, or pause as needed until you get the hang of the crochet stitches. Yarn is cheap, so you can make a bunch of collars for your cat.
---
4.

DIY Fancy Cat Collar by Makeover meow 
| | |
| --- | --- |
| Materials: | Collared shirt |
| Skill level: | Beginner |
| Other tools needed: | Scissors |
If your cat needs a touch more style, this DIY Fancy Cat Collar is a must. The final product looks like a dress shirt, but it's all made from old shirts. If you're looking to upcycle old clothes, this is the way to go.
According to the creator, you'll need a child's collared shirt in whatever color and style you prefer, scissors, and a "fierce cat to model the finished product." The design requires no sewing – just some creative folding. While this collar won't work for walking, it's a snazzy addition for photos or just for fun.
---
5.

Thrifted Belt Collar by chezlin
| | |
| --- | --- |
| Materials: | Thrifted belt, D rings, belt buckle (optional) |
| Skill level: | Intermediate |
| Other tools needed: | Leather hole punch |
This Thrifted Belt Collar design is super cute and takes almost no crafting skills to create. Though the tutorial is for a dog collar, there's no reason you can't adapt it to a cat collar. Best of all, you can search for a unique thrifted belt to make the design your own.
All you need for this design is a thrifted belt, D rings, a belt buckle (if the belt doesn't have one), and a leather hole punch. Then, you simply measure the right size on your cat, mark the length and holes, and add the buckle. What could be easier?
Conclusion
While you can find a variety of fun cat collars in the store, making your own allows for limitless creativity in personalizing the collar for your cat. Explore these tutorials and find a simple, cute project to create a statement collar.
---