13 DIY Cat Shelves Plans You Can Make Today (with Pictures)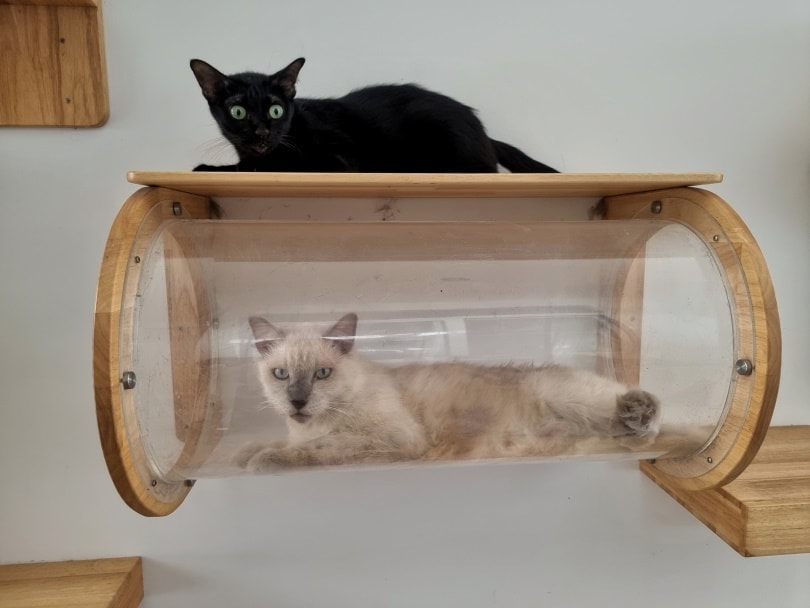 Every cat owner knows that cats love to jump and climb, often perching in spots that we didn't think they could reach! Cats like to look down and observe the world around them. Being up high gives them a feeling of security and comfort.
Cat shelves are a fun DIY project that can give your kitty a whole new view of their surroundings. Best of all, they don't take up any of your precious floor real estate. They can help open up a room that was previously filled with cat trees and condos. You get some of your living space back while helping your cat alleviate boredom.
DIY cat shelves and wall-mounted cat beds are simple to make if you have the right materials. In this article, we look at plans that you can make today in just a few steps.
The 13 Best DIY Cat Shelves
1.

Cat Shelf Playground
This vertical DIY cat shelf playground is easy to put together with a few items from the hardware store. You can place these shelves near windows that would normally be too high for your kitty to see through, giving them a new place to enjoy the view.
Cut wooden boards to your desired shelf length. The recommended lengths are 16–23 inches long. The shelves should then be sanded and can be stained if you'd like. The shelves in this example are stained walnut. Attach brackets to the shelves and then attach the shelves to the wall. Pieces of carpeting can be cut to fit and attached to the shelves with Velcro. This plan also includes an option for a homemade cat scratching post.
---
2.

Cat Tree Alternative
These shelves can line your wall and take the place of a cat tree. You can place these like stairs so your cat can climb up and down easily. These are 18" and 24" shelves that come with wall anchors to hold up to 8 pounds. Feel free to purchase separate wall anchors that hold more weight, up to 50 pounds.
A screwdriver and level are needed to install the shelves and make sure they're straight. Add colored carpet squares to the tops, and your kitty is ready to relax.
---
3.

Wall-Mounted Cat Bed
Using scrap wood that you have lying around, you can make this wall-mounted cat bed and give your cat a comfortable, private place to rest. This bed is made from scrap plywood and held together with brad nails and wood glue.
Carpet pieces cover the top of the bed for padding. You can get as detailed as you want with this bed. Once the frame is put together, decorating it is the easy part. This plan uses a silhouette cameo to cut out the letters of the cat's name, so there is no confusion about who owns this bed.
---
4.

Hanging Window Cat Basket
Using a basket tray, plywood, rope, and shelf brackets, you can make a cozy little spot for your cat to sleep after they check out the neighborhood. While this shelf bed hangs in front of a window, you can also attach it to the wall directly by following this plan and not using the rope. Just make sure it's installed low enough for your cat to jump into if there are no other shelves or stairs nearby.
---
5.

Super Mario Cat Shelf
This is for video game fans. Have your kitty chase after those gold coins with this Super Mario cat shelf! The boxes are made from wood and the tunnels are planters with removed bottoms. Sisal rope lines the insides of the planters to give your cat something to scratch and climb as they enter and exit the tunnels. Carpet scraps can be attached to the top and inside of the box for padding.
---
6.

Cat Climbing Wall
This climbing wall gives cats plenty of options to play, run, and jump without a cat tree taking up half of your living room. These shelves include places for scratching, climbing, and sleeping. The shelves go all the way up the ceiling, giving cats a great view of their domain. This step-by-step plan will help you get started right away.
---
7.

Cat Rope Bridge
Connect one wall shelf to another with this unique rope bridge for your cat! If you're skilled at woodworking, this is the project for you. Even if you're not, this could still be fun to build. You'll need a sander, circular saw, and drill for this build.
Your cat is sure to love being able to go from shelf to shelf without having to climb down.
---
8.

Floating Cat Shelves
You can make these IKEA hack floating cat shelves in about 4 hours. With heavy-duty anchors and proper spacing, your cat can have their very own climbing wall. Jumping from shelf to shelf will keep them busy and ensure they get some exercise. Carpet pieces attached with Velcro to the tops of the shelves give them soft places to land.
---
9.

Cat Adventure Wall
This cat adventure wall includes a rope bridge and LED lighting. The materials for this plan cost around $100. There is plenty of gluing, clamping, and cutting involved. Even if you don't feel that your DIY skills are up to this challenge, take a look, anyway. The instructions are thorough for every step.
---
10.

Drawer Cat Shelves
Don't get rid of that old dresser just yet. By repurposing the drawers, you can create a comfy, stylish cat wall! Once the drawers are sanded, you can paint and decorate them however you choose. Just attach them to the wall, add soft bedding, and you're all set. This is an extremely easy, budget-friendly plan.
---
11.

Colorful Cat Shelves
These shelves with colorful brackets can replace a bulky cat tree. You can add carpet pieces to the tops of the shelves for comfort. The size of the shelves can be customized to your cat's needs.
---
12.

Bookcase Cat Climber
If you're wondering what to do with that old bookcase, why not convert it into a cat playground? This saves you from having to haul the bookcase out of the house to get rid of it, and it's already taking up space, anyway. Now you can give your cat a multilevel climbing tower without spending tons of money or finding a new place for it to go.
---
13.

Staircase Cat Shelves
With these shelves, you can create your own kitty jungle gym. This plan will show you how to place the shelves leading all the way up to a cat bed suspended from the ceiling. Buying your shelves preassembled will help save time on this project.
How High Do Cat Shelves Need to Be?
The height of your cat shelves will mainly depend on your cat's jumping ability. Watch how your cat moves, and place the shelves in the easiest positions for them to reach. The average cat shelves are spaced about 12–16 inches apart horizontally and 12–18 inches apart vertically. Adjust these spaces as needed to tailor them to your cat.
How Deep Do Cat Shelves Need to Be?
Shelves mounted to the wall for your cat should be big enough for lounging. A minimum of 10 inches deep is average. Shelves being used just as stairs from one area to another can be smaller, but your cat should have a large enough space to relax on the platforms. If you're unsure, measure your cat when they are resting to find out how much space you need.
Conclusion
Installing cat shelves is a fun way to give your cat their own playground in your home without sacrificing too much of your space. Jumping and climbing can give your cat the exercise that they need and keep them from getting bored. By following a DIY plan for cat shelves, you can save money and customize the shelves to your preferences. We hope that you found a plan that you can get started on today!
By the way…
If your cat likes to climb, you'll need a good perch. We love the Hepper Cat Window Bed with Suction Cups, a canvas perch that any adventurous or sun-loving cat will adore. This is our product, and we think you'll love it as much as we do!
---
Featured Image Credit: RJ22, Shutterstock