13 DIY Cat Stairs Plans You Can Make Today (With Pictures)

Cat stairs have a variety of uses in your home. For aging cats or cats with mobility issues, sturdy stairs provide access to furniture and other high spaces. If you have a jungle gym or cat tree that your cat can no longer use, a set of cat stairs can ensure your cat can still get fun out of it. Of course, cat stairs can simply be a fun addition to your cat's existing play areas.
From simple ramps to wall-mounted shelves forming stair-style platforms, you'll find just about every cat staircase imaginable on this list. Best of all, any of these can be created in an afternoon and are suitable for all levels of DIYers!
Check out these DIY cat stairs plans you can make today and enjoy your build!
Top 13 DIY Cat Stairs
1.

DIY Pet Steps by Build Basics
| | |
| --- | --- |
| Materials: | 2' x 4' birch plywood, wood glue, nails, drawer liner, fabric (optional) |
| Tools: | Tape measure, framing square, speed square, drill, miter saw, circular saw, pneumatic nail gun |
| Difficulty Level: | Moderate |
These simple DIY Pet Steps are easy and cheap to make, giving your cat a fun staircase to access high furniture. All it takes is an afternoon to build your own steps for your cat, and you can enhance them with your own creative touches like toys or carpeting.
The instructions in this tutorial are detailed and easy to follow, so anyone with basic handiwork skills can accomplish this build. Keep in mind that it may take some time to layout and square the cleats to construct the steps. To make it easier, get measurements and purchase pre-cut wood at the hardware store. After the basic build, you have an opportunity to add creative touches.
---
2.

DIY Staircase for Cat Jungle Gym by Worst on the Block
| | |
| --- | --- |
| Materials: | Wood finished shelves, scratching post, premade end table |
| Tools: | Saw, sandpaper, screws, drill, anchors, level, stain or paint (optional) |
| Difficulty Level: | Moderate |
The DIY Staircase for Cat Jungle Gym is one feature in a full cat play area for your home. Instead of buying a commercial cat tree, do the build yourself and create a personalized play area for your cat that's perfect for their personality and activity level.
Fortunately, most of the project uses premade furniture and shelves, limiting the woodworking you need to do. While this project takes some woodworking know-how, you can get pre-cut wood from the hardware store. Once you complete the base of the project, make the most of the space with stain, paint, carpeting, fabric, or any other elements to make it more fun for your cat and your décor.
---
3.

DIY Pet Stairs by Instructables
| | |
| --- | --- |
| Materials: | Finished plywood, carpeting or fabric (optional) |
| Tools: | Tape measure, circular saw, drill, wood screws, glue, stain or paint (optional) |
| Difficulty Level: | Moderate |
These DIY Pet Stairs were designed by the creator to help an aging cat reach furniture, but they can be used for practical or recreational purposes. If you're planning to use them for furniture access, be sure to consider the height of the furniture and where you'll be using the stairs.
Like other tutorials, you can follow the basic build and enhance these steps with carpeting, furniture, and toys. The steps are easy to build for someone with basic skills, but you can get pre-cut wood for the bracers, risers, and stringers to make things easier.
---
4.

Easy DIY Pet Stairs by Mild Mile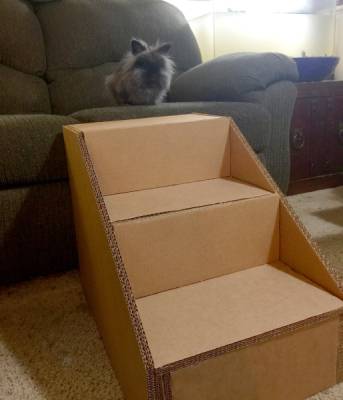 | | |
| --- | --- |
| Materials: | Wood (optional) or cardboard |
| Tools: | Tape measure, glue or tape, saw, nails, hammer for wood construction (optional) |
| Difficulty Level: | Easy |
These Easy Pet Stairs were created to help rabbits access the owner's bed, but they can be used for cats, dogs, or virtually any other pet. Because the creator didn't like working with wood, she created cardboard steps. These plans can easily be adapted to use wood, however.
The double-walled cardboard and additional support make these steps appropriate for average cat breeds, and it's super cheap to make. All you need is some cardboard, a measuring tape, hot glue, and a knife. Creating them out of wood makes the project a little more challenging, but you can use pre-cut wood to take a lot of the difficulty out of the project.
---
5.

DIY Cat Tree Ladder by Walkerville Vet
| | |
| --- | --- |
| Materials: | Premade IKEA shelving unit |
| Tools: | Drillable two-part filler, wall putty, drill |
| Difficulty Level: | Easy |
This Cat Tree Ladder is a fun repurposing of an IKEA product. Perfect for people with limited DIY skills, this project uses a solid, premade shelving unit with some modifications to create a fun cat ladder/tree. The piece also looks lovely in your home and can be personalized with paint or stain.
If you can construct IKEA furniture, you can make this cat ladder. The most important details are securing it to the wall and using wall filler to plug up exposed holes and make it safer for your cat. Once finished, you can paint or decorate it to your liking to suit your décor.
---
6.

DIY Cat Tree with Hammock by IKEA Hackers
| | |
| --- | --- |
| Materials: | IKEA stepladder, cheap fabric, upholstery foam, rope |
| Tools: | Hot glue gun, scissors, measuring tape, drill, stapler |
| Difficulty Level: | Easy |
Another premade IKEA hack, this DIY Cat Tree With Hammock uses a stock IKEA stepladder enhanced by fabric, foam, and toys to create a fun set of cat steps that offer practical and recreational uses.
Because the stepladder is ready-made, you have total freedom to add toys, scratching areas, and platforms wherever you choose. The project can be done quickly, or you can get creative with it and take your time creating a drool-worthy cat tree with tons of enrichment features.
---
7.

DIY Kitty Loft by The Owner-Builder Network
| | |
| --- | --- |
| Materials: | ¾" boards, paint, wall anchors |
| Tools: | Saw, drill, stud finder |
| Difficulty Level: | Moderate |
The fun part about these DIY cat stairs is that you can make them as long or as short as you'd like. In the original instructions, these stairs lead to a catwalk and kitty loft, but you could create the stairs and make them lead to anywhere you'd like.
They can be made to fit any space and painted in any color. You can even use carpet scraps or other materials to provide grip and make for a more comfortable environment for your cat. Whether you want to create cat stairs for your cat to transition between floors of your home or simply get to a better vantage point, you can adjust these stairs however you'd like.
Make sure to use wall anchors and a stud finder to ensure these are adequately and safely installed into your wall.
---
8.

DIY Tiny Cat Stairs by Instructables
| | |
| --- | --- |
| Materials: | Various plywood pieces, tape measure, pencil, T-square, 3D printer & filament |
| Tools: | Jigsaw, circular saw, hole saw, sandpaper, orbital sander |
| Difficulty Level: | Moderate to high |
To make these DIY cat stairs, you'll need a 3D printer, which isn't a device everyone has. You'll need the printer to make the brackets these cat steps use, but you probably can find something similar (and just as good) at your local big-box home improvement store. (L-brackets should be just fine.)
The steps to cut and build the cat steps are explained well on the maker's website, but there are also several YouTube videos that will be helpful. You should note that several of the tools used are professional grade, but you should be able to make do with basic tools. A decent DIY skillset will be a big plus when tackling this DIT cat steps project.
---
9.

Luxury DIY Cat Step Condo from NerdyCat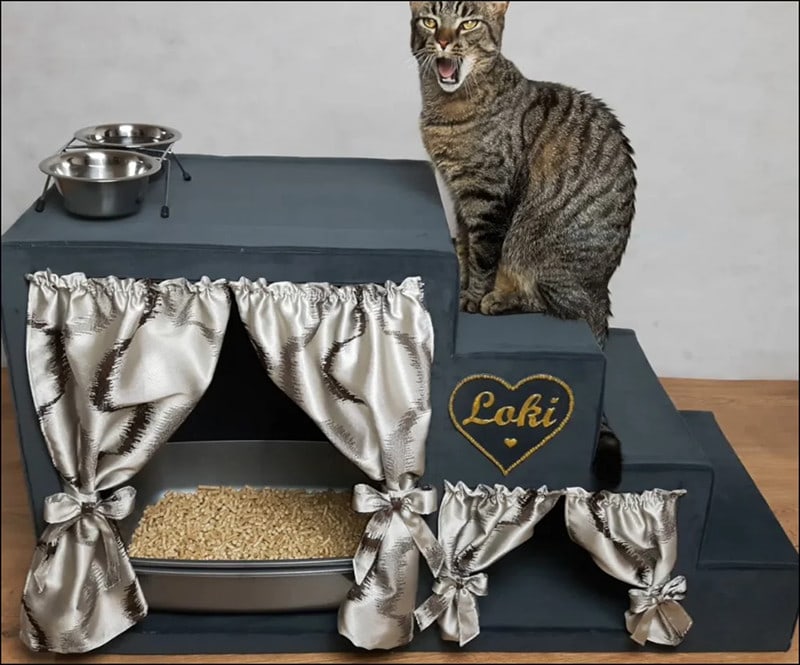 | | |
| --- | --- |
| Materials: | Cardboard boxes, newspaper, various pieces of fabric, 4 buttons |
| Tools: | Scissors, razor knife, tape measure, pencil, glue gun & glue sticks, glue, small brush |
| Difficulty Level: | Easy to moderate |
This fantastic set of cat steps from maker NerdyCat is a real treat! Not only will they help your cat climb onto your bed, a windowsill, or wherever, but these DIY steps allow you to hide your cat's litter box (and make it more comfortable for them to go potty).
The maker designed this project with cardboard rather than wood, which might not last as long. However, changing the project to wood instead of cardboard shouldn't be a big issue because their instructions are so well done, and there are YouTube videos to help. However, using cardboard will save you a few bucks and make the projects easier and (possibly) faster to build.
---
10.

DIY Cat Staircase from Our Catio Home
| | |
| --- | --- |
| Materials: | Fence boards, wood stain, wood screws |
| Tools: | Miter saw, circular saw, tape measure, pencil, jig saw, level, T-square, drill & bits, sander, sandpaper, paintbrush |
| Difficulty Level: | Moderate |
Sometimes your cat wants to get up to a spot really high in your home. That's when these DIY cat steps from Our Catio Home will come in very handy. They can help your kitty cat get about 5 feet off the ground, high enough to escape danger or find a nice place to rest without being bothered.
The maker uses these cat steps outside of their home, but you can certainly use them inside. Wherever you place them, it's important to attach them firmly so that they don't break away and fall when your cat uses them. Besides that, if you want to give your cat a way to get far off the ground, these cat steps are just the ticket.
---
11.

Easy Cardboard DIY Cat Steps from The Butterfly Diva
| | |
| --- | --- |
| Materials: | Cardboard, heavy-duty wrapping paper |
| Tools: | Hot glue gun & glue sticks, tape, glue, scissors |
| Difficulty Level: | Easy |
OK, so these DIY cat steps aren't going to win any awards for style or design. They should work perfectly if you need an easy-to-make, cheap set of cat stairs to help your older cat get up on the bed or to its favorite windowsill.
The author created the steps in this project for their puppy, but it can certainly be made for a cat instead. They will likely last longer, also, as most cats weigh less than dogs. These steps might be too high for the smallest of baby cats.
---
12.

Professionally Designed DIY Cat Stairs from Jays Custom Creations
| | |
| --- | --- |
| Materials: | Various pieces of lumber |
| Tools: | Miter saw, circular saw, tape measure, pencil, jig saw, level, T-square, drill & bits, sander, sandpaper, paintbrush, router |
| Difficulty Level: | Moderate to difficult |
If you're a true DIY expert with a wide range of excellent woodworking tools, these cat stairs are ideal. The maker, Jay Bates, has a wood shop filled with top-quality tools and the knowledge to use them. He shows you exactly how to create these genuinely beautiful cat steps, which he says can be completed in a day.
These DIY cat steps are designed well and look simply stunning. They will add a touch of class to your cat's room or wall and allow older cats to get up off the ground easily. Interestingly, the maker first made another set of steps from plywood. Once he was sure his older cat would use them, he designed and built the steps in these plans. In other words, you're getting his best plans that you can use for free!
---
13.

Easy DIY Wood Pet Stairs from Live Laugh Rowe
| | |
| --- | --- |
| Materials: | Various pieces of lumber, wood screws |
| Tools: | Dremel saw, drill & bits, sandpaper, wood glue, paint brushes, Kreg drill jig |
| Difficulty Level: | Moderate |
If you have a cat that's having problems getting up on the sofa or bed, these pet stairs from Live Laugh Rowe will be helpful. You can use them for any pet you like, of course. We love dogs, too! Although the results should look fabulous if you have decent DIY skills, these steps aren't particularly difficult to construct.
The maker uses a Kreg drill jig, which is a fantastic device that allows you to line up drill holes so that your wood pieces fit together perfectly. However, without the jig, you should still be able to handle this cat stair project without a problem.
Final Thoughts
There you have it! Fun cat stairs projects for you to try today. Whether you want a practical ramp for a cat with mobility issues or you're adding to a cat jungle gym in your home, you can find the perfect DIY cat stairs project for your needs and skill level. Get building!
---
Featured Image Credit: jgariepy, Pixabay