19 DIY Cat Tree Plans You Can Build Today (With Pictures)
Jumping, climbing, scratching, and hiding—no matter what activity your cat loves best they can do them all on a cat tree! Cat trees might be the ultimate in indoor cat gear, but they can also be too expensive for some budgets. If you're handy with tools or just really good at following directions, why not consider making your own cat tree? We've collected a few DIY Cat Tree Plans that you can build today, including pictures of what you can expect from the finished product! Check out these cool designs and then get to work! Your cat will thank you for it—or at least become mildly less disapproving of your existence.
The Top 19 DIY Cat Tree Plans
1.

HGTV Cat Condo- HGTV
This cute kitty condo is structured from PVC pipe covered in rope. It includes three levels of adorable baskets for your cat to climb into and snooze the day away. And if you have multiple cats, they can each grab their own spot!
---
2.

Dadand Kitty Condo- Dadand
This simple cat tree should come together in about 2 hours, at least according to the nifty, one-page graphic direction sheet from these bloggers. Covered in carpet only, this one might be a good choice for those cats who need an alternative to tearing up the actual carpet in your house!
---
3.

Kitty Tree With Ramps- Ana-white
This project was created by the designer when her cat got older and started having trouble jumping up on a regular cat tree. Featuring multiple levels connected with wide ramps, this cat tree will work great for arthritic old cats or tiny kittens alike. It is a beginner-level project but does require the use of slightly more specialized tools, such as a Kreg Jig.
---
4.

Build A Cat Tree Two Ways- Wikihow
These are actually two different DIY cat trees in one article. The first is a traditional design with platforms at multiple heights made of wood and carpet. The second shows you how to repurpose an old wooden step ladder into a clever cat tree, complete with a comfy hammock for naps.
---
5.

Step By Step Cat Tree- The Experimental Home
Of all the plans we've listed so far, this is the one that looks the most like a cat tree you'd buy at a pet store. Although it's elaborate, with four levels, a hiding cave, sisal rope-covered posts, and even a hammock, this cat tree can be built in less than one day. The directions are thorough and detailed and include lots of photos to help you along the way.
---
6.

Cat Tree With REAL Branches- By Brittany Goldwyn
If you're looking for a cat tree that's as much a work of art as it is a cat playground, these are the plans for you! This tree is made with two real-life tree branches as its main support system, making it both earth-friendly and incredibly beautiful. Because of the work involved to prep the tree branches, this project requires some patience and a bit of skill, but the result is completely worth the effort!
---
7.

Simple Cat Tree- My My DIY
This extremely basic cat tree design—base, scratching post support, one platform—was originally created as a teenager's Eagle Scout project. Because it's so simple, this might make a nice DIY for parents and kids to do together. With kitty supervising of course!
---
8.

Cat Tree With Padding- My My DIY
This intricate cat tree requires a lot of different materials to build. The instructions are very detailed and the finished product extremely basic cat tree design, completed at about one-quarter of the price!
---
9.

Upcycled Cat Tree- Mother Daughter Projects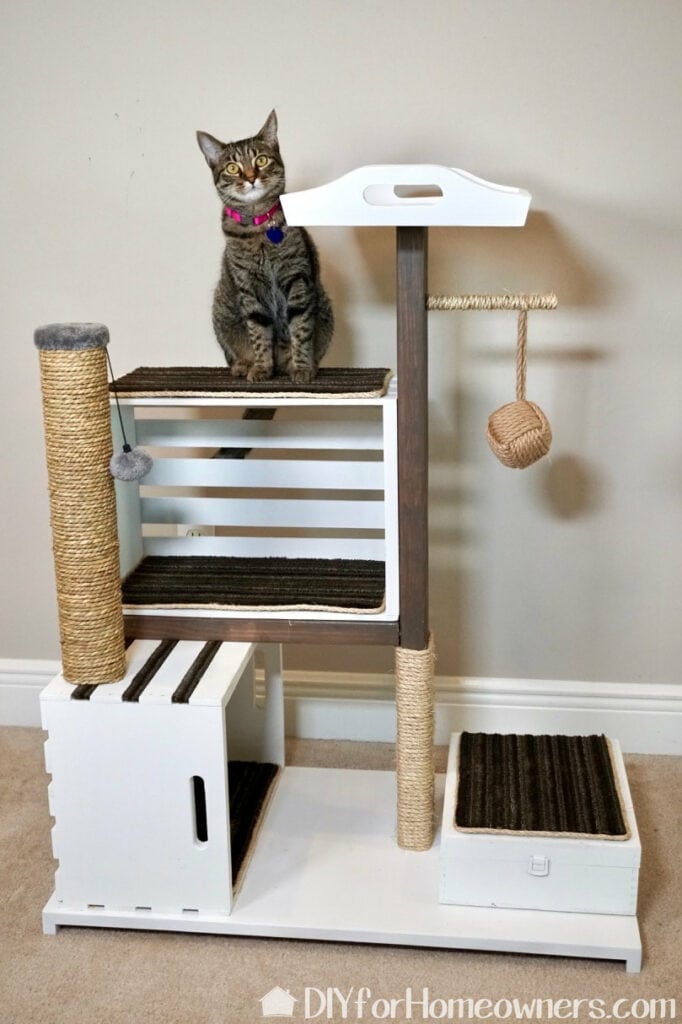 Basically, this cat tree is what would happen if a random thrift store shopping trip turned into awesome kitty furniture. The plans call for such materials as a wooden crate, an old wine box, and random carpet scraps. The results look much more sophisticated than their humble origins would suggest!
---
10.

Cat Tree? No! Cat Wall- Instructables
This is one for the more, shall we say dedicated cat owners among us. It takes dedication to your cat to give up the wall space it takes to create this fabulous kitty adventure land. Expect this project to cost around $100. It's not one for the beginner DIYer, as it involves quite a lot of complicated saw cuts and a bit of lighting know-how. The directions are very detailed, however, with plenty of photos to illustrate each step.
---
11.

A Big Cat Tree- Instrubtables
This super sturdy cat tree is made primarily of wood, with the option to add a salvaged hiding cave from an old store-bought cat tree should you so choose. The project isn't too complicated but involves the use of many screws. You'll end up with a cat tree that will support even the largest of feline guests.
---
12.

Star Trek Cat Tree- Instructables
If you have a lot of patience, some woodworking skills, and a desire for your cat to live long and prosper, try your hand at this fancy Star Trek-themed cat tree. Constructed of carpet, PVC pipe, and wood, this project is pretty advanced and requires attention to detail. The directions are pretty detailed but there aren't step-by-step pictures like some designs include.
---
13.

Corner Cabinet Cat Condo- Hometalk
This corner cabinet cat condo (say that five times fast!) is another upcycled kitty furniture project. The hardest part of this project might be finding yourself an old corner cabinet as a starting point. Once you do, the bulk of the project is prepping and painting the furniture, then adding carpet and some fun extras.
---
14.

Rustic Cat Tower- Southernrevivals
Constructing this rustic cat tower requires you to successfully pour a concrete base but is otherwise fairly simple. Made with real tree branches, this design lets your cat sharpen their claws as nature intended: on the bark of a tree instead of the legs of your kitchen table.
---
15.

Cat Tree Cabin- Ana white
This sleek cat tree cabin is for the cat owner who is just a little bit extra. Although it only requires about $30 worth of materials, the project does require some more skill and patience than some of the others listed. Constructed of simple plywood, carpet, and rope, it's the detail and attention to the finishing touches that make this cat tree stand out from the rest.
---
16.

Budget Cat Tree- Instructables
This cat tree is made almost entirely of free materials the designer acquired from friends—cardboard carpet tubes, an old kitchen unit, and some artificial turf. The design and directions are super simple to follow and the result is a functional cat tree that might not look the prettiest, but will your cat really care in the end?
---
17.

Bookshelf Cat Tree- Blog. Collettehq
This simple project turns an A-frame bookshelf into a 4-level cat tree. This is a project for the crafter as well as the DIYer as the major tool used is a hot glue gun. Featuring scratching surfaces and a comfy bed, this cat tree is fun for cats and looks right at home in your living room or home library as well!
---
18.

Branch Cat Tree- Honest To Paws
This cat tree is made out of a literal tree, attached to a plywood base, wrapped in sisal rope, with some platforms added on. Aside from the trouble of finding just the right actual tree, this project is relatively simple, and the directions are easy to follow. The result is a sturdy, one-of-a-kind piece of cat furniture.
---
19.

Fuzzy Ladder Cat Tree- Hallmark Channel
This simple project is made with two wooden ladders or a hinged towel frame, carpet, and some faux fur rugs. The result is a cute and fuzzy cat tree that your cat will love to snooze on. For safety, you'll need to attach this cat tree to the wall because it's not very heavy.
---
Featured Image Credit: Darkmoon_Art, Pixabay