5 DIY Dog Car Seats You Can Build Today (With Pictures)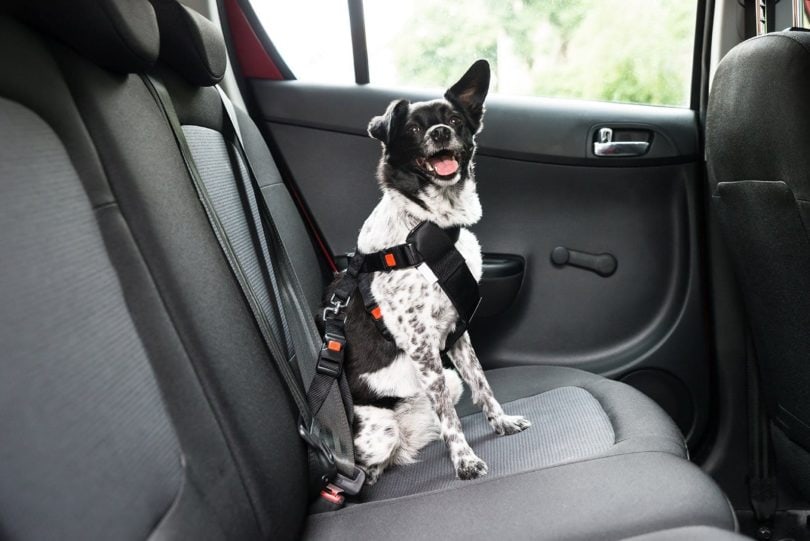 If your dog loves rides in the car, you may be concerned about their safety. You wouldn't want your baby or toddler freely moving around a confined space, so your dog will need security too. Purchasing a car seat designed for dogs may cost you a pretty penny, however.
Instead, cater to your crafty side and try to build your own. These 10 DIY dog car seats are inexpensive compared to buying outright, and they look adorably comfy too. Focus on your inner talents and learn how to build a car seat that they can ride in anywhere you go.

The 5 Top DIY Dog Car Seats
1.

Life of Posey Dog Car Seat
The first DIY dog car seat on our list is from Life of Posey. In this dog car seat tutorial, she goes over how to create an efficient car seat for your dog while being kind on your wallet. In the video, she uses a tote, tape measure, foam piece, and an electric meat slicer (to cut the foam), padding, glue, and material.
She shows how to put the components together to make a cozy car seat that you can use on the go. It's also portable, so you can easily take it in and out of the car without a hassle.
---
2.

Foofie Life Small Dog Booster Seat
This video tutorial from Foofie Life shows you step-by-step how to craft your own DIY small dog booster seat. You won't need very many materials, either. You can use fabrics of your choice. She goes over measurements and supplies in the video.
Once you have the supplies you need, the video itself is under 13 minutes. It may take a bit longer than that, especially if you are new to the crafting world. However, once you're finished, you will have a secure space for your dog on the road. She even puts Stella, her dog, into the booster seat so you can see how a small dog fits cozily inside!
---
5.

Growing Up Bilingual No-Sew Dog Booster Seat
The design by Growing Up Bilingual is an adorable tiny car booster seat for your dog. The supplies are simple and inexpensive. All you will need is a plastic bin, foam for comfort, a hot glue gun with sticks, fabric, ribbon, and a pet seat belt.
It will be quick to throw together this DIY dog booster seat, and you will likely already have most of the materials at your home.
---
3.

Smart Dog Owners Dog Car Seat
This DIY dog car seat set up by Smart Dog Owners is another straightforward DIY. If you follow the listed instructions, you won't spend much for the whole design. The post takes you through the process, showing materials and explaining the steps in detail.
Once you finish up, you should have a protected space to put your dog on trips. If you need it, there is a link in the description to the video where they visually guide you.
---
4.

Instructables Dog Booster Car Seat
If you are looking for a DIY that requires no sewing, this tutorial by Instructables is a no-sew option for a DIY dog booster car seat. The writer explains that you absolutely can use a sewing machine if you want to make the outcome look more professional, but you don't have to.
There is a downloadable PDF file attached to the upper portion of the page that guides you on how to create this seat.
If creativity is not your strong suit you could always purchase a car or booster seat: Best Dog Car Seats 
---
5.

Dog Geek Snoozer Car Seat
The next DIY dog car seat on our list comes from Dog Geek. In their post, they explain how they transformed an old Snoozer for their dog into a fresh item. In the photos, you can see how they disassembled the old seat and how simple the construction was to create. The idea is to guide you to transform your own Snoozer (if you have one) or show you how to make one from scratch.
The total cost of the seat in the post is cheap, but if you don't have the skeleton and need to buy foam or straps, it will be more.

Conclusion
As you can see from our list of DIY dog car seats, there is something for every size dog and crafting ability. Whether you decide to make a sew-free option or dust off the old sewing machine to get your stitch on, you are sure to wind up with a unique outcome unlike any other dog car seat out there. It's also true that you will be saving money in the long run. With only a few hours of your time, you can learn to build a dog car seat so your dog will be rolling with you in style for a long time to come.
See also: How To Dog-Proof Your Car – 7 Great Ways
---
Featured Image Credit: Andrey Popov, Shutterstock