8 DIY Dog Food Storage Ideas You Can Build Today (With Pictures)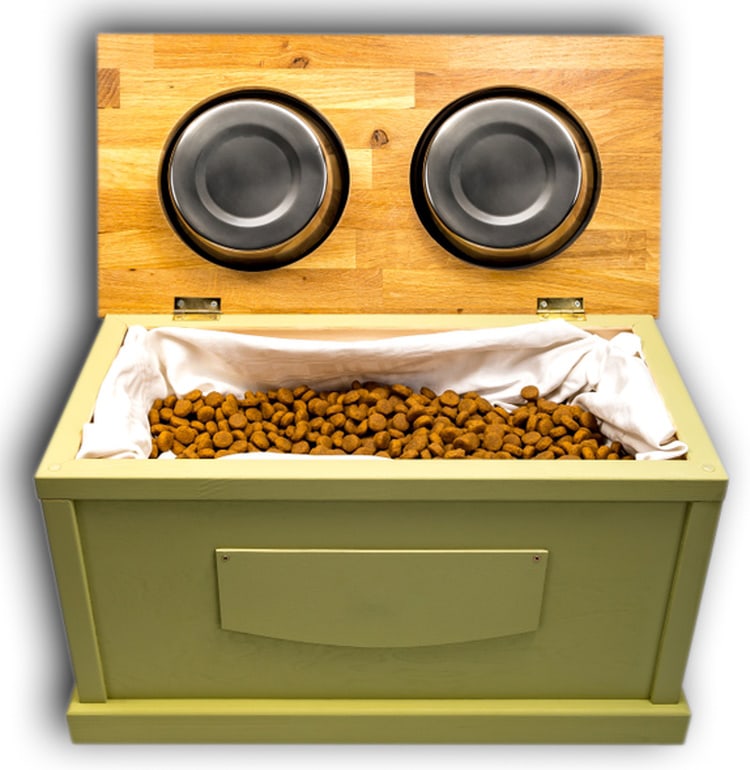 Dog food bags are usually bulky and awkward. You may find it challenging to find a place to store them where it isn't taking up valuable storage space. You may also notice that keeping it in the bag makes it easier to tear or spill. There is also the risk of your dog finding out where you keep it, leading to unpermitted buffet feasts while you're not looking.
Good news! There are tons of ways to you can learn how to make dog food storage of your very own while adding to the décor in your home – keeping your dog food tucked out of sight! If your dog food is looking for a newly renovated space, we have rounded up 10 ideas that are simple and attractive.

The 8 DIY Dog Food Storage Ideas You Can Build Today
1.

The Owner Builder Network Dog Food Station with Storage by Addicted2diy
If you want a way to store food out of sight, you can make this side-out storage container with a food bowl. Your dog won't be able to weasel their way into the enclosure, no matter how crafty they may be. It gives you more surface space in your kitchen and walkway. It also can double as an eating area and leash hook so you can combine all your dog's daily needs into one space.
---
2.

In My Own Style Pet Food Storage Containers by In My Own Style
In My Own Style pet food storage containers can come to life with just an old popcorn tin. This is a perfect idea if you have a dog and cat or multiple dogs who have different diets. Her original plan was to separate her dog and cat food, but you can use the concept for any pet in the house.
You can use a vinyl cutting machine or a simple printout to make the labels on these tins. They are straightforward and look almost professional once complete.
---
3.

One Savvy Mom Shabby Chic Dog Food Tin by One Savvy Mom
With the help of One Savvy Mom, you can take spray paint to a tin can and make it your own. You can find galvanized tin cans in virtually any size you need on sites like Amazon. The idea of making it shabby chic is to use soft colors and rustic lettering. So, even if you don't want the same colors that the blogger used, you can keep the style and change the color scheme.
According to the article, you can make this entire design for cheap by following the recommendations.
---
4.

Laundry Basket by Iron and Twine
Another option is to take a tall laundry basket you have lying around the house and repurpose it. You can even go to a local thrift shop and find a few unwanted items waiting to be revived. Baskets are plentiful, and the likelihood that you or someone nearby has one collecting dust is pretty much a guarantee.
There is no hard work needed here. You simply place the container of dog food inside of the bin.
---
5.

Wilker Do's Easy DIY Dog Food Dispenser by Wilkerdos
Overwhelmed pet parents can appreciate the convenience of this DIY dog food dispenser from Wilker Do's. The wall-hanging container can hold loads of dog food, making it easy to fill multiple bowls without hauling out a cumbersome bag every time.
You only need a few pieces of 1 x 6s and plywood to assemble the project. It hangs easily enough on a French cleat, saving floorspace and staying out of the way. Finish by adding personal flair with a custom print or paint job, and you're ready to make feeding a fuss-free part of the routine.
---
6.

Homesteadonomics DIY Dog Food Dispenser by Home Steadonomics
Test your woodworking skills and make life with a dog much easier by constructing this impressive stand-alone DIY dog food dispenser. A slideout bowl makes feeding a breeze. Simply push the bowl under the dispenser, slide it out, and you'll have a bowl full of kibble.
The aluminum edging completes the professional, clean design, a look you'll love to have in the home. A built-in treat holder and fill level indicator push this build over the top, making it one of the most fun and functional upgrades you can make.
---
7.

Heart-Filled Spaces DIY Pet Feeding Station by Heart Filled Spaces
A DIY design based around upcycling means your design likely won't look like this toybox-turned-food holder, but that's part of the fun. Following the broad strokes, this easy-to-make dog food holder tutorial shows you how to easily convert a repurposed bin into a holder/dog bowl stand, giving you 2-in-1 functionality for space efficiency.
Most of the work goes toward painting and stenciling to personalize the station. You get detailed instructions on mixing tones, adding finishing coats, and creating an inexpensive, one-of-a-kind craft.
---
8.

The Little Frugal House DIY Dog Food Station by The Little Frugal House
At first glance, the multi-functional dog food station from the Little Frugal House looks like a quaint store-bought coffee bar. But with a closer look, you'll discover it's a perfect organizer for your doggy-centric supplies. A pull-out dog food holder allows for convenient bowl filling on the countertop. Plus, you get loads of storage for toys, canned food, and accessories, all in an attractive cottage design.

Conclusion
By orchestrating a project with old furniture or buying a few inexpensive items, you can make quite the nifty container. You can learn how to make dog food storage with an item as simple as an old tin and turn it into something as extravagant as a whole feeding station. In the end, it will depend on your skillset and the amount of work you're willing to put in. You don't have to stop here either. This could spark your own creation that you can take pride in producing. Say goodbye to shoving dog food bags into random places. Make your own brand of unique home stylings for your dog.
Related Read:
---