9 DIY Folding Dog Ramps You Can Build Today (With Pictures)

Whether you have a small dog that has a hard time getting up into your car or bed, or you have an old dog that just doesn't have it in them physically anymore, a folding dog ramp can be a great solution. If you have a little DIY knowledge and desire, you can learn how to build a folding dog ramp, and the following 10 plans will help you out. Some of them can be adjusted to multiple heights to accommodate many different uses. Many of them fold flat for easy storage when they're not in use. Others are purpose-built for a specific application, such as helping your dog get into bed or get into the car. It's time to roll up your sleeves and build a folding ramp for your furry friend.

Top 9 DIY Folding Dog Ramp Plans
1.

How to Build a Collapsible Dog Ramp by Family Handyman
If you want to build a professional-looking and functioning folding ramp for your dog, then you should check out How to Build a Dog Ramp by Family Handyman. This ramp can be used for many different purposes, such as helping your dog get into bed or as an alternative to stairs for an older dog. It folds flat so that it doesn't take up much space when being stored. This is an advanced level build and you'll need some DIY know-how and experience, as well as several different power tools, including a nail gun or staple gun, a screw gun, a jigsaw, and a miter saw.
---
2.

How to Make a Dog Ramp by Building With Manny
How to Make a Dog Ramp by Building With Manny will show you step by step how to build the perfect ramp to help any dog. It can be used for any purpose and with dogs of all ages and sizes. Small support steps help give your dog traction as they climb the ramp. It's also fully adjustable, so you can change the height at any time. You can also fold it flat for storage when it's not in use. This ramp is well-built and very strong, but you'll need power tools and some construction knowledge to build it properly. You can even finish it like Manny did with stain to make it look elegant.
---
3.

How to Make an Adjustable Dog Ramp by DIY Network
If your dog needs a ramp that can be adjusted to many different heights, then you might check out How to Make an Adjustable Dog Ramp on the DIY Network. Not only is it adjustable, but it looks like a professional ramp that was purchased from a high-end pet store. But you won't have to spend much to have this awesome tool for your dog. All you need is a few tools and some wood and you can build this foldable dog ramp today.
---
4.

How to Build a Dog Ramp by This Old House
Although the finished product looks great, learning How to Build a Dog Ramp from This Old House is actually pretty easy. You'll spend about four hours in total building this ramp. You will need a few power tools like a screw gun and a jigsaw, but the skill level needed to assemble everything is pretty low, and the entire project should cost just over $50. The top is carpeted for your pup's comfort, and the legs fold flat so that you can store it without taking up much space.
---
5.

Dog Ramp for Bed by Ikeahackers
Our next DIY folding dog ramp is great for little dogs! If your bed is too high for your small-legged dog to reach, then you have the same problem that Ikeahackers had when they created this Dog Ramp for Bed. It's a unique design that folds up into the box for easy storage. It's built out of some wood, hinges, and a wooden box from Ikea. It's a pretty simple build, and anyone with just a little DIY experience should be able to tackle it with no problem. The only tool you'll need is a screwdriver, so it's a great build for people who don't have power tools on hand.
---
6.

Folding Dog Ramp by Yuckylavado
This Folding Dog Ramp was built for just $30! All it takes is some plywood, carpet, paint, hinges, a staple gun, and a drill. You could use scrap material that you have lying around and save even more. The whole project takes just a few hours to complete. Once finished, it can fold flat for easy storage. The height is not adjustable once it's built, but you can cut the leg to whatever height you want to make it perfect for your pet.
---
7.

Making a Collapsible Dog Ramp for a Houseboat by Instructables
This Collapsible Dog Ramp for a Houseboat has far more uses than just getting into and out of a houseboat, which is lucky since you probably don't have a houseboat. We don't! But this ramp is a great way to help your dog get up any stairs that they need to travel regularly. This build is very simple. It's comprised of three pieces of plywood that are attached with hinges so it all folds flat. Carpet is added as a final step to make it more comfortable for your furry friend.
---
8.

How to Build a Dog Ramp by Sarah Leamy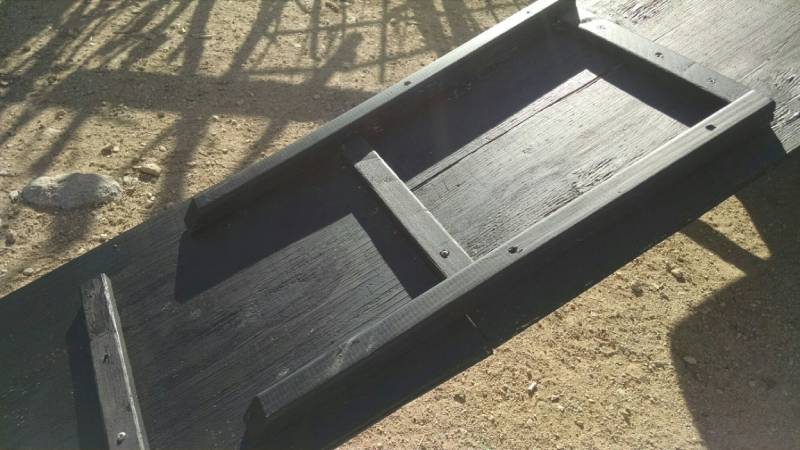 Sarah Leamy shows you How to Build a Dog Ramp that folds in half for easy transportation in the trunk. It's made of a bit of plywood and some 1×2 boards, but you can use whatever you have laying around to save even more money while providing your dogs with a fully-functioning foldable ramp that's great for helping them get in and out of the car. Very little experience or knowledge is necessary for this build, and the average person could finish it in just a few hours.
---
9.

DIY Indoor Pet Ramp by My Repurposed Life
This DIY Indoor Pet Ramp is built from recycled or repurposed old materials. Some old plywood and a cabinet door make up the two main panels. Hinges attach them together so that the whole ramp folds up for storage. Carpet is attached to the top to make it more comfortable and less intimidating for your dog. The instructions are simple and easy to follow so that anyone can make a similar ramp of their own in an afternoon.
---
Featured Image Credit: Masarik, Shutterstock