5 Simple DIY Recipes for Oatmeal Dog Shampoo (With Pictures)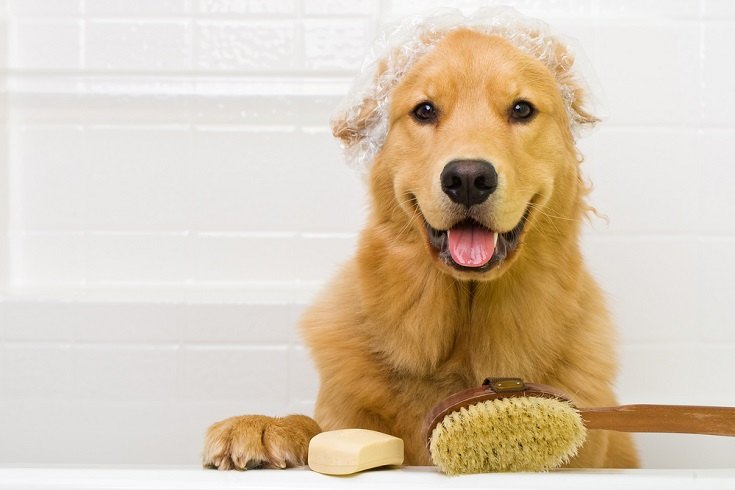 Dog's love a good adventure! Rain, shine, snow, wind – you name it, they will accept any challenge in any condition! The only downside to having such fun and spontaneous romps is the effect it could have on your poor dog's coat and skin. If there is anything you can do to ease the unbearable feeling of dry and itchy skin, it's offering them a warm bath with a soothing oatmeal dog shampoo. Of course, you could purchase some, but for a fraction of the cost and a little fun in the kitchen, you could learn how to make oatmeal dog shampoo of your very own, in a batch that is sure to last you a few baths. Now, finding the right recipe for your pooch should be an easy feat since we have gathered our five favorites for you to test out.

The Benefits of Oatmeal
If oatmeal hasn't been labeled as a superfood, it definitely should be! Not only does it have incredible health benefits when consumed, but it also aids a variety of skin conditions, such as eczema and psoriasis, when used topically. Oatmeal contains a magical and unique antioxidant called avenanthramide which provides relief from dry, itchy, and inflamed skin. It can also act as a sponge for excess oil production, gently exfoliates away dead skin, and creates a hydrating barrier that protects from the elements and other irritants.
---
Top 5 Simple DIY Recipes for Oatmeal Dog Shampoos
1.

DIY Oatmeal Shampoo (Dogs & Cats)
With limited ingredients and the smart option of skipping essential oils (remember we are looking to eliminate irritants!), this recipe is simple and clean. An added bonus is that it is also feline friendly! Get the recipe here.
---
2.

Homemade Oatmeal Shampoo
This option is great for pets with existing conditions or extremely irritated skin as it has only three basic ingredients. Thankfully, they are all items we usually have on hand, making this a great recipe to make when in a pinch! Get the recipe here.
---
3.

Oatmeal Dog Shampoo
This recipe has a surprising but all-natural scent – one that both you and your fur baby are sure to enjoy. Rosemary is an ingredient that many people always have stocked in their kitchen! Get the recipe here.
Keeping your pet's skin and coat clean and healthy is very important, but finding a great shampoo can be harder than the actual grooming! We love our Hepper Colloidal Oatmeal Pet Shampoo because it makes grooming so much easier. This pH-balanced formula is made with natural ingredients like oatmeal, cucumber, and aloe. It's free of phthalates, sulfates, and soaps and very gentle on your pet's skin.
---
4.

DIY Soothing Oatmeal Dog Shampoo
For those looking to make the most of their DIY shampoo, this recipe is a great option. It yields a ton of shampoo that can be frozen (we suggest into convenient single-use cubes) and thawed as you need them. The creator recommends a once a month treatment to keep your pup's coat and skin in tip top shape.  Get the recipe here.
---
5.

DIY Homemade Oatmeal Dog Shampoo
This recipe boasts fluffy, soft, and shiny coat results! Not only does this formula cleanse and deodorize, but it also balances the skins natural pH balance – making it a great one-stop shop of DIY pet shampoos! Get the recipe here. 
---
Choosing Ingredients for Oatmeal Dog Shampoo
As you might have noticed, there are a few common ingredients, aside from the obvious oatmeal, that fall into almost every recipe. Each plays a vital role in creating an effective dog shampoo. Baking soda acts as a catalyst to eliminate any lingering odors found in your pup's coat and prevents it from developing before their next bath. A pet-friendly soap is responsible for forming the perfect lather. An aromatic adds a light scent that both you and your pup will enjoy during and after bathtime!

Wrapping Up
There you have it! A diverse guide in how to make oatmeal dog shampoo as an inexpensive and effective alternative. Remember when choosing your ingredients that they should all be pet friendly, and approved by your very own pup! If your dog has a skin condition, simple is usually the best medicine! We hope that you have found a recipe here that you both can enjoy for years to come!
In the market for some DIY projects? Check out these interesting posts!
---
Feature Image Credit: MPH Photos, Shutterstock