5 DIY Whelping Boxes You Can Build Today (With Pictures)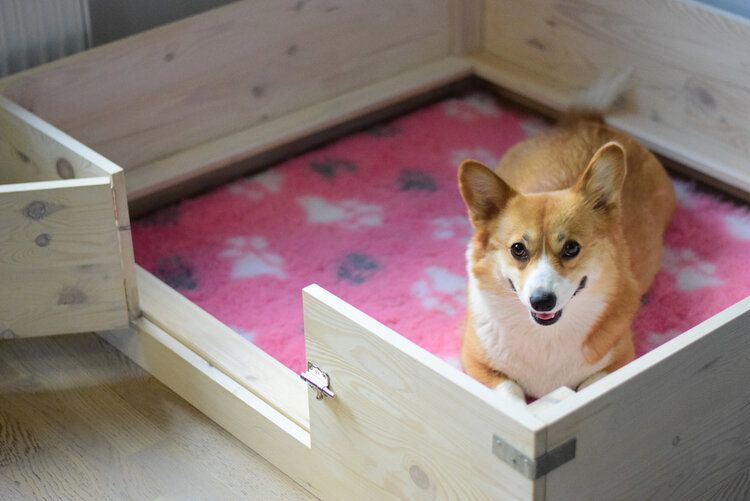 If you are expecting puppies to arrive, you are most likely thinking about getting a whelping box for the new family. You can build a whelping box with a few basic materials and over a weekend, depending on your skill and confidence level. You can save money by learning how to build a whelping box of your own, and you have the freedom to customize it to your dog and the space you have available.
We rounded up five free whelping box plans that are easy to follow, so you can build a quality box in a short amount of time. Check them out below!

DIY Whelping Box Plans
1.

McEmm Mark III Whelping Box
The McEmm Mark III is the third generation of this whelping box that features plywood panels between steel tee nuts and steel corner braces. Other features include an open bottom, no hardware projecting from the panels, rounded edges, cutout panel, easy disassembly, and handles to easily move it. You can adjust the design to fit your breed of dog and the space you have available. These plans start out with a 5-square-foot whelping box.
Skill Level: Intermediate
Materials
Plywood sheets
Lumber
Polyurethane varnish
Multitude of hardware
Tools
Screwdriver
Table saw
Drill press
Wood bit
Spade bit
Forstner bit
Router
---
2.

Basic Whelping Box From PetPlace
PetPlace provides instructions on a basic whelping box that is good for a beginner. It has a plywood floor, puppy rails, and a folding door. The box is 48×48 inches when finished and will take you half a day to build once you have all the supplies ready. Make sure all lumber is smooth and free of cracks to prevent injuries to the puppies and/or the mother.
Materials
Plywood
Wood strips
Hinge
Wood screws
Mending brace
Sandpaper
Corner braces
Vinyl flooring
Tools
Screwdriver
Table saw
Drill press
Wood bit
Spade bit
Forstner bit
Router
---
3.

Whelping Box Plans From All Things Dogs
This site offers two types of whelping boxes that are simple to make. All Things Dogs provides step-by-step instructions for building a box made from either cardboard, plastic, or wood. They like the disposable box to help eliminate any chance of cross litter contamination and easy disposal. These boxes are suited for small to medium breeds, but you can adjust the measurements if you need a larger box.
Materials for the Plastic Box
Plastic sheets
Plastic glue
Plastic trim
Plastic piping/guttering
L-shaped trim
Materials & Tools for the Wooden Box
Plywood
Hammer
Nails
Wood glue
Wooden railing
---
4.

Dog Health Guide Whelping Box Plans
Dog Health Guide has free PDF plans that are simple and easy to understand. It is a plastic whelping box that is 4×4 feet in size. They use PVC pipe for the puppy rails, and you can find most of the supplies at a hardware store and a plastics company. You can construct it with a removable side if you want to make it easier to store and to clean.
Skill level: Beginner/Intermediate
Materials
Coraplast sheets
Glue
PVC pipe
PVC end caps
Copper rivets
Plastic edging
Silicone
Caulk
Mat for the bottom of the box
Tools
Heavy-duty scissors
4-inch metal straight edge
Markers
Scoring tool
Rivet tools
Hammer
C-clamps
Clear plastic packing tape
PVC pipe cutter
---
5.

Flat Coat Whelping Box
The Flat Coat website instructs you on how to make a whelping box from a pressboard with a white Formica-like finish that is 4×4 feet in size. You can adjust the measurements if you prefer to have a larger or smaller box. These plans are easy to understand, though they don't have many step-by-step instructions, so for that reason, they are more intermediate-level plans.
Skill level: Intermediate
Materials
Pressboard
Screws
Aluminum angle iron
Channel iron
Wood screws
Bathroom caulking
PVC pipe
Glue
Tools
Cutting tools for PVC pipe and plywood
Screwdriver
Drill

Conclusion
Learning how to build a DIY whelping box is a great option to save money and gives you the opportunity to customize one to your liking. Hopefully, one of these plans will suit your needs, so you can build the best whelping box for your dog and her puppies.
---
Featured Image: Lauren Rathbone from Pixabay