DNA My Dog Canine Allergy Test Review 2023: Is It a Good Value?
Our Final Verdict
We give DNA My Dog Canine Allergy Test a rating of 4.5 out of 5 stars.
Quality: 4.5/5
User-Friendliness: 4.5/5
Wait Time: 3.5/5
Value: 4.5/5

What Is DNA My Dog Canine Allergy Test? How Does It Work?
The DNA My Dog Canine Allergy Test helps dog owners discover over 120 potential allergens for dogs. It tests for food intolerances, environmental sensitivities, and household allergens. The Canine Allergy Test kit comes with a cotton swab, sample tube, and pre-paid return envelope. The kit contains written instructions, but you can also view a video tutorial to ensure you're doing everything correctly.
DNA My Dog has a canine genetics laboratory that operates out of three testing facilities. The Canine Allergy Test kits are processed at the company's biochemistry testing laboratory. It analyzes the glycoproteins, proteins, hormones, and other components found in your dog's sample to detect allergens and sensitivities. This is done through using a testing method known as the enzyme-linked immunosorbent assay (ELISA).
After DNA My Dog finishes analyzing your dog's sample, you'll receive an email that notifies you that the results are available. You can view the results through your online account and can also download and print a PDF of the results.
DNA My Dog Canine Allergy Test – A Quick Look
Tests for over 120 allergens
Easy, user-friendly testing process
Excellent customer service
Wait time can exceed 3 weeks
DNA My Dog Canine Allergy Test Pricing
The DNA My Dog Canine Allergy Test can be purchased online through DNA My Dog's website. It's currently priced at $107.99, and shipping is free. You may also find the Canine Allergy Test through online retailers like Chewy or Amazon, and the prices may vary slightly on the different sites.
What to Expect from DNA My Dog Canine Allergy Test
Each Canine Allergy Test has an ID that you must use to activate and create an online account. Once the test has been activated, you can start to gather a sample by using the cotton swab and swiping around your dog's mouth. Then, you'll swirl the swab in the sample tube and dispose of the swab afterward.
Once you've prepared the sample tube, you'll place it in the pre-paid return envelope and mail it to one of DNA My Dog's receiving sites. The waiting period for test results is 2–3 weeks, but for an additional fee, you can expedite the process and get results within 3 days after the receiving site obtains the sample.
You can view the test results through your online account. The results will show food allergens and environmental allergens that your dog tested sensitive to and the level of sensitivity for each allergen. The last section of the results will show all the allergens that your dog wouldn't react to.
DNA My Dog Canine Allergy Test Contents
| | |
| --- | --- |
| Testing Kit Pieces: | Cotton swab, sample tube, prepaid envelope |
| Tested Allergens: | 120 |
| Types of Allergens: | Food, environment |
| Test Result Waiting Period: | 2–3 weeks |
Budget-Friendly
Testing for allergies can be a long process and can end up costing a lot of money. Along with paying veterinary bills, you usually have to pay for special limited-ingredient diets, which are often much more expensive than regular dog food.
While the Canine Allergy Test isn't as thorough as an elimination diet, it does provide helpful information on specific allergens and help you identify which ones are affecting your dog. The test results can point you in the right direction and give guidance to possible culprits that are irritating your dog.
User-Friendly
The Canine Allergy Test uses a simple and straightforward process to gather test results. All you have to do is use the cotton swab and wipe it around the inside of your dog's mouth. Some dogs may not enjoy the feeling of the swab in their mouths, so you may need an extra set of hands to keep your dog still while you collect a sample.
Once you gather a sample, you'll put it in the sample tube and mail it to one of DNA My Dog's testing laboratories. Then, all you have to do is wait until your results are processed and uploaded to your online account.
Excellent Customer Service
DNA My Dog has a responsive customer service team that's available to help you in every part of the testing process. You can speak with a customer service representative by phone or send an email. Customer service can help with missing shipments, damaged products, and replacement cotton swabs.
While it's understandable for anxious pet parents to want quick results, it's important to wait for the entire 3-week period before contacting DNA My Dog for test results.
Potentially Long Wait Time
A common complaint amongst customers is long wait times that exceed 3 weeks. The time period that results are made available is inconsistent across the board, as some people get results within 2 weeks, while some have waited for a month. You can opt to get your results expedited, but it costs an additional fee of around $80.
Is DNA My Dog Canine Allergy Test Kit a Good Value?
Overall, the Canine Allergy Test is a good value. It's a quick and easy way to look for over 120 food and environmental allergens with just one test. The price of the testing kit is comparable to other brands' allergy tests, and it may help you save time and money by helping you quickly identify different allergens irritating your dog.

FAQ
Is there a fee for replacement swabs?
There are some cases where you may not get a good sample. Your swab could have gotten cross-contaminated with food or dirt or accidentally damaged. If your swab sample isn't usable, you can contact DNA My Dog and request a new swab. This may delay getting results, but the replacement swabs are free, so it's best to ask for a new one right away.
Is there an age requirement to test dogs?
No, there isn't an age requirement to test dogs, so you can even test young puppies. However, DNA My Dog does recommend being extra mindful of puppies that haven't been weaned. This is because there's a higher chance of cross-contamination with nursing puppies.
Does the Canine Allergy Test work better than an elimination diet?
The Canine Allergy Test can't completely replace the results of an elimination diet, and elimination diets are still the most accurate way to detect food allergens. However, they can give you a place to start by identifying some food allergens that you can try eliminating from your dog's diet right away. Also, elimination diets can take several months, while the Canine Allergy Test results typically take between 2–3 weeks to develop.
Our Experience With DNA My Dog Canine Allergy Test
I tested out the Canine Allergy Test on my 8-year-old Cavapoo. She's always had digestive issues, and they were mostly resolved by feeding her dog food with a sensitive skin and stomach formula and restricting the types of treats she eats. We never put her on an elimination diet because her symptoms had been managed, so I only had a list of certain suspected foods that my dog was sensitive to.
I was looking forward to using the Canine Allergy Test because I was hoping to get a better picture of food allergens affecting my dog. The test required swiping a cotton swab all around her mouth and then soaking the swab in a solution in a sample tube. My dog's pretty used to getting her mouth examined, so she didn't mind having the cotton swab in her mouth. However, I can see some dogs having difficulty sitting still during this step, so you may need another person to help keep your dog in place while you collect a sample.
Other than getting the sample, the rest of the testing process was easy. I mailed the sample tube using a prepaid and pre-labeled envelope and waited for the results to come in. It did take a few weeks for me to get my results. However, I received a prompt response from customer service when I reached out to them and got the test results shortly afterward.
The results were organized by food allergens, environmental allergens, and allergens that my dog wasn't sensitive to. The allergens were also ranked by level of sensitivity from high to low. My dog had a total of 10 food allergens and 9 environmental allergens that negatively affected her.
It was interesting to see how the test results correlated to the adjustments I made to my dog's diet and her natural food preferences. For example, lamb was ranked as the highest food allergen. I had tried switching her to a lamb-based diet in the past since it contains novelty meat. However, my dog refused to eat it, and to this day, she doesn't generally enjoy lamb-based treats. Gelatin was also on her list, and she doesn't like to eat chewy treats with a gelatin base.
I've been lucky with identifying my dog's food intolerances without allergy tests. However, it was still helpful to get some confirmation on certain foods that I suspected made my dog sick. I also saw several foods that I'd never considered, and I'll be sure to avoid feeding them to my dog from now on.
I would recommend giving the Canine Allergy Test a try if your dog's consistently having digestive issues. I just wouldn't recommend doing this without being in communication with your veterinarian. Even though my dog didn't go on an elimination diet, my veterinarian was still able to help me identify possible foods that made my dog sick. Without my veterinarian's help, I wouldn't have been able to find a diet that's both safe and nutritious for my dog to eat.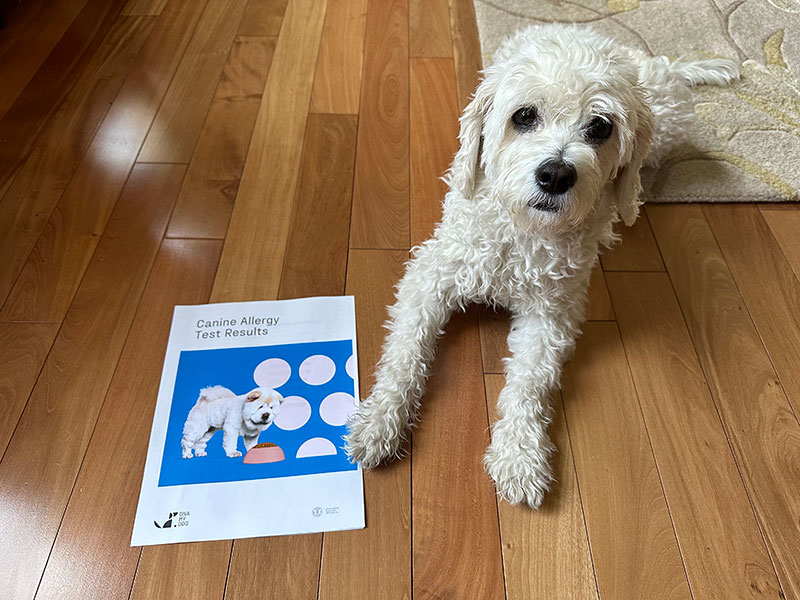 Conclusion
Trying to identify allergens affecting your dog can be a challenging and frustrating process. While DNA My Dog's Canine Allergy Test isn't a perfect shortcut or alternative to an elimination diet, it can help provide guidance and clues to certain allergens that your dog should avoid. It's a good tool that provides a clear picture of how certain foods and environmental factors affect your dog. It'll help you get started on making beneficial diet and lifestyle changes for your dog and point you in the right direction for making life less irritating and more relaxing and enjoyable for your dog.