Does Hilton Allow Dogs? A Complete Guide (2023 Update)
If you're thinking of hitting the road with your dog, you may be wondering if Hilton usually permits pets. And if so, if there's anything you should keep in mind, such as additional fees or restrictions. Most, but not all, Hiltons are dog friendly, but almost all locations charge non-refundable fees.
Individual properties are largely free to develop their own pet policies, making it difficult to state that dogs are always allowed in specific hotels and banned from others. Some Hilton properties, such as Canopy and Tru, are happy to welcome dogs. Others, such as LXR and Motto hotels, aren't set up for canine visitors. There's also a third group, with properties such as Conrad and Tapestry hotels, that have various rules. Dogs are welcome in some of these properties and banned in others.

Which Hotels Does Hilton Own?
Hilton Worldwide is a multinational hospitality concern headquartered outside of Washington, DC, in the United States. The company owns hotels and timeshares in over 120 countries.
The following brands are all part of the Hilton ecosystem:
Conrad Hotels & Resorts
Canopy
Curio Collection
Hilton Hotels & Resorts
DoubleTree
Embassy Suites
Hilton Garden Inn
Hampton
Homewood Suites
Home2 Suites
Hilton Grand Vacations
LXR Hotels and Resorts
Waldorf Astoria Hotels & Resorts
Signia
Tru
Tapestry
Tempo
Motto
Spark
Hilton Hotels and Dogs
Hilton properties largely fall into three categories when it comes to welcoming dogs. There are hotels that almost never allow pets and properties that are generally pet friendly. There are also chains where dog-friendliness is hard to predict, as some properties in the brand welcome pets and others don't.
LXR Hotels and Resorts, Hilton Grand Vacation properties, and Motto hotels almost never allow pets. Canopy, Doubletree, Hampton, Home2 Suites, Homewood Suites, Tru, Embassy Suites, and Waldorf Astoria hotels usually accept pets, but individual properties are always free to adjust their rules.
Most of these hotels require one-time non-refundable pet deposits, and almost all have weight limits ranging from 35 to 100 pounds. Canopy hotels have a reputation for being particularly pet-friendly.1
Conrad, Curio, Hilton Garden Inn, and Tapestry properties are free to set their own rules; some welcome dogs, and others don't. Most that do allow pets have one-time non-refundable fees. With these hotels, calling the property directly to confirm whether dogs are welcome is critical. Don't forget to ask whether pets can remain unaccompanied in the room and whether the property provides basics such as food and water bowls.
Hilton's website allows you to search all the company's holdings to find pet-friendly hotels worldwide.2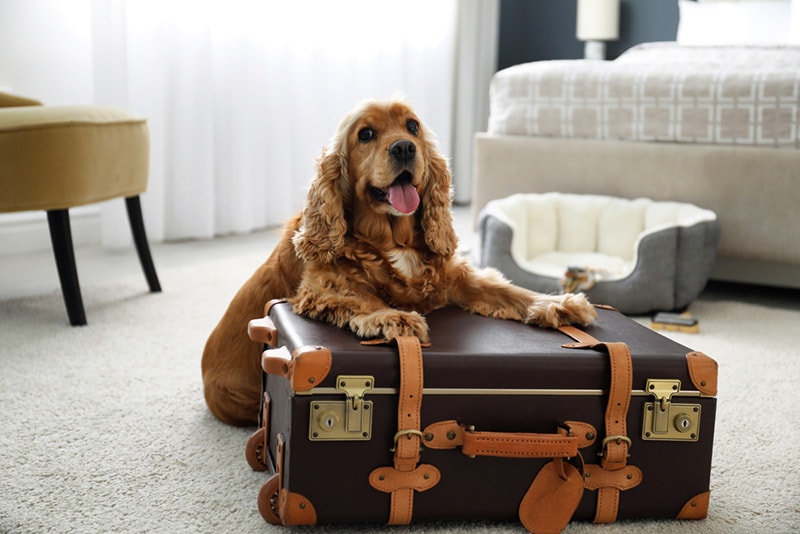 Other Considerations When Traveling
Plan to spend some extra time planning any trip with a canine companion in tow. Finding appropriate canine-friendly places to stay often requires more effort than simply googling "Do Embassy Suites allow dogs." Consider calling the property directly to confirm whether pets are welcome before booking a stay, as many pet-friendly hotels have weight and other restrictions that make the property off-limits for some dogs. Reach out to any hotel you're considering to get accurate information.
Make sure you're clear on any other rules and requirements that may apply to you and your dog during your stay, such as limits on the number of pets allowed. Many hotels only permit a maximum of two canine visitors per room. Ask about any one-time or daily fees that may be applicable, and don't forget to inquire about extra cleaning fees since some properties tack on deep cleaning charges when dogs stay for longer than just a few days.
While many canine-friendly hotels have extras available to help stressed-out traveling dog owners, having a few poop bags on hand is always a good idea, just in case your buddy needs a quick bathroom break. Make sure you have your dog's favorite food, a solid harness, a good leash, and lots of treats packed before heading off on your adventure. Some hotels provide food and water bowls for dogs, and others don't, so consider bringing along portable items just in case.
Many canine-friendly hotels have great information about places nearby where you can take your dog for a bit of fun and exercise. You can bring a "Dog Inside" door hanger to ensure that anyone coming into your room in an emergency can take extra precautions to prevent your companion from escaping.

Conclusion
Many hotels in the Hilton family allow dogs but require non-refundable deposits and impose weight limits. Dogs aren't welcome at some high-end properties such as LXR Hotels and Resorts. But Hampton, Tru, and Waldorf Astoria properties usually welcome dogs, although exceptions exist.
Canopy Hotels are almost always pet-friendly, but Tapestry, Curio, Conrad, and Hilton Garden Inns have varying policies, with some locations accepting dogs and others that are completely off-limits to pets. Because many hotels within the Hilton ecosystem are free to set their own pet rules, it's critical to reach out to the property to confirm whether dogs are welcome before booking.
---
Featured Image Credit: Hilton Worldwide headquarters in Virginia, Altercari, Wikimedia Commons CC SA 4.0