10 Homemade Dog Cupcake Recipes (Vet-Approved)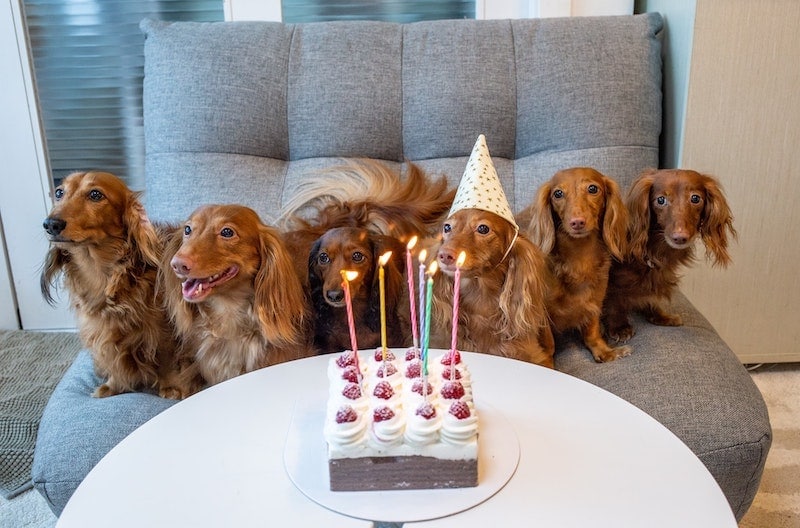 Sometimes you just want to celebrate with your dog, and what's more festive than cupcakes? Adorably called "pupcakes," these dog-friendly mini cakes are just the right size for a special treat. But if you don't want to track down a dog bakery — or pay gourmet bakery prices — you'll need the right dog cupcake recipe.
That's where this list enters the picture! We've searched high and low for the world's best dog cupcake recipes. Here are our 10 favorites, featuring healthy and delicious ingredients like peanut butter, carrots, cheddar cheese, and applesauce. You'll even find an easy grain-free dog cupcake recipe! So whether it's your dog's birthday or just a celebratory Tuesday, we have the right recipe to teach you how to make a dog cupcake your dog is sure to enjoy:

Top 10 Easy Dog Cupcake Recipes:
1.

Gourmet Peanut Butter and Banana Dog Cupcakes
We start our list with an easy, adorable cupcake recipe that's fully dog-friendly. The frosting is made with potatoes and yogurt, and the cupcakes themselves are a tasty combination of peanut butter, honey, and bananas. Get the recipe here.
---
2.

Simple Dog Cupcake Recipe
Prefer something a little more rustic? Try this simple dog cupcake recipe, which features banana cream cheese frosting and plenty of nutrient-packed peanut butter. Get the recipe here.
---
3.

Carrot Applesauce Dog Cupcakes
Applesauce, oats, and carrots come together perfectly in this dog-friendly cupcake recipe. It offers plenty of healthy vegetables and a creamy peanut butter frosting. Get the recipe here.
---
4.

Big & Small Peanut Butter Banana Cupcakes
This recipe has a great suggestion: make a mixture of full-sized and mini dog cupcakes! You can give your pup a small treat when you finish baking and then go big at your doggie birthday party. Get the recipe here.
---
5.

Extra-Healthy Dog Cupcakes
These peanut butter banana cupcakes are fortified with whole wheat flour, shredded carrots, and oats. That means they're unusually healthy — but trust us, your dog won't know the difference! Get the recipe here.
---
6.

Grain-Free Dog Cupcake Recipe
Are you looking for a grain-free option? We recommend this recipe, which only has four ingredients: apples, eggs, peanut butter, and baking powder. Simple, healthy, and guaranteed to please! Get the recipe here.
---
7.

Single-Serving Dog Cupcake
If you only want to bake one dog cupcake, we have the perfect recipe for you. This pumpkin, peanut butter, and oat cupcake recipe is specially adapted so you can treat a single birthday dog! Get the recipe here.
---
8.

Six Dog Cupcake Variations
Healthy Homemade Dog Treats offers not one dog cupcake recipe but six! Choose from peanut butter bacon, cheddar cheese carrot, sweet potato, and more. Get the recipe here.
---
9.

Biscuit-Topped Dog Cupcakes
These cupcakes are made with peanut butter and banana — and so is the frosting! Top it all with a homemade dog biscuit and you'll have a spoiled pup. Get the recipe here.
---
10.

Pumpkin & Carrot Dog Cupcakes
Pumpkin, carrots, maple syrup, Greek yogurt… this recipe is full of gourmet ingredients. But that doesn't mean it's hard to make! You can make your dog's day in under an hour. Get the recipe here.

Homemade Dog Cupcakes: Conclusion
Have you found your dog's new favorite recipe? Now that you know how to make dog cupcakes inspired by these simple dog cupcake recipes, we hope they help you celebrate your pup in style. Whip up some healthy cupcakes, top them with an easy frosting, and get the party started!
Looking for more great dog recipes?