100+ Elegant Dog Names: Fancy, Graceful & Poised Ideas

We commonly associate puppies with being wild and carefree, but occasionally we find a dog who is exceptionally refined and regal. They maintain a clean coat and have a polished demeanor. They walk with pride and keep their composure around other pups. They're airy and tranquil, and remain calm in the most testing of times. With such grace, these special pup's deserve a name as elegant as they are. 
So when it comes time to pair your little heir with a name, you want to ensure it compliments the good little pup that they are!  We've gathered the most elegant dog names – from the simple old fashioned to the incredibly stylish. Regardless of what breed or gender your best friend is, you should be able to find the perfect name here.
So, take a break from admiring your polished pooch and begin your search for their elegant and fancy dog name!

Female Elegant Dog Names
Naturally, females are known to be the nurturers, the ones who are who a bit more refined and put together. If your pup happens to fall into this category, we have the selected our favorite fancy female dog names for you to consider:
Celeste
Stella
Vivian
Anastasia
Thea
Sophie
Audrey
Marilyn
Susanne
Dorothy
Pandora
Amelia
Doris
Blanche
Opal
Astrid
Coco
Sabrina
Violet
Willa
Arabella
Beatrice
Clementine
Austen
Octavia
Abigail
Julianne
Diana
Adelaide
Male Elegant Dog Names
Male dogs can be elegant too! Certain breeds more than others, of course! There are in fact some instances where the male dogs are more poised than their female counterparts. With incredible posture, they move about with ease and are even able to keep their paws clean in the process. Pairing your elegant pup with one of these fancy dog names for a male below may just be showstopping!
Berkley
Cooper
Clancy
Goldwin
Talladega
Aesop
Alfonso
Chaucer
Duke
Emerson
Calhoun
Atticus
Maximilian
Bernard
Rupert
Gerald
Francois
Madden
Reginald
Carlson
Rory
Preston
Cromwell
Dickens
Washington
Franklin
Atlas
Hudson
Rufus
Churchill
Jefferson
Blake
Alfred
Princeton
Chandler
Old Fashioned Elegant Dog Names
Old fashioned names are an increasingly popular trend for human babies, so why not bring them back for fur babies as well. The names on our list of elegant and fancy dog names below will transport you back a few eras and remind you of how marvelous traditional names are. While reading through, you might also notice that each of them hold their own meaning, and have a historical story behind them.
Guinevere
Lord
Wolfgang
Earl
Wilfred
Jefferson
Ophelia
Shakespeare
Edward
Isadora
Esme
Clancy
Romeo
Admiral
Keats
Portia
Desdemona
Arthur
Darcy
Flora
Lancelot
Cecil
Horace
Eldridge
Edison
Persephone
Amadeus
Unique Elegant Dog Names
When it comes to finding a name for your elegant canine – you may be interested in something that is just as different and special as they are. Here we have listed the most uniquely fancy dog names while still holding true to their poised and self-assured meanings.
Briar
Cobalt
Emerald
Jewel
Saffron
Hamlet
Monet
Satin
Emperor
Twilight
Sterling
Valentine
Perdita
Sage
Ivy
Ambassador
Mozart
Primrose
Ambrosia
Midnight
Persimmon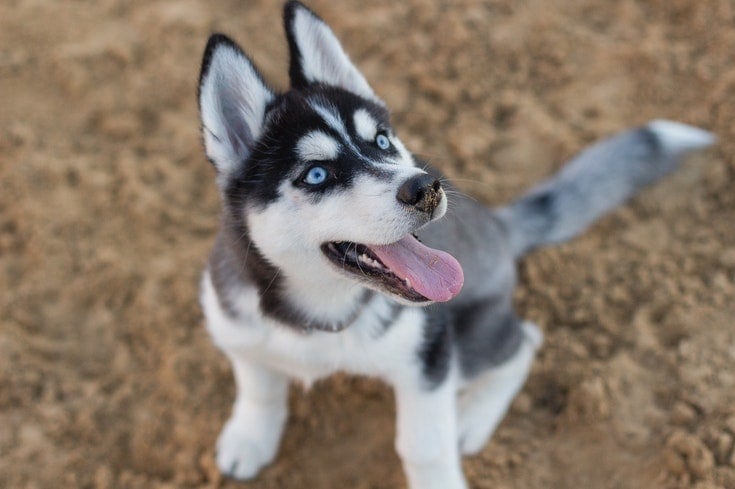 Finding the Right Elegant Name for Your Dog
Sophisticated, old fashioned, unique… elegant names can be endless and overwhelming. The first note to make when naming your regal pup is to consider their breed as this may help eliminate some of the far-fetched options. We hope that you were able to draw out some inspiration from our list of elegant dog names, and in the end, found the match for your proper pooch. With traditionally classic names, to bold and completely unique ideas, we know there is a name for every type of dog!
It's only natural to overthink this exciting choice; you want the name to be a perfect description of your dog. Trust your gut, and know that whatever name you do end up deciding on, your puppy will absolutely love. Their eyes will light up each time you call them over. Trust us when we say they will be just as excited about the name as you are, even though they may not show it. Just be sure to practice saying the name aloud, in a soft and calming voice, and in a stern voice (for training purposes). You'll know the perfect one as soon as it comes out.
If these fancy dog names weren't quite right for your dog, be sure to take a look through our other name posts. They are sure to give you additional inspiration:
---
Featured Image Credit: Saluki, PickPik