100+ Preppy Dog Names: Ideas for Elegant & Refined Dogs
When it comes to pets, the animals that you adore and want nothing but the best for, you surely want to give them the highest quality title too. Enter the preppy dog names. The first reason to go for a name that has a touch of regality and a bourgeois essence to it is to portray your dog as a sophisticated, elegant, refined pup with a strong character.
Additionally, the category of preppy dog names gives some of the most classic, unique, and timeless titles for beloved pets. The options for preppy dog names are limitless, which is why the following ones have been cherry-picked and compiled to produce one concise source of the best preppy dog names most relevant to your favorite furry friend.

Preppy Female Dog Names
Bitsy
Amelia
Wilhelmina
Arabella
Scarlett
Alexandra
Alexis
Camilla
Philipa
Charlotte
Sloane
Veronica
Bronwyn
Victoria
Delilah
Poppy
Margaux
Catherine
Belle
Audrey
Winifred
Cookie
Blythe
Cece
Audrey
Muffy
Tilly
Bunny
Tatum
Palmer
Violet
Darcy
Dede
Buffy
Fifi
Henrietta
Roberta
Sophia
Valerie
Pippa
Posie
Tinsley
Virginia
Preppy Male Dog Names
The female preppy dog names carry elegance and belong on a dog with grace, poise, and confidence. The male dog names below also encapsulate these traits within one word and provide a moniker that will give your pup a little more prep in their step.
Van
Tucker
Flopsy
Wells
Henry
Antony
Edward
Orson
Reid
Izzy
Sebastian
Winston
Niles
Charles
Archie
Finley
Fitz
Walker
Hunter
Chip
Bootsy
Thatcher
Benedict
Bismarck
Blair
Preston
Franklin
Keaton
Alfred
Edward
Oliver
Kingsley
Lloyd
James
George
Darcy
Harry
Vaughan
Albert
Everett
Caviar
William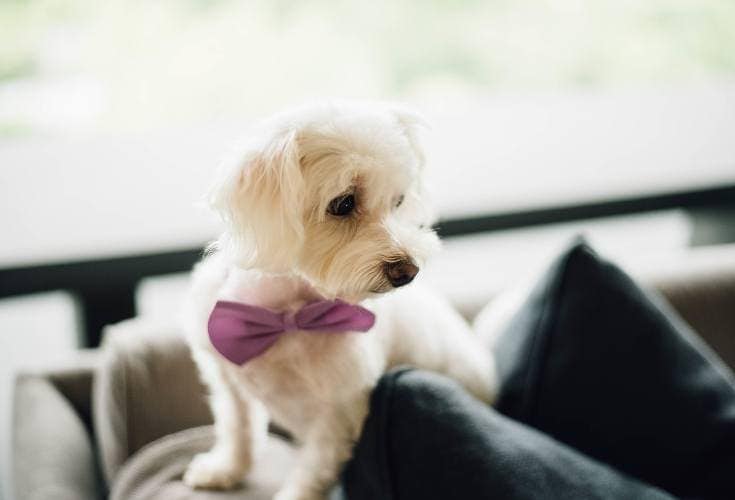 Ivy League Preppy Dog Names
Fit for attendance at an Ivy League school or a title of one of the esteemed campuses on its own, any of the following names will have your pup feeling distinguished and noteworthy each time you call him over. Scroll down and have a read, but don't forget to test it out before you decide.
Cornell
Minnie
Sumner
Columbia
Dartmouth
Yates
Beth
Yale
Lola
Prescott
Penn
Harvard
Princeton
Jack
Stella
Kennedy
Brinkley
Sissy
Skip
Claire
Barrington
Kiki
Tad
Dexter
Cassidy
Malcolm
Brooks
Brown

Finding the Right Preppy Name for Your Dog
One might think that preppy dog names should ideally be focussed on highlighting the aristocratic qualities in a pet dog, but that is not always the case. Preppy dog names can be inspired by the high-born origins of the breed of dog that you own, as well as from its noble and powerful personality.
Having gone through the list of some of the most meaningful preppy dog names, we hope you can now select your favorite of the lot. Test them on your new lad or lady to see which one he or she takes most liking to. Keep an eye out for the proud posture when they hear it called. 
If you're still feeling even the tiniest bit unsure, take a peek at one of our other extensive lists. 
---
Feature Image Credit: Lubov_ph, Pixabay