30 Unique & Fun Dog Christmas Gift Ideas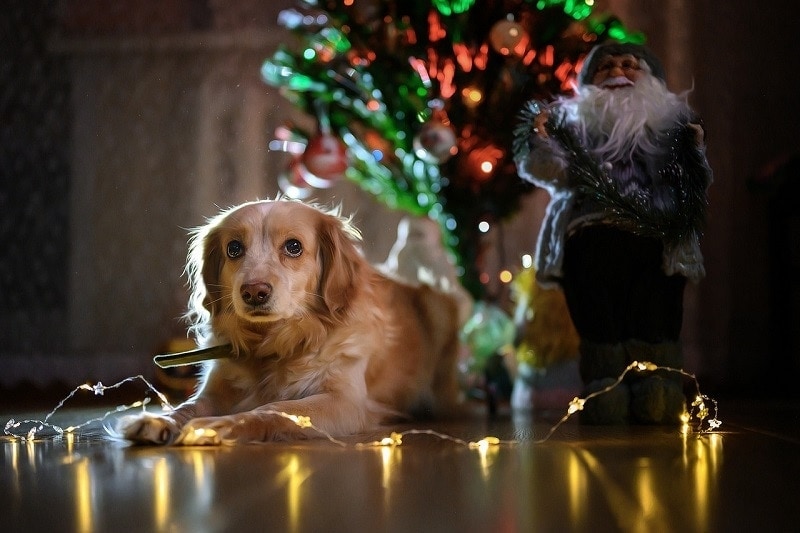 Finding a Christmas gift for your furry friend can be fun, but sometimes it may feel like you're buying the same thing each year. Instead of getting your dog the same toy, try these 30 Unique Dog Christmas Gift Ideas for your dog this holiday:

30 Dog Christmas Gift Ideas
1.

Gingerbread Flavored Greenies
Celebrate this season's greeting with these Gingerbread Flavored Greenies. These holiday flavored treats are a great and healthy stocking stuffer while keeping your dog's teeth fresh and clean.
---
2.

Mosaic Limited Edition Dog Bone Gift Box
For dogs that go crazy for bones, the Mosaic Limited Edition Dog Bone Gift Box is the perfect Christmas gift. It has four different exotic animal bones that will keep your dog occupied during the holidays.
---
3.

Midlee Christmas Tree Advent Calendar for Dogs
Even dogs can enjoy the excitement of an Advent Calendar with the Midlee Christmas Tree Advent Calendar for dogs. Each day has a little treat pouch with 25 days, just like your own chocolate advent calendar.
You may also like: How To Keep Dogs Away From a Christmas Tree (5 Proven Methods)
---
4.

Wolfe & Sparky Gift Boxed Deluxe Blue Dog Gift
If your dog needs some pampering and spoiling this holiday, the Wolfe & Sparky Gift Boxed Deluxe Blue Dog Gift includes a cuddle blanket, fun toys, tasty, treats, and grooming products. Your dog will love the variety this gift set offers.
---
5.

Furhaven Pet Dog Bed Frame
Orthopedic dog beds are nice, but a nice dog bed frame gives your dog a real elevated sleeping experience. Give the gift of style and comfort this Christmas to your pooch with the Furhaven Pet Dog Bed Frame, available in chestnut or walnut.
---
6.

CHEERING PET Dog Agility Equipment
If your dog loves to run and jump, the CHEERING PET Dog Agility Equipment starter kit is a great way to exercise and bond with your dog. It comes with everything you need to get your dog started in the fun and competitive world of agility.
---
7.

Jasonwell Foldable Dog Pet Bath Pool
Although it may be too cold for the winter, your dog will definitely appreciate having a pool to swim in during the hot summer days. This Jasonwell Foldable Dog Pool is easy to assemble and fold up for storage when summer is over.
---
8.

QUMY Dog Boots Waterproof Shoes for Dogs
Protect your dog's paws this winter from the elements with doggy shoes. These Waterproof Shoes for Dogs are perfect for all-season activity, including hiking, camping, and walking during the winter.
---
9.

KOOLTAIL Plaid Dog Hoodie Pet Clothes Sweaters with Hat
Your dog can match with the rest of the family in your yearly Holiday photo with this KOOLTAIL Plaid Hoodie. It's soft and comfortable, with an easily matched red plaid that always looks stylish.
---
10.

Blueberry Pet 20+ Patterns Christmas Festival Dog Collar
For a subtle but festive holiday theme, this Blueberry Pet Christmas Collar is the perfect gift for your dog. It's available in different sizes and patterns, with different decorative accents on each one.
---
11.

Highland Farms Select Christmas Dog Stocking Gifts Set
This Highland Farms Stocking Set comes filled with a variety of treats and dog accessories, so you don't have to do any of the hard work. It's made with high-quality toys and treats for the best Christmas stocking ever.
---
12.

Haute Diggity Dog Starbarks Coffee Squeaky Plush Dog Toy
The Haute Diggity Dog Starbarks Coffee Squeak Toy is a great holiday gift for the hipster in your dog. If your pooch loves those "Puppaccinos" at the local coffee shop, this Christmas edition Coffee squeak toy is the perfect festive toy.
---
13.

Furrybaby Premium Fluffy Fleece Dog Blanket
If your dog loves to nap under your favorite blanket, this Furrybaby Premium Dog Blanket is a soft and fluffy fleece cuddle blanket. It's available in multiple colors and sizes, so dogs of all sizes can have a cozy blanket to sleep with.
---
14.

The Farmer's Dog
Healthy eating doesn't just have to be for you, with The Farmer's Dog monthly subscription box. It's a monthly fresh-made dog food box that will have your dog begging to renew it next Christmas.
---
15.

Bacon Bubble Machine for Dogs
Quite possibly the coolest dog gift ever, the Bacon Bubble Machine is perfect for dogs that go crazy for popping and chasing bubbles. The bacon-scented bubbles will be absolutely irresistible for your dog, while you can sit back and watch your dog have a blast.
---
16.

Banfeng Giant 9.5″ Dog Tennis Ball
If your dog has an addiction to tennis balls, he or she will love getting the Banfeng Giant 9.5" Dog Tennis Ball for Christmas. This massive tennis ball can be bounced, thrown, and kicked around for a completely different play experience.
---
17.

Wellver Dog Backpack
If you and your dog love to go hiking and camping, this Wellver Dog Backpack is a great backpack to hold your dog's food and dishes in. It's made with breathable and washable materials for long-lasting durability.
---
18.

Portable Pet Water Bottle
Keep your dog hydrated this winter with the Portable Pet Water Bottle. It has a silicone cup that connects to the bottle that can be used as a water bowl. It also has a carabiner clip to secure it to your belt loop or backpack.
---
19.

Footed Pajamas – Family & Pet Matching Polar Hoodie Onesies
No Christmas can be complete without a family pajama picture and now your dog can join in on the fun. This Family and Pet Matching Polar Hoodie Set is a perfect gift for the whole family, including the family pets.
---
20.

ZippyPaws Holiday Hedgehog Plush Squeaky Dog Toy
This adorable Holiday Hedgehog Plush Squeaky Dog Toy is a cute and festive gift idea if your dog loves plush animal toys. It's got a cute Santa hat and is made with soft materials. There's also a squeaker inside for some extra fun.
---
21.

OurPets IQ Treat Ball
Get your dog's brain going this holiday with the OurPets IQ Treat Ball. It's a treat-dispensing puzzle ball that will get your dog to move, paw, and play around to get the treats out. So, pour some egg nog and relax as your dog goes wild over the IQ Treat Ball.
---
22.

Wüfers Pizza Handmade Hand-Decorated Dog Treats Cookies Box
All dogs love pizza, but that doesn't mean they should be eating it. This Wüfers Pizza cookie box is a safe way to give your dog some pizza this season without causing an upset stomach. It's made with natural ingredients that are tasty and safe.
---
23.

Outward Hound Kyjen Tough Squeaking Plush Dog Toy
If your dog loves to chew, toys made with durable firehose may be a great idea. This Outward Hound Kyjen Squeak Toy is made with the toughest materials for the most aggressive power chewers.
---
24.

Friends Forever Donut Bed
For dogs that love to curl up as they sleep, the Friends Forever Donut Bed makes a great Christmas gift. It's super thick and fluffy to support your dog while keeping them cozy and warm during the winter season.
---
25.

BOOMIE Realistic-Looking Squeaky Toys
If your dog loves broccoli or shrimp, they'll love these realistic-looking squeak toys by BOOMIE. They have a variety of "food" shapes to choose from that will surely get you and your house guests laughing.
---
26.

Senneny 4 Pack Christmas Dog Bandana
These festive Senneny Christmas Dog Bandanas are a great stocking stuffer, as well as the perfect pet accessory for your holiday house party. Everyone will want to take pictures with your companion with these cute bandanas on.
---
27.

The Antler Box
If your dog loves antlers, give them the gift of a 1-pound box of them. The Antler Box is filled with naturally shed whole and split elk antlers to provide your dog with hours of chewing satisfaction.
---
28.

EETOYS Dog Chew Toys
If your dog loves bones but you're not crazy about giving them the real thing, the EETOYS Dog Chew Toy is a near-indestructible dog bone toy that will simulate chewing on the real thing. It's made specifically for the toughest and most aggressive chewers.
---
29.

Zack & Zoey Polyester Nor'easter Dog Blanket Coat
Made for the cold winters of the Northeast, these Zack & Zoey Polyester coats are great dog gifts for your short-coated companion. Give the gift of warmth this holiday with this warm coat so your dog can enjoy the outdoors without being too cold.
---
30.

Musher's Secret Pet Paw Protection Wax
Treat your dog to a puppy pedicure with the Musher's Secret Pay Protection Wax and healing ointment. Musher's Secret gives your dog's paws relief from dry paw pads and protects them from the elements.
---
Featured Image Credit: katya-guseva0, Pixabay