150+ Pomeranian Dog Names: Ideas for Curious & Lively Dogs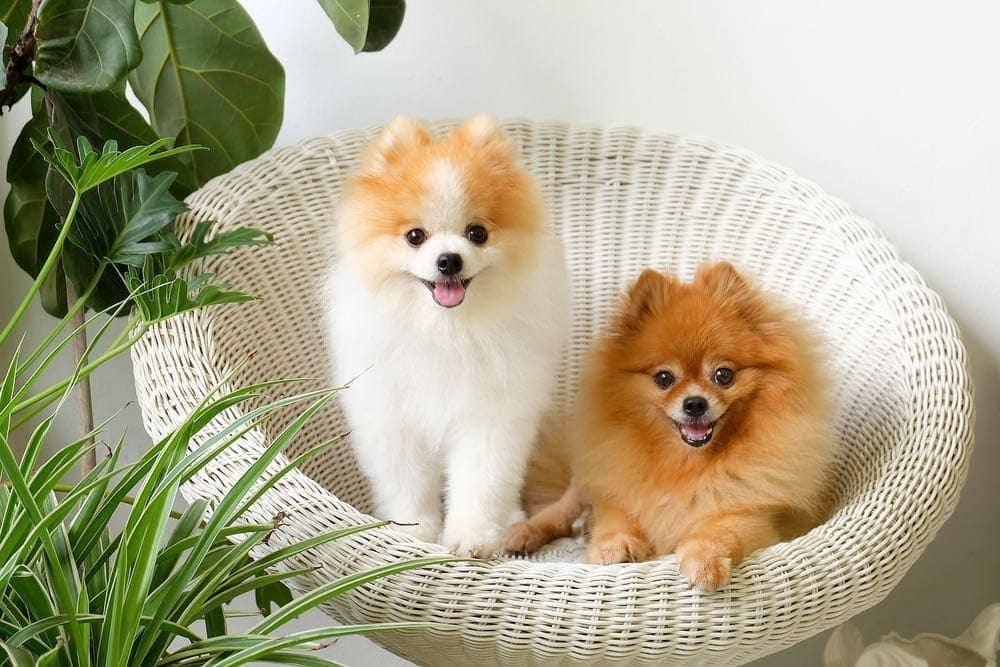 If you're adopting a fluffy Pomeranian, you're in for a real treat. These curious, social dogs are excellent companions. But before you get to playtime, you'll need to pick out a unique name for your new friend.
What are the best Pomeranian names? We've gathered over 150 for you to choose from, including male, female, and particularly unique names for Pomeranians. Keep reading to find your pup's new name!

Female Pomeranian Dog Names
If you've adopted a little girl you may want a delicate female name for her. Below are our favorite names for female Pomeranian pups:
Annie
Adele
Pearl
Dolly
Minnie
Kate
Roxy
Lizzie
Lilly
Lucky
Ruby
Penny
Aurora
Charlie
Poppy
Amy
Elsa
Helen
Daisy
Pam
Charlotte
Meghan
Fluffy
Rosie
Duchess
Avery
Ivy
Jenny
Bella
Christina
Lucy
Doll
Elizabeth
Aspen
Tammy
Angel
Candy
Princess
Lila
Lola
Victoria
Mila
Pinky
You may also like: How Much Does It Cost to Own a Pomeranian? (2021 Price Guide)
Male Pomeranian Dog Names
Some names are better suited to little male Pomeranians, while other names work for both genders. Even though your Pomeranian is tiny, he will have a big personality, and some of the male names below will help express that.
Damian
Aaron
Jack
Duster
Romeo
Ross
Darcy
Ash
Mikah
Bear
Tommy
Johnnie
Winston
Duke
Eddie
Alfie
Murray
Hunter
Tucker
Diesel
Lyle
King
Ron
Joey
Harry
Alvin
Kevin
Lad
George
Beau
Prince
Philip
Steven
Shooter
Max
Aaron
Billy
Buttons
Chandler
Sammy
Timmy
Jordan
You may also like: Best Dog Foods for Pomeranians: Our Top Picks!
Pomeranian Dog Names Inspired By Size
PeeWee
Shorty
Bitty
Petit
Munchkin
Minnie
Yoshi
Thumbelina
Spud
Morsel
Petite
Pebbles
Teddy
Nugget
Squirt
Pequeño
Hobbit
Elf
Buttons
Pip
Pequeña
Frodo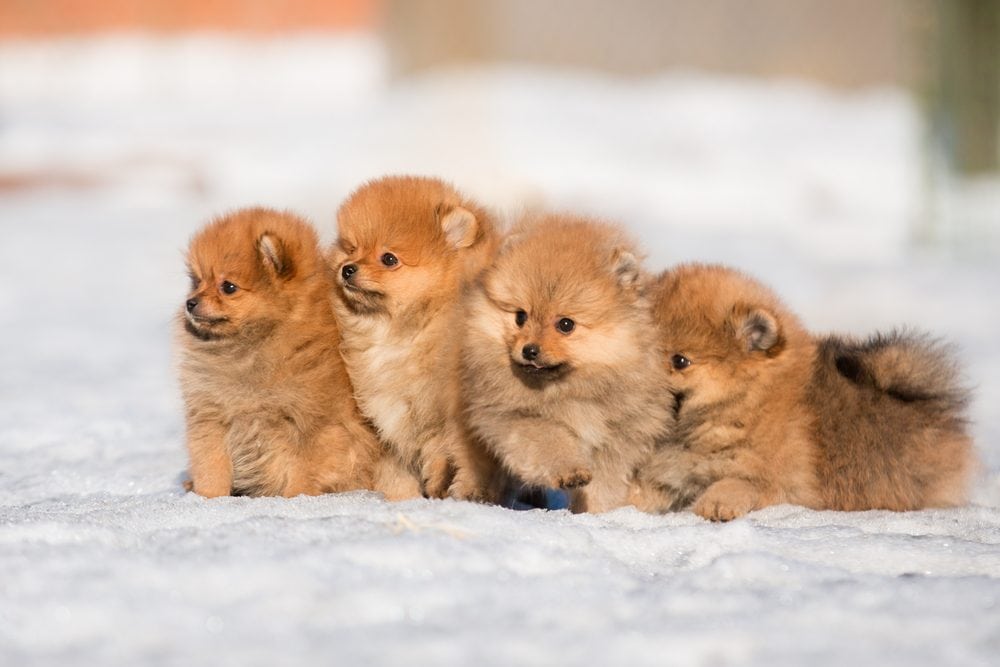 Image Credit: Natalia Fedosova, Shutterstock
Unique Pomeranian Dog Names
If you're looking for something a little different and unique, just like your little fluffball's personality, try your hand at one of the names below.
Hershey
Jupiter
Katniss
Obi-Wan
Xena
Pluto
Paris
Pumpkin
Mochi
Yoda
Tofu
Strawberry
Gem
Barbie
Beast
Rio
Marshmallow
Petunia
Peanut Butter
Pebble
Dandelion
Mars
Opal
Bumblebee
Bean
Snickerdoodle
Moony
Pickle
Dragon
Taco
Chewie
Haggis
Pompom
Nacho
Elephant
Shortcake
Ogre
Peanut
Spock
Kiwi
Velvet
Cotton
Giant
Puddle
Tiny
Snowflake
Zelda
Cheeky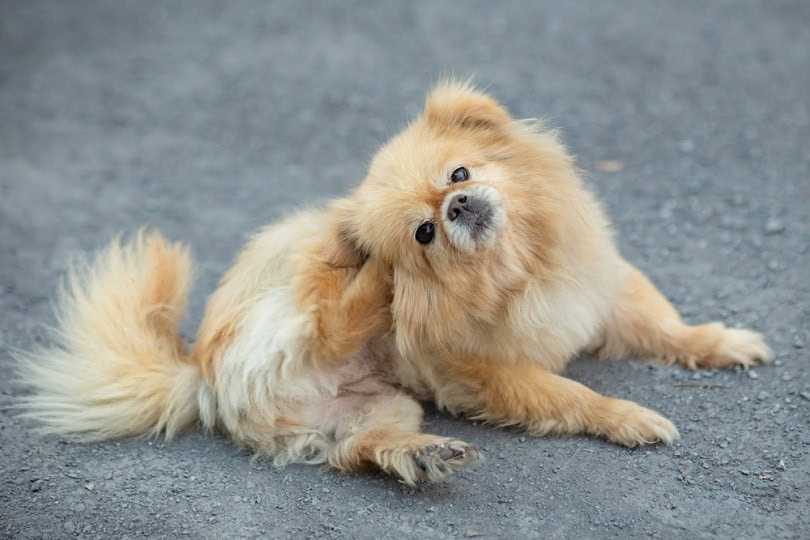 We reviewed the best brushes for Pomeranians: check out our favorites here!

Tips for Naming Your Pomeranian Dog
There are many things to consider when selecting a name for your new puppy, but you don't need to be overwhelmed by them. We've put together this easy "how to name your dog" guide to keep it simple and help you make a selection that you're more likely to love forever, just like you'll love your dog.
Love the name you choose. Don't settle for something you don't really like (unless you're making a family decision, of course).
Names that end with vowels are easier for dogs to learn. Names like Lucky, Fido, and Bella got their names on the top of the popular list for more than one reason. Dogs can distinguish frequency ranges higher (and better) than we can, so having the vowel ending adds an intonation that makes it very easy to hear and understand for your pup.
One to two-syllable names is easier to say. Really long names are a pain, especially during training, so just keep that in mind if you find one you love. A little "Queen Elizabeth the 3rd" may be the fitting name for your regal pup, but using that as her proper name and calling her Lizzie will probably serve you and her much better.
Avoid offensive or negatively connotated words for names. Would you be comfortable telling your vet or your neighbor your dog's name? How about calling your dog's name at the dog park? Even names that may be funny, like "Stinky Pete" can be a bit on the tricky side for a proper name for your pet.
Do your best to avoid names that may be confused with commands. Imagine your little puppy learning to "sit," but their name is "Kit" or "Pit." While the names are cute, learning the commands that sound similar will be a little trickier at first, so have a bit more patience if you're set on the name.
Test out the name. Say it loud, say it softly, say it grumpy, and say it sweet.
Think of the personality your puppy has (or is likely to have). Most dog breeds have specific qualities, so even before your puppy comes home, it is somewhat easy to pick a name. Or, you may choose to have your furry friend at home with you for a few days while you get to know him or her and then pick the name to express their character.
Pick a name and stick with it. Once you have the name, don't change your mind. And don't bring out the nicknames until your puppy feels confident with the official name (you don't want a confused little furball). Say the name a lot, in all different tones so your puppy learns it quickly.
See how your pet reacts when you say it out loud. This may be a clear indication that they love or hate a name. If an option provokes an alarming bark, we know that's not the name for your pup! If you get a curious head tilt or a few puppy kisses, we can bet you have found a winner!

Finding the Right Name for Your Pomeranian Dog
Out of all of those Pomeranian names, did you find one that suits your fluffball? Whether you're looking for something classic or unconventional, we've compiled quite a few great options. We hope we've helped you find your new best friend's new name!
Choosing a name can be stressful, but it doesn't need to be! It should be fun. Just relax. Whatever name you decide on, your Pomeranian pup will love it and respond to it whenever you call for him.
Practice saying the name aloud a few times before making your final decision because you want to ensure it is strong enough for training purposes, but warm enough for all of the snuggles you will definitely be getting from your Pom.
If you are still looking, we've got you covered! Try one of our many other dog names lists:
---
Featured Image Credit: Ohhlanla, Shutterstock