19 Essential Cane Corso Dog Supplies & Products for Your New Pup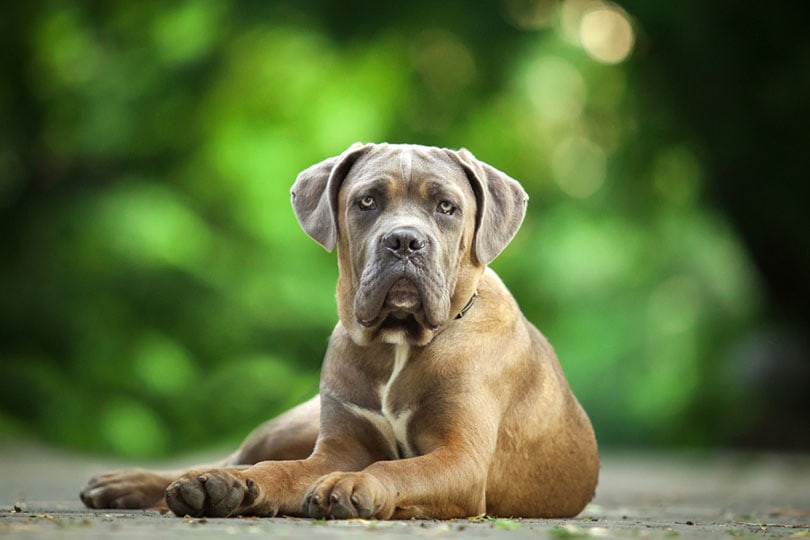 The Cane Corso has a royal heritage going back to ancient Rome, bred to be just as protective and loyal as they are regal in posture. According to the American Kennel Club, Cane Corso can be loyal, intelligent, and eager to please but also wilful and assertive.  Early socialization and training is essential to avoid you being trained by your dog!
Still, because they are such a sensitive breed, with gentle training, you'll soon realize that your new Cane Corso puppy is easy-going, affectionate, and maybe a little silly too. Keep reading for 19 essential Cane Corso dog supplies you'll need before bringing your new pup home.

Food and Feeding Supplies
Cane Corso puppies typically need a diet high in protein and healthy fats to build strong bones and lean muscle. The carbohydrate amount will depend on their age and activity level, so it's essential to invest in a high-quality food formulated for puppies that meets their overall nutrient requirements.
Purina Pro-Plan High Protein Chicken and Rice Large Breed Puppy Formula is a dry kibble that features meat as the primary ingredient. Chicken and rice are easy to digest and the calcium and phosphorus levels are carefully balanced for optimal growth in large breed dogs.
---
Because these bowls are dishwasher safe, they are easy to clean, even after the messiest eaters and if you decide to feed wet or dry food. The wide rubber rim keeps the bowl in place, preventing spills and scratches.
---
Gravity dog waterers are great indoors or in the backyard, so your pup always has fresh water. If you have more than one pet in the household, this investment can be even more beneficial as a stress-free way to care for your fur family.
---
This oversized option features a rubber backing to keep it from sliding and protect the floor underneath from moisture, while a wide border helps to contain up to a gallon of water in the event of spills. To clean the commercial-grade mat, shake off any large debris and vacuum it before giving it a rinse.
---
Treats and Toys
These 6-inch bully sticks are perfect for puppies because they won't take long to chew down, so you can supervise as they enjoy their treat. According to veterinarians, puppies should only chew on a bully stick for five to ten minutes.
---
Zuke's Mini Naturals also include extra vitamins and minerals. While your puppy is excited to earn a reward, you can ensure they are receiving additional nutrients that can help them grow into a strong, healthy adult Cane Corso.
---
The Mega Knot Bone is over 9" long, so it's hefty. It also features a chicken flavor to attract the puppy's attention, and it's recommended for dogs over 50 pounds. If your puppy hasn't reached that weight yet, choose this smaller Nylabone Power Chew.
---
Due to the nature of playing tug with a large-breed dog and the long length of this rope, it's recommended that you play outdoors. It's a wonderful way to get some exercise, both for you and your pup, but rope play should be supervised, and dogs shouldn't be allowed to chew on them due to the risk of digestion issues if pieces are swallowed.
---
However, to make the toy more fun, you can place an empty water bottle without the lid inside to make it crinkle. You'll need to supervise play with the water bottle and remove it once playtime is over or your pup claims victory over it. Whichever comes first.
---
Walking Your Dog
Most Cane Corso puppies will start with the Large, ranging from 18" to 21" and then move into the X-Large, measuring between 22" and 25". Chewy has a great guide to pet collars and leashes, including fitting and safety tips.
---
Personalized ID tags are also crucial because anyone who meets your Cane Corso knows how to address them. You can also put any other important information on the tag, such as an allergy or behavior. This engraved bone-shaped tag is simple and does the trick.
---
This leash measures 6' and is ¾" wide with a sturdy hand loop to gain better control of your pup. High-quality leather is hand-stitched with a sealed edge for maximum durability. Brass hardware is not only classy but also rugged and resistant to the elements.
---
These bags are also designed with a Degradable Plastic Additive, making them oxo-biodegradable so the plastic will break down faster in landfills than traditional plastic exposed to the same elements. You don't have to feel so bummed about picking up after your pup!
---
Comfort
A removable polyester cover is machine washable for spills and accidents. The cover is textured for added warmth in the colder months or to protect from cold floor surfaces like tile, and the neutral color blends in with any décor.
---
The Frisco kit comes with everything you need, including a sturdy base pan and a comfortable crate mat perfectly sized for the crate's interior. The kennel is collapsible, so you can keep it stored out of the way when you aren't using it.
---
Cleaning Up
They also fit neatly inside many standard kennel sizes, perfect for kennel training young pups. Both scented and unscented training pads are available, but both feature an attractant to help dogs of all ages know where to go. Keep a few around even after house training if you're ever out for a while and can't make it back in time.
---
This cleaner is handy for carpet, rugs, and upholstery, although you should spot test an inconspicuous area before using it on larger stains.  Because Trinova doesn't include any harmful chemicals, you don't have to worry about using it around your pets or family.
---
Grooming Supplies
The Furminator is explicitly designed for short-haired dogs and is highly effective at reaching the undercoat to reduce shedding significantly. The curved edge is more comfortable for your pup, while the blue model is the widest and can be most effective for large-breed dogs.
---
Other products included in the kit are a refreshing spray to help eliminate odors between baths and a silicone pet brush. Use it while bathing to build lather or between baths to de-shed.

Conclusion
Now that you're stocked up on the essentials, you're ready to bring your new Cane Corso pup home to meet the family, knowing you have everything you need for a smooth introduction. We know they will be happy and healthy in their new fur-ever home!
---
Featured Image Credit: Sbolotova, Shutterstock