22 Essential French Bulldog Supplies & Products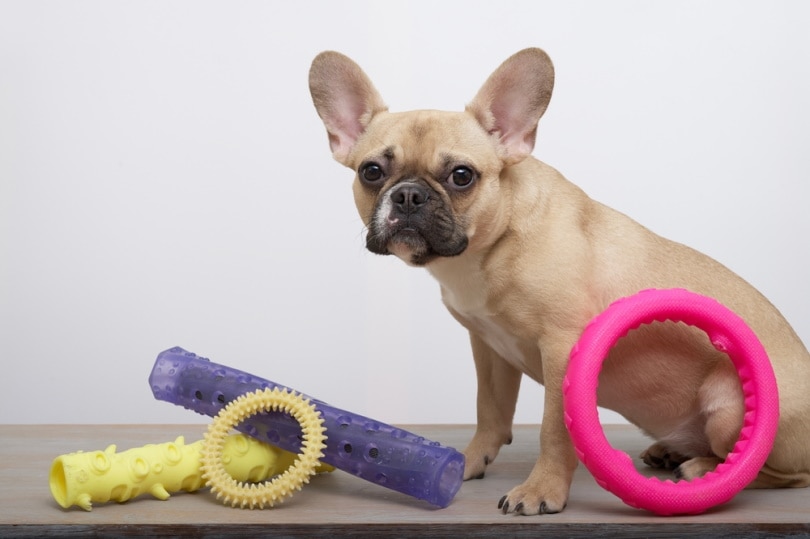 Whether you're bringing a new puppy home or you're a long-time French Bulldog fan and are just looking for some inspiration for what to get him for his next birthday, we've got you covered! We've put together a list of must-haves for your pup to keep him healthy, safe, and happy whatever the occasion.
So, read on and see if anything inspires you. Your best pal will definitely appreciate it!

The 22 Essential French Bulldog Supplies & Products
1.

Harness for Small Breed
If your French Bulldog tends to pull on walks, a no-pull harness is perfect. You'll need something good for his small, stocky frame, so you should opt for an adjustable harness. It's also an added bonus if you get one that's reflective to keep you both safe on an evening or nighttime walk.
---
2.

Comfy Bed
You'll want a dog bed to keep your dog safe and cozy. But you also need something convenient that is anti-tear and that you can throw in the washing machine when it gets dirty.
---
3.

Shampoo
The best shampoo is gentle but hydrates your dog's flaking skin, which Frenchies are prone to. Under no circumstance should you use human shampoo on your pup; dogs have a different PH level than humans, so you want to use a shampoo that's specially designed for his sensitive skin.
---
4.

Snout Soother
French Bulldogs are prone to developing something called nasal hyperkeratosis (which is a fancy way of saying he can get a dry nose.) So, you'll need a snout soother to heal and soothe your dog's dry and cracked snout and nose.
---
5.

Dog Crate
A dog crate offers your dog a safe space that is proven to reduce anxiety and stress. Crates allow dogs to get used to your home in their own time, in a safe environment that belongs to them. It also lessens the likelihood that they will damage your house at night or when you're out.
---
6.

Cooling Mat
One way to protect your dog from heatstroke, dehydration, and exhaustion is a cooling mat. They can be used indoors and outdoors, so he can be safe and cool and also doesn't have to miss out on time with you wherever you are!
---
7.

Slow Feeder Bowl
A slow feeder bowl's design forces dogs to eat slowly, which prevents them from becoming gassy, bloated, and ultimately vomiting after mealtimes. So, if your Frenchie tends to gobble his food, this is the bowl for him.
---
8.

Slanted Bowl
Slanted bowls are an alternative to slow feeder bowls (if your Frenchie isn't a food gobbler.) They make eating easier for French Bulldogs, who have notoriously flat snouts. By bringing food closer, your dog doesn't have to work so hard to get to every last piece.
---
9.

Hydrating Lotion
Hydrating lotion doesn't require any rinsing, so once you've rubbed it into his coat, he's ready for cuddles straight away. French Bulldogs are prone to dry skin, so this is the perfect solution to keep him from getting itchy and uncomfortable. It also has the added benefit of keeping his coat shiny and can be used on his paws to keep them hydrated and healthy.
---
10.

Comfortable Jacket
Frenchies have short coats, so they can get cold easily, especially in the winter. A dog jacket will keep him cozy, and as an added benefit, he'll also be the most fashionable dog at the park.
---
11.

Car Seat
A car seat will keep your dog comfortable and riding in style, but most importantly, it will also keep him safe. Opt for a car seat with seatbelt slits to keep your best friend as safe as possible on your journeys together.
---
12.

Seat Belt
Not only will a seat belt keep your dog safe, but it will also prevent distractions while driving because it prevents him from joining you in the driver's seat!
---
13.

Wrinkle Wipes
A Frenchie's skin folds can become infected and irritated. Wrinkle wipes will help keep him comfortable. Wipes contribute to healing, but also—if used regularly—they will keep your dog's skin fresh and healthy.
---
14.

Dog Toys
Dog toys are a fantastic tool for bonding with your Frenchie. If you opt for a dog toy with no stuffing, there is also less mess and stress for you!
---
15.

Portable Water Bottle
A portable water bottle keeps your pal hydrated and healthy when you're out and about, whether it's at the park, on a hike, or at the beach. It's convenient and less wasteful than a bowl—just squeeze the bottle to fill the attached bowl at the top, and any leftover water your Frenchie doesn't drink will drain back into the bottle for later.
---
16.

Stain and Odor Eliminator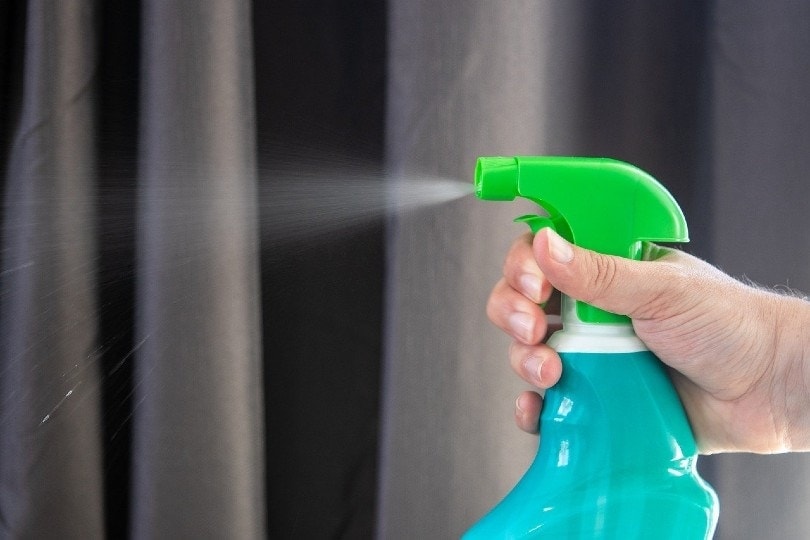 A stain and odor eliminator tackles problems like urine, feces, and vomit for when your Frenchie has an accident. It is also completely safe to use around them, children, or any other pets you may have.
---
17.

A Ball
There's nothing better than playing fetch with your dog. French Bulldogs have squashed noses, so a ball with holes is perfect as it promotes airflow. A design like this also means you can use it as a treat ball, so he can be kept busy as he works out how to get the treats out.
---
18.

Grooming Wipes
Grooming wipes are perfect for freshening up your Frenchie between baths. As you should only be bathing your dog every couple of months, it's handy to have wipes on hand in case he comes in from a walk with muddy paws.
---
19.

Kong Toy
The classic Kong has a hollow center for you to fill with your dog's favorite snack. It's durable and bounces erratically, which makes it perfect for dogs that like to chase and chew to their heart's content.
---
20.

Reliable Poop Bags
You want a strong, leakproof poop bag that won't let you down. There's nothing worse than a fingernail popping through a bag when you're cleaning up after your dog! If you can find one that's also scented and made from recycled material that's a bonus.
---
21.

A Slicker Brush
A slicker brush is perfect for a Frenchie's fur; they have one coat, and this brush won't scrape his skin. It's easy to clean and the bristles gather loose fur and any dirt that might be missed by a brush with wider-spaced bristles.
---
22.

Dog Leash
You want a reliable dog leash that runs smoothly, allowing your dog to run freely so he can burn off energy without being distracted by his leash.

Conclusion
If you're here because you're preparing for a new pup it can feel like there are a million and one things to buy. But the most important thing to your new addition is you. French Bulldogs are made for companionship, and he will need a lot of your time and attention while he gets used to his new home. So, get prepared before he arrives, so he's got your undivided attention!
Whether he's a new member of the family or an established VIP (Very Important Pet), kitting out your French Bulldog can feel never-ending. But he's definitely worth it. So, we hope our list has helped give you some ideas.
---
Featured Image Credit: SM-BG, Shutterstock