12 Essentials for Road Tripping with a Cat in 2023
The idea of getting out on the open road is exciting for a lot of people. Getting in touch with different sites can be very refreshing to yourself and your family members. If you have a cat, you know how challenging it can be to find some way to care for them when you're out on the road.
Luckily, there are ways to accommodate taking your cat with you on trips like this. If you were considering traveling with your cat, we rounded up some really good essentials that will help you on the road.

What You Need to Take Your Cat on the Road
Taking your cat on the road can be exciting for you and them! Even though there is a certain uncommon element to taking cats on the go, it's starting to become more commonplace, as it should. So here are the top 12 essentials you need to make traveling a cinch.
1.

Litterbox, Litter, & Scooper
Naturally, and possibly most importantly, your cat is going to need a place to do its business. Since your cat doesn't go out to potty like a dog at rest stops, making sure you have a litter box on the go is vital.
There are disposable and collapsible litter boxes you can take with you on the go. Also, you can buy litter for the litter box that is all natural and flushable, so you can dispose of it in hotels or scoop and go at quick stops.
---
2.

Food
If you feed your cat fresh cat food, preparing meals poses more of a challenge. Naturally, you'll have to take your cat's diet on the road. You will have to keep all meals refrigerated the entire time you travel, so that is definitely something to plan for.
If you give them wet canned cat food or dry kibble, this won't be as much of a challenge. But it's always best to plan ahead by making sure that you have enough food to last the whole trip.
There are so many great brands of cat food, so we can't recommend just one. Luckily, there are also plenty of places you can stop on the way to purchase cat food if you run out.
---
3.

Harness/Lead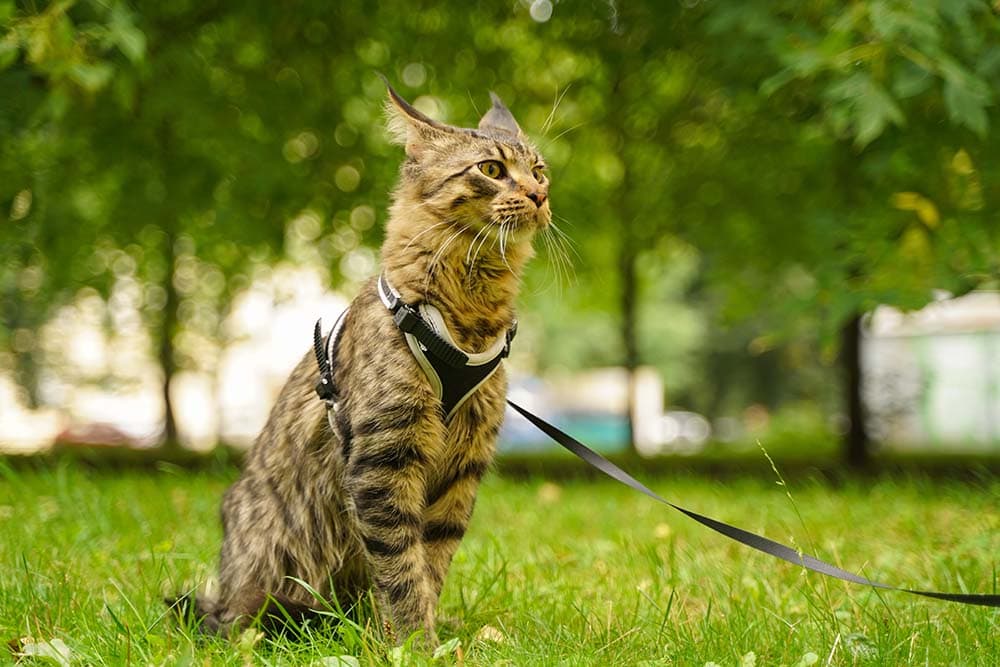 Your cat will need to stay safe on the road! That means when you let them out of the car, you're definitely going to want a way to keep track of them, so you don't lose them in entirely unfamiliar territory.
Now this one will take patience and persistence. If your cat does not know how to walk on a lead, you know that your independent feline might be feeling a little rambunctious when things start.
So before you attempt this task, it's best to appropriately teach your cat to walk on a lead without provocation.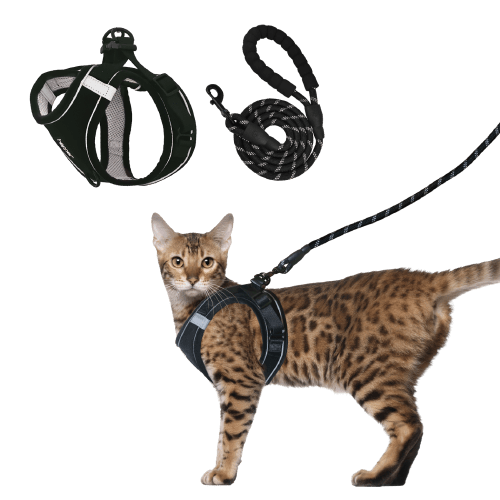 If you're searching for the perfect harness for your cat, we recommend our Cat Harness & Leash Set. The lightweight velvet and mesh harness features multiple adjustment points, quick-release buckles, and reflective stripes to keep your cat safe. Plus, it comes in five sizes to fit any cat and even includes a premium rope leash! Click here to order one today.
---
4.

Collar and ID Tags
Accidents happen. Scares occur. Sometimes, your cat can get away from you at the worst time. If this happens, having the correct identification for your cat will add extra protection while you explore unfamiliar territory.
You can buy several different collars for your cats, but we recommend a breakaway collar. If your cat escaped you, even though you probably want them to keep the harness on, they should have a breakaway feature to get loose if they get snagged on something.
---
5.

Backpack/Carrier
If you're out checking around, you will benefit from having a backpack with the necessary supplies. Not only can you buy a backpack for all your cat's goodies and your own, but there are also certain designs to set your cat inside!
So if your kitty gets tired on the go, you can put them in the backpack where they can see the sights but not escape and allow them to enjoy being chauffeured around like royalty.
---
6.

Collapsible Food and Water Bowls
When you're traveling, saving space is something you learn to do very early on. Often, full-sized average food and water bowls for cats can get in the way.
Luckily, there are several collapsible options on the market so you can offer your cat fresh food and water, clean them out as needed, dry them off, collapse them, and store them away. It's much more convenient and space friendly!
---
7.

Beds/Hideaways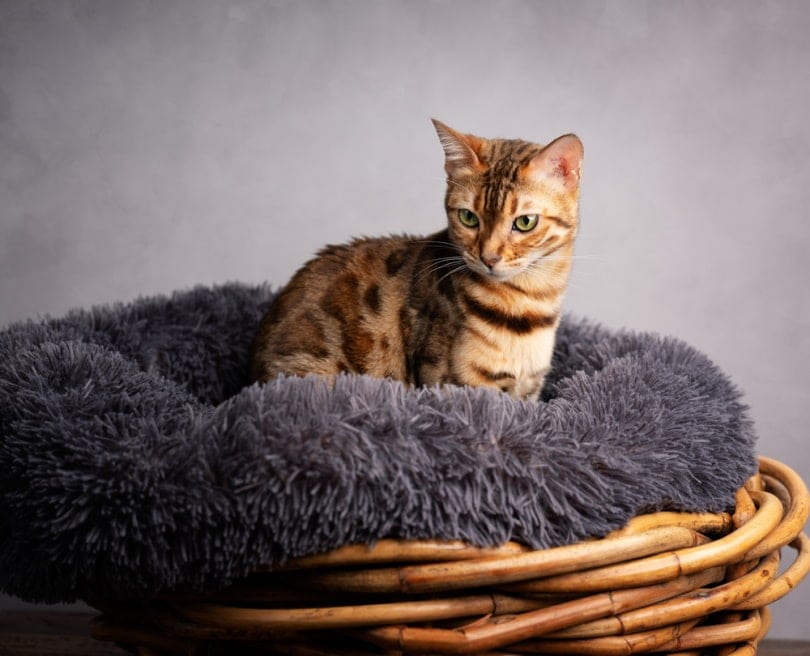 No matter how adventurous your cat is, they will want someplace to escape to have comfort. So it's always best to take a cozy bed, cat cave, or hideaway to ensure they can have space when needed.
Many cat beds are super simple to just toss in the car, so you shouldn't have to buy a special bed for the occasion. Although, you can have a bed or cat cave specifically for travel purposes and leave all others at home.
---
8.

Medications/Supplements
Some cats require medication or supplements in their daily diet. Before heading out on the road, it's always best to ensure you have an adequate supply of whatever your cat needs.
If your cat is a little neurotic and you're worried about their nerves while you travel, you can always get calming agents to help them relax.
---
9.

Insurance
Pet insurance is growing these days tremendously, and for a good reason. Almost every pet insurance company in the United States will cover any veterinarian nationwide. It might be an extra good idea to get a policy before you decide to travel.
Consider taking a look at different policies to get a good comparison, choosing the best one for your cat.
Our Choice: We enjoy Pumpkin Pet Insurance because they have extremely good rates and cover just about every area you can think of in terms of care.
Other Things to Consider When Traveling with Your Cat 
Now we've gone over the absolute must-haves when you're traveling with your cat. Here are three other areas you should consider before you leave.
---
10.

Cat Personality Matters
Let's face it. Traveling can be relatively easy for many cats but not so simple for others. Some cats prefer to hide away, entirely out of the public eye. If you take these sorts of cats on a public vacation, they can get extremely nervous, aggressive, and altogether disheveled.
However, if you have a more adventurous cat ready for whatever the day brings, they are definitely the sort that you want to take with you. Traveling with a cat that doesn't have the personality for socialization may be highly stressful for the animal.
In those cases, it's often best just to have a house sitter or a family member come to care for your cat while you're away instead of attempting to take them with you. We know that it can be daunting and challenging to find arrangements for your cat while you're away, but everything must be done in the best interest of your pet.
---
11.

Microchipping/Identification
Above, we discussed the importance of having identification for your cat. We want to take that a step further and encourage microchipping. Many vets will perform microchipping implants during the first year of your cat's life.
But if you haven't had this done yet, you might want to go in before you leave for a vacation period having this added layer of protection on top of identification tags. Microchipping can really help out in the event your pet is ever to escape you while you're away from home.
Microchipping keeps your information on file so that other professionals can scan the tag and find the owner.
Therefore, if you have made any changes and your lifestyle since getting your cat microchipped, you'll want to make sure that your address and phone number are updated in the system to make contact easier.
---
12.

Pet-Friendly Hotels & Airbnb Stays
If you are traveling and keeping your cat anywhere that is public, you'll want to make sure that any hotel or facility you stay at allows pets. Some of them have strict no-pet policies, so it will vary depending on location.
If you are planning your vacation now, it is time to make sure you have something lined up. Luckily, many places are becoming more pet friendly, so you shouldn't have much of an issue, but this will vary based on location.

Conclusion
Taking your cat on the road can be a very fulfilling and exciting experience. Just remember to make sure you have set up the appropriate avenues of care while you're away. If all goes well, they might just be your new travel buddy, willing to accompany you to any location you desire.
So, make a checklist, cross them off one by one, and enjoy your time burning rubber with your cat riding shotgun.
---
Featured Image Credit: Lightspruch, Shutterstock