Does Airbnb Allow Pets? Pet Policy and Regulations Explained
Taking pets along while on vacation can be an essential part of traveling for some pet owners. The cost of boarding the pet can be a deterrent, and it's not fun leaving them behind when they could be enjoying vacation time with their family. But if your next vacation involves an Airbnb, you might wonder if it allows pets.
Whether an Airbnb allows pets entirely depends on the host of the Airbnb. Also, there are a few rules that you should be aware of before you start looking for a pet-friendly rental.
What Are Airbnb's Rules About Pets?
Airbnb itself doesn't have any specific rules about pets, but it does provide advice for both the traveler and the host.
When you are in the process of looking for a rental, look for the "House Rules" at the bottom of the listing. This is where you will find out if pets are allowed. Some hosts will also post if pets are welcome at the top of the listing.
One way to make it easier to find the right place for you and your furry friend is to use Airbnb's search function. Just tap on the search bar at the top of the screen, enter the destination, and tap on "who" for guests.
Here, you can select how many pets you're bringing, and the search results will only show you homes that allow pets.
What If the Host Has Pets?
If there are any pets on the property, the host is obligated to list them. You can find this information in the "Things to know" section at the bottom of the listing. From here, go to "Safety & property" followed by "Show more."
If there are any animals on the property, they will be listed in this spot. It's always a good idea to check all this information before you book.
What About Service Animals?
Airbnb expects all hosts to accept service animals because they are more than just pets. All hosts must accept service animals, even if they don't normally allow pets, unless there's an issue around health and safety.
Airbnb's rules about service animals state that the guest does not have to disclose that they will be bringing a service animal before booking. Hosts are also not allowed to refuse a reservation or charge any extra fees for service animals.
However, it is recommended that you tell your host about your service animal in case the property might not be well-suited for your pet.
The rules for emotional-support animals are different from those for service animals. Emotional-support animals don't necessarily have the same training as service animals, and the host is allowed to charge a fee and refuse the booking. You can read more about the service and emotional-support animal rules here.
Things to Consider When Booking an Airbnb With a Pet
You should keep a few things in mind when booking an Airbnb with your pet. Remember, these rules do not apply if you have a service animal.
Be Aware of Extra Fees
Many Airbnb hosts add extra fees, such as a cleaning fee for cleaning the place in-between guests. This includes washing sheets, vacuuming, clearing out garbage, and so on.
Pets make more of a mess than what's usual with their dander and hair and any potential damage that might occur. Cleaning up after your pet is essential because the next guests might have allergies.
Speak to the Host
Even if the host lists pets as welcome, you should always speak to them before booking. You should confirm that you're bringing a pet(s), answer any questions that they might have, and ask about any rules that they might have (for example, if there are any rooms that your pet is not allowed in).
This also helps if you're renting a room in a building that might already have pets or if someone in the building has allergies.
Aim for Pet-Centric Listings
Some Airbnb hosts go the extra mile to let pets and their owners feel welcome. The hosts may love animals and supply you with bonuses, such as kitty condos for cats and dog crates and beds.
Some hosts might not charge an extra pet fee and might even allow you to bring multiple pets. These kinds of hosts will make it apparent in their descriptions that they welcome pets. Still, don't forget to speak to the host about your pet before booking.
Know the Pet Limitations
There might be limitations on the species of pets allowed. Some hosts might allow dogs but not cats (typically due to concerns of scratching and cat urine being more potent than dog urine), or they might only accept small dogs.
Additionally, if you have multiple pets, you'll definitely need to check with the host before you fill their home with five giant dogs!
Follow the Rules
Some Airbnb hosts might have additional rules that you should abide by. For example, your pets might not be allowed on the furniture or in certain rooms. You might not be allowed to leave your pet alone during your stay.
The host is responsible for providing you with their specific rules once you've spoken and booked your pet. Some hosts might want to meet your pets when you check in, and they will go through the rules at that time.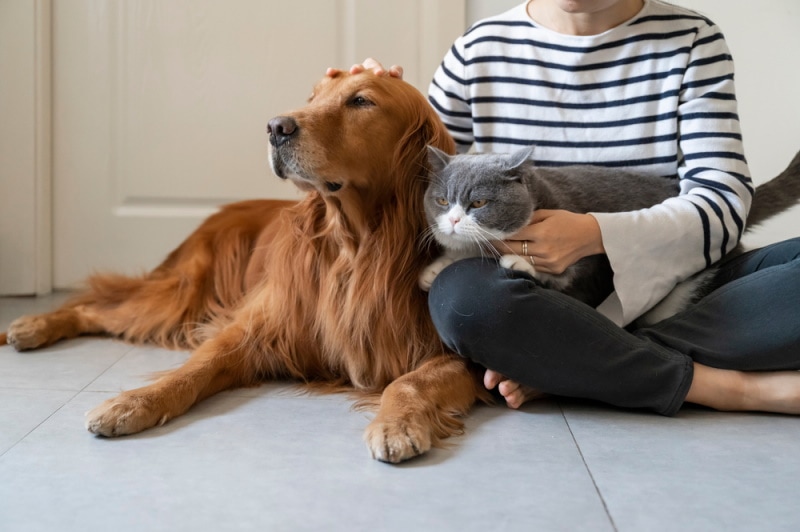 Know That Exceptions Might Be Possible
If one of the properties that you have your heart set on doesn't allow pets, you can always try talking to the host. In some cases, when they hear your story, they might make an exception. If they don't, it was worth a try.
Never Sneak In Your Pet
Allergies are a key issue here. Anyone entering the property in the future with severe allergies could be in trouble. Also, if your pet causes any damage, it will be hard to explain because the host wouldn't be aware that you brought in a pet.
The host is well within their rights to kick you and your pets out and will not likely allow you to book with them again.
Conclusion
Keep in mind that "pets allowed" properties might be geared more toward dogs and not cats. So, if you want to bring your cat along, speak to the host before booking.
Honesty is usually the best policy, so be up front about your pet. If your dog tends to have accidents in the house, it might be easier if you leave them at home with someone to look after them. Remember, you'll need to pay for any damage that your pet causes.
Being honest with the host will make your stay and vacation more relaxing for you and your pet.
---