How Big Do Ferrets Get? Average Weight & Growth Chart

Ferrets are small creatures, and they are popular pets in America today. When getting a new pet, it's common to question how big they will get. This is a good question to ask to ensure you have enough space and that your ferret is growing appropriately. Ferrets can grow up to 14–16 inches in length and 2.2–4.41 lbs of weight. Of course, various factors, such as genetics, gender, and environment, will affect how your ferret develops.
In this article, we'll cover specifics on how big you might expect your pet ferret to get, how quickly they grow, and how you can make sure your ferret is and will grow appropriately.
Ferret Overview
The domestic ferret, a member of the Mustelidae family, has spent more than 2,000 years in captivity. Ferrets were once mainly used for hunting, but they are now popular pets worldwide. Ferrets are physically similar to cats and come in various colors, including white, chocolate, cinnamon, and sable.
The season affects the color and thickness of a ferret's coat, which darkens and thickens in the winter and lightens and sheds in the summer. Ferrets require a lot of space to stay active, healthy, and happy. They can live indoors or outdoors, but it's best to keep two neutered ferrets in the same enclosure since they're sociable animals. Because they are predators, they shouldn't be kept with other small pets like rabbits.
Although ferrets are not considered rodents, they do have a natural musky scent that owners who are sensitive to smells should be aware of. Ferrets can make affectionate and loyal pets but may not be suitable for first-time pet owners or families with young children.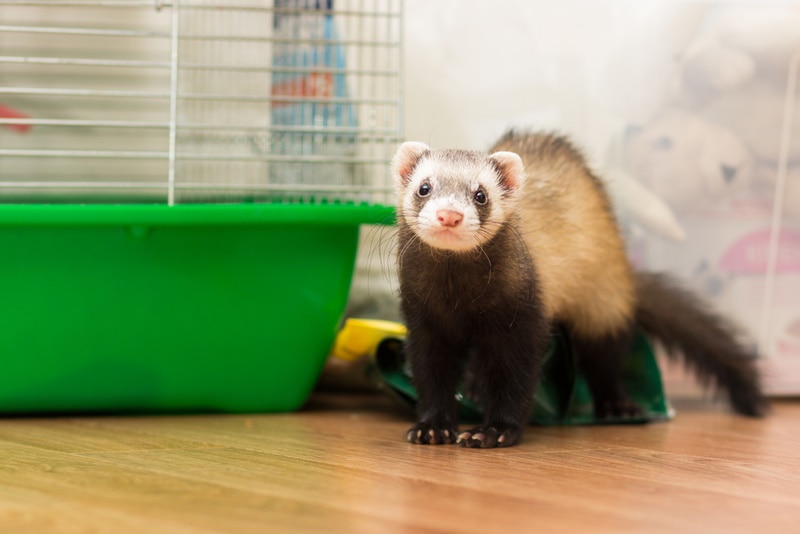 Ferret Size and Growth Chart
Because ferrets are dimorphic, their sex may determine their growth rate. Both sexes are almost the same size at birth, but in the first 2 months, the males develop faster and then continue to grow larger. At about 3 weeks old, a female ferret's growth rate starts to slow down in comparison to the male's and slows down considerably as they get older.
Male ferrets, known as hobs, are bigger than females, or jills, and can reach up to 4 pounds when intact, with a neutered male weighing on average 2.5 pounds. When intact, females can weigh up to 2.5 pounds, but neutered females weigh, on average, 1.75 pounds. Females typically have a narrow, tiny head with a sharp, pointy nose, whereas males typically have more muscle and a broad, wide, and rounded head.
| | | | | |
| --- | --- | --- | --- | --- |
| Age | Male Weight Range | Male Length Range | Female Weight Range | Female Length Range |
| 1 week | 0.018–0.026 lbs | 2–2.5" | 30 g | 2.5–3" |
| 3 weeks | 0.22 lbs | 5–8" | 0.17–0.21 lbs | 5–7" |
| 4 weeks | 0.28–0.44 lbs | 8–10" | 0.22–0.33 lbs | 8–12" |
| 6–8 weeks | 0.88–1.1 lbs | 12–14" | 0.66–1.1 lbs | 12.5–13" |
| 4 months | 2.2–4.41 lbs | 14–16 " | 1.32–1.98 lbs | 13.5–14" |
When Does a Ferret Stop Growing?
Ferrets typically reach their maximum size at 4–6 months of life, and at about 1 year, they are considered adults. At 4 months, they are considered sexually mature and can start reproducing. Fully mature males should typically weigh 2-2.5 pounds, and females should weigh between 1–1.5 pounds. Adult male ferrets measure about 16 inches from the tip of the nose to the end of the tail, while females measure about 14 inches.
A ferret ages quickly and has an average lifespan of 7 – 10 years, and they will reach midlife at about 3–5 years. However, many ferrets have shorter life spans due to injuries or illnesses.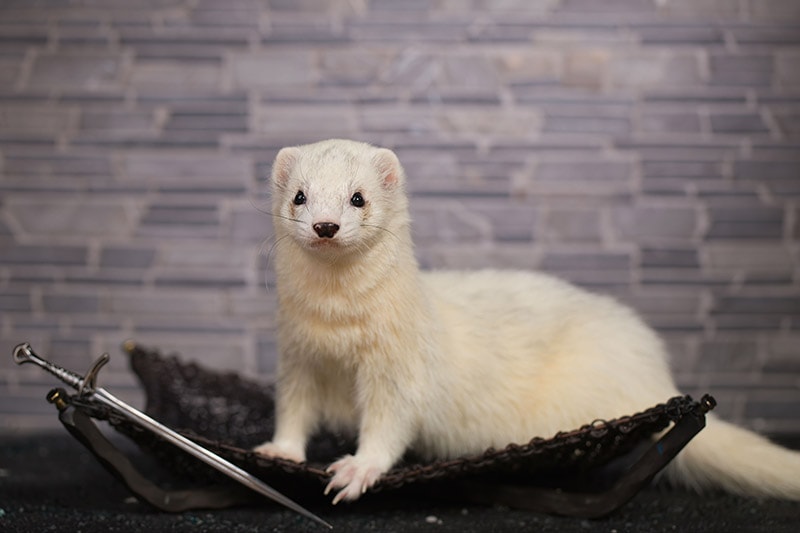 Factors Affecting the Size of a Ferret
Your ferret's size is determined by genetics, gender, and whether or not they have been neutered or spayed. The size of a ferret is mainly determined by genetics, with larger breeds producing bigger ferrets. Diet and nutrition also impact a ferret's growth because proper development requires a balanced diet with enough protein, fat, and nutrients.
Ferrets eat more during the winter and less during the spring, so they are typically bigger in winter. This variation in weight between the seasons is both healthy and natural. However, you should visit your veterinarian immediately if your ferret's weight varies significantly.
As a lack of space and activity can result in stunted growth, environmental factors like housing and exercise can also impact their growth. Another critical element influencing their growth is their health. Delays in growth and development can result from diseases or disorders that impact their appetite, metabolism, or ability to absorb nutrients.
Ideal Diet for Maintaining a Healthy Weight
Feeding your ferret a high-quality food is the best way to keep them at a healthy weight. The best diet is a balanced commercial ferret food. Ample amounts of vitamins and minerals are also added to commercial ferret diets. The optimum ferret diet has a low fiber content and is high in fat (15–30%) and protein (30–35%).
Rather than grains, the protein supply should be derived from meat, as ferrets are obligate carnivores. The first component on any good ferret food list should be meat, poultry, or their byproducts.
Treats shouldn't make up more than 10% of a ferret's daily diet. Always have water available for your ferret. Most ferrets prefer a bowl to a sipper bottle. Additionally, they should have many opportunities to play, explore, and run around.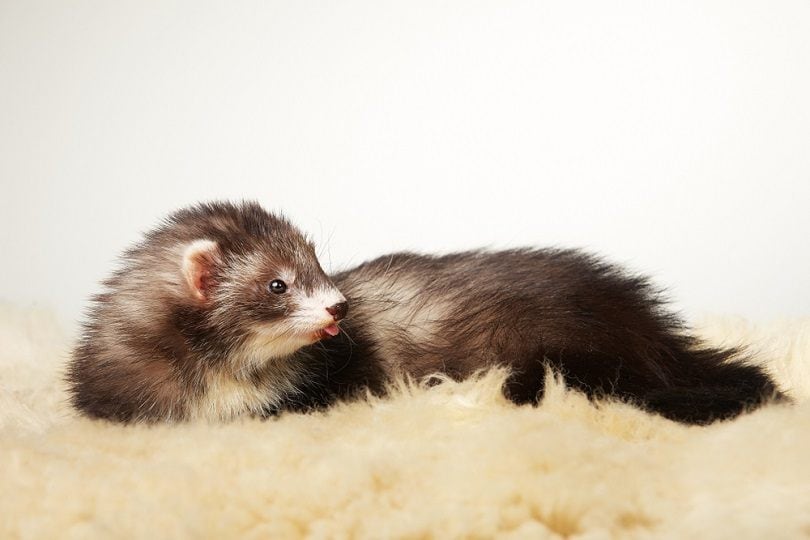 How to Measure Your Ferret
You can use a sewing measuring tape to measure your ferret. Measure your ferret's length from the base of their neck to the base of their tail at the space between their shoulder blades. Don't measure to the tail's tip; measure to the point where the tail meets the bottom.
To weigh your ferret, you can easily use a home scale. Place a container on the scale and record the weight. Then, place your ferret inside the container and record the weight. Subtract the container weight from the overall weight to determine your ferret's weight.
Conclusion
Ferrets typically reach their full size at about 4–6 months old and males are bigger than females. Adult male ferrets typically weigh 2-2.5 pounds and measure about 16 inches; females should weigh between 1–1.5 pounds and measure about 14 inches.
Although the growth chart displays the ferret's average growth, every animal is unique, and different factors will influence their growth, such as their health, genetics, environment, and whether or not they are intact. If you are unsure about your ferret's weight and growth, visit your veterinarian to ensure your ferret is happy and healthy.
---