Frenchton vs. French Bulldog: What's the Difference?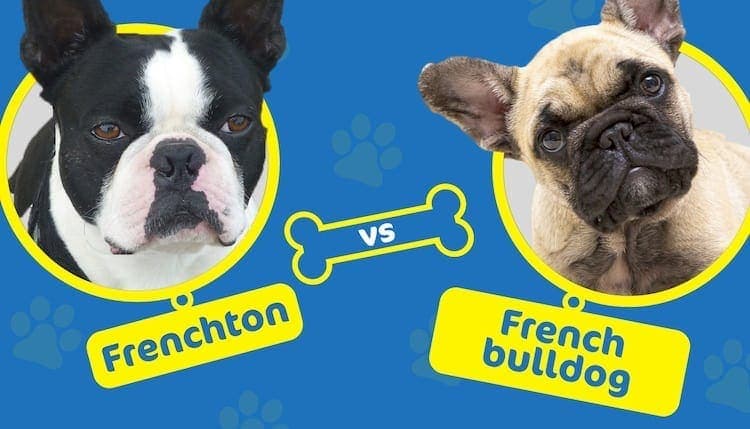 If you've heard of the designer Frenchton breed, you may be wondering how they differ from the French Bulldog. Since they are related, there will be similarities, but they are also different in many ways.

Visual Appearance
A Quick Overview
Frenchton
Average Height (adult): 11-14 inches
Average Weight (adult): 15-25 pounds
Lifespan: 12-15 years
Exercise: 30 min/day
Grooming needs: Low and easy
Family-friendly: Yes
Dog-friendly: Yes
Trainability: Easy
French Bulldog
Average Height (adult): 11-12 inches
Average Weight (adult): 16-28 pounds
Lifespan: 11-14 years
Exercise: 20 min/day
Grooming needs: Low and easy
Family-friendly: Yes
Dog-friendly: Yes
Trainability: Easy

Frenchton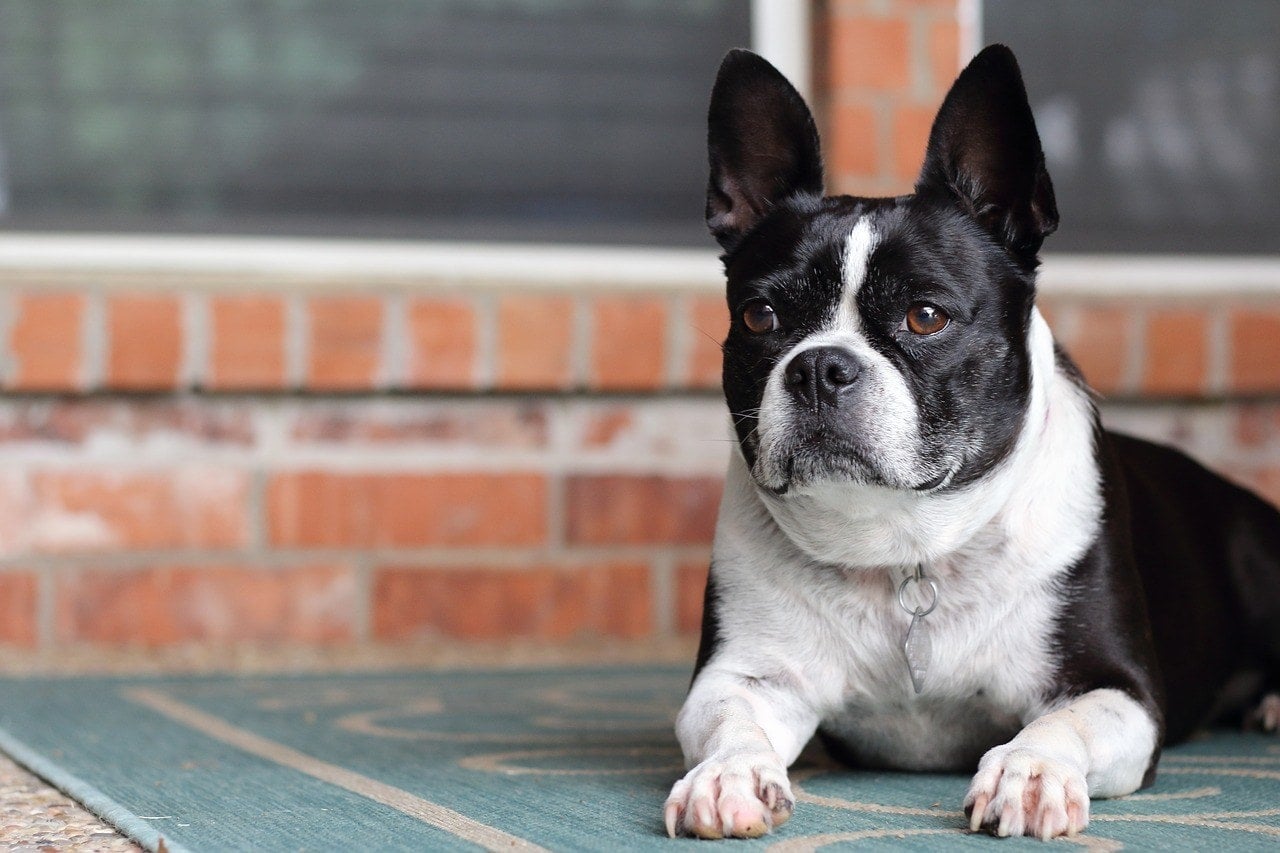 History
The Frenchton is a mixture of a Boston Terrier and a French Bulldog. It was developed to help reduce some of the health issues notable in each breed. The Boston Terrier is also a cross-breed, a mix of an English Bulldog with an English Terrier in the late 1870s. The French Bulldog originated in England as a result of crossing toy Bulldogs with the Ratter dog from Paris.
Physical Characteristics
Since Frenchtons are a new breed, no standards have been formed for their physical characteristics. They are small in stature and will range in weight from 15 to 25 pounds and be 11 to 14 inches tall. They have short, shiny coats of brown, black, cream, white, or brindle. They have longer snouts than a traditional French Bulldog and have bulging eyes and erect ears.
Personality
They are intelligent dogs who love people and enjoy being social. They do well with families because they are high-energy, but they do enjoy downtime after playing. Frenchtons are loyal and will tolerate other pets and animals if socialized from a young age.
Reward-based training is ideal with plenty of praise and attention. They can be stubborn, but with patience and perseverance, they can become ideal companions.
Grooming
With their short coat, grooming is simple and they don't shed much either. Occasional baths with a weekly brush will keep their coats glossy and healthy. Their erect ears will need regular attention to keep them clean.
Diet and Nutrition
Dog food formulated for small breeds is ideal to provide the needed nutrients and energy for the Frenchton. Taking care not to overfeed is important to prevent this small dog from becoming overweight.
Common Health Concerns
Even though they have longer snouts than the French Bulldog, they may still have trouble breathing after exercising or if exposed to hot weather. Other common issues are eye problems, digestive concerns, and obesity. The average lifespan for the Frenchton is 12 to 15 years.
Exercise Requirements
Take advantage of their energy, and go for long walks on cooler days, though keep in mind that they enjoy plenty of mental stimulation too. To prevent them from becoming overweight, incorporate some form of daily exercise.
Intelligent
Social
Fewer health issues
Loyal
Good with families
Easy to groom
High energy
Stubborn
Respiratory issues
Prone to obesity

French Bulldog
History
This breed originated in England in the 1800s as a result of crossing the Toy Bulldog with the Ratter dog. French Bulldogs are popular in both the United Kingdom and the U.S., which is why it may be difficult to find one to purchase. They are registered with the AKC and go by the nickname of Frenchies.
Physical Characteristics
They have large bat-like ears and resemble a Bulldog with their large head and short nose. They will have wrinkles along their neck and face, and their coat is short and smooth over their compact body. They come in a variety of colors, including cream, a variety of brindles, and fawn. Height will range from 11 to 13 inches, and they weigh under 28 pounds.
Personality
They are bright and alert, which makes them ideal watchdogs. You won't find them barking incessantly unless it is warranted. They are social and enjoy making friends with animals and people alike. The French Bulldog makes a great companion and prefers to spend time with their family.
They do well with positive training and reinforcement when learning how to behave. Since they have big personalities, it may take more time to help them become civilized, but in the end, they are people pleasers.
Grooming
Frenchies are minimal shedders, and a weekly brushing with an occasional bath will keep them looking neat and trim. Cleaning their skin folds regularly will prevent any skin infections from occurring.
Diet and Nutrition
They can be prone to obesity if not exercised appropriately. High-quality dog food appropriate for their age will provide the nutrients they need.
Common Health Concerns
Hip dysplasia, brachycephalic syndrome, eye diseases, and heart diseases are possible health problems. Regular checkups will help keep Frenchies healthy. Their lifespan is from 10 to 12 years.
Exercise Requirements
Daily walks and playtime will help keep them in shape. They have fairly low energy levels but will benefit from physical and mental stimulation. Since they have short snouts, care needs to be taken on hot and/or humid days to prevent breathing difficulties.
Bright and alert
Great watchdogs
Social
Great family pet
Minimal shedding
Easy to train
Low energy
Respiratory concerns
Skinfold issues
Prone to obesity

Conclusion – Frenchton vs French Bulldog
Since Frenchtons are a cross between a French Bulldog and a Boston Terrier, they will exhibit particular characteristics of each breed. Each dog can be different, but generally, there will be a certain amount of consistency. The French Bulldog has been a popular breed around the world, and they offer many positive aspects that make them endearing pets.
Both Frenchtons and French Bulldogs make great family dogs because they are social and alert. The Frenchton is more energetic, while the French Bulldog is more of a people pleaser. After reading about the differences between the two, we hope you will share your newfound knowledge with others who are interested.
---
Featured Image Credit: Tony Lee and Sabine18, Pixabay