10 Homemade No-Bake Cat Treat Recipes (Vet Approved)
We love to spoil our cats and that includes feeding them delicious special treats. However, because you love your cat, you also want to make sure you're feeding them healthy foods. Commercial cat treats may have ingredients and additives that cat owners prefer not to give their pets.  Some people show love by home cooking and others just want to give their pet some variety from time to time.
If this sounds like you, why not try making your own cat treats? That way you know exactly what's in them because you put it there yourself! For even more convenience, these 10 homemade cat treat recipes are also no-bake. Remember these are designed as occasional treats only and must not replace a complete and balanced diet.
No matter your cat's favorite flavor we have a treat for them!
The 10 No-Bake Cat Treat Recipes
1.

No-Bake Tuna Balls
No-Bake Tuna Balls
Ingredients  
1

can tuna

Dry cat food

Catnip

Mayonnaise
Instructions 
To make these easy tuna treats, start by draining the tuna and placing it on a plate. In a separate bowl, crush a handful of dry cat food, sprinkle in some catnip, and mix. Add the dry mixture to the tuna on the plate. Drop a spoonful of mayonnaise onto the tuna mixture and stir until thoroughly combined.

Form the mixture into balls (or whatever shape you like!) and refrigerate until they are set. These treats keep for about one week in the refrigerator. Feel free to omit the catnip if you already know your kitty isn't a fan.

While Mayonnaise isn't toxic to cats it also isn't good for them and should only be given in moderation, so limit the number of treats your cat eats.
Notes
Life Stage: Senior, Adult
Potential Allergens: Egg, Soy, Fish
---
2.

No-Bake Tuna And Cheese Balls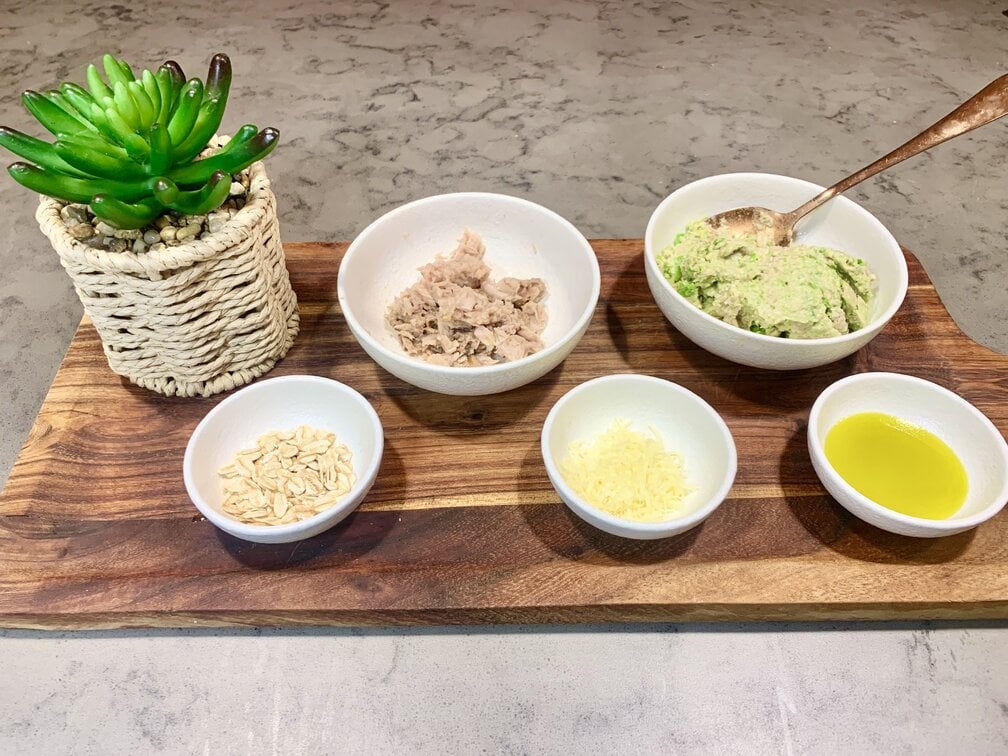 | | |
| --- | --- |
| Lifestage: | Kitten, Adult, Senior |
| Potential Allergens: | Dairy, Fish |
Ingredients:
½ cup canned tuna (not drained)
⅓ cup peas (frozen and thawed or canned)
¼ cup oats
1 tablespoon Parmesan cheese
Enough olive oil to form a dough
Cheese makes everything better, right? To make these fish and dairy treats, add all the ingredients except olive oil to a food processor. Pulse until the ingredients begin to form a dough. Drizzle a small amount of olive oil into the food processor to help the dough come together.
Once it does, turn the dough out onto your work surface and form it into ½-inch balls. Refrigerate the balls until they firm up and then store them in the fridge for up to a week. This recipe makes about 24 balls.
Dairy products, such as cheese, may not agree with all cats so monitor your cat if these treats are their first experience with dairy or just leave it out.
---
3.

Pumpkin And Turkey No-Bake Cat Treats
| | |
| --- | --- |
| Lifestage: | Kitten, Adult, Senior |
| Potential Allergens: | Poultry |
Ingredients:
7 ounces canned pumpkin or cooked pumpkin (no salt or sugar added)
2½ ounces cooked turkey (or chicken), no bones or skin
Gelatin
This recipe uses up leftovers and gets your cat a tasty treat as well! If you use cooked pumpkin, you'll first need to mash it up and squeeze the liquid out using a cheesecloth or a towel. Hang onto the liquid as well as the pumpkin.
Next, blend the cooked meat until it forms small crumbs. Combine the turkey, pumpkin, and enough gelatin to thicken about 3 fluid ounces (varies by brand and type) in a pan. Heat the mixture slowly, adding water or pumpkin liquid as needed to keep it from getting too dry and remove from the heat when the gelatin is melted.
Once the goop is cool enough to handle, roll it into small balls and place them on a baking sheet lined with foil or parchment paper. Refrigerate until the gelatin is set (8-24 hours). Store the finished treats in the fridge and use them within one week.
---
4.

Tuna Ice Treats
| | |
| --- | --- |
| Lifestage: | Kitten, Adult, Senior |
| Potential Allergens: | Fish |
Ingredients:
1 can tuna in water
¼ cup water
If you have a hard time getting your cat to drink enough water, these treats might be just what they need to stay hydrated! Plus, they're beyond simple to make. Just blend the tuna and water, pour into an ice cube tray, and freeze overnight. These treats can get messy as they melt so be prepared!
Since so many treats on our list are made with tuna, it's worth noting that cats should only eat this fish in moderation due to its mercury content.
---
5.

Cat Birthday Cake Treats
| | |
| --- | --- |
| Lifestage: | Kitten, Adult, Senior |
| Potential Allergens: | Fish, Poultry |
Ingredients:
1 can tuna, drained
½ cup cooked or canned chicken
½ cup cooked sweet potato, pureed
1 cooked potato, mashed
Celebrate your kitty's special day with this unique cat birthday cake. First, combine the sweet potato, chicken, and tuna and mix thoroughly. Form the mixture into small balls. Place the mashed potato into a resealable bag and cut off one corner to form a "decorating bag."
Arrange the balls on a plate to form a "cake" for your cat. Squeeze the mashed potatoes out to decorate your kitty's cake however you like. This cake is especially appropriate if your cat has friends over to celebrate because there's plenty to go around for all!
---
6.

Cat-Friendly Frozen Banana Bites
| | |
| --- | --- |
| Lifestage: | Kitten, Adult, Senior |
| Potential Allergens: | None |
Ingredients:
4 ripe bananas
¼ cup dry cat food or treats
Candy molds or ice cube tray
These unusual treats "a-peel" to both cats and dogs and are easy to make. Start by placing four ripe bananas in a bowl and mashing them thoroughly. Then, layer the bananas and cat food into a candy mold if you have one or ice cube trays if you don't. Allow the mixture to freeze overnight. Pop the frozen treats out of the mold and let your cat enjoy!
---
7.

Catnip Cocktail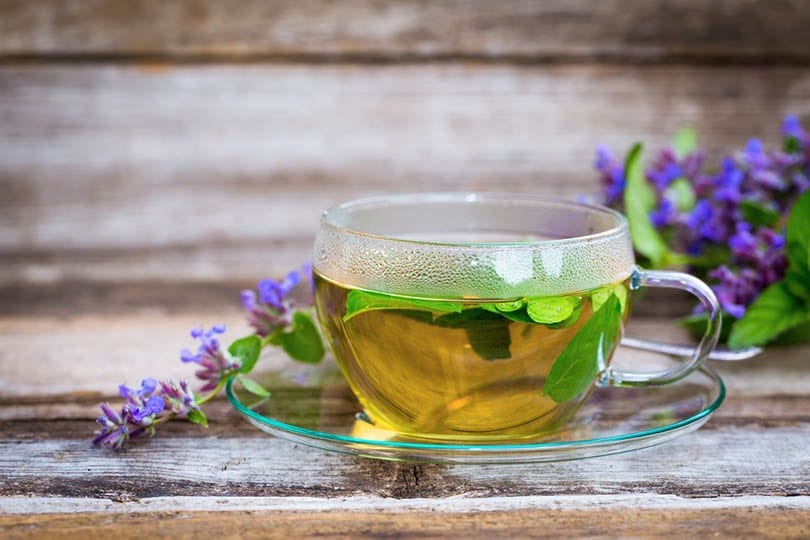 | | |
| --- | --- |
| Lifestage: | Adult, Senior |
| Potential Allergens: | Poultry |
Ingredients:
¼ teaspoon chicken stock powder (low sodium)
3 tablespoons catnip
1 cup warm water
If your cat prefers their treats in liquid form, transform yourself into a feline mixologist and craft this kitty-friendly cocktail for them to enjoy. Simply pour the warm water into a bowl and stir in the chicken stock powder and catnip. Serve to your cat as soon as it's 5 o'clock somewhere.
Just a quick reminder: this "mocktail" is the only type of cocktail your cat should ever drink. Alcoholic beverages can be dangerous to your cat if ingested.
---
8.

Salmon And Carrot Snacks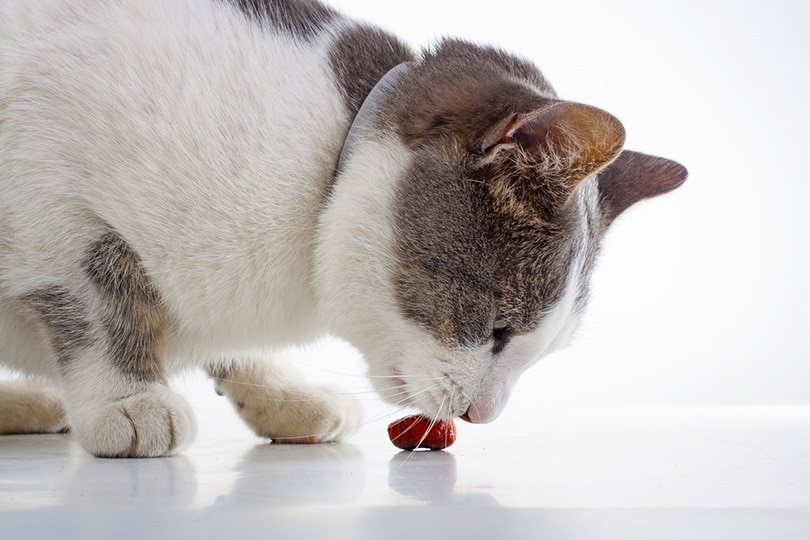 | | |
| --- | --- |
| Lifestage: | Kitten, Adult, Senior |
| Potential Allergens: | Wheat, Fish |
Ingredients:
1 can salmon, drained
½ cup sliced carrots
Flour if needed
These easy two-ingredient treats are a tasty option for your kitty to enjoy. Begin by steaming the sliced carrots until they are soft and mashable. Place the carrots in a bowl and mash them into a paste.
Add the salmon and stir to combine. If needed, add just enough flour to allow the mixture to stick together. Roll into small balls and place them on a baking sheet. Freeze the salmon and carrot balls until firm. Once frozen, store in an airtight container and use within 7 days.
---
9.

Baby Food Mini Morsels
| | |
| --- | --- |
| Lifestage: | Kitten, Adult, Senior |
| Potential Allergens: | Wheat, Poultry, Fish |
Ingredients:
3 jars baby food, meat, or veggie (no garlic or onion ingredients)
1½ cups wheat germ
A small amount of tuna juice
These quick, yummy treats are cooked in the microwave and ready in minutes. Start by lining a microwave-safe plate with wax paper. Then, combine the baby food, wheat germ, and tuna juice in a bowl and mix well.
Drop spoonfuls of the baby food mixture onto the plate and microwave on high for 5-8 minutes. When finished, the morsels should be firm and hold their form. Repeat until all the mixture is cooked. Keep refrigerated and discard any uneaten treats after 7 days.
When selecting baby food, make sure to avoid any that contain onion or garlic, which are toxic to cats.
---
10.

Goat Milk-sicle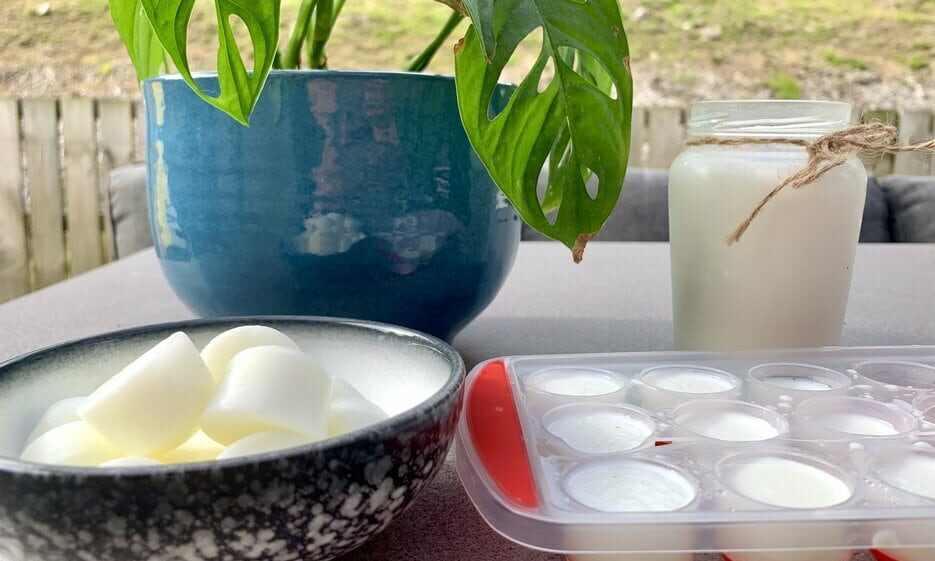 | | |
| --- | --- |
| Lifestage: | Kitten, Adult, Senior |
| Potential Allergens: | Goat's Milk |
Ingredients:
Goat's milk
Ice cube tray or small paper cups
For a quick, refreshing treat on a hot day, try preparing these kitty popsicles. The prep process couldn't be easier: pour goat's milk into an ice cube tray or paper cups and place it in the freezer.
Once frozen, remove, and let your cat lick away to their heart's content. As a bonus, try freezing a bit of your cat's food or another type of treat inside the kitty popsicle for your cat to uncover.
Please note that while cats generally tolerate goat's milk better than cow's milk, some may suffer digestive upset. If your cat is one of them, consider making this with specially formulated cat milk instead.
Wrapping Up
We hope our collection of recipes inspires you to start no-baking treats for your cat. Remember, no matter how tasty kitty treats are, most of your cat's daily calories should come from their regular, balanced cat food. Letting your cat live off of treats is like a human living off junk food: tasty but lacking in nutrition. To keep your cat healthy and at an appropriate body weight, limit treats to no more than 10% of their daily calorie intake.
---
Featured Image by Hepper